Stock Up, Stock Down for Toronto Blue Jays' Prospects for Week 19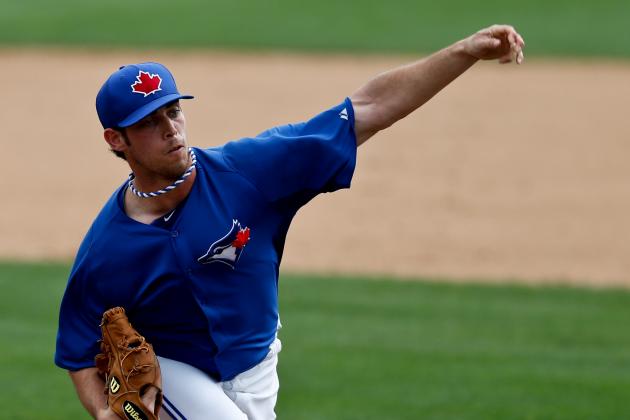 Derick Hingle-USA TODAY Sports

As it has surely been noted throughout the season, the Toronto Blue Jays' farm system took quite a hit over the winter as the franchise dealt four of its top 10 prospects in order to become a serious contender in 2013.
Unfortunately, the 2013 season has not gone as expected. The franchise faces another season without playoff baseball and with an eye once again towards the future.
As a result, the burden on the Blue Jays' remaining top prospects just got that much heavier.
Given the added importance of the organization's top tier prospects after stripping down the farm system in a failed attempt to make a playoff run this season, we'll take a look at just how those prospects are faring this year.
The Blue Jays still have a respectable mix of prospects—although, as you'll soon see, it is quite pitcher-heavy near the top—and those prospects have achieved varying levels of success over the course of the season.
This article will analyze whether each prospect's stock has risen or fallen, both in light of the 2013 season as a whole and in the context of their recent performances.
Note: In an effort to avoid any disputes as to which prospects belong in the top 10 and their respective rankings, we will use MLB.com's current top 10 list of Blue Jays prospects.
Begin Slideshow

»
Position: Pitcher
Age: 19
Level: GCL Blue Jays (Rookie)
2013 Stats: 11 Games, 2 GS, 15.0 IP, 14 H, 20 BB, 15 K, 9.60 ERA, 2.27 WHIP
In August: 3 Games, 3.2 IP, 3 BB, 2 SO, 17.18 ERA, 1.91 WHIP
Analysis: Even the most cursory of glances at Smoral's 2013 stat sheet will give you a pretty good idea of whether Smoral's stock is up or down at the moment.
The lanky left-handed pitcher, standing at 6'8'', made his professional debut in late June after being drafted 50th overall in 2012.
Going into the draft, Smoral was considered to be in the mix for the top left-handed high school pitcher along with Max Fried, but his senior season was derailed due to a foot injury.
Despite missing his senior season and a commitment to North Carolina, the Blue Jays took a gamble on him, given his pedigree as an upper-echelon high school starter and a powerful fastball that sits in the low 90's.
Unfortunately, that gamble hasn't paid off yet.
We all know 15.0 innings is a far cry from a sufficient sample size to adequately judge a prospect, but Smoral's rough start has to raise concerns as to whether he has fully recovered from the injuries that set him back as a senior.
It's not so much the ERA and WHIP that raise concerns—those numbers will surely move closer to the norm as his innings totals increase—but the biggest red flag is his 20 walks in that span.
Even less encouraging is the fact that he's struggled thus far in August, giving up multiple runs in all three of his appearances this month.
Again, Smoral's professional career is still in its infancy and he definitely possesses the upside to rapidly improve. However, until he can solve his control issues and establish some consistency, he'll have a tenuous grip on his place in the organization's top 10 prospects.
Stock: Down
Position: Catcher
Age: 23
Level: New Hampshire (Double-A)
2013 Stats: 55 Games, 232 PA, .294/.336/.421, 4 HR, 34 RBI, 14 BB, 35 K, 1 SB

In August: 8 Games, 35 PA, .206/.229/.412, 2 HR, 6 RBI, 1 BB, 7 K
Analysis: The 23-year-old Jimenez earned a quick promotion to Double-A in June—a very good sign, in that Jimenez was getting a bit old for A-ball and that he hasn't shown any signs of being hampered by the lingering effects of last year's Tommy John surgery (aside from a brief 7-day trip to the DL).
Jimenez has held his own with the bat so far in 2013, but his real value is behind the plate. According to MLB.com, Jimenez has thrown out 43 percent of would-be base stealers in his minor league career, which attests to his arm score of 6/6.
Jimenez is still coming into his own as a hitter, but he has not been overmatched since his promotion to Double-A. He has healthy walk and strikeout rates for a hitter of his expected caliber and although his power doesn't wow scouts, his 12 doubles and three home runs in 46 games in Double-A are promising.
He has only hit .182 and .206 respectively in July and August, but the underlying development is there. He'll need get to his bat on track as the season nears an end, but it's been a solid return for Jimenez, who also made a good impression at this summer's Futures Game.
Stock: Even
Position: Outfielder
Age: 19
Level: Lansing Lugnuts (A-ball)
2013 Stats: 6 Games, 30 PA, .227/.414/.409, 0 HR, 2 RBI, 2 SB, 6 BB, 6 K
In August: N/A
Analysis: It's hard to get a read on how Alford has progressed since the Blue Jays selected him in the third round of the 2012 draft. The toolsy, but very raw Alford has only made 50 plate appearances over the last two seasons due to his commitments to college football programs.
In his 50 PA, Alford has a .200/.347/.375 line with six stolen bases, but hasn't gotten nearly enough work at the plate for scouts to form a solid opinion on the outfielder.
MLB.com mentions his Reggie Sanders-esque upside, his impressive athleticism and elite speed, and though those tools are easily recognizable, he still needs to time to refine and hone his very raw skill set.
Alford is currently on the temporary inactive list as he works out at safety for the Ole Miss football program. Alford is ineligible to play in the NCAA this season due to transferring from Southern Miss. last year once he lost his scholarship following an arrest, but he still continues to pursue college football.
The potential is certainly there, and despite his limited action he has already flashed impressive speed and defense, but his bat still needs seasoning and there are certainly questions about how he'll develop as a prospect with his continued commitment to college football.
Stock: Down
Position: Outfielder
Age: 19
Level: Bluefield (Rookie)
2013 Stats: 43 Games, 193 PA, .254/.333/.444, 4 HR, 19 RBI, 19 BB, 56 K, 10 SB
In August: 9 Games, 41 PA, .237/.293/.421, 1 HR, 2 RBI, 3 BB, 16 K, 2 SB
Analysis: The Jays nabbed the left-handed hitting Davis with the 17th overall pick in last year's draft, and he has impressed scouts with an impressive skill set for such a young position player (Davis turned 19 just two weeks ago).
Though he may evoke some comparisons to Anthony Gose, many scouts—including Ben Badler of Baseball America—have made it clear that "he's more than just a one-dimensional legs guy."
Furthermore, in Badler's Prospect Notebook from July 22nd (in which he had Davis "trending up"), he also points to Davis's range in center field and the fact that he has already legged out six triples this season.
As is the case with many young hitters, Davis will still need to work on his approach at the plate and cut down on his strikeout totals. Particularly alarming is his 16/3 K/BB rate so far this month.
Davis gets high marks across the board as a fielder and base runner and has very good arm strength, while his hitting continues to improve. He has flashed a nice mix of power and speed so far this season and is progressing nicely, given his age.
He should continue to project as a top-of-the-lineup hitter as he works through improving his contact skills at the plate.
Stock: Up
Position: Pitcher
Age: 23
Level: Buffalo (Triple-A)
2013 Stats: 27 Games, 38.1 IP, 31 H, 14 BB, 39 K, 2.58 ERA, 1.17 WHIP
In August: 5 Games, 7.1 IP, 9 H, 1 BB, 7 K, 4.91 ERA, 1.36 WHIP
Analysis: John Stilson is a former college standout reliever-turned-starter who has become a starter-turned-reliever since being drafted by the Blue Jays in the third round of the 2011 draft.
Stilson led the nation in ERA (0.80) as a freshman reliever at Texas A&M in 2010, before he was moved into the rotation in 2011. However, Stilson suffered a torn labrum in 2011, cutting his season short. The Blue Jays still saw enough to gamble on him with a high draft pick.
Stilson had a solid showing as a starter for the Jays in his debut season last year, recording a 3.88 ERA over 22 starts and eight relief appearance between A+ and Double-A. However, the Jays moved Stilson to the pen this season and his effectiveness has increased.
Though his walk rate is still a little high at 3.3 BB/9 IP, his impressive strikeout rate of 9.2 K/9 IP along with his hard-tailing high-90s fastball give him the look of a future late-inning reliever. Stilson has smoothly transitioned to Triple-A hitting and could find himself in the majors in the near future should he continue to maintain his shiny peripherals.
He's struggled a bit in August—he's allowed two home runs this month after allowing one home run over the first three months of the season—but he's still pitching well and it doesn't negate his overall impressive body of work as a reliever this season.
Stock: Up
Position: Pitcher
Age: 23
Level: New Hampshire (Double-A)
2013 Stats (not including Major League Appearance): 16 GS, 85.2 IP, 80 H, 24 BB, 99 K, 2.84 ERA, 1.21 WHIP
In August: 2 GS, 11.0 IP, 12 H, 3 BB, 21 K, 3.27 ERA, 1.36 WHIP
Analysis: Before we can analyze what Nolin has done this year after a phenomenal 2012 season, we need to put his one major-league appearance in context and not let it take away from Nolin's continued progress thus far in 2013.
The Blue Jays called Nolin up on May 24th to make a somewhat surprising start against a potent Orioles lineup and he was summarily rocked to the tune of seven hits and six earned runs in just 1.1 innings. Nolin clearly wasn't ready for the call-up and perhaps the Jays made an overly aggressive move in order to shake things up after a slow start to the season.
Nolin was sent back down before the game even ended, but upon his return to Double-A New Hampshire, Nolin appeared unfazed by his unsuccessful major league start. The left hander isn't going to blow hitters away, but he's continued to show impressive command and an above-average ability to mix pitches and keep hitters off-balance.
After posting a 2.04 ERA in 18 starts in Double-A last season, Nolin set the bar high for 2013, but he has lived up to the expectations thus far. His May (4.09 ERA) and June (4.01 ERA) were solid if unspectacular, but he was brilliant in July (2.40 ERA in five starts) and has looked dominant so far in two August starts (21 K in 11.0 IP).
There isn't much left for Nolin to prove at Double-A, and he should be looking at a promotion to Triple-A in the near future.
Though his major-league outing may have left a bad taste in some fans' mouths, Nolin has still shown solid, steady development in the minors that should put him on pace for another shot at the majors sometime in 2014.
Stock: Even
Position: Pitcher
Age: 20
Level: Lansing (A-ball)
2013 Stats: 20 Games, 19 GS, 70.2 IP, 75 H, 41 BB, 83 K, 4.84 ERA, 1.64 WHIP
In August: 2 GS, 9.0 IP, 5 H, 4 BB, 13 K, 0.00 ERA, 1.00 WHIP
Analysis: Another high-upside lefty with a solid repertoire of pitches, the 20-year-old Norris has had an up-and-down start to his professional career.
Norris was considered one of the best high school pitching prospects at the time he was drafted, but slid due to signability concerns and, as a result, the Jays were able to snag him with the 74th overall pick. Since that time, Norris has flashed some of that potential, but he has also struggled with his control and developing consistent delivery mechanics.
If nothing else, Norris has certainly improved upon last year's disastrous debut (8.44 ERA in 42 IP). He has settled down quite a bit in 2013 and has maintained a very impressive 10.5 K/9 IP, however, he will need to improve his control. He has a 5.2 BB/9 IP on the year and has walked three or more batters in eight of his 19 starts.
Norris has put together some eye-popping performances over the season (including a 10 strikeout performance in 4.1 IP on May 23rd), but he has struggled with his start-to-start consistency.
Norris has struck out six or more batters in each of his last four starts, but he allowed six earned runs in one of those starts and walked four in another of those starts.
He's off to a good start in August, so we'll see if this is where he turns the corner and starts to work out the kinks.
Stock: Even
Position: Pitcher
Age: 22
Level: New Hampshire (Double-A)
2013 Stats: 16 Games, 16 GS, 89.1 IP, 79 H, 22 BB, 103 K, 3.22 ERA, 1.16 WHIP
In August: 2 GS, 13.2 IP, 19 H, 1 BB, 11 K, 4.61 ERA, 1.46 WHIP
Analysis: By now, just about everyone knows that the 22-year-old Stroman served a 50-game suspension last year after testing positive for a banned substance.
The Blue Jays and Stroman have since put the matter behind them and the diminutive Stroman (who stands just 5'9'') has been successfully reconverted into a starting pitcher in 2013. After spending the winter serving his suspension and building up his arm strength, Stroman has returned with a vengeance this season.
Stroman continues to flash the same powerful mid-90s fastball and an above-average breaking ball that made him a dominant pitcher at Duke University. Perhaps most impressive is Stroman's 4.68 K/BB ratio and the fact that he is striking out well over a batter per inning.
Despite the indiscretion, Stroman has quickly developed into one of the Jays' most tantalizing prospects and could have the highest ceiling among the organization's pitching prospects.
Though his smallish size could prompt some durability concerns and his struggles with the long ball (12 HRA in 89.1 IP) raise a red flag, Stroman is doing as well as anyone could have expected, considering that he threw only 19.1 innings of professional baseball prior to opening the season at Double-A.
His two starts in August haven't been his best, but it'll take a lot more than a 4.61 ERA in August to wear off the luster of his otherwise remarkable 2013 campaign.
Stock: Up
Position: Pitcher
Age: 18
Level: Lansing (A-ball)
2013 Stats: 10 Games, 10 GS, 42.1 IP, 39 H, 11 BB, 51 K, 5.53 ERA, 1.18 WHIP
In August: N/A
Analysis: Eye-popping ERA aside, the 18-year-old Osuna was having a very nice year in A-ball, given the fact that he won't turn 19 until next February and how quickly he was developing his pitching arsenal since being signed out of Mexico as a 16-year-old. Then this happened:
#BlueJays prospect Roberto Osuna underwent Tommy John surgery last week. Could be pitching again by next July, AFL afterwards

— Shi Davidi (@ShiDavidi) August 4, 2013
Osuna was diagnosed with a torn UCL back in May, but he did his best to pitch through it and was still having a solid 2013 season before he was demolished in his only July start (7 ER, 10 hits in 1.2 IP).
Take away those last couple of starts before Osuna was shut down for good and he was having a tremendous campaign for an 18-year-old in A-ball. He showed good poise, an impressive mid-90s fastball and above-average command for his age and stage of development. Most impressive was his 4.64 K/BB ratio.
Losing Osuna for the next calendar year is a tough blow, but given how far Tommy John surgery has come and the fact that he'll still only be 20 in 2015, the future is still bright. Unfortunately, his future will be put on hold until further notice.
Stock: Down
Position: Pitcher
Age: 21
Level: Dunedin (A+ ball)
2013 Stats: 19 Games, 17 GS, 71.2 IP, 49 H, 34 BB, 62 K, 3.64 ERA, 1.16 WHIP
In August: 2 GS, 5.1 IP, 3 H, 4 BB, 5 K, 0.00 ERA, 1.31 WHIP
Analysis: After the dust settled on a number of off-season trades, Aaron Sanchez, the 6'4'', 190-pound. right hander selected in the first round in 2010, was left as the organization's top prospect. Not surprisingly, the Blue Jays have played it very cautiously with Sanchez, monitoring his work load carefully and slowly advancing him through the system.
In his fourth professional season, Sanchez was deployed to High-A Dunedin and has spent all of 2013 there. After an impressive showing in Lansing in 2012, Sanchez has continued to stymie hitters, but still struggles with his control.
After walking 5.1 BB/9 IP last season, Sanchez has cut it down to a more palatable 4.3 BB/9 IP, but that walk rate must continue to decrease in order for Sanchez to successfully progress to the higher levels of the minors next season.
Sanchez has all the tools of a frontline starter, and as MLB.com states "[i]f you wanted to build a prototype of what a big, strong, projectable pitching prospect should look like, starting with Sanchez might not be a bad idea."
It's been another promising season for Sanchez who, each year, inches closer to maximizing his potential as a future major-league starter. The Blue Jays may let him loose next year if he continues to improve his control and reduce his walk rate, but 2013 has been another safe, but solid campaign for the up-and-coming Sanchez.
Of course, continuing the trend of unfortunate developments in 2013, Sanchez left his last start on August 7th after two batters due to a blister and the extent of the injury is unknown at this time.
Stock: Even