Takeaways from Saturday Night's NFL Preseason Week 2 Action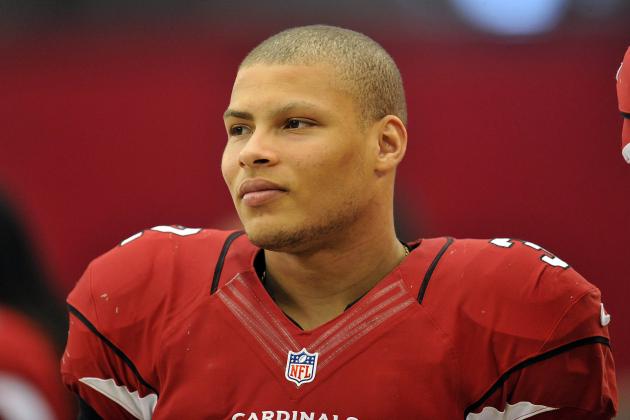 Gary A. Vasquez-USA TODAY Sports
Tyrann Mathieu put together another solid performance Saturday night against the Dallas Cowboys.
Week 2 of the NFL preseason continued Saturday night with 12 teams partaking in games.
As we continue to progress through the preseason, we continue to see players both impress and disappoint. Of course, it's only the second week of NFL games, but there is still plenty to learn how the regular season may shape up.
Here are some takeaways from Saturday's preseason action.
Begin Slideshow

»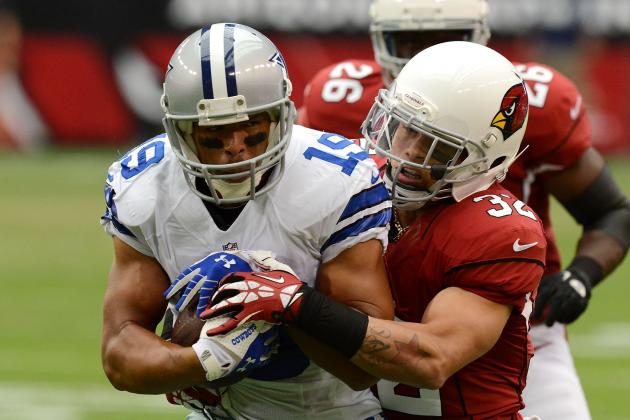 Norm Hall/Getty Images

If you're looking for the steal of the 2013 NFL draft, you probably don't need to look any further than cornerback/safety Tyrann Mathieu of the Arizona Cardinals.
The kid was all over the field in a close win over the Dallas Cowboys on Saturday. He finished the game with seven tackles, which led Arizona.
What makes Mathieu's preseason performance even scarier is that we've yet to see the elite playmaker on the field like he was in college. As he becomes more comfortable in his role for the Cardinals, those plays should come more naturally.
Look for Mathieu to contend for Defensive Rookie of the Year honors throughout the regular season.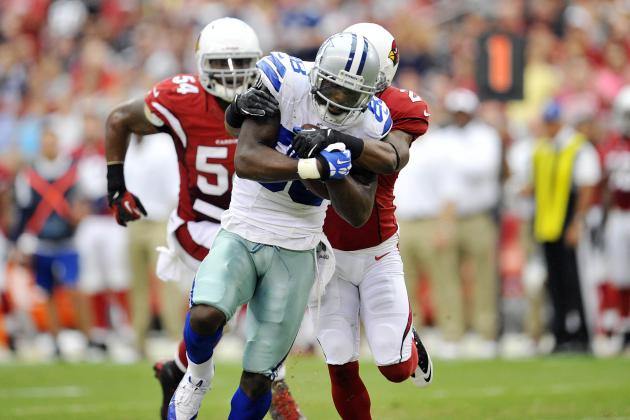 Gary A. Vasquez-USA TODAY Sports

Six turnovers in any game is simply unacceptable.
Sure, you could chalk up this poor performance for the Dallas Cowboys to rust, but that would be taking the easy way out. This is an issue that has plagued the Cowboys in past seasons and looks like an issue again this year.
The team's quarterbacks finished the game with three combined interceptions. The receivers also fumbled three times while attempting to pick up extra yards after the catch.
Unless Dallas can fix this issue of turning over the ball, it could be a rather long season this year.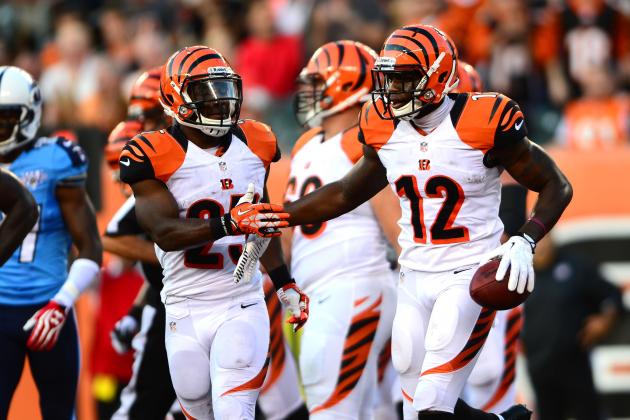 Andrew Weber-USA TODAY Sports

One offense that isn't getting enough respect heading into the regular season is that of the Cincinnati Bengals.
The Bengals are loaded with playmakers all over the field, and we saw just how good they can be in Week 2 against the Tennessee Titans. With wide receiver A.J. Green sidelined with a knee injury, we got to see the other weapons on the Bengals step up.
Rookie running back Giovani Bernard had seven carries for 37 yards and a touchdown. Wide receiver Mohamed Sanu had three receptions, 36 yards and a touchdown. Finally, rookie tight end Tyler Eifert grabbed three balls for 32 yards.
What's ultimately going to determine how explosive this offense can be is the play of quarterback Andy Dalton. Considering he went 9-of-14 for 115 yards and a touchdown on the day, I'd say that the rest of the NFL needs to take notice of the offense in Cincinnati.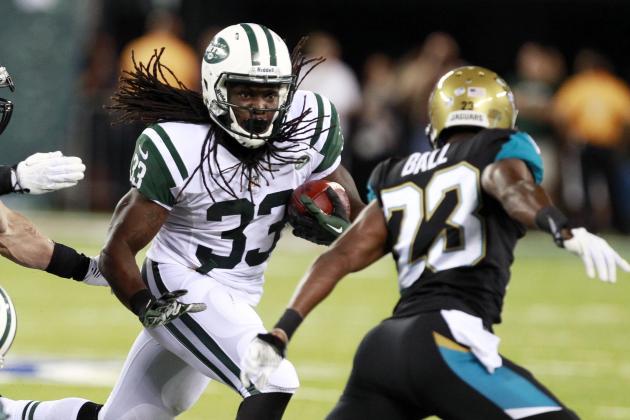 The Star-Ledger-USA TODAY Sports

After missing Week 1 of the preseason, running back Chris Ivory made his debut for the New York Jets. Unfortunately, it probably wasn't the showing that Jets fans were hoping for.
Ivory rushed the ball six times but only managed to gain 13 yards. That's an extremely low 2.2 yards-per-carry average. To make matters even worse, Ivory had one rush that went eight yards, meaning his other five rushes only averaged one yard each.
That's not good news for someone the Jets were hoping would become a legitimate No. 1 back for them. It's still too early to pass final judgement on Ivory, but you can bet that New York wanted to see a better performance from its offseason addition.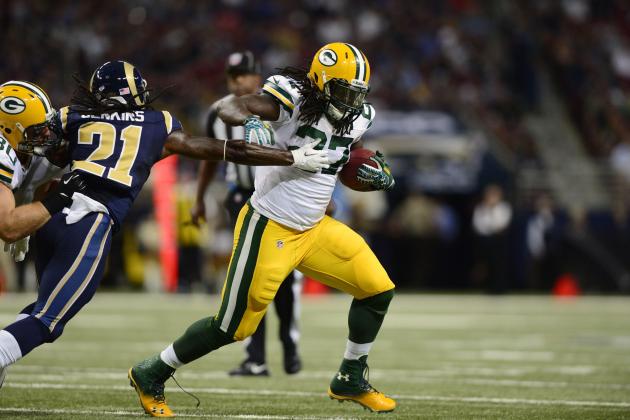 Jeff Curry-USA TODAY Sports

The last running back to rush over 1,000 yards for the Green Bay Packers was Ryan Grant back in the 2009 season.
That could change this year with the way that rookie running back Eddie Lacy looked Saturday night. In his first preseason game, Lacy had eight carries for a total of 40 yards.
His most impressive run was a 15-yard gain where he broke numerous tackles. He looked completely healthy and every part the physical runner that he was when he dominated during his collegiate career at Alabama.
If Lacy can boost the ground game like he did in Week 2 of the preseason, this Packers offense could be even more potent than it's been in recent years, which might be hard to fathom.
Scott Rovak-USA TODAY Sports

Few players have disappointed year after year like tight end Jermichael Finley.
The potential has always been there, but he's always failed to make it click on the field. That didn't appear to be the case in Week 2 as Finley had a fantastic game for the Green Bay Packers.
He was targeted five times and finished the game with four receptions and a whopping 78 yards. Of course, it helps that both Randall Cobb and Jordy Nelson were out of the game, but Finley's performance was impressive nonetheless.
Much like the ground game becoming better, if Finley can finally reach his potential, the Packers offense will be scary good.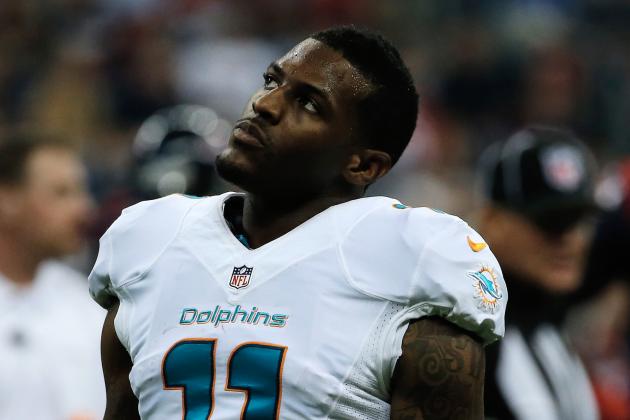 Scott Halleran/Getty Images

There have been reports throughout training camp that quarterback Ryan Tannehill and new wide receiver Mike Wallace were having difficulties with their chemistry.
That didn't seem to be the case on Saturday when Tannehill and Wallace looked rather good together on the football field. They connected three times for 58 yards and a touchdown.
Wallace averaged 19.3 yards per reception, looking exactly as explosive as he was with the Pittsburgh Steelers. If Tannehill is going to take that next step toward being a top quarterback, he's going to need an elite receiver like Wallace to throw to.
As long as they can continue to grow as a tandem, the Miami Dolphins should be just fine offensively.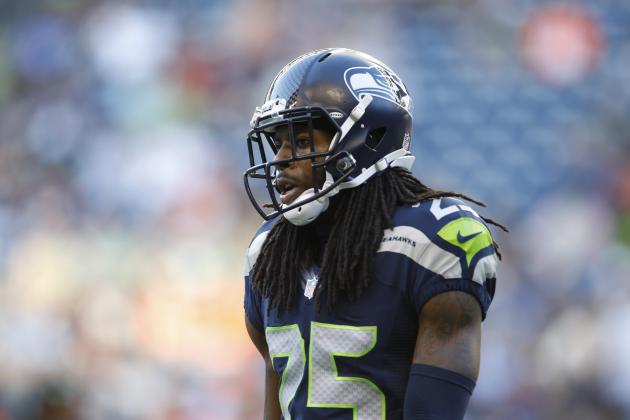 Joe Nicholson-USA TODAY Sports

No one would argue with you if you stated that the Seattle Seahawks have one of the premier defenses in the league.
Through the first quarter of Saturday's game against the Denver Broncos, the Seahawks looked rather dominant. They caused one turnover on a strip of Broncos tight end Julius Thomas in the first quarter, but weren't satisfied with just that.
The dominance continued into the second quarter when the Seahawks caused another fumble, which was returned 106 yards for a touchdown by cornerback Brandon Browner. All in all, the Seattle defense looks poised to wreak havoc on every NFL offense it faces this season.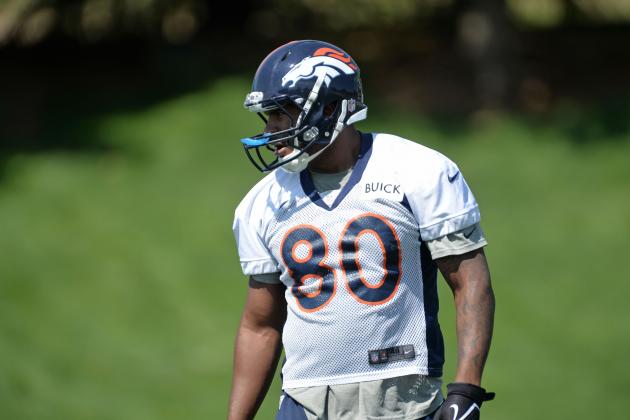 Ron Chenoy-USA TODAY Sports

Other than the aforementioned lost fumble, tight end Julius Thomas looked rather spectacular against the Seattle Seahawks.
Thomas recorded four receptions for an impressive 70 yards against one of the best defenses in the league. What's even more impressive is the fact that Thomas made every target he saw count.
The Denver Broncos were already expected to have one of the better offenses in the league without Thomas. However, now that he's becoming a bigger part of the offense, the Broncos will have even more options on that side of the ball.
This is the type of play that Denver has been waiting for from Thomas, and it finally looks like it's going to happen this upcoming season.