2013 NFL Preseason: Who Are the Most Important Players to Watch in Week 2?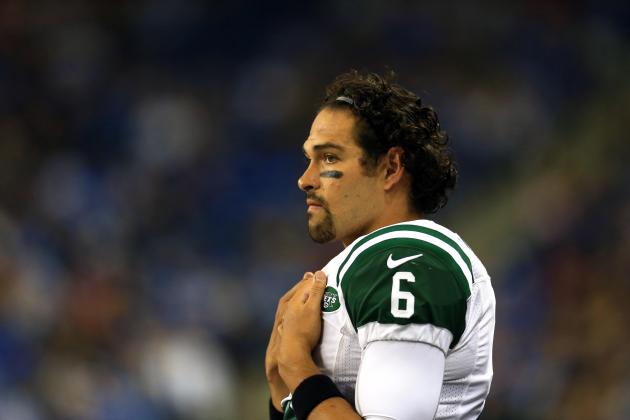 Andrew Weber-USA TODAY Sports
A great game from Mark Sanchez could give him the starting job in New York.
As we head into Week 2 of the NFL preseason, there are a handful of players who need to be watched.
The majority of the following players are either deadlocked in a training camp battle or fighting for a roster spot. How well some of these guys play could determine whether or not a high-profile player deserves a spot.
Here are the most important players to watch in Week 2.
Begin Slideshow

»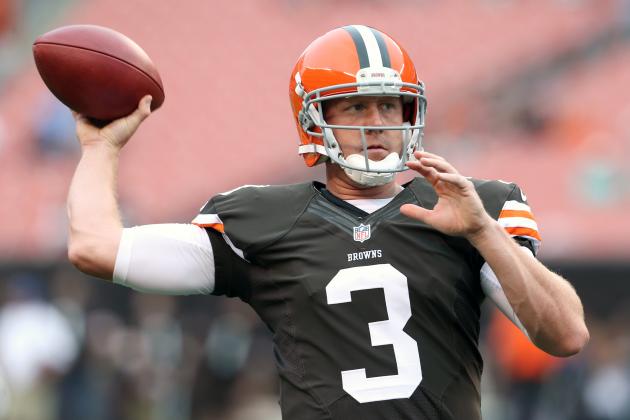 Ron Schwane-USA TODAY Sports

The Cleveland Browns could end up being the NFL's most surprising team this season. They have enough talent all over the field to seriously compete in the AFC North this season.
However, that will only happen if quarterback Brandon Weeden takes a major step forward this year. After Week 1 of the preseason, it appears that's happened for the second-year quarterback.
Not only did Weeden go an impressive 10-of-13 for 112 yards and a touchdown, he also showed poise in the pocket that he was missing last year. He did a great job of working through his progressions as well.
Another strong performance from Weeden this week will only raise the Browns' stock heading into the regular season.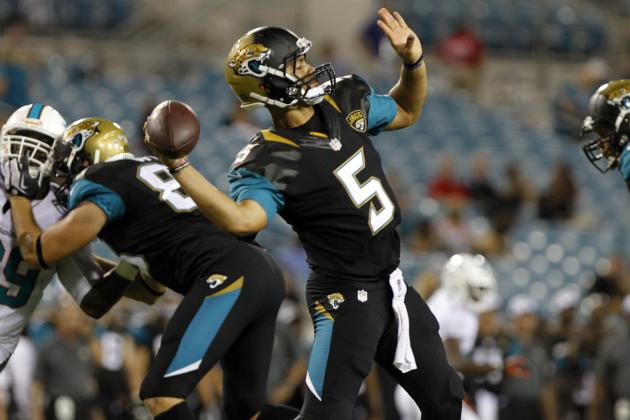 Kim Klement-USA TODAY Sports

Few teams have as big of an issue at quarterback as the Jacksonville Jaguars.
Neither Blaine Gabbert nor Chad Henne has separated himself as the starter in Jacksonville. In fact, the most impressive quarterback from the Jaguars' first preseason game was undrafted free agent Matt Scott.
Scott displayed fantastic poise in the pocket and the ability to extend plays. Bleacher Report NFL writer Ryan Alfieri did a great job of breaking down his impressive performance earlier this week.
It's rather unlikely that Scott becomes a legitimate contender to start Week 1 of the regular season, but if he looks great again this week against the New York Jets, he could cause some unease atop the quarterback depth chart.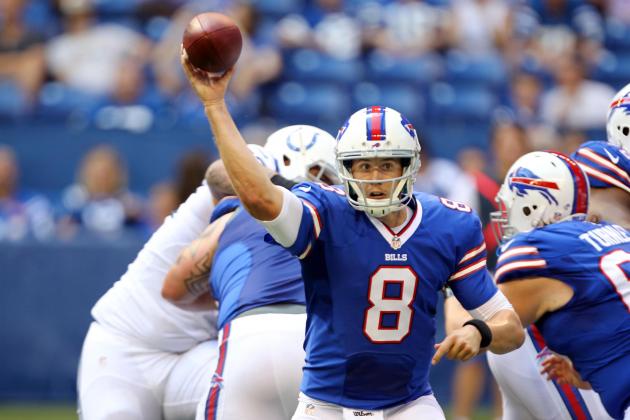 Brian Spurlock-USA TODAY Sports

For those that don't think Matt Scott was the most impressive rookie quarterback in Week 1 of the preseason, Jeff Tuel of the Buffalo Bills is probably their choice.
Tuel completed 19 of his 23 passes for 212 yards and two touchdowns while leading the Bills to victory over the Indianapolis Colts. His accuracy and poise were quite impressive for a player who wasn't even drafted this year.
There is absolutely no way that Tuel starts for Buffalo this year, but he could make veteran quarterback Kevin Kolb expendable.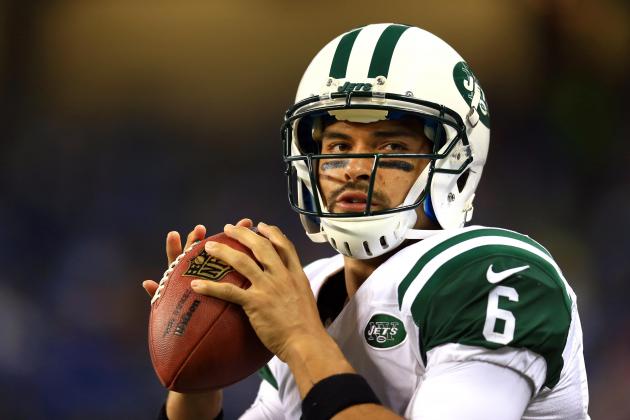 Andrew Weber-USA TODAY Sports

The final quarterback important to watch this week is none other than Mark Sanchez of the New York Jets.
Had Sanchez's first preseason game continued how it started (he threw an interception early), he would likely be looking at the backup spot. However, he settled down and looked rather good while on the field. He finished the game 10-of-13 for 125 yards, a touchdown and an interception.
The fact that rookie Geno Smith may be forced to sit out Saturday's game due to an ankle injury, according to Seth Walder of the New York Daily News, gives Sanchez a chance to solidify his place atop the depth chart.
A strong performance in Week 2 would likely give Sanchez the starting job to start the regular season. On the other hand, a poor performance would open the door for Smith to displace Sanchez and start as a rookie.
Thearon W. Henderson/Getty Images

No first-round pick from last year is having as difficult of a time as wide receiver A.J. Jenkins.
For starters, Jenkins couldn't figure out how to get on the field at all during his rookie season. An injury to fellow receiver Michael Crabtree in May was expected to be the break Jenkins needed to finally make an impact.
However, Jenkins has struggled with consistency and has failed to make his head coach happy. A fumble in last week's preseason loss was just another struggle that Jenkins didn't need.
As crazy as it sounds, Jenkins could actually be in danger of losing his roster spot. Another poor performance could be the end of the former first-round pick in San Francisco.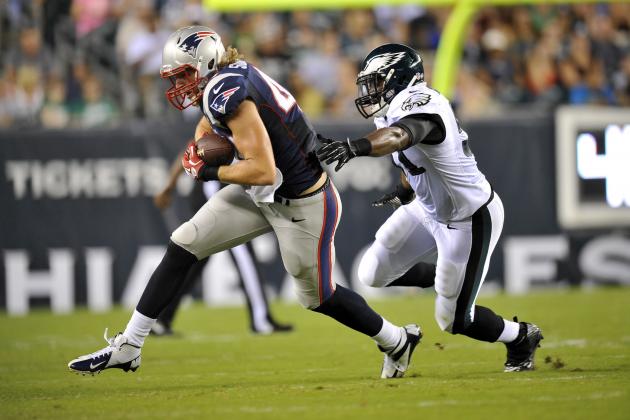 Joe Camporeale-USA TODAY Sports

You may be asking yourself right now who exactly Zach Sudfeld is.
Well, he's an undrafted free agent tight end who could start the regular season No. 1 on the New England Patriots depth chart.
Sudfeld looked great in the first preseason game. He only had one reception, but it ended up being a 22-yard gain and showed his soft hands and ability to extend plays.
We all know the drama surrounding fellow tight ends Aaron Hernandez and Rob Gronkowski. There is no doubt that the opportunity is there for Sudfeld to become an impact player at the start of the regular season.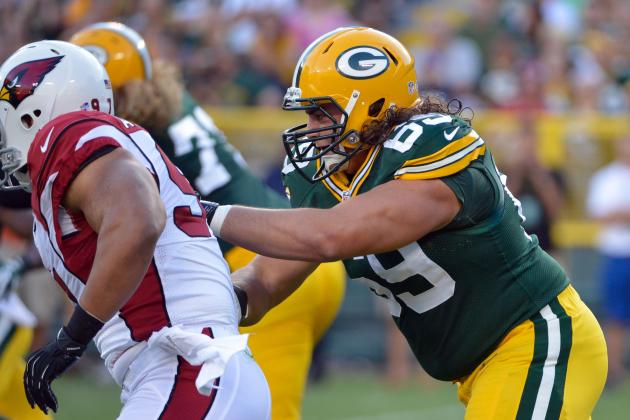 Benny Sieu-USA TODAY Sports

When offensive tackle Bryan Bulaga went down for the season with an ACL injury, it appeared it'd be a long season for quarterback Aaron Rodgers.
However, the Packers may have found a gem in fourth-round pick David Bakhtiari. He started the first preseason game at left tackle and played rather well for a rookie.
If he continues to improve and play strong football, it would be huge for the Green Bay Packers. Watching him this week against the St. Louis Rams and pass-rushers like Robert Quinn and Chris Long could give the Packers a good idea of just how good Bakhtiari can be.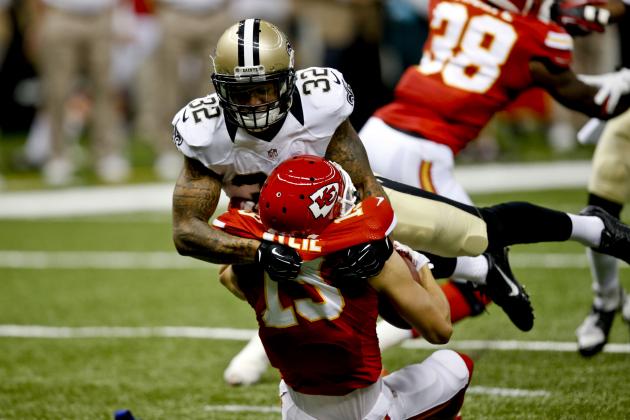 Derick E. Hingle-USA TODAY Sport

When the New Orleans Saints drafted safety Kenny Vaccaro in the first round this year, many expected him to instantly start for the Saints. New Orleans was the worst team in pass coverage last year, according to Pro Football Focus (paid subscription).
Analysts predicted Vaccaro would start due to his ability to cover multiple positions coming out of college. Rob Rang of CBSSports.com said of him heading into the NFL draft, "Vaccaro has the athleticism and size to line up wherever his NFL team needs him most."
However, it hasn't been a smooth ride to a starting job throughout training camp. In fact, Jeff Duncan of The Times-Picayune doesn't even expect Vaccaro to start as a rookie, saying his role "is still being determined. He's not going to start, but it appears that he'll see the field early and often this season."
Vaccaro will aim to prove to the Saints that he's worthy of starting come Week 1 of the regular season.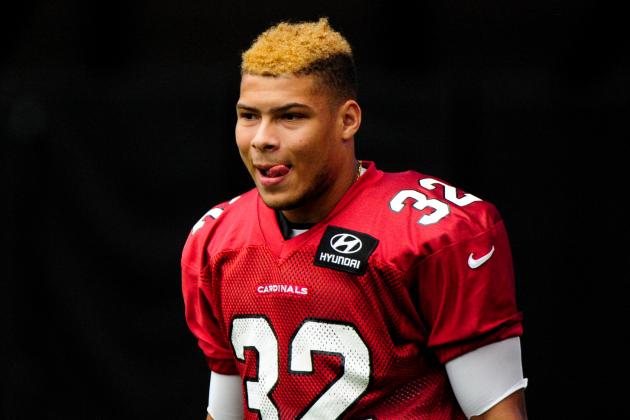 Matt Kartozian-USA TODAY Sports

As of right now, cornerback Tyrann Mathieu is looking like one of the biggest steals of the 2013 NFL draft.
His off-field struggles kept him from going early in the draft despite the obvious amount of talent Mathieu possesses. However, he's shown throughout training camp that he can be a player who makes a huge impact right away for the Arizona Cardinals.
Mathieu was even more impressive in his first preseason game, notching a sack and a handful of tackles against the Green Bay Packers. It was enough to prove to everyone that he's definitely worth seeing the field quite a bit during his rookie season.
This could be the week that Mathieu cements his status as a must-watch rookie for the regular season.