NFL Hot Seat Watch Heading into Preseason Week 2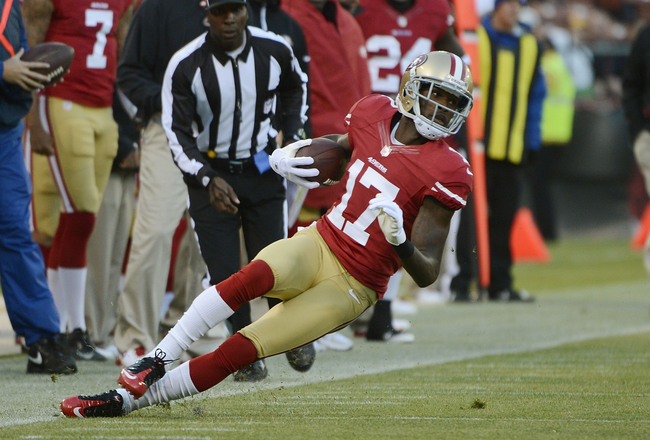 A.J. Jenkins struggled in Week 1 of the preseason and is now feeling his seat getting hotter.
Thearon W. Henderson/Getty Images
It's never too early for seats to start getting hot in the NFL.
Even though we're only starting the second week of the preseason we've seen enough from players and coaches to know whose seat is getting a little warm. Most of the following individuals on this list struggled mightily in their first preseason game.
Let's take a look at who is feeling the heat heading into Week 2.
Jason Garrett, Head Coach, Dallas Cowboys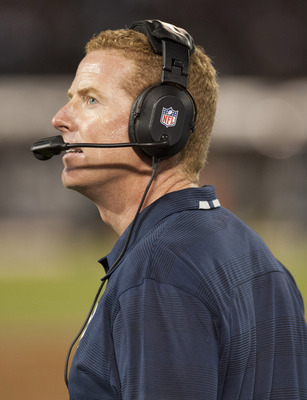 Ed Szczepanski-USA TODAY Sports
After beating the Miami Dolphins in the Hall of Fame Game, the Dallas Cowboys struggled against the Oakland Raiders this past week.
The Cowboys lost by a score of 19-17 to a team who is expected to be one of the worst in the league this upcoming season. What is most concerning about this past loss is the fact that the Cowboys looked a little sloppy on both sides of the ball.
That type of play is usually a direct result of coaching. The fact that Jason Garrett works for Jerry Jones means he is continuously on the hot seat.
Another sloppy game like Week 2 could be bad news for Garrett.
Blaine Gabbert, Quarterback, Jacksonville Jaguars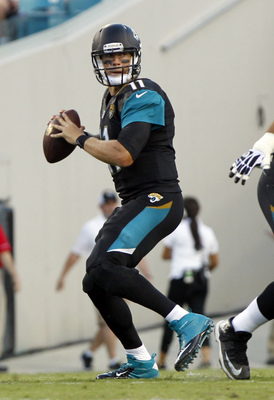 Kim Klement-USA TODAY Sports
Ever since quarterback Blaine Gabbert became the starting quarterback for the Jacksonville Jaguars, he's been on the hot seat.
To say that Gabbert hasn't lived up to expectations would be the understatement of the century. He's failed to play consistent football since he came to Jacksonville due mostly to his struggles with staying calm in the pocket.
The 2013 season was expected to be a make-or-break year for Gabbert, but he might not even make it until the regular season. Rookie quarterback Matt Scott played extremely well in Jacksonville's first preseason game.
While his statistics don't jump off the page (6-of-13 for 51 yards), Scott showed poise in the pocket that the Jaguars have been missing in recent seasons. If Scott continues to impress during the preseason, the coaching staff may be willing to give him a shot at the starting job.
Billy Davis, Defensive Coordinator, Philadelphia Eagles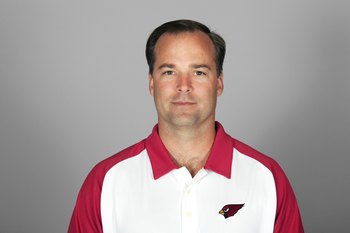 Getty Images/Getty Images
Everyone wants to talk about the Philadelphia Eagles' offense under new head coach Chip Kelly. However, no one wants to think about how terrible the defense may be under defensive coordinator Billy Davis.
The Eagles gave up a ridiculous 248 yards on the ground in Week 1 to the New England Patriots.
Remember LeGarrette Blount? Even he managed over 100 rushing yards and two touchdowns against the Eagles defense. It was one of the poorest defensive showings in preseason play in recent memory.
It won't matter how dominant Kelly's offense is if the defense is unable to stop anyone.
Andre Brown, Running Back, New York Giants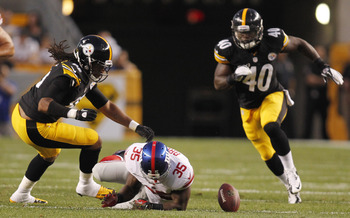 Charles LeClaire-USA TODAY Sport
If there is one thing that head coach Tom Coughlin hates, it's when players make simple mistakes.
Well, that's what running back Andre Brown did when he fumbled against the Pittsburgh Steelers in Week 1. We saw David Wilson end up in Coughlin's doghouse last year due to fumbling issues, and we could see the same thing happen to Brown if he continues to struggle.
The No. 1 running back job is wide open for the New York Giants. However, if Brown keeps putting the ball on the ground, we could see Wilson run away with the job during the preseason.
A.J. Jenkins, Wide Receiver, San Francisco 49ers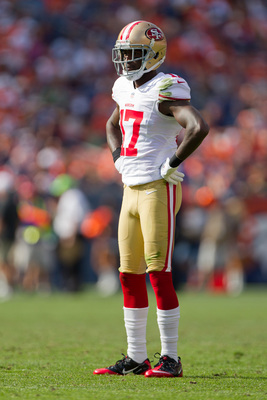 Justin Edmonds/Getty Images
Wide receiver A.J. Jenkins had the perfect opportunity in front of him for the 2013 season.
Teammate Michael Crabtree will be shelved for the majority of the season, which was supposed to open up a ton of looks for Jenkins. However, Jenkins continues to struggle much like he did during his rookie season.
Jenkins put the ball on the ground in Week 1 of the preseason against the Denver Broncos. It's this type of consistency that has kept Jenkins from being the type of player the San Francisco 49ers hoped he'd become.
He certainly has all the talent in the world, but if he can't figure out how to produce on the field, it may never matter. If Jenkins can't step up now, he may never get the chance.
Mike McCoy, Head Coach, San Diego Chargers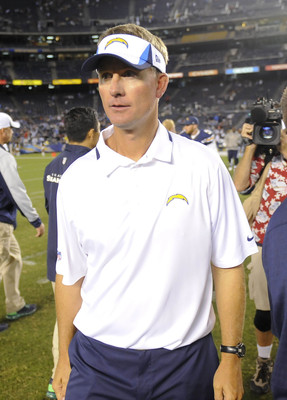 Christopher Hanewinckel-USA TODA
The San Diego Chargers brought in a new head coach in former Denver Broncos offensive coordinator Mike McCoy this past offseason. With McCoy at the helm, the Chargers were expected to make huge leaps on the offensive side of the ball this year.
Unfortunately, that didn't seem like the case during Week 1 of the preseason. The Chargers struggled to get anything going on the field in a 31-10 loss to the Seattle Seahawks.
The offensive line gave up four sacks and backup quarterback Charlie Whitehurst threw two interceptions. This type of offensive production simply doesn't work in the NFL.
Unless McCoy can turn things around quickly it could be a long year in San Diego with his seat constantly getting warmer.
Vince Young, Quarterback, Green Bay Packers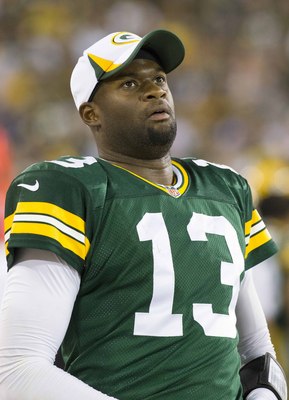 Jeff Hanisch-USA TODAY Sports
When the Green Bay Packers signed quarterback Vince Young it came as a surprise to everyone. No one really knew what the Packers were thinking by bringing in the former Tennessee Titans quarterback.
Well, if Week 1 of the preseason was any indication, the Packers brought in Young simply so they could release him before the regular season. Young, and the rest of the Packers' backup quarterbacks, were absolutely horrid against the Arizona Cardinals.
They combined for only 98 yards on 29 combined attempts. Young was the least impressive of the bunch, only completing one pass for three yards.
Unless Young shows vast improvement in Week 2 of the preseason he might once again find himself off an NFL roster for 2013 season.
Robert Meachem, Wide Receiver, San Diego Chargers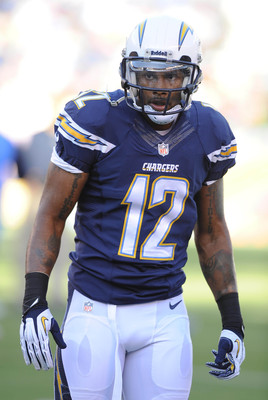 Christopher Hanewinckel-USA TODA
When the San Diego Chargers signed wide receiver Robert Meachem, many expected him to become a favorite target for quarterback Philip Rivers.
Of course, we all know that hasn't happened, and things just continue to get worse for Meachem in San Diego. Even with fellow receiver Danario Alexander out for the season with a torn ACL, Meachem can't seem to rise up the Chargers' depth chart.
He's currently behind Vincent Brown and Malcolm Floyd, and rookie Keenan Allen is making a strong push to becoming the team's No. 3 receiver. A strong preseason performance could be necessary for Meachem to make the final roster in San Diego this year.
Kevin Kolb, Quarterback, Buffalo Bills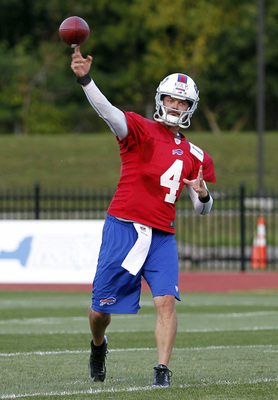 Kevin Hoffman-USA TODAY Sports
The worst thing that can happen to a player during a training camp battle is to suffer an injury.
That's exactly what has happened to quarterback Kevin Kolb of the Buffalo Bills. He's been sidelined with a knee injury and missed the first preseason game against the Indianapolis Colts.
In that game, rookie quarterbacks EJ Manuel and Jeff Tuel both played impressive football. That's certainly some terrible news for Kolb.
He needs to get healthy quick or he'll find himself watching games from the bench this season.
Anthony Spencer, Defensive End, Dallas Cowboys
USA TODAY Sports
Last year was quite the breakout season for outside linebacker/defensive end Anthony Spencer. Many expected big things for him during the 2013 season until a knee injury that required surgery knocked him out for the start of the season.
The player who has been replacing Spencer during the preseason has been defensive end George Selvie. He was so dominant during his first preseason game against the Miami Dolphins that the Dallas Cowboys decided to start him against the Oakland Raiders this week.
Spencer is expected to need another two or three weeks of rehab, according to Charean Williams of the Forth Worth Star-Telegram. Should Spencer need more time to get to full strength and Selvie continue to play strong football, we could see Spencer lose some major snaps in the regular season.
Mark Sanchez, Quarterback, New York Jets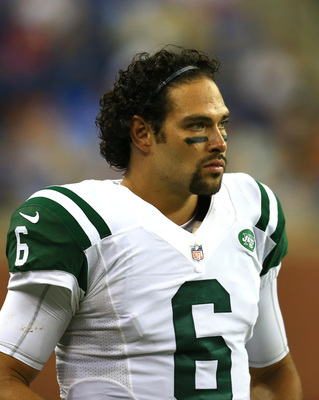 Andrew Weber-USA TODAY Sports
Look, until quarterback Mark Sanchez gets traded or benched or magically turns into the next Joe Namath, he's going to be on the hot seat. The fact that he threw a pick-six in his first preseason game certainly didn't help cool down his seat any.
While he did play solid football after that interception, it simply wasn't enough for the spotlight to come off him any. Throw in the fact that rookie quarterback Geno Smith was an efficient 6-of-7 for 47 yards in limited time and it won't make things any easier for Sanchez.
Things are going to have to change drastically in the preseason for Sanchez to get off the hot seat. Unfortunately, we simply shouldn't be expecting for that to happen anytime soon.
Keep Reading