Fantasy Football 2013: 7 Fantasy Football Sleepers Poised to Break Out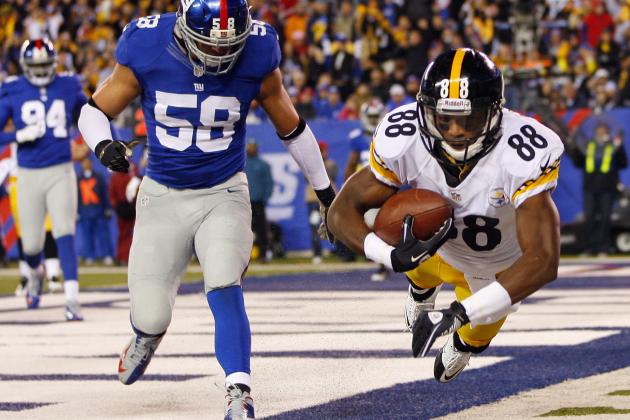 Rich Schultz/Getty Images

With the 2013 fantasy football season almost upon us, most people will be putting the finishing touches on their draft strategies.
Whether it's focusing on running backs early or making sure you grab the other elite players while everyone else obsesses over the running backs, every strategy could benefit from a few sleepers later in the draft.
These next seven guys are all relatively young and unproven, but they're also all in excellent situations for them to make the jump to fantasy football stardom this year.
Some of them have new teams, some new teammates or simply just a new role, but all of them have the physical skills and complimentary pieces to excel this season.
All stats referenced are from ESPN.com unless otherwise stated. All fantasy scoring mentioned assumes ESPN standard scoring.

Begin Slideshow

»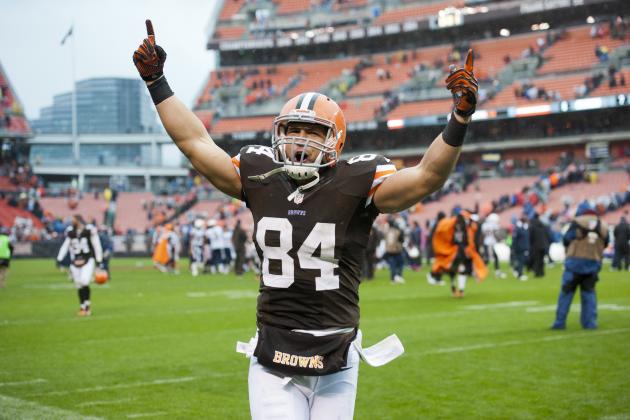 Jason Miller/Getty Images

Jordan Cameron enters his third season as the new starting tight end for the Cleveland Browns. That might not sound like the most likely place to strike fantasy football gold, and traditionally it hasn't been.
Cameron may be ready to start a new trend though, as he figures to be a big part of the Browns offense this season.
Cameron, who stands at 6'5", is an athletic tight end who is still relatively unproved. He's only seen 52 targets over his first two seasons, has just one career touchdown and has a quarterback in Brandon Weeden that doesn't exactly inspire confidence in the Cleveland passing attack.
The numbers can only go up, as Cameron will move from a reserve role to being the starter, but more encouraging for his fantasy football sleeper prospects is the new coaching situation for the Browns,
Rob Chudzinski is the new head coach of the Browns, and he's a man that knows how to use a tight end. He spent several seasons coaching the tight ends for the San Diego Chargers, the team where Antonio Gates became one of the best tight ends in the NFL and a fantasy football star.
Chudzinski also served as the offensive coordinator for the Carolina Panthers for the 2011 and 2012 seasons, during which time the Panthers targeted their tight ends quite a bit.
The two starting tight ends for 2011 Panthers team, Jeremy Shockey and Greg Olsen, combined for 152 targets, 843 yards and nine touchdowns. In 2012, Olsen became the lone tight end to really be featured in the Carolina offense, and he responded by posting 843 yards and five touchdowns on 104 targets.
Cameron might have more physical ability than Olsen, but at the very least he should be able to post similar numbers.
Browns quarterback Brandon Weeden should improve drastically as he enters his second season in the NFL, and if he does, Cameron should emerge as one of his favorite targets on check-downs and near the end zone.
Drafting Cameron as your starter requires a lot of faith, as he's far from the safe bet you can get with a lot of other late-round tight ends. But he has higher upside than most of those guys, and late in fantasy football drafts, upside is what you want.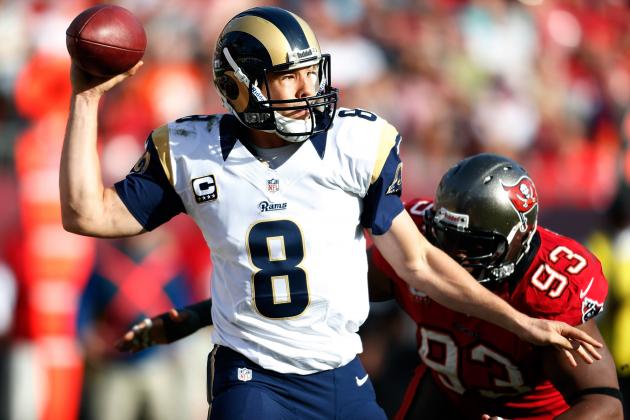 J. Meric/Getty Images

St. Louis Rams quarterback Sam Bradford has been in the league three years and has yet to emerge as a fantasy football starter in standard leagues. But this season should be different.
Bradford has never had a good offensive line or a star receiver, but the Rams went out and got him two players to help fix that in left tackle Jake Long and receiver Tavon Austin.
Long was one of the best tackles in the NFL for the Miami Dolphins over the past few years when he's been healthy, and if he avoids injuries with the Rams, he should drastically improve their offensive line.
Austin, the eight overall pick of the 2013 NFL draft, should become the best offensive weapon on the Rams. He's excellent at making people miss, which should get Bradford plenty of free yards on short passes that Austin turns into big plays.
Bradford improved across the board last season, nearly reaching 4,000 yards passing on a team that lacked offensive firepower, and should only continue to get better as he gains experience.
Running back Steven Jackson is gone from the Rams, which hurts the offense as a whole but should give Bradford more chances to succeed as the Rams lean more and more on their passing game.
Bradford is a solid backup quarterback, but he's also a sleeper with a chance to break into the top 10 fantasy football quarterbacks. His value as a bench player is worth a late-round pick, but his upside is as a potential starter.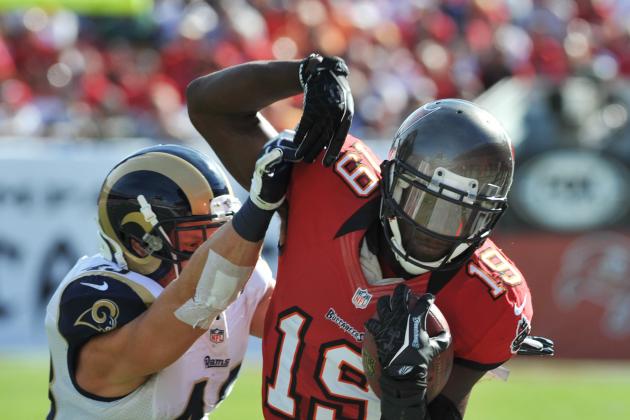 Al Messerschmidt/Getty Images

Mike Williams, receiver for the Tampa Bay Buccaneers, is currently being drafted as the 36th-best wide receiver despite finishing ranked 18th at the position last year in fantasy football.
Williams has been relatively consistent in his first three years in the NFL, posting at least 63 receptions every season while never being targeted less than 124 times in a season.
He has 23 career touchdowns, including nine last year, and has become quarterback Josh Freeman's favorite target in the red zone. Williams seems like a safe bet to challenge for double-digit touchdowns each season, and that alone should bump his value up in fantasy football drafts.
If Josh Freeman can step forward this season and become the franchise quarterback he was drafted to be, and if Williams can catch a higher percentage of his targets, then Williams should see an increase in receiving yards.
He won't be the primary receiver, as Vincent Jackson is one of the better receivers in the NFL and is a great big-play threat, but Mike Williams has shown if nothing else that you can count on him for 65 receptions, a shot at 1,000 yards and a fair amount of touchdowns.
The Bucs clearly believe that Williams is worth having, as they signed him to a six-year contract extension this offseason, and there's no reason to expect him to not continue to improve.
A fantasy football sleeper based on past production alone, Williams has a chance to be one of the better steals from your fantasy football draft.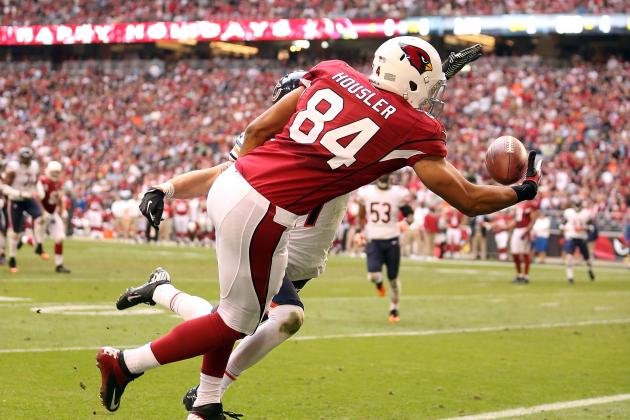 Christian Petersen/Getty Images

Arizona Cardinals tight end Rob Housler was the best receiving option at tight end for the Cardinals last year, grabbing 45 receptions for 417 yards and no touchdowns. Not exactly what you want from your starting tight end in fantasy football.
Thankfully, for Housler and his potential fantasy owners alike, the Cardinals went out and acquired quarterback Carson Palmer to replace the mess they had at quarterback last season. Palmer may be past his prime, but there is no way he isn't a major improvement for this offense.
Palmer will help the entire offense, but he should end up helping Housler the most. Palmer loves his tight ends, and you only have to go back to last season to see the proof. His starting tight end last season, Brandon Myers, was targeted 105 times.
If Housler, a 6'5" tight end with the speed to be a serious matchup problem, can see the ball that much, he will produce big numbers.
Another promising sign for Housler is his new head coach, Bruce Arians, another coach with a history of utilizing his tight ends quite a bit.
Add everything up, and Housler should be in for a breakout year for the Cardinals and any fantasy football owner willing to trust him as a late-round sleeper.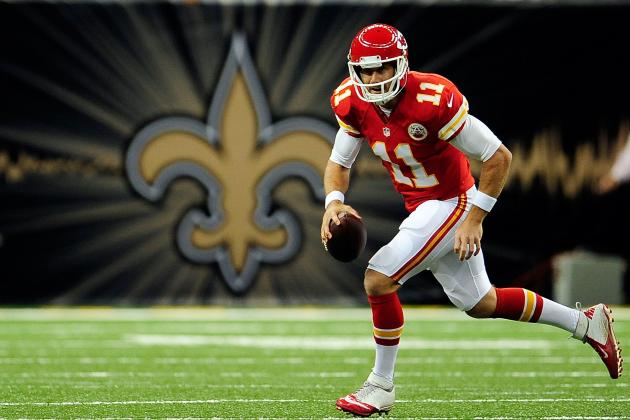 Stacy Revere/Getty Images

The new quarterback for the Kansas City Chiefs, Alex Smith, has a reputation of being nothing more than a game manager. That may have been his role with his old team, the San Francisco 49ers, but there's a good chance he'll be doing more than that with the Chiefs.
Smith has been efficient the past two seasons, throwing 30 touchdowns to just 10 interceptions, but he didn't throw for a ton of yards. That's understandable, as the 49ers ranked second to last in passing attempts last season.
There is no way new Chiefs head coach Andy Reid's offense looks anything like that. Reid's Philadelphia Eagles ranked seventh in passing attempts last year, and Reid has a reputation of wanting to throw the football almost too much.
That's not to say Smith will need to go out of his comfort zone and start taking risks with the football, because the Chiefs will probably run a West Coast-style offense that emphasizes turning short passes into bigger plays.
Smith will have Jamaal Charles and Dexter McCluster to throw screen passes too, as well as a very talented possession receiver in Dwayne Bowe, so there's no reason he can't succeed in this offense. The Chiefs have a good offensive line as well as a good running game to support Smith and help him extend drives.
Smith can be efficient, and he can lead his team on long drives that result in touchdowns.
He will have to take some more shots down the field this year, as the Chiefs do not have the defensive talent the 49ers had to help mitigate any lack of offensive production, but if Smith can handle his expanded role well, he has a shot to become a top-10 fantasy football quarterback.
If nothing else, Smith can be a solid bye week starter. He won't cost you any games, since his lack of turnovers means he rarely has a terrible fantasy output, and he offers the upside of potentially being able to win your fantasy football team some games.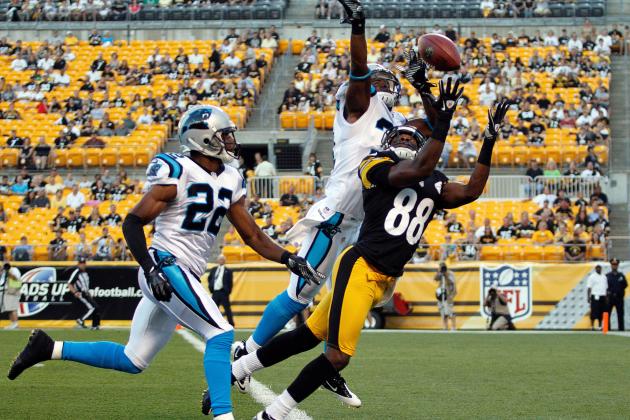 Justin K. Aller/Getty Images

The Pittsburgh Steelers almost lost receiver Emmanuel Sanders to the New England Patriots in the offseason.
After Sanders signed an offer sheet with the Patriots, Steelers quarterback Ben Roethlisberger fought for his team to keep Sanders around. That has got to be a confidence booster for Sanders, who should be ready to break out this year.
Sanders will be replacing former Steelers receiver Mike Wallace in the starting lineup, and while Sanders isn't quite the deep-threat that Wallace is, he's still a talented receiver. Sanders was only targeted 74 times for 44 receptions last season, but he should expect to see at least half of Wallace's 119 targets from last year coming his way.
That's a lot of potential targets for Sanders, who should post career-high numbers in every receiving category this year.
If Roethlisberger and Sanders can both stay healthy, they should develop a nice connection on the field that leads to Sanders growing into a decent fantasy football flex player.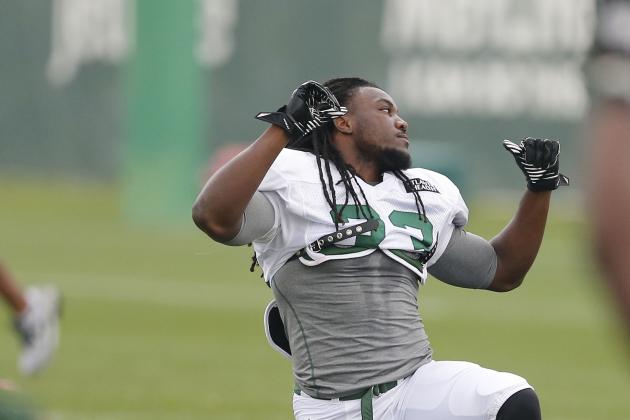 The Star-Ledger-USA TODAY Sports

Chris Ivory was acquired by the New York Jets to be their starting running back this year, and given the lack of depth at running back in fantasy football this year, any guy with a shot at being the starter has the potential to offer a lot of value.
Ivory is no exception, but he isn't being drafted like a starting fantasy football running back. That's largely because he's both unproved and on a terrible Jets offense, but both issues are being overblown.
The Jets offense might be dysfunctional, but the running game last season didn't suffer because of it. The Jets ranked 12th in rushing yards, and starting running back Shonn Greene rushed for over 1,000 yards and tallied eight touchdowns.
None of that was thanks to Greene's talent though, as he has a career 4.2 yards-per-carry average, but was more due to the Jets running the ball the sixth-most times in the NFL.
Chris Ivory's career stats would look pretty good for a single season, as he has over 1,300 yards, eight touchdowns and 5.1 yards-per-carry on 256 attempts. The problem is that Ivory has posted those career numbers over three seasons, not one, so he has yet to prove he can be the lead running back for a team.
But chances are Chris Ivory is at least a better running back than Shonn Greene, and Greene was the 15th-best running back in fantasy football last year. Ivory isn't being drafted anywhere near that high, so he should at least be a solid value pick.
But if Ivory can keep up that yards per carry in a greatly expanded role with the Jets, then he has a really good chance of being a fantasy football star this season. Since Ivory is currently going in the early sixth round, he represents really good value with a lot of upside at a position where depth is hard to come by.
That makes him a perfect sleeper candidate for the 2013 fantasy football season.