Updating Kansas City Chiefs' Key Position Battles Halfway Through Training Camp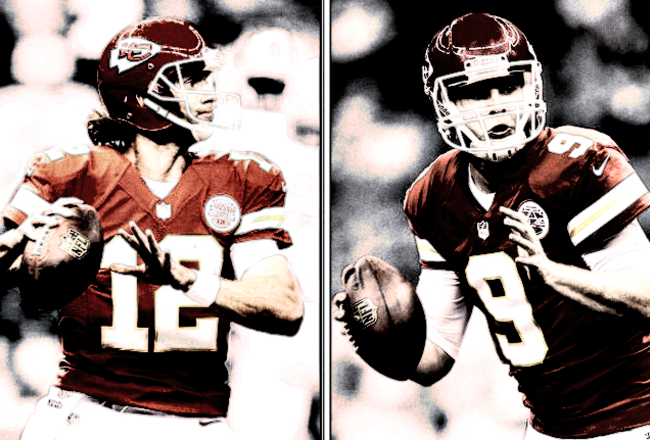 Image edited by Brett Gering
Derick E. Hingle-USA TODAY Sports
The Kansas City Chiefs' scrimmage versus the New Orleans Saints was an emotionally packed roller-coaster ride that ultimately threw fans for a loop.
Chiefs first-stringers demoralized the Saints' starters in all three facets of the game. Kansas City's reserves? Not so much.
New Orleans' substitutes returned the favor and gradually deflated their guests' 10-point cushion of comfort.
However, wins are demoted to secondary bonuses within the realm of preseason. The 60-minute audition, more importantly, removed the veil of uncertainty and offered a peek at position battles.
*All statistics provided by Pro Football Focus (subscription required).
Tight End: Anthony Fasano vs. Travis Kelce vs. Tony Moeaki
Stacy Revere/Getty Images
Anthony Fasano's stats versus the Saints weren't worth writing home about, but he authored the most noteworthy performance of the tight end trio.
Both of the presumed starter's receptions moved the chains, including the initial first down of the new regime.
Travis Kelce's first catch also yielded a fresh batch of downs. However, he later dropped a Tyler Bray pass that would've tacked another touchdown on the board. While it wasn't the easiest opportunity, the throw was catchable nonetheless.
Although Tony Moeaki amassed the most snaps (23) of the group, his sole target was an uncatchable misfire.
Free Safety: Kendrick Lewis vs. Husain Abdullah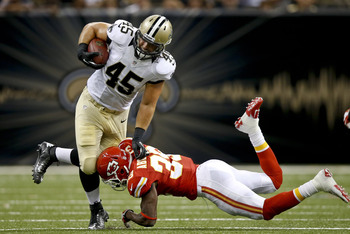 Derick E. Hingle-USA TODAY Sport
In New Orleans, Husain Abdullah looked like a bona fide threat to Kendrick Lewis' slot in the starting rotation, and it wasn't by virtue of Lewis' play.
The projected starter only participated in seven snaps and wasn't tested in any element of the game.
Conversely, Abdullah lined up for 33 play calls and stamped his signature on a handful of them. New Orleans completed both passes in Abullah's direction, but the pair only resulted in six total yards.
He lived up to his reputation as a contact-craving run-stopper and registered four tackles before retiring for the night.
Abdullah was penalized for pass interference, but replays illustrated a clearly unwarranted flag.
Left Guard: Jeff Allen vs. Geoff Schwartz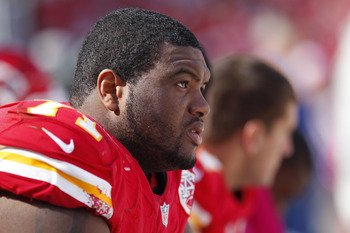 Kyle Rivas/Getty Images
For unspecified reasons, Geoff Schwartz's 30 snaps resided at left tackle. It's fairly safe to assume that the decision stemmed from Donald Stephenson's absence, though.
Obviously, guards and tackles generally face two different builds of defensive linemen. Tackles tend to line up across from more athletically inclined edge-rushers, while guards are usually tasked with halting stronger, heavier defensive tackles.
In other words, Friday's exhibition offered no valid comparison between Schwartz and Jeff Allen.
With the exception of one quarterback hurry, Schwartz performed sufficiently on the outside.
Allen looked markedly improved from 2012—which is far from a ringing endorsement, given the standard—but he was pushed into the backfield on two rushing plays.
Left guard remains the only unnerving question along the offensive line.
Strong-Side Linebacker: Akeem Jordan vs. Nico Johnson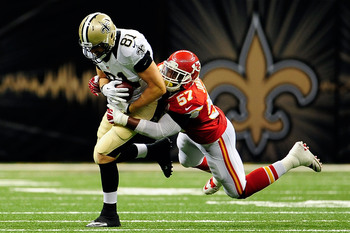 Stacy Revere/Getty Images
After watching Akeem Jordan play one defensive possession, you would swear that his listed weight is a misprint.
Within a 3-4 scheme, strong-side linebackers often hover around the 250-pound mark. Jordan falls 20 pounds under that unofficial benchmark, but he plays like a man possessed. Throughout the Saints' opening drive, the veteran thumper showed that his unfiltered aggression more than compensates for any lack of size.
On New Orleans' first rush of the evening, Jordan escaped a would-be blocker's outreached hands and swooped in to ensure Dontari Poe's tackle. Shortly after, No. 55 stepped up into the trenches, squared his shoulders and easily shoved off right tackle Zach Strief before plugging the lane and corralling Darren Sproles.
Jordan's lighter stature pegs him as a more viable coverage option than Nico Johnson. However, judging by his first exhibition contest of 2013, he's every bit as effective against handoffs.
Johnson didn't fare as well as his counterpart. He recorded two tackles but also allowed an equal number of receptions for 20 yards. He got away with a blatant hold on Darren Sproles during Drew Brees' final snap as well, but the lauded legend was pressured into an inaccurate hurl across the field.
Quarterback: Tyler Bray vs. Ricky Stanzi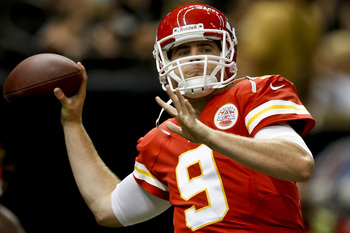 Derick E. Hingle-USA TODAY Sport
The quarterback tandem provided its fair share of hopeful highs and loathsome lows last Friday.
While Tyler Bray has been the more consistent passer throughout camp, he only tallied 27 yards on 3-of-7 passing. To make matters worse, the rookie also coughed up the football while under the duress of a collapsing pocket.
However, two of his attempts were dropped, including a surefire touchdown to Travis Kelce.
He partially redeemed his hype on Sunday with a screaming downfield heave to Rico Richardson.
Ricky Stanzi only managed to complete five of his 12 targets (42 yards). But as was the case with Bray, Chiefs wideouts didn't do No. 12 any favors.
Unless he strings together a number of buzzworthy performances, the walking meme known as Ricky Stanzi is destined for the practice squad.
To quench your thirst for Chiefs updates, follow Brett on Twitter:
Keep Reading

Kansas City Chiefs: Like this team?