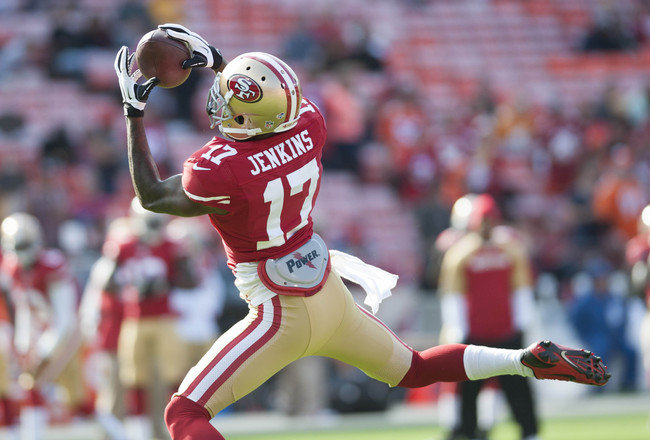 Ed Szczepanski-USA TODAY Sports
Week 1 of the NFL preseason is in the books. If you despise the preseason, I can't blame you. However, this four-week appetizer does have its purposes.
Naturally, coaches and front office personnel use the preseason to shape and form their rosters.
From fantasy football to standout rookie performances, the preseason shines the spotlight on aspects of the game we would usually ignore.
With the start of the regular season around the corner, teams will use these next few weeks to evaluate both rookies and veterans. For the San Francisco 49ers, Jim Harbaugh and GM Trent Baalke will have their work cut out for them in shaping this talented roster.
Without haste, I give you a position-by-position breakdown of the San Francisco 49ers offense.
Quarterback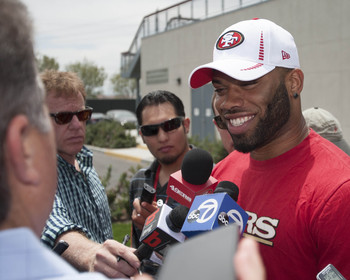 Ed Szczepanski-USA TODAY Sports
Start:
With Alex Smith in a Kansas City Chiefs uniform, this is Colin Kaepernick's team. In his preseason debut as the unquestioned starter, Kaepernick was sharp.
Keep:
B.J. Daniels
McCoy suffered an injury in the 49ers' preseason loss to the Denver Broncos. While Jim Harbaugh did state this was still an open battle for the backup position, if McCoy can stay healthy, I think this remains his job to lose.
Daniels didn't see the field as a quarterback, but I still believe his versatility will win him the third-string position.
Cut:
Scott Tolzien
With McCoy hurt, Tolzien remained in at quarterback for most of the game against the Broncos. While Tolzien has the added advantage of knowing this 49ers system, his play on Thursday did not reflect so.
Daniels could see more playing time in the 49ers' upcoming matchup with the Kansas City Chiefs. If Daniels can limit the turnovers, he should come out victorious from this quarterback battle.
Running Back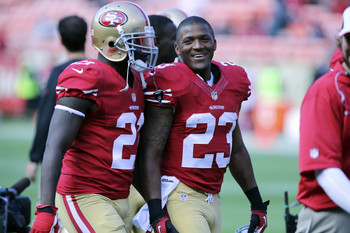 Kelley L Cox-USA TODAY Sports
Starter:
Frank Gore
Frank Gore will get his usual 15-20 touches per game. However, I wouldn't be surprised if Harbaugh continues to limit Gore's touches.
Keep:
Kendall Hunter
LaMichael James
Jewel Hampton
Hunter was activated from the physically unable to perform list to the active roster. This is great news for 49ers fans. Hunter was extremely effective last season before suffering a nasty Achilles injury.
LaMichael James is also guaranteed a roster spot. Expect to see James play a more active role on special teams.
Hampton didn't see much action on Thursday, but I still think the young tailback will survive the final roster cuts. This is more of an insurance spot in case any of the above players get injured.
Cut:
D.J. Harper
D.J. Harper was abysmal on Thursday, as he finished the game with two carries for minus-six yards. He also had a costly fumble that led to a Broncos touchdown.
Harper will likely be a practice squad addition.
Tight End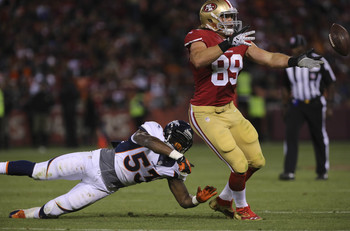 Kelley L Cox-USA TODAY Sports
Start:
Vance McDonald
Will Vernon Davis play receiver? I envision Davis playing out wide in a limited capacity but expect most of his playing time at tight end.
McDonald is a different story. At Rice, McDonald was used as a versatile chess piece on offense. We saw some of this against the Broncos on Thursday night.
The 49ers will use McDonald as a pseudo-starter in their tight end-heavy offense. Look for offensive coordinator Greg Roman to employ a ton of 12 personnel packages (1 RB 2 TE) this season.
Keep:
Garrett Celek
This offense will need a solid blocking tight end to round out the group. Vernon Davis is an excellent blocking tight end, but McDonald is still learning.
Cut:
MarQueis Gray
I love this guy's athleticism. He was a former quarterback and receiver at the University of Minnesota. Gray was asked to make the switch to tight end when the 49ers picked him up as a undrafted free agent.
While Gray has talent, the former Gopher will likely be a practice squad addition this season.
Fullback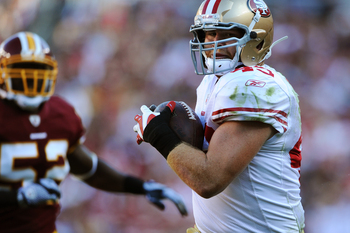 Patrick Smith/Getty Images
Starter:
Bruce Miller
Miller has turned into a quality starter for the 49ers. He is a fantastic lead blocker and has shown some versatility in the passing game. This was a great find by GM Trent Baalke.
Cut:
Anthony Dixon
Jason Schepler
Anthony Dixon's career with the San Francisco 49ers may be coming to an end. Dixon hasn't turned into the goal-line back that Jim Harbaugh envisioned.
Additionally, the 49ers have valuable depth at running back, which decreases his value even further. The same can be said for Schepler.
Receivers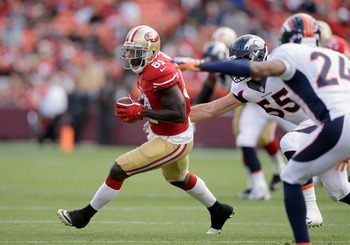 Ezra Shaw/Getty Images
Start:
*Michael Crabtree (PUP List)
Anquan Boldin
A.J. Jenkins
Anquan Boldin looked solid in his short stint against the Broncos on Thursday night. GM Trent Baalke and Jim Harbaugh deserve major props for their acquisition of the veteran receiver.
A.J. Jenkins was up and down in his debut. He ran some good routes but also had a lost fumble. Additionally, Jim Harbaugh didn't feel the need to start Jenkins opposite Boldin.
What does that say about Jenkins? It doesn't say much in my opinion, but Jenkins will still need to show improvement in the remaining three preseason games for a starting gig.
Keep:
Mario Manningham
Kyle Williams
Quinton Patton
Kassim Osgood
Mario Manningham is still rehabilitating from the ACL injury he suffered last season. Williams didn't play in the preseason opener but was listed as the starter opposite Boldin on the 49ers depth chart.
I still think Jenkins gets the nod opposite Boldin, but Williams and Manningham should receive plenty of playing time.
Quinton Patton is still raw, but I love his potential. He should be a future starter down the line. Additionally, he is also suffering from a finger injury.
Kassim Osgood will play most of his snaps on special teams, but his surprise performance against the Broncos has me rethinking his role. Osgood can play some receiver, which increases his value.
Cut:
Ricardo Lockette
Chad Hall
Austin Collie
Charly Martin
Lavelle Hawkins
Chuck Jacobs
Marlon Moore
Ricardo Lockette is on the bubble. He may end up making the roster because of the rash of injuries at receiver, but I have him just missing the cut as of now. Collie is in the same boat.
Marlon Moore surprisingly received the start for the preseason opener but didn't make much of an impact in the loss. He will likely be a practice squad addition.
Lavelle Hawkins and Charly Martin didn't factor into the passing game against the Broncos, so I'll take a wait-and-see approach for right now. However, their chances of making the roster are slim.
Chad Hall and Chuck Jacobs also have slim chances of making the roster, but both receivers did make a mark in their preseason debut.
Offensive Line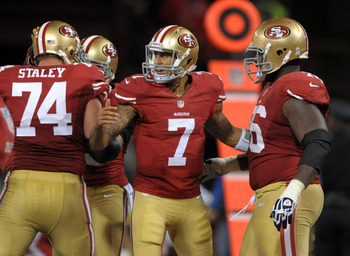 Kirby Lee-USA TODAY Sports
Starter:
Jonathan Goodwin (C)
Alex Boone (RG)
Anthony Davis (RT)
Joe Staley (LT)
Mike Iupati (LG)
This list is pretty straightforward. All five guys will return as starters unless an injury occurs.
Keep:
Joe Looney (G/C)
Daniel Kilgore (C)
Adam Snyder (G/C)
Synder was a good pickup for the 49ers. He has the versatility to play all the interior positions and great chemistry with most of the starters.
Looney and Kilgore are the future for the 49ers. Kilgore or Looney will likely take over at center for Goodwin next season.
Both guys will play in situational downs this season, but look for their roles to expand in 2014.
Cut:
Carter Bykowski (LT)
Al Netter (G)
Kenny Wiggins (T)
Patrick Omameh (RT)
Bykowski and Wiggins will likely be practice squad additions. Either player would have to beat out Snyder for that last spot. I can't envision that occurring.
Netter projects as an interior lineman if he were to make the final roster. With Looney and Kilgore likely making the cut, I can't see Netter making this roster. The same can be said for Omameh.
Keep Reading

San Francisco 49ers: Like this team?
Load More Stories