Predicting Boston Celtics' Final 15-Man Roster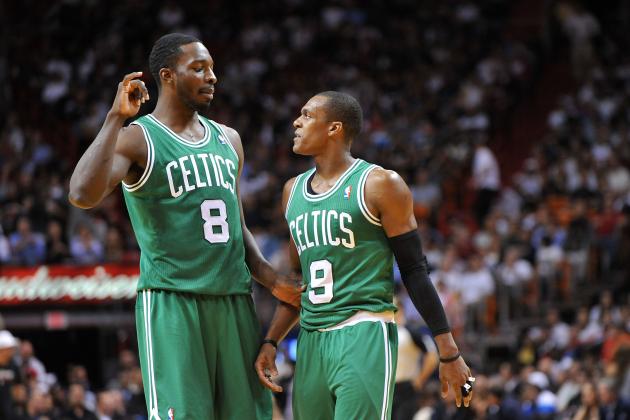 Steve Mitchell-USA TODAY Sports

The 2013-14 season is going to be one of major change for the Boston Celtics, as they say goodbye to Doc Rivers, Paul Pierce and Kevin Garnett while welcoming in a slew of new players and a rookie head coach in Brad Stevens.
Though the Celtics have their core in place for next year, there is still plenty of uncertainty about who will be in the starting five and who will be able to get consistent minutes off the bench.
With a mix of unproven young talent and capable veterans who are all nearing their respective ceilings it is difficult to imagine just how the Boston Celtics are going to be configured when their season tips off in Toronto on October 30.
Still, let's take a moment to predict the C's final 15-man roster and how the depth chart should break down when everything is said and done.
Statistics courtesy of ESPN, roster information courtesy of Rotoworld.
Begin Slideshow

»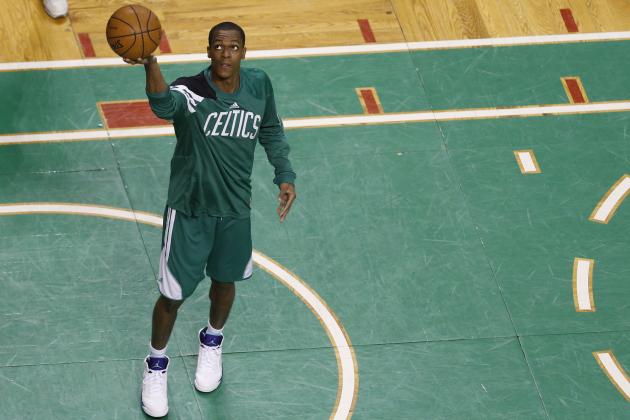 David Butler II-USA TODAY Sports

Starter: Rajon Rondo
Per ESPNBoston's Chris Forsberg, the Celtics expect Rajon Rondo to be healthy and ready for the start of the regular season and with that he will finally shoulder the responsibilities of being Boston's franchise player.
Before tearing his ACL, Rondo averaged 13.7 points, 5.6 rebounds and 11.1 assists while shooting 48.4 percent from the floor. If Boston wants to stay relevant in the Eastern Conference the team is going to need him to continue to develop, particularly as a scorer and an outside shooter.
Now that Garnett and Pierce are no longer in town, Rondo has fewer capable finishers around to pass to, meaning that he will need to continue to develop his driving ability and mid-range game.
Though the Celtics will have to monitor Rondo's minutes early on as he comes back from the injury, the club has little substantive depth behind him, meaning he will routinely be hitting the 40-plus minutes mark during the regular season.
There is always the possibility Boston looks to deal Rondo early on and throw away 2013-14, but since he is returning from a serious injury the team will need to show he is fully healthy in order to help his trade value.
After years sharing the spotlight with Pierce and KG, the 27-year-old point guard finally has his starring opportunity with Boston, whether it is for 10 games or the foreseeable future.
Main Reserve: Phil Pressey
Phil Pressey went undrafted in 2013, but he managed to parlay a strong summer league performance into a partially guaranteed contract with Boston.
Despite struggling with turnovers, Pressey averaged 9.4 points and 6.6 assists while running the Celtics' offense effectively and playing stifling on-ball defense.
The 5'11" Pressey is reckless at times and still needs to develop an outside shot, but he may be Boston's best passer besides Rondo. Pressey is a true pass-first point guard whose main goal on the court is to make his teammates better.
It will take a while, but Pressey should crack Boston's rotation in the regular season.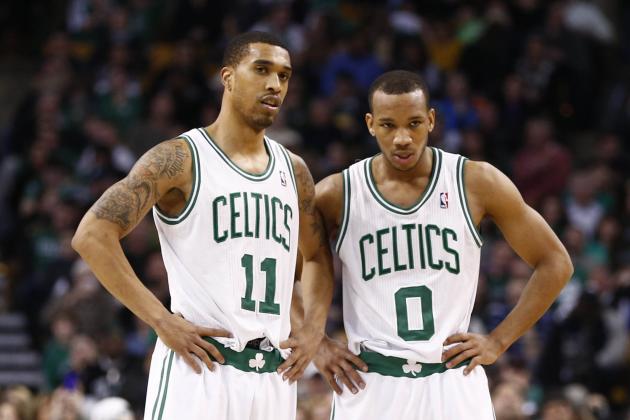 USA TODAY Sports

Starter: Avery Bradley
Rotoworld has Avery Bradley listed as backup point guard, but Bradley, who has started at the 2 alongside Rondo for most of his career, is much better suited working off the ball as a shooting guard than he is running the offense.
Returning from shoulder surgery, Bradley averaged 9.2 points, 2.2 boards and 2.1 assists, but shot just 40.2 percent from the floor and posted a dismal PER of 8.89.
At 6'2", Bradley has the frame of a point guard, but his outside shot and overall offensive game still need work. Bradley is decent from mid-range, but struggles from three and has difficulty finishing in the paint at times.
The Celtics need a secondary ball-handler in the starting lineup now that Pierce is gone, and Bradley has shown he can bring the ball up the court for stretches. He and Rondo have also shown great chemistry at times with Bradley slashing without the ball.
Beyond just his offensive contributions, Bradley's defense is simply too good to waste on bench scorers, ensuring he will once again be the C's starting 2.
Main Reserve: Courtney Lee
Courtney Lee had a turbulent first season with Boston, as he struggled with Doc Rivers' system, but with Brad Stevens at the helm he'll have another opportunity to prove his worth.
The 27-year-old guard has put together strong seasons with the New Jersey Nets and Houston Rockets, but averaged just 7.8 points, 2.4 boards and 1.8 assists with the Celtics.
Although he was miscast as a ball-handler last season, Lee brings value as a versatile "three-and-D" wing who can space the floor and knock down shots while also playing tight perimeter defense.
With three years and nearly $16.4 million remaining on his contract the Celts will likely look to deal Lee at some point in the near future, but for now he is the team's most complete 2-guard and will play significant minutes to start the 2013-14 season.
Additional Depth: Jordan Crawford and MarShon Brooks
Boston brought in Jordan Crawford at the 2013 trade deadline to provide the team with a much-needed perimeter scoring presence. Though Crawford takes some stunningly bad shots, he has proven in his short career that he can put up points if given enough minutes.
With Boston, Crawford averaged 9.1 points, 2.7 boards and 2.5 assists but shot just 41.5 percent from the field.
Though he is an inefficient volume shooter, Crawford is one of Boston's few players who can create his own shot, and for that reason he will see the floor.
Of the pieces Boston acquired in the Garnett-Pierce blockbuster trade, MarShon Brooks is the only one who might have a legitimate future with the C's.
A first-round pick of Boston's back in 2011, Brooks was buried behind Joe Johnson last season but averaged 12.6 points, 3.6 rebounds and 2.3 assists per game as a rookie on 42.8 percent shooting and 31.3 percent from three.
Brooks is a mediocre defender and an inconsistent three-point shooter, but he is capable of attacking the basket and scoring with the ball in his hands.
The third-year scorer might not be a key part of the team's rotation early on, but he should find a role with the Celtics eventually.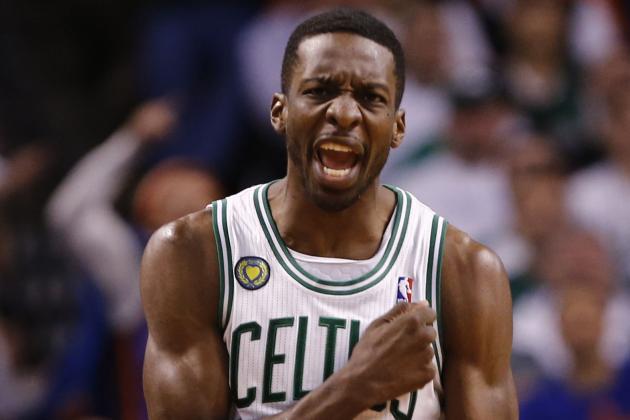 Mark L. Baer-USA TODAY Sports

Starter: Jeff Green
Jeff Green came on slowly to start the 2012-13 season, but emerged after the All-Star break, averaging 17.3 points, five boards and 2.7 assists on 49.3 percent shooting from the floor and 43.9 percent from three.
Now, with the Big Three era over and Rondo coming off an injury, Green will have the opportunity to be the first option offensively for the first time in his career.
Green is a phenomenal athlete and a versatile player capable of scoring in bunches, locking down on defense and even handling the ball in spurts, but he can disappear at times. However, Green appeared to make major strides late in the season, emerging as the 1A option to Pierce.
In Boston's six-game series with the New York Knicks, Green averaged 20.3 points, 5.3 boards and 2.3 dimes while shooting 45.5 percent from beyond the arc.
The 26-year-old wing still has untapped potential, and with the Celtics in a transitional phase he is going to have the chance to take 15-20 shots per game and become the 20-plus-points-per-game scorer he seemed destined to be until heart surgery put his career on hold.
Main Reserve: Gerald Wallace
With three years and $30 million remaining on his contract, Boston is sure to aggressively shop Gerald Wallace, but until then he'll be the team's main reserve at small forward.
Wallace had a horrendous 2012-13 campaign, averaging 7.7 points, 4.6 boards and 2.6 assists while shooting just 39.7 percent overall and 28.2 percent from deep.
Athleticism has always been Wallace's strength in this league, but at 31-years-old he is clearly on the decline. No longer is Wallace the kind of stellar above-the-rim player he was during his Charlotte days.
Still, he is a quality defender and an important veteran presence Boston will rely on for 20 minutes of production per night while they look for someone willing to take on the remainder of his atrocious contract.
Additional Depth: Keith Bogans
A "three-and-D" wing without much of a three-point shot, Keith Bogans helped to bring Boston a valuable trade exception but not much else.
Bogans is earning $5.1 million in 2013-14, but the final two years of his contract are unguaranteed, meaning the C's will likely waive the 33-year-old at the end of the season.
Bogans is still a decent defender, but he is a non-factor offensively, averaging 4.2 points on 38 percent shooting last season.
Though he'll provide a veteran locker room presence for the Celts, don't expect Bogans to see the court much.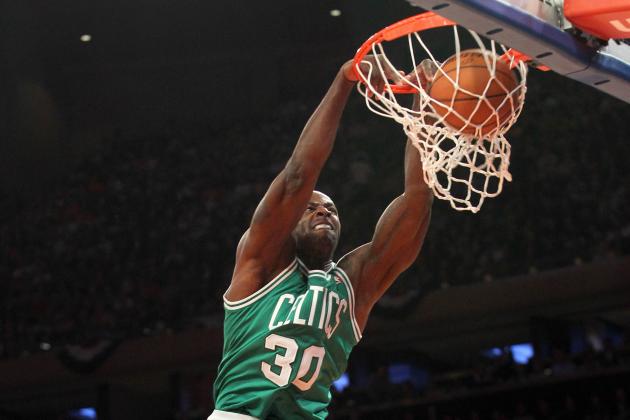 Brad Penner-USA TODAY Sports

Starter: Brandon Bass
Brandon Bass is not the future at power forward for Boston, but with the Celts likely looking to shop him and open up minutes for Jared Sullinger and Kelly Olynyk they will need to make him attractive to potential trade partners.
Bass had an up-and-down 2012-13 season, averaging 8.7 points, 5.2 boards and one assist per game on 48.6 percent shooting from the field. He played well defensively, but struggled to score consistently and lost minutes to Sullinger prior to his back surgery.
The 28-year-old big man has clearly reached his ceiling as a player and while he has proven he can be a starter on a playoff team, there is not much of a place in Boston for Bass going forward, particularly with Sully and Olynyk waiting in the wings.
Bass has some obvious limitations, but thanks to his solid mid-range touch and toughness he will still be an integral part of the C's rotation.
Main Reserve: Jared Sullinger
Concerns about his back are what allowed Boston to steal Sullinger with the 21st pick in the 2012 draft, but that same issue is what ultimately cost him the final 37 games of the regular season and the playoffs.
Before his surgery Sully was just coming on, earning heavy minutes and playing well alongside Garnett in the frontcourt. For the year, he averaged six points and 5.9 rebounds while shooting 49.3 percent.
Though he is still developing defensively, Sully is a strong rebounder and a capable finisher in the paint who uses his frame to bang down low against players taller than him.
Expect the team to ease him back into the rotation, but Sully will be playing heavy minutes by the middle of the 2013-14 campaign.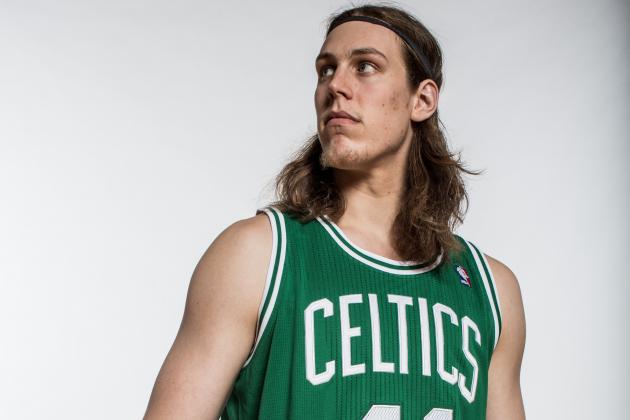 Nick Laham/Getty Images

Starter: Kelly Olynyk
Boston's decision to trade up for Olynyk was met with some skepticism, but the Gonzaga product proved his worth by absolutely dominating the Orlando Summer League for the C's.
In five games, Olynyk shot 57.8 percent and notched 18 points, 7.8 boards, 2.4 dimes and 1.8 steals per game.
His three-point shot is still a work in progress, but Olynyk is a versatile, highly skilled offensive player who can score in a variety of ways. He is capable of playing on the block, finishing on the pick-and-roll and drilling 18-footers with regularity.
For a young big, Olynyk has tremendous footwork down low as well as guard-like ball-handling skills that allow him to make passes few frontcourt players can make.
There will be some rough moments as Olynyk adjusts to his new role—the NBA is a lot tougher than the West Coast Conference—and his defense is going to be ghastly at times, but he is the Celtics' best option at center for the 2013-14 season.
Main Reserve: Kris Humphries
A $12 million expiring contract that might not finish the season with Boston, Kris Humphries will be asked to spend much of his time on the court out of position at center.
The 6'9" Humphries has logged some time at the 5 in the past, and though he is smaller than most centers, he is strong enough to handle physical play in the paint.
Buried on the Brooklyn bench last season, Humphries averaged 5.8 points and 5.6 rebounds on 44.8 percent shooting, but he is a proven double-double player when he gets heavy minutes.
Humphries is far from glamorous, but he can produce consistently and will give the Celtics the dominant rebounder they have lacked since dealing Kendrick Perkins.
The 28-year-old will not be playing 25-plus minutes per game, but he is one of the few players on Boston's roster capable of logging consistent minutes at the 5.
Additional Depth: Vitor Faverani and Fab Melo
Neither Vitor Faverani nor Fab Melo are quite ready to play regular minutes in the NBA yet, and both will struggle to see the floor regularly next year.
Melo showed slight improvement during summer league, but is still incredibly raw offensively and poorly conditioned, limiting his ability to even play the defensive anchor role he did at Syracuse.
Faverani has a more polished game and can play the pick-and-pop, but he is a work in progress defensively and a mediocre rebounder for a 6'11" big man.
Both have upside and could be key pieces for the future, but they are not going to be significant factors in the 2013-14 campaign.