Every golf tournament provides surprises. That just comes with the unpredictable nature of the sport. Still, the 2013 PGA Championship was full of them.
From the winner to the performance of Tiger Woods and the performance of the course itself, there were surprises from all angles.
Here are the ones that most caught my attention. But feel free to look over the leaderboard first.
Dufner Beats the Field and His Demons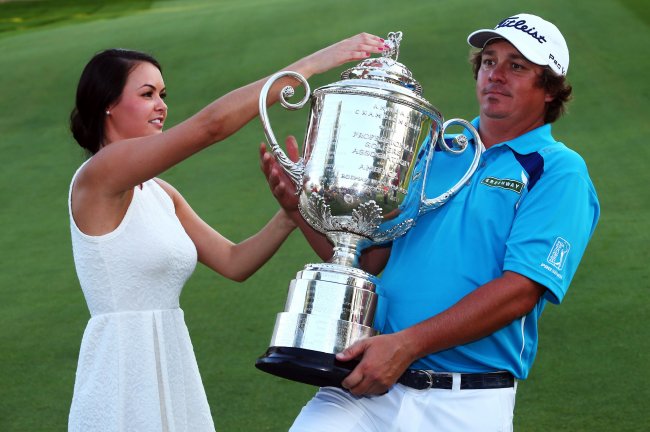 Streeter Lecka/Getty Images
We may as well start off with our winner. Jason Dufner, who began the day one stroke back of leader Jim Furyk and was playing in the final group, stood on the 15th tee with a two-stroke lead.
That is a fairly comfortable lead. However, it likely didn't feel all that comfortable to Dufner.
Just two years ago, Dufner stood on the 15th tee in the final round of the PGA Championship with a five-stroke lead. He bogeyed three of his next four holes that year and wound up losing to Keegan Bradley in a playoff.
This year, Dufner bogeyed his final two holes. But the last four holes were dangerous, so this wasn't a terrible finish. And no one was able to chase him down.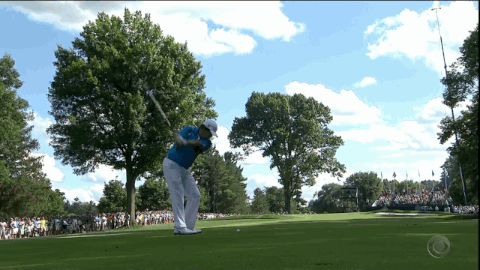 Nerves appeared to get to Dufner on a few short putts on Sunday, but that wasn't the case when he had an iron in his hand. Dufner's approach game was nearly flawless on Sunday, and that paved the way to the 36-year-old's maiden major championship.
We May Want to Hold Off on Rory McIlroy's Golfing Obituary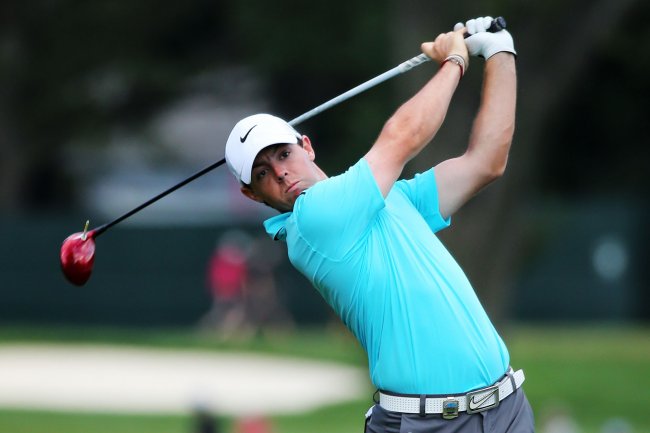 Rob Carr/Getty Images
Rory McIlroy has struggled throughout this year, leading many to speculate that the 24-year-old was mired in a slump that wouldn't come to an end anytime soon.
In fact, golfing legend Gary Player went as far as to dissect McIlroy's problems all the way to his personal life.
Gary Player takes shot at Rory McIlroy and girlfriend Caroline Wozniacki, says golfer needs to 'find the right wife': http://t.co/krEtToGyfH

— NY Daily News Sports (@NYDNsports) July 30, 2013
I may not have the golf resume of Player, but it appears the following tweet is far more applicable in this situation:
Gary Player's advice to Rory: 'Find the right wife'? Really? How about making his ball find the fairway instead? http://t.co/iFz6JANm4Z

— Johnette Howard (@JohnetteHoward) July 30, 2013
While he wound up tied for eighth and seven shots behind Dufner in his bid to defend his PGA Championship title, McIlroy put together a wonderful tournament and proved he is too talented to ever be counted out.
Who is more likely to win a major next year?
It wasn't his best performance of the year—that came back in April with a second-place finish in Texas—but it was a sign that McIlroy is going to be just fine.
Oak Hill was playing very difficult by the end of this tournament, and the tight fairways and par-70 course are not well suited for McIlroy's game. However, he was able to hang with the leaders and even make some noise early on Sunday.
While we have to wait until next year's Masters for another major, I'm going to go ahead and consider McIlroy one of the early favorites.
Tiger Woods Comes Up Empty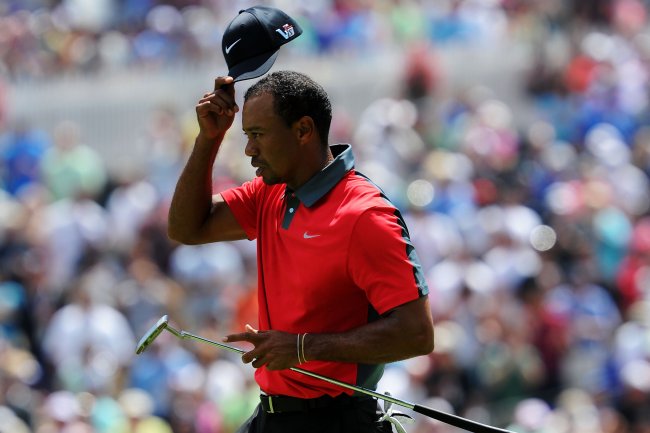 Stuart Franklin/Getty Images
Tiger Woods was the overwhelming favorite to win this tournament. He wasn't even close by the end of it.
He finished at four over and tied for 40th. His drought without a major has eclipsed five years, and this missed opportunity does a great job of summing up Woods' season.
Woods entered this tournament fresh off of his seven-stroke win the previous week at the WGC-Bridgestone. His whole game was in tune, and he looked poised to add his 15th major.
Tiger Woods still has never broken par in his 8 competitive rounds played at Oak Hill Country Club.

— ESPN Stats & Info (@ESPNStatsInfo) August 11, 2013
This has been the trend all year. Woods has had a fabulous season, but he can't hold it together for four rounds at a major.
It's been 16 straight weekend major rounds without something in the 60s for Tiger Woods. Recap of his week: http://t.co/NaiNy5B1vE

— PGA TOUR (@PGATOUR) August 12, 2013
However, this instance was even more pronounced.
Woods looked better than he had in years when he won the Bridgestone. He then limped to his worst finish in a major for the year at the PGA Championship.
Given his drought, we can't be surprised when the world's No. 1 walks away empty handed. But it was hard to envision a scenario in which he didn't finish in the top 10 at Oak Hill. He wasn't even close.
Another Failure for the 54-hole Leader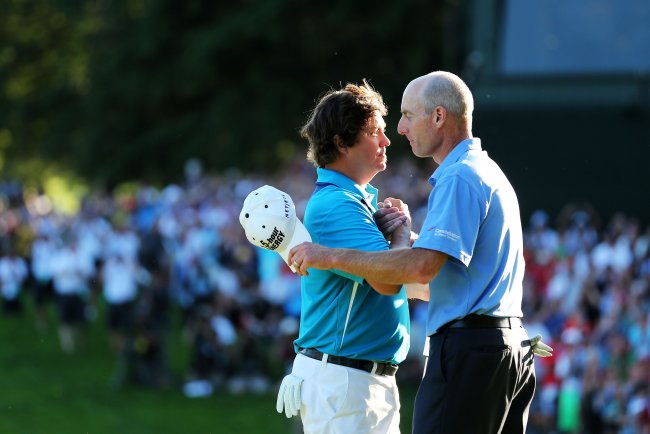 Rob Carr/Getty Images
What a wild and entertaining year it's been on tour. That is thanks in large part to the performance of the four different 54-hole leaders at the majors and the men who passed them.
History is not on Jim Furyk's side. Recent major trends: http://t.co/1LffF6vLfV >> pic.twitter.com/C1pHH9xdLp

— PGA TOUR (@PGATOUR) August 11, 2013
First, Angel Cabrera lost his lead to Adam Scott at the Masters. Then, Phil Mickelson was overtaken by Justin Rose at the U.S. Open. Lefty switched roles to come back on Lee Westwood at the British Open. Most recently, Dufner overtook Jim Furyk.
The most enthralling thing is that none of the 54-hole leaders collapsed—the eventual champions just beat them.
It was a pleasant surprise that the PGA Championship could follow up the previous acts.
Oak Hill Was Vulnerable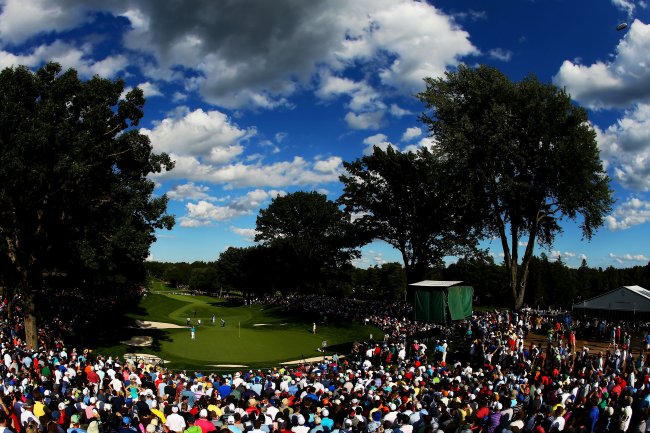 Streeter Lecka/Getty Images
Poor Oak Hill. The course was taken advantage of in ways it had never experienced before.
This venerable course is no stranger to hosting majors. And up until this year, it had destroyed players.
In the 5 previous Majors at Oak Hill only 10 players have finished under par #PGAChampionship

— Sky Sports Golf (@SkySportsGolf) August 5, 2013
This year, 21 players finished under par.
To add even more perspective, in Round 1, both Furyk and Adam Scott missed the course record by a single stroke when they fired 65s.
Then, Dufner set a new mark with a 63 in Round 2, which also tied the record for the lowest round in a major.
On Sunday, Dufner became the first player to ever hit double digits under par at Oak Hill, and Furyk did the same thing moments later.
By the time Sunday rolled around, this course was playing as many anticipated. However, rain earlier in the week helped soften the course and leave the greens vulnerable, which led to scores lower than most expected.