After shocking the world by setting a course record in the second round of the PGA Championship on Friday at Oak Hill Country Club, Jason Dufner finished things off on Sunday by laying claim to the 95th Wanamaker Trophy.
The normally plain Dufner finally showed some emotion after returning to the pristine form that had seen him shoot a 63 in Round 2. The rest of the field, including final-round leader Jim Furyk, did not really stand a chance once Dufner got going.
Jason Dufner shoots two-under in the final round and is your 2013 PGA Championship winner! #PGAChamp pic.twitter.com/5tM6ajXMUt

— Bleacher Report (@BleacherReport) August 11, 2013
In the defining moment of the PGA Championship, Dufner came through in the clutch on the 18th green to win.
This year's PGA Championship may have been a sequence of events that end up cementing his legacy at the age of 36, but still, Dufner's performance in Rochester, NY, may have been a bit of an abnormality.
This was his first major win, and as John Buccigross of ESPN points out, it should not come as a shock given the parity of the sport in recent years:
The last 21 majors have been won by 19 different players

— John Buccigross (@Buccigross) August 11, 2013
That's fine, but it was not too long ago that we witnessed Dufner melt down under the pressure.
Two years ago, Dufner held a five-stroke lead at the PGA Championship at the Atlanta Athletic Club. The end result was drastically different than what we witnessed on Sunday—Dufner bogeyed three of the final four holes in 2011 and ultimately lost to Keegan Bradley in a playoff.
What a difference two years can make.
Dufner has matured in more ways than one. His less-than-sexy 68 in the final round was enough to get the job done, in part because of the futility behind him on the leaderboard. Still, it was only two years ago we saw a similar scenario with a disastrous result.
Instead, Dufner is the champion of a major, albeit not one as heralded as, say, the Masters or the British Open. The good news for Dufner is that a major championship is a major championship regardless of dramatic moments.
Now all Dufner has to do is keep the ball rolling.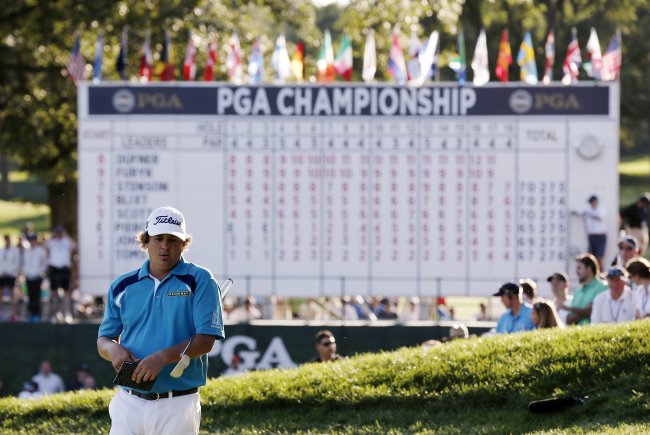 Winslow Townson-USA TODAY Sports
Perhaps this was an epiphany for Dufner. After tying for the all-time record for lowest score in a major on Friday with a 63, Dufner kept his foot on the pedal with consistent play to finish out the tourney.
We're not suggesting Dufner will keep setting records as the rest of this year's PGA Tour runs its course, but he has proven in the past year that he has developed into one of the most consistent players on the tour.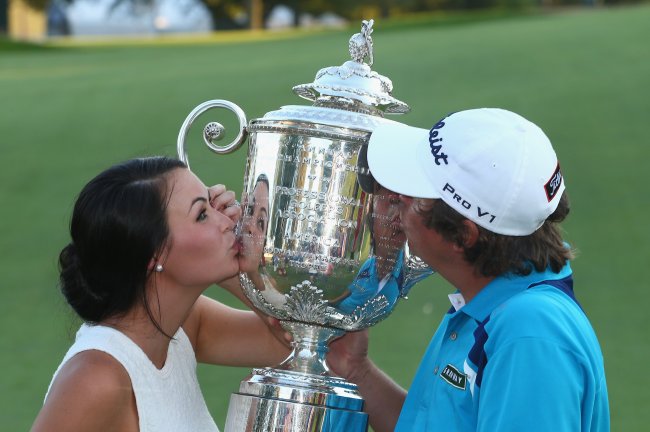 Streeter Lecka/Getty Images
There is no endgame in sight. If Dufner was going to take a nosedive off a cliff in his performance, history would have already repeated itself under the full pressure of leading a major once more.
Dufner has experienced life at the top and now has the composure to keep things moving in a positive line.
Now more calm than ever, Dufner's consistency will take over. He'll stay hot and be a regular at the top of more PGA leaderboards to come.
Follow B/R's Chris Roling on Twitter for more news and analysis @Chris_Roling