15 College QBs Who Have a New No. 1 WR Target in 2013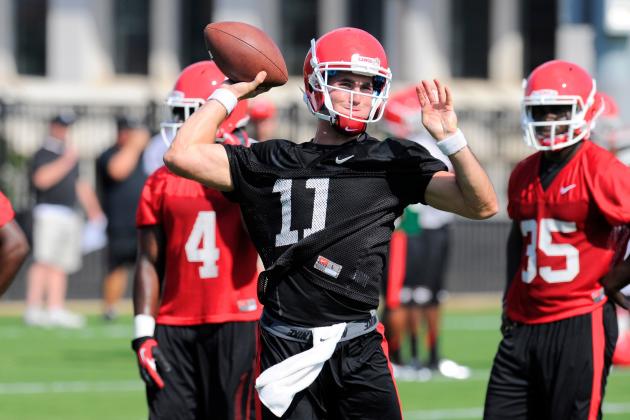 Dale Zanine-USA TODAY Sports

Breaking up is hard to do. Breaking in is even harder.
A number of the best passers in college football return this season, but some of them will be forced to do so without their favorite weapon.
The chemistry between a quarterback and wide receiver is intimate and rare, harder to replicate than it seems from the outside. Even if a QB has a rapport with someone as his third or fourth option, that bond might be altered as he shifts to No. 1.
And that's something no team can afford.
Begin Slideshow

»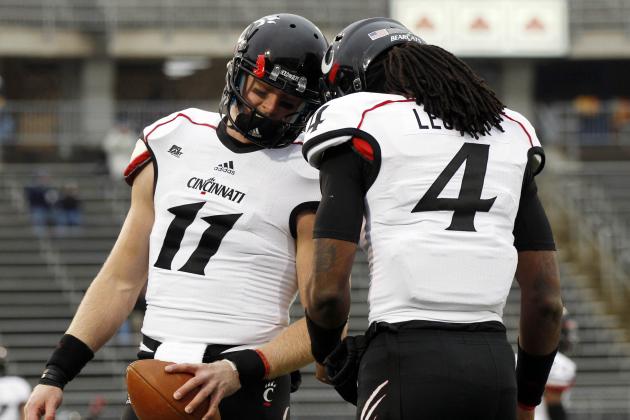 David Butler II-USA TODAY Sports

2012 Top Target: Kenbrell Thompkins
2013 Top Target: Anthony McClung
Thompkins and McClung put up, essentially, identical numbers last season. Both finished with 34 catches and two touchdowns, while Thompkins finished with 541 yards to McClung's 539.
In a vacuum, that might have omitted Kay and Legaux from this list. But the Bearcats QBs also lost leading overall receiver Travis Kelce, a tight end who now makes his living with the Kansas City Chiefs.
Whoever wins the job will be short two of last year's three best options.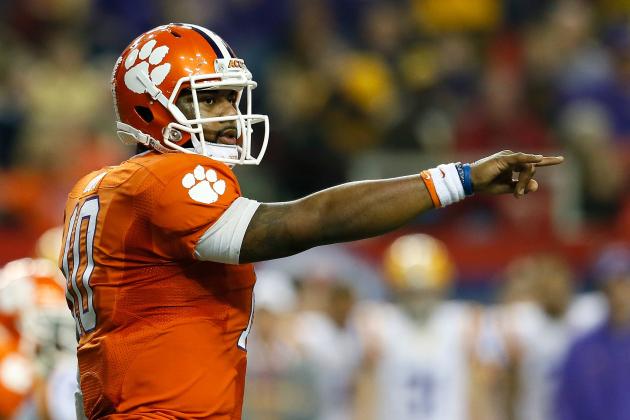 Kevin C. Cox/Getty Images

2012 Top Target: DeAndre Hopkins
2013 Top Target: Sammy Watkins
Boyd's new No. 1 target is actually an old one. Watkins was an All-American in 2011, finishing the year with 82 catches for 1,219 yards, before falling behind DeAndre Hopkins in 2012.
Of all the QBs on this list, Boyd should have the easiest transition after losing his favorite weapon. Watkins has filled that role for him before and there's no (or very little) reason to believe he won't be able to do it again.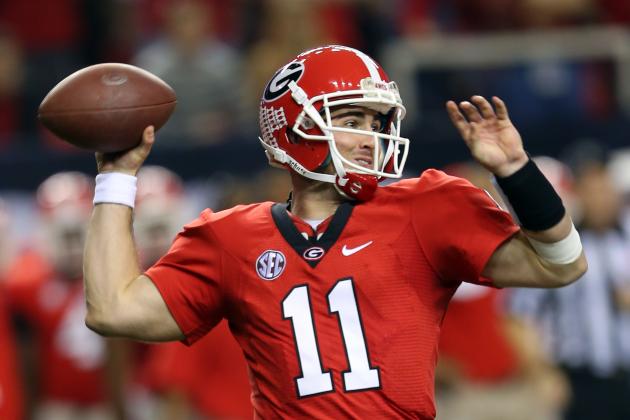 Mike Ehrmann/Getty Images

2012 Top Target: Tavarres King
2012 Top Target: Malcolm Mitchell
Mitchell started last season as a defensive back, forced out of his natural position due to injuries on the Bulldogs back line, but returned to receiver during the season and impressed as the year went on.
He'll need to be even better in 2013 with Murray's top target, Tavarres King, now in the NFL. Fortunately for Mitchell, the return of injured Michael Bennett and the addition of JUCO star Jonathan Rumph should only improve the unit as a whole.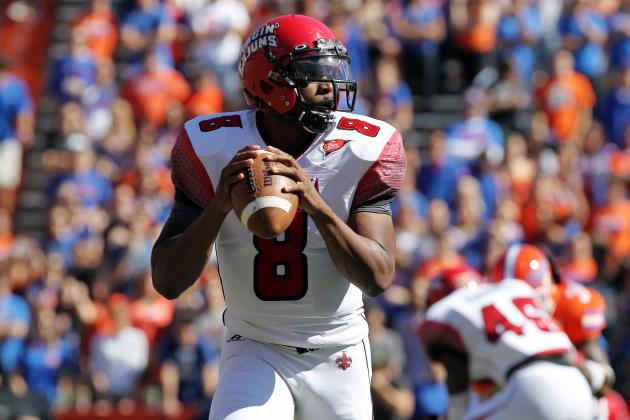 Kim Klement-USA TODAY Sports

2012 Top Target: Harry Peoples
2013 Top Target: Jamal Robinson
Peoples led the Cajuns with 817 yards last year, despite missing one game and suffering through spells of inconsistency.
Still around to replace him is Louisiana's second-leading receiver from a year ago, junior Jamal Robinson. An impressive 6'4'' specimen, Robinson came up huge in big games with an 81-yard TD catch against Louisiana-Monroe and 116 yards in the bowl win versus East Carolina.
He'll make Peoples' absence an easier load to bear.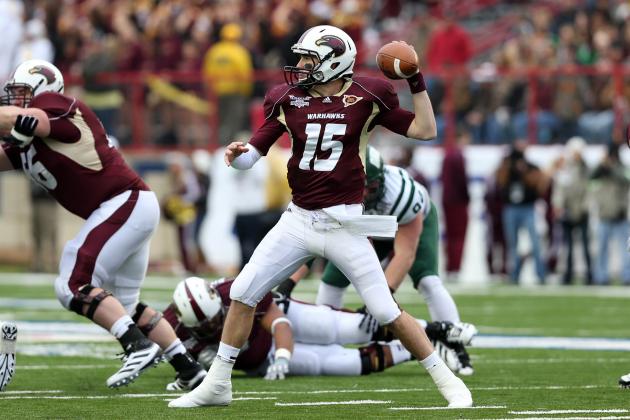 Jim Cowsert-USA TODAY Sports

2012 Top Target: Brent Leonard
2013 Top Target: Je'Ron Hamm
Leonard was one of the least appreciated players in football last year, finishing the season in relative anonymity despite 104 catches, 1,118 yards and 10 touchdowns.
Fortunately for Kolton Browning, the Warhawks bring back seven of their next eight leading receivers including all of their top five.
New No. 1 Je'Ron Hamm finished last season with 62 catches and 915 yards, so it's not like he and Browning need to establish a rapport. That part is already taken care of.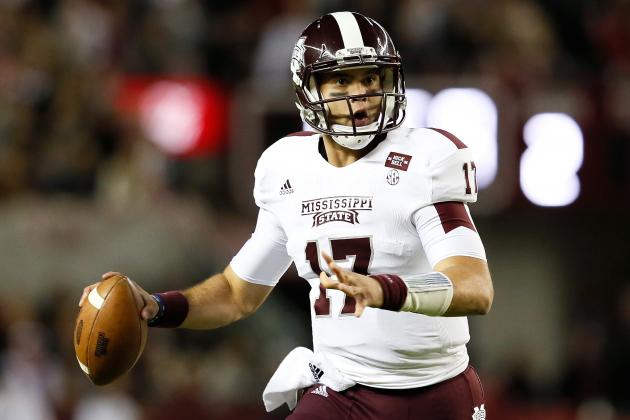 Kevin C. Cox/Getty Images

2012 Top Target: Chad Bumphis
2013 Top Target: Robert Johnson
Tyler Russell lost almost all of last year's top receiving weapons. The top-four yardage guys are all gone, including Bumphis who was one of the best in Bulldogs history.
Receiver is one of the biggest problems heading into this season, though Russell and Robert Johnson did supposedly form a quick rhythm in spring camp. They'll need to come together quickly, though, as MSU faces Oklahoma State in Week 1.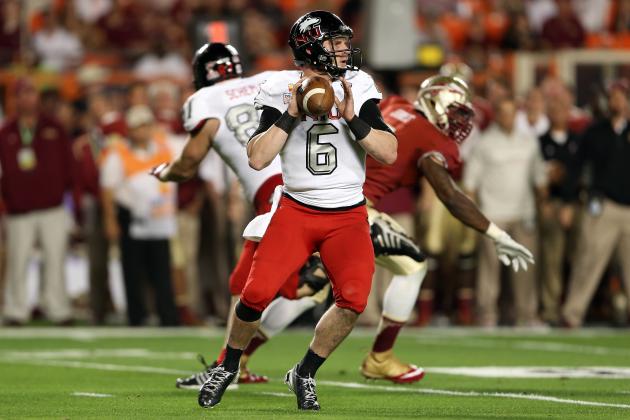 Streeter Lecka/Getty Images

2012 Top Target: Martel Moore
2013 Top Target: Tommylee Lewis
Lynch stole the headlines in DeKalb—and nationally—last year, but he wasn't the only Huskie worthy of praise. Leading receiver Martel Moore was a fabulous playmaker in his own right, finishing the year with 75 catches, 1,083 yards and 13 touchdowns.
The top returner is receiver/return-man Tommylee Lewis, who checks in at just 5'7'' but runs like absolute lightning. He'll be the de facto No. 1—in terms of sheer talent—but might have trouble staying consistent from week-to-week.
NIU needs an unexpected contributor to step up on the outside.
Drew Hallowell/Getty Images

2012 Top Target: Nick Mayers
2013 Top Target: Antonio Vaughan
Heinicke made Johnny Football's numbers look average last season—he just happened to do so in the FCS.
The reigning Walter Payton Award recipient, Heinicke, who threw for 5,076 yards and 44 touchdowns, now leads his Monarchs into the unchartered territory of FBS football. And though he'll do so with nine offensive starters returning, one of the two he lost was his favorite target.
Nick Mayers caught 79 passes for 1,223 yards and 16 touchdowns last season. His loss will be felt, but fortunately, ODU returns its next six leading receivers—including two (Antonio Vaughan and Larry Pinkard) who went for over 800 yards last year.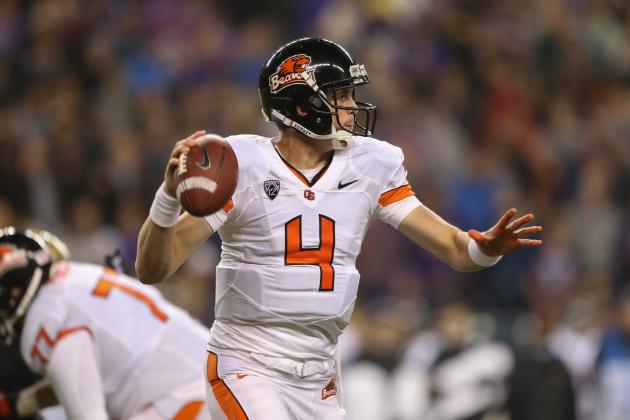 Otto Greule Jr/Getty Images

2012 Top Target: Markus Wheaton
2013 Top Target: Brandin Cooks
Whoever wins the starting job out of camp will not have the steady presence of Markus Wheaton in tow. Last year's leading receiver (91 receptions, 1,244 yards, 11 TD) took his talents to Pittsburgh to play for the Steelers this year.
Fortunately, Brandin Cooks (67 receptions, 1,151 yards, 5 TD) is still in Corvallis, and so are the Beavers' next four leading receivers. Mannion and Vaz—whichever gets the call—should both be fine this season.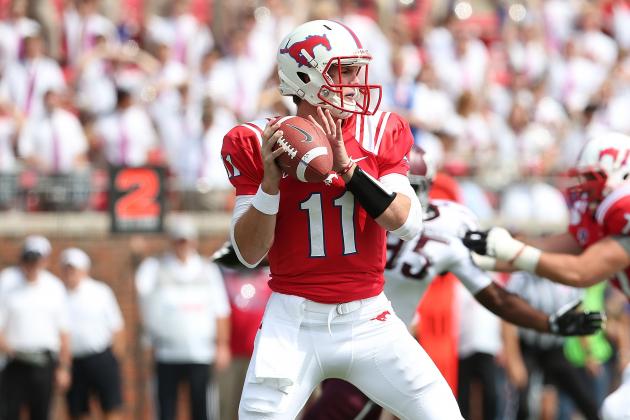 Ronald Martinez/Getty Images

2012 Top Target: Darius Johnson
2013 Top Target: Jeremy Johnson
June Jones' offense hasn't translated to earth-shattering success in Dallas, but it has slowly improved the floundering SMU program.
Former Texas quarterback/blue-chip recruit/Alabama punching bag Garrett Gilbert has found decent success in the wide-open scheme, but his touchdown to interception ratio last year was just 1:1 (15 TD, 15 INT). That simply won't get it done.
Now he loses top receiver Darius Johnson, but the Mustangs return their next three leading pass catchers. Jeremy Johnson, who actually caught more passes than Darius last year but finished with 108 fewer yards, will try to become more explosive with the ball in his hands.
If he can do that, there's no reason he can't become a viable No. 1. Last year was the first since 2007 that SMU didn't have a 1,000-plus yard receiver, and the new Johnson is a decent bet to get it back on track.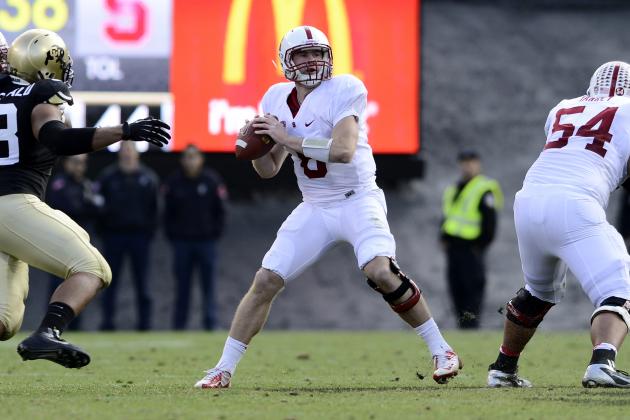 Ron Chenoy-USA TODAY Sports

2012 Top Target: Drew Terrell
2013 Top Target: Ty Montgomery
Hogan doesn't just lose Drew Terrell, last year's leading wide receiver—he also loses tight end Zach Ertz, a second-round pick of the Philadelphia Eagles, who led the team in yardage by almost doubling Terrell's total.
The Cardinal also lose RB Stepfan Taylor (second on the team with 41 receptions) and tight end Levine Toilolo (third in yardage), with Ty Montgomery's 213 yards the most among returning players.
Fortunately, Montgomery's numbers came in just four starts, and if healthy he is capable of producing at a much higher level. He finished with 350 yards in 2011 and caught three passes for 36 yards from Hogan in Stanford's Rose Bowl victory.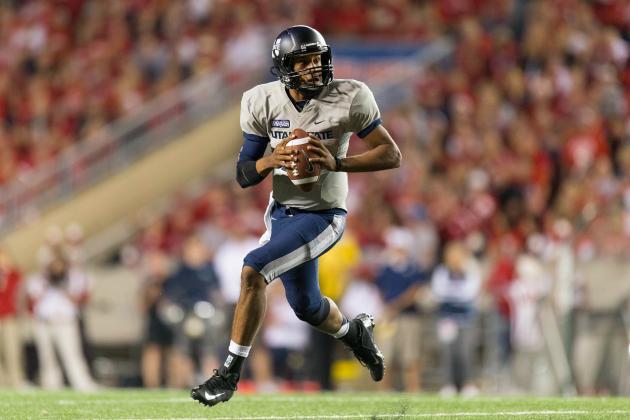 Jeff Hanisch-USA TODAY Sports

2012 Top Target: Matt Austin
2013 Top Target: Travis Reynolds
The biggest loss for Chuckie Keeton & Co. was head coach Gary Andersen, but that shouldn't completely overshadow the skill-player attrition. Utah State lost its top-five leading receivers from last season, including No. 1 target Matt Austin.
Senior Travis Reynolds, who started three games last season, will try his best to replace that top-end production. He's the leading returnee with 25 catches and 244 yards a season ago.
Keeton might have trouble repeating last year's success.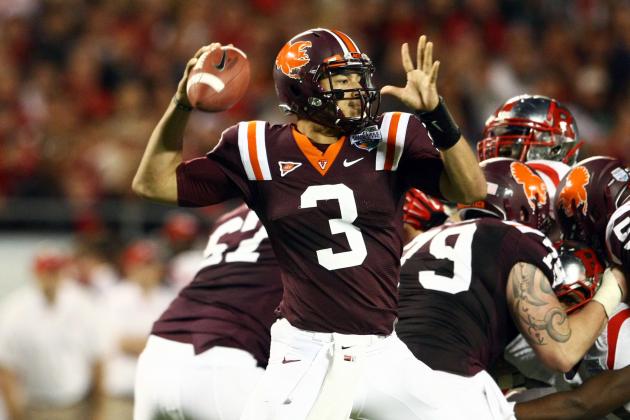 Douglas Jones-USA TODAY Sports

2012 Top Target: Marcus Davis
2013 Top Target: Demitri Knowles
Big things are always expected from Logan Thomas, but perhaps those expectations should be tempered. He loses his top-three receivers from last season, including Marcus Davis who came just short of passing 1,000 yards.
Demetri Knowles is the top returning guy and the best bet to replicate Davis' production. D.J. Coles is a big target who can help too, but he is rehabbing from last year's knee injury and needs to work his way back into game speed.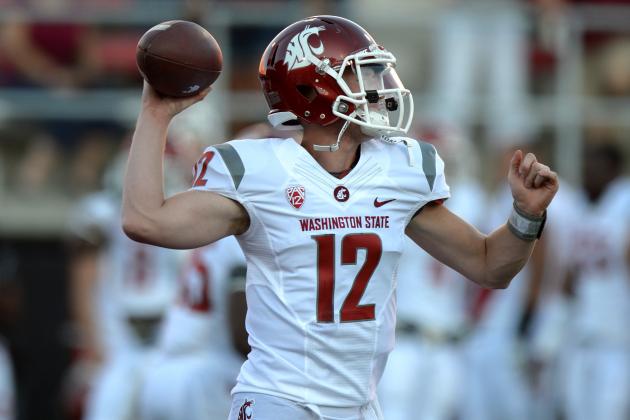 Jake Roth-USA TODAY Sports

2012 Top Target: Marquess Wilson
2013 Top Target: Gabe Marks
It was a rocky transition year for the Cougars who struggled, at times, to pick up Mike Leach's wide-open scheme. But with another year of experience in the system, their passing game should be much improved in 2013.
This is in spite of the fact that leading receiver Marquess Wilson is gone. New de facto No. 1, sophomore Gabe Marks, has the body and skill set to thrive in Leach's offense. He's the best bet to become Halliday's go-to guy.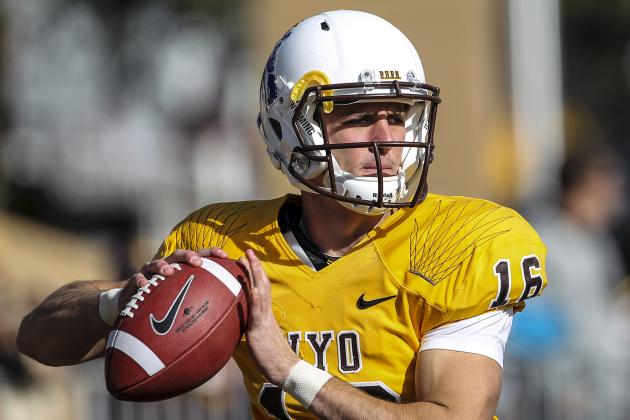 Troy Babbitt-USA TODAY Sports

2012 Top Target: Chris McNeill
2013 Top Target: Robert Herron
McNeill led the Cowboys in receiving last season but only by 65 yards. That said, he almost doubled any other Wyoming player in receptions, so his impact will be most direly felt as a safety option.
Herron, standing 5'10'', might not be able to help much in that capacity, but he should become Brett Smith's favorite target nonetheless. He averaged 21.2 yards per catch last year and led the team with eight receiving touchdowns.