Texas Football: 5 Biggest Adjustments Manny Diaz Must Make on Defense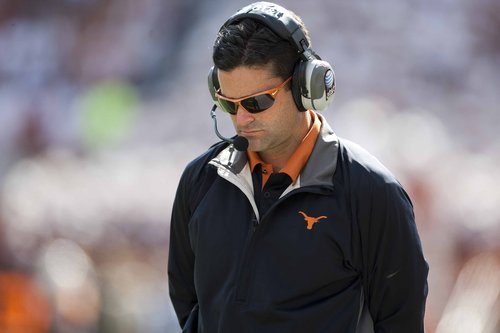 Ricardo Brazziell / Austin American-Statesman
Texas Longhorns defensive coordinator Manny Diaz is in a make-or-break season this year, and after two years of two-faced defensive efforts, his third year in Austin will be something to watch.
Diaz's 2011 unit ranked No. 11 overall at the end of the year, led by senior linebackers Emmanuel Acho and Keenan Robinson.
His 2012 group suffered big injuries, with defensive end Jackson Jeffcoat and linebacker Jordan Hicks missing extended time. With youth and inexperience rampant in the middle of the field, combined with some atrocious tackling efforts, Texas ranked 67th on defense by year's end and gave up more yards and yards per game than any unit in the program's history.
So which unit is a better indicator of Diaz's effectiveness? Is the jury still out?
A repeat of 2012 would be bad in most people's eyes, so changes will have to be made. Or will they?
Begin Slideshow

»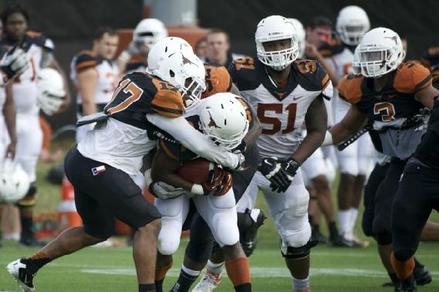 mackbrown-texasfootball.com
Whatever was done in the past should not be done in the future.
Easier said than done, yes. But the efforts and results on the tackling front were depressing and, above all else, a glaring weakness last season.
Was it the youth? Was the it the coaching? Was it the mentality?
Regardless of the ultimate cause, something different will have to come from the coaching staff to help foster different and better results.
Diaz will need to demand much more accountability from his players. There is a standard that will have to be met, and he will need to have it considerably higher than anything that was done last season.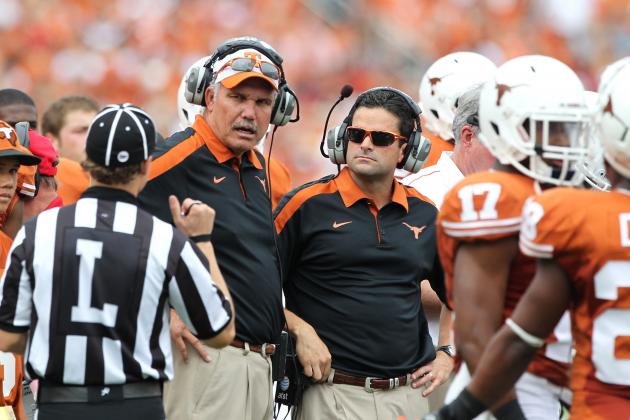 Matthew Emmons-USA TODAY Sports

Say what!?
An entirely different school of thought may say to keep on keeping on.
If we flash back to 2011, the Longhorns featured two senior linebackers in Emmanuel Acho and Keenan Robinson who led the No. 11-ranked defense in the FBS.
In 2012, that veteran presence went out the door even before Jordan Hicks assumed command of the unit. And when Hicks went on to miss 10 games, the Longhorns' linebacker unit reeked of inexperience and youth. That resulted in a 67th-ranked defense.
Going into 2013, the outlook at linebacker is much more positive.
Hicks is back, and his presence cannot and will not be understated. Peter Jinkens has flashed that nose for the football, and his athleticism can back it up. Steve Edmond looks leaner and more confident.
With the Longhorns returning every player at linebacker, a position with big expectations this year, perhaps the same approach will work in Diaz's favor.
Brendan Maloney-USA TODAY Sports

Diaz's defense is all about forcing offenses to sustain drives.
For the most part, Texas did a poor job of that in 2012, and the big play was a huge factor.
Almost every Saturday, it seemed like the Longhorns were getting blown up by big play after big play. Much of that may have had to do with the poor tackling, but regardless of the root problem, the fixes have to be made.
The returning experience—eight out of 11 starters—plus some depth that developed in the past nine months, makes this a more veteran team. But we can talk about it all we want; it is time to see it happen on the field.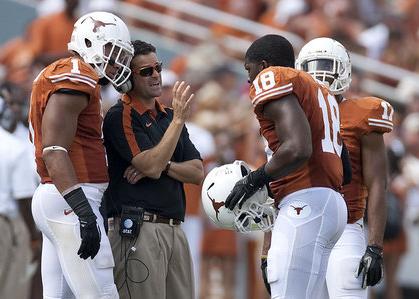 Rodolfo Gonzalez / Austin American-Statesman
Experience will come over time, and when you have to lean on young players, you will have to live with their shortcomings.
Now with one of the more experienced units in the Big 12, it is time for the Texas coaching staff to demand excellence out of their players.
Juniors and seniors litter the defense, and it is time for the veterans to step up and perform.
And that will begin when Diaz and his assistants begin to demand more from their players.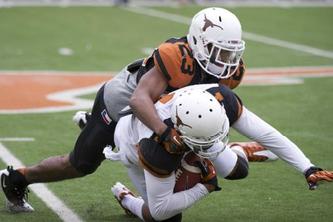 mackbrown-texasfootball.com
Tackling, physicality and preparation are great things, but discipline in how you perform cannot be underestimated.
Too many times were the Longhorns caught out of position with poor leverage on defense, and it led to far too many big plays and big gains that toasted the Texas defense.
Youth was often to blame in 2012, but that cannot be an excuse in 2013.
Positioning will be a huge talking point going into the season, as well as form tackling. We will know just how Texas looks in those departments early on.