Power Ranking the Best Power-Play Units at the 2014 Winter Olympics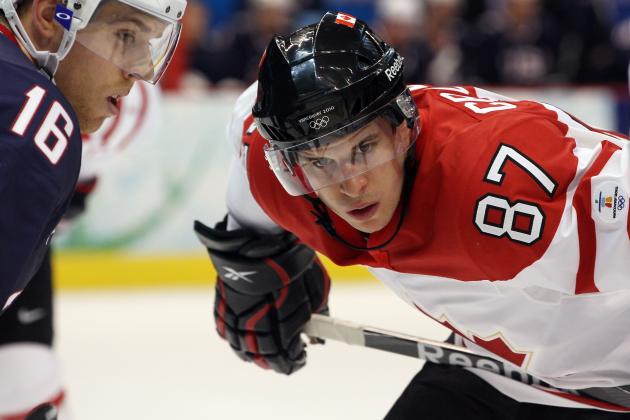 Bruce Bennett/Getty Images

The 2014 Winter Olympics in Sochi will provide a ton of entertainment to NHL fans. The best players in the world will all gather in Russia for just over two weeks to find out who the ultimate hockey superpower is.
The Winter Games are taking place in Europe, which means the international ice surface will be used instead of what we're used to seeing in North America. That will give power-play units a couple of extra feet to work with, making defenders such as Erik Karlsson and Ryan Suter all the more deadly.
International referees also tend to call things a bit differently than NHL officials, and that could lead to an increase in penalties taken. Like any other hockey tournament, a scorching power play can power a team all the way through to a medal.
So which nation has the biggest advantage with the extra man heading to the Olympics in February?
There are 12 nations participating. While none of them will be overlooked during competition, we decided to rank only the power plays of the "superpowers." While Switzerland, Austria, Latvia, Norway and Slovenia are inviting solid players to camp, their power plays won't be able to hold a candle to those of Canada or Sweden.
Also worth noting is that we don't know which players are going to make the teams and which combinations of players the coaches will end up going with on the power play. These are our best projections as to who will be skating on the top units for their respective nations.
All power-play statistics are taken from Yahoo's player pages. All other stats appear courtesy of HockeyDB.com.
Begin Slideshow

»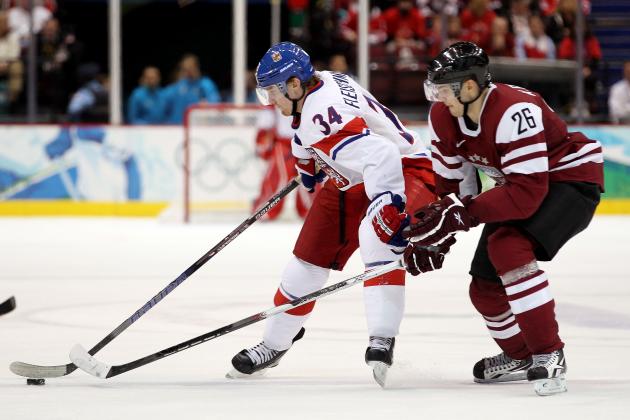 Jamie Squire/Getty Images

Projected Forwards: Tomas Fleischmann, Tomas Plekanec, Martin Havlat
Projected Defense: Marek Zidlicky, Filip Kuba
How They Match Up: If this were a top power-play unit in the NHL, it'd be rock solid. When you look at this list of names compared to that of Canada and Russia however, it pales in comparison.
That doesn't mean this group couldn't do some serious damage if given the opportunity, though. Fleischmann is a wizard on the power play for the Florida Panthers, and 13 of his 35 points last season came with the extra man.
Plekanec is also outstanding on the power play, as evidenced by his 15 power-play points last year. He'll be looking to dish the puck to Fleischmann in the left circle for deadly one-timers. Havlat has slowed down in recent years, but he's still a good option on the right side.
Rounding out the unit is Zidlicky, who quarterbacks the power play for the New Jersey Devils, and the X-factor in Kuba.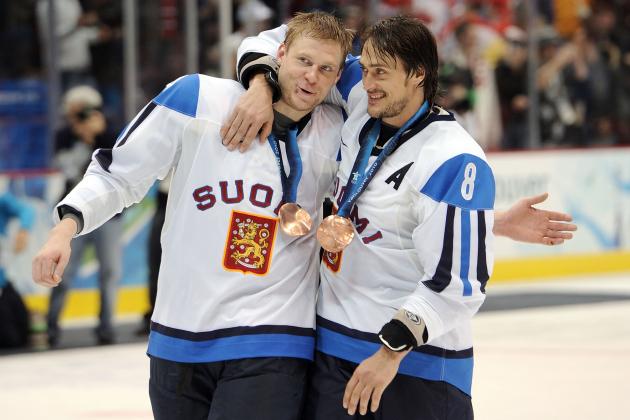 Harry How/Getty Images

Projected Forwards: Valtteri Filppula, Mikko Koivu, Teemu Selanne
Projected Defense: Kimmo Timonen, Sami Salo
How They Match Up: The gap between the Czech Republic and Finland is virtually nonexistent, which means the Finns run into the same issue as the Czechs. The group looks good on paper, but the firepower is second-tier when compared to some of the teams ranked higher on this list.
While Filppula and Koivu are both very creative players and Selanne still knows how to finish, the defense would need to improve drastically for the Finns to move up a notch or two on this list.
Kimmo Timonen does a great job running the power play for the Philadelphia Flyers. He's one of the more underrated quarterbacks in the NHL, and his 17 points with the extra man last season are outstanding.
The dropoff happens with Salo, who is a capable puck mover but just isn't an elite-level blueliner at this stage in his career.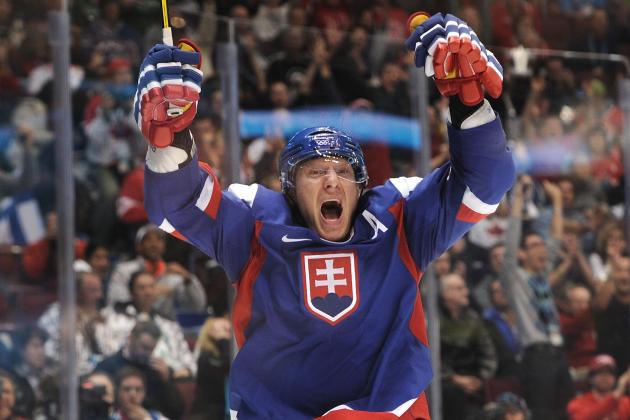 Harry How/Getty Images

Projected Forwards: Marian Gaborik, Michal Handzus, Marian Hossa
Projected Defense: Zdeno Chara, Lubomir Visnovsky
How They Match Up: A better center would give this group a huge boost. Handzus is a capable pivot, but he's much more suited for killing penalties than centering a top power play. His foot speed isn't anywhere near that of Gaborik and Hossa, and that holds the unit back as a whole.
This appears to be a posse that will spend a lot of time on the periphery of the slot, using speed and puck movement to try to open up shooting lanes from the circles or from the blue line.
Chara is one of the hardest shooters in the history of hockey and can be a difference-maker on the power play. Visnovsky shouldn't be overlooked either. This will be one of the better defensive pairings at the Olympics, so don't be surprised to see them do some damage if the opposition is taking too many penalties.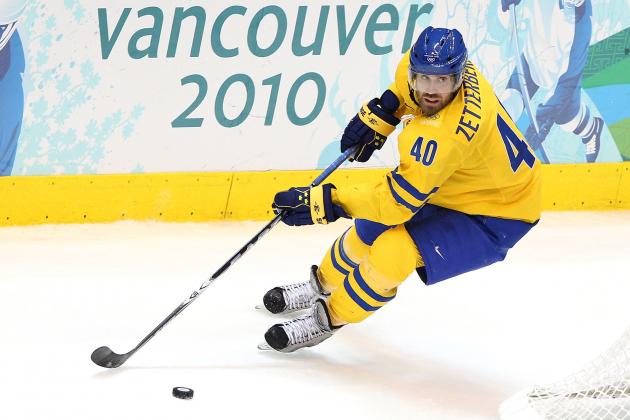 Cameron Spencer/Getty Images

Projected Forwards: Henrik Zetterberg, Henrik Sedin, Daniel Sedin
Projected Defense: Erik Karlsson, Oliver Ekman-Larsson
How They Match Up: This could end up being one of the most fun groups to watch on the power play. The Sedins are constantly in each other's heads and are two of the best puck cyclers that the game has ever seen. Toss in Zetterberg—an equally creative and smooth-skating forward—and the creativity here is off the charts.
D. Sedin had 12 power-play points last season and H. Sedin posted 13, as they were the nucleus of the power play for the Vancouver Canucks. Zetterberg does it all for the Detroit Red Wings and is at home on the power play, as evidenced by his outstanding 23 points with the extra man.
The creativity isn't limited to just the forwards, however, as Karlsson and Ekman-Larsson are two of the most best young defensemen in the NHL. Put this group out on the ice together, and some serious magic could happen.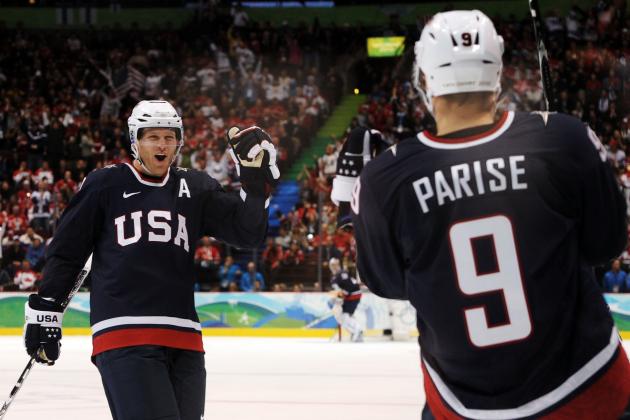 Harry How/Getty Images

Projected Forwards: Zach Parise, Joe Pavelski, Patrick Kane
Projected Defense: Ryan Suter, Kevin Shattenkirk
How They Match Up: Right in the thick of things when it comes to the best power play heading to the Olympics, there isn't a guy in this group who can't electrify with the puck on his stick. Parise is one of the better power-play forwards in the NHL, and that'll carry over to Sochi without incident.
Give players like him and Kane an extra few feet to work with in the offensive zone and watch the fireworks. Kane is one of the best one-on-one players in the world and can make just about anyone look silly, while Pavelski gives the U.S. a unique wrinkle at center.
Not many teams can boast a power-forward presence on the top power-play unit, and Pavelski is outstanding with the extra man.
Suter has the familiarity with Parise because they are teammates, and he put up 15 power-play points last season. Shattenkirk didn't dominate with the extra man in 2013, but he's still a very capable puck-mover for the U.S.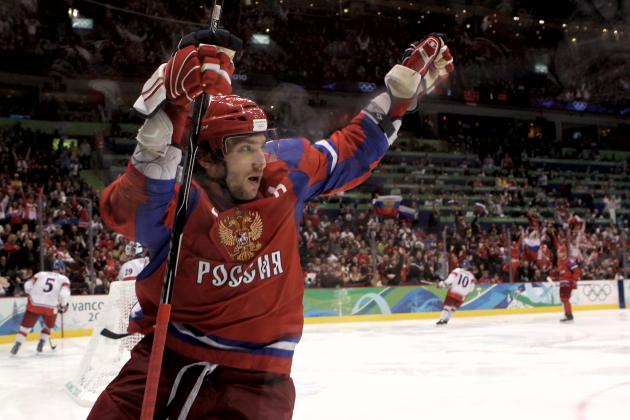 Bruce Bennett/Getty Images

Projected Forwards: Ilya Kovalchuk, Evgeni Malkin, Alexander Ovechkin
Projected Defense: Slava Voynov, Sergei Gonchar
How They Match Up: Any time Pavel Datsyuk is relegated to holding down power-play duties on the second unit, you know you're stacked at forward. Kovalchuk has a deadly wrister and can score from just about anywhere on the ice.
Ditto for Malkin and Ovechkin, who lead the NHL in power-play goals with 16 in 2013.
This is going to be a fast and energetic group that will be able to skate penalty killers down into the ice. The few extra feet on the blue line will be a boon to Gonchar, who's a known force with the extra man.
Don't overlook Voynov, though. He's a criminally underrated puck-moving defenseman who just doesn't get many looks on the power play in Los Angeles with the Kings. He'll have an opportunity to show off his awesome skill set for a Russian squad that isn't nearly as staked on defense as it is at forward.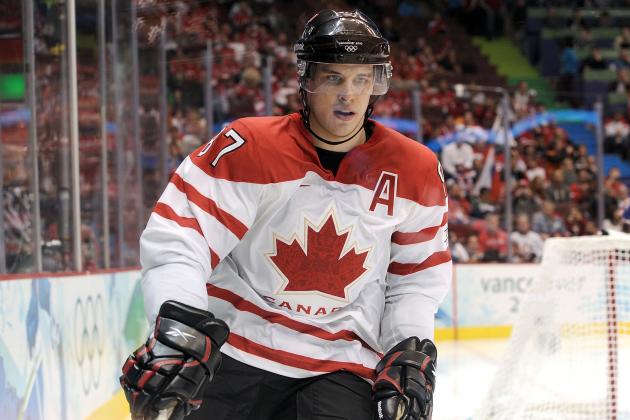 Harry How/Getty Images

Projected Forwards: Steven Stamkos, Sidney Crosby, John Tavares
Projected Defense: Shea Weber, Alex Pietrangelo
How They Match Up: Don't take a penalty against Canada.
The most loaded power-play group of them all is capable of making teams pay early and often if they get into penalty trouble, and this unit is one that could breach the 25-percent efficiency mark for the tourney.
All five of these guys are obviously outstanding hockey players. What separates them from the pack is the amount of hockey IQ that's out on the ice at the same time. When these guys get their chances, they rarely miss.
Tavares and Crosby are two of the best playmakers in the NHL, and Stamkos is an incredibly talented shooter who will be in hockey heaven while taking tape-to-tape passes from his center and wing.
Weber can fire the puck well over 100 mph, and Pietrangelo is a fleet-footed blue-line presence who can do some damage as well.
If a team wants to have a prayer of beating Canada at the Olympics, one of the keys will be to stay out of the box. For obvious reasons.