Stat Projections for Each Brooklyn Nets Offseason Addition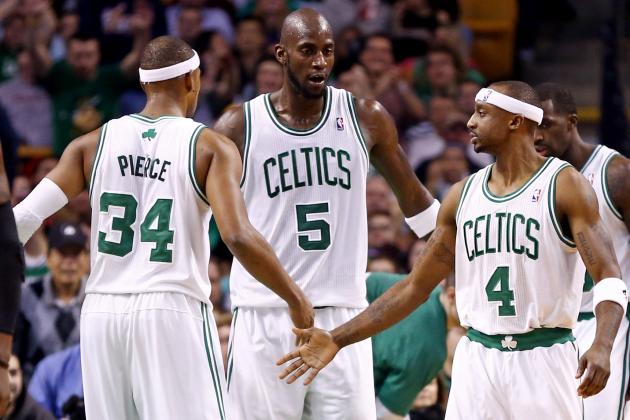 USA TODAY Sports

After a disappointing playoff performance against the Chicago Bulls, the Brooklyn Nets went out and reloaded their roster to avoid coming up short yet again.
In addition to the Boston Celtics trade, where the Nets landed two future Hall of Famers and a former Sixth Man of the Year Award winner, Brooklyn brought in Andrei Kirilenko and three solid role players: Shaun Livingston, Alan Anderson and rookie Mason Plumlee.
Let's take a look at the seven players the Nets have added and their projected stat lines per game for the 2013-14 NBA season.
Begin Slideshow

»
2012-13 Stats: 10.1 points, 2.0 rebounds, 2.5 assists, 0.8 steals, 1.29 turnovers.
2013-14 Projection: 12.4 points, 1.1 rebounds, 2.1 assists, 1.0 steals, 1.24 turnovers.
Analysis: Coming off one of the worst seasons in his 14-year career, the JET looks to recalibrate his engines with the Nets.
As their number one reserve scorer on the perimeter, Terry will have the green light to fire at will whenever he feels in rhythm.
With five other guys on the roster that can deliver 20-point performances when necessary, defenses will worry less about Terry, allowing him to knock down an extra wide-open three-pointer or two that will raise his points total.
His rebounding numbers will fall some, as he'll likely be in the same lineup as Reggie Evans who's a glutton on the glass. His assist and turnover numbers should decrease slightly as well as he handles the ball less and possibly averages fewer than the 26.9 minutes per game he received with the Celtics.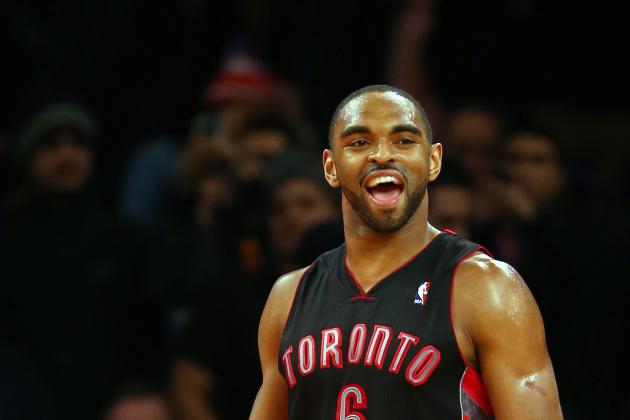 Elsa/Getty Images

2012-13 Stats: 10.7 points, 2.3 rebounds, 1.6 assists, 0.7 steals, 1.2 turnovers.
2013-14 Projection: 6.8 points, 1.8 rebounds, 1.2 assists, 0.5 steals, 0.9 turnovers.
Analysis: Alan Anderson had a career year last season for the Toronto Raptors while playing in 65 games. While he should play in a similar number of games for the Nets, it isn't likely he matches and exceeds the 23 minutes per game he averaged.
Taking that into account, his numbers should decrease this season unless he raises his level of efficiency.
It'll be difficult for Anderson to get close to the 10 shots a game he averaged in Toronto. For him to score around 10 points per game, he'll need to raise his field goal and three-point percentages from 38 and 33 percent, respectively.
2012-13 Stats: 18.6 points, 6.3 rebounds, 4.8 assists, 1.1 steals, 2.8 turnovers.
2013-14 Projection: 17.4 points, 5.5 rebounds, 3.9 assists, 0.7 steals, 1.9 turnovers.
Analysis: The drop in Paul Pierce's stats from last season to the projection is a direct reflection of the Nets' depth.
Expect Pierce to take two or three fewer shots per game, down from the 14.2 he averaged last year, while playing fewer minutes. He'll also have the ball in his hands less which will lower his assist and turnover total.
With less dependency to produce—now that The Truth has more talent around him than ever—he should have one of his more efficient shooting years. He could very well finish the season shooting 48 and 40 percent from the field and behind the arc, respectively.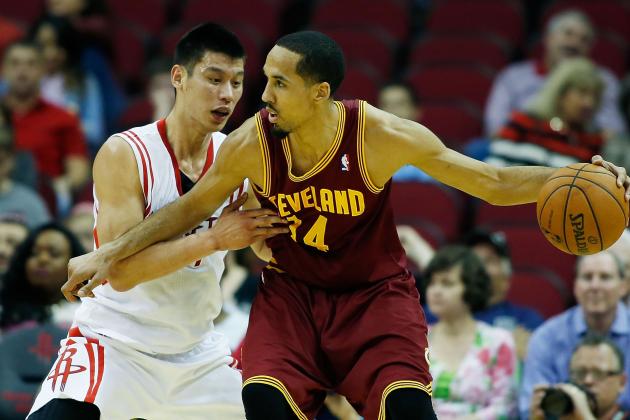 Scott Halleran/Getty Images

2012-13 Stats: 6.3 points, 2.4 rebounds, 3.3 assists, 0.7 steals, 0.5 blocks, 1.15 turnovers.
2013-14 Projection: 4.7 points, 2.8 rebounds, 4.6 assists, 1.1 steals, 0.9 blocks, 1.40 turnovers
Analysis: Livingston has always been a talented playmaker.
As a 6'7" point guard, his long arms and height make him a valuable asset on the wing when healthy.
He won't need to score and shoot as much as he did down the stretch for the Cleveland Cavaliers last season, and because of Brooklyn's litany of talent on the offensive end, he should exert less energy creating opportunities for his teammates.
Less energy spent creating should lead to Livingston raising his defensive intensity, thereby increasing his steals and blocks totals and igniting more fast breaks for the Nets.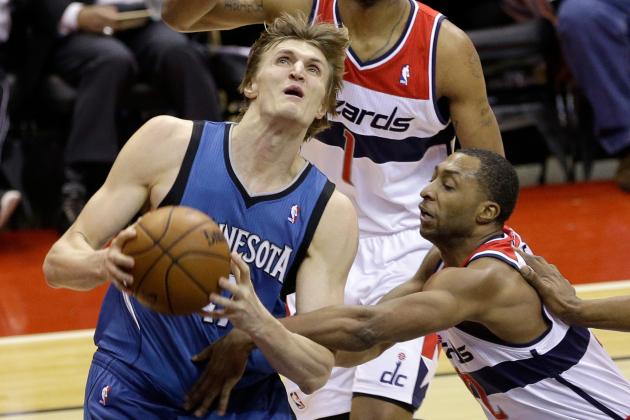 Rob Carr/Getty Images

2012-13 Stats: 12.4 points, 5.7 rebounds, 2.8 assists, 1.5 steals, 1.0 blocks, 1.9 turnovers.
2013-14: Projection: 11.8 points, 5.8 rebounds, 3.1 assists, 1.8 steals, 1.2 blocks, 1.7 turnovers.
Analysis: Andrei Kirilenko fits perfectly with the rest of Brooklyn's roster. He runs the floor and moves without the ball well. He should score a few baskets a game off of backdoor cuts and in transition.
The drop in points will be the result of fewer shots hoisted by Kirilenko, and the rise in assists should piggyback off of the turnovers he'll force as a reserve at both forward positions.
His rebounds total will stay in line with last season's, failing to rise because of Reggie Evans' presence on the court.
Playing alongside Evans will benefit Kirilenko, however, as he will be able to play less physically, preserving his health some and allowing him to focus on running down long shots and loose balls.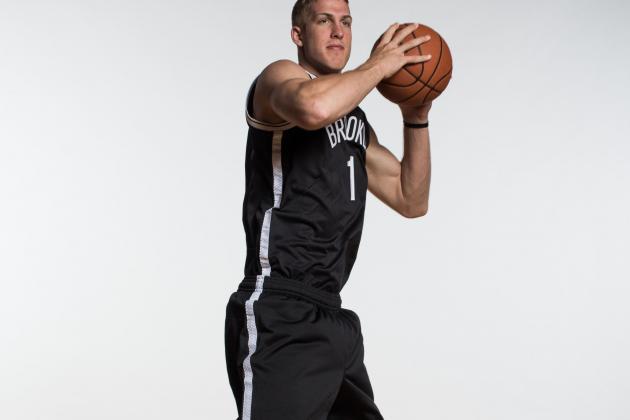 Nick Laham/Getty Images

2012-13 (NCAA) Stats: 17.1 points, 10.0 rebounds, 1.9 assists, 1.0 steals, 1.4 blocks, 2.9 turnovers.
2013-14 Projection: 4.4 points, 2.4 rebounds, 0.6 assists, 0.7 steals, 1.1 blocks, 1.5 turnovers.
Analysis: Plumlee's role on the Nets is minor for now. After a solid season at Duke last year, he'll need to adjust to the NBA game and prove worthy of taking minutes away from Kevin Garnett, Brook Lopez, Reggie Evans and Andray Blatche.
As an athletic big man that can finish around the rim, Plumlee should produce on both ends when placed on the court. With the limited minutes he'll receive, however, it may be a while before his impact appears in his stat lines.
When he's out there, expect Plumlee to make hustle plays—taking charges, deflecting passes and shots and scoring on putbacks.
2012-13 Stats: 14.8 points, 7.8 rebounds, 2.3 assists, 1.1 steals, 0.9 blocks, 1.6 turnovers.
2013-14 Projection: 14.2 points, 7.4 rebounds, 2.4 assists, 1.2 steals, 1.1 blocks, 1.5 turnovers.
Analysis: Kevin Garnett will be ready to do everything it takes to solidify his legacy with a second NBA championship.
His scoring numbers will dip somewhat as he'll play more power forward than center this season, but he should still remain in line with last year's average due to his consistent mid-range jump shot and the easy looks he'll get from the plethora of weapons that Brooklyn has.
He'll average fewer minutes this season, but with his career nearing its end, his intensity will be elevated and he should be as tenacious and vicious on defense and the glass as he's ever been.