Updating Where 2013's Top 25 College Football Recruits Stand Entering Fall Camp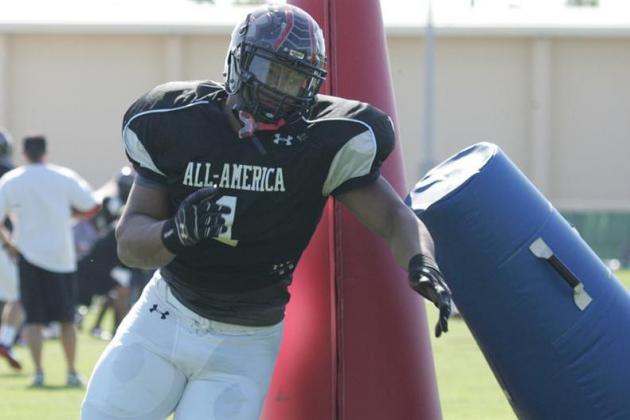 247Sports
With the 2013 college football season beginning in a few weeks, many teams are in the early stages of fall camp. This means that the 2013 recruits are on campus, adjusting to college life and finally practicing.
Recruits who are ranked in the 247Sports 2013 Top 25 rankings are considered elite prospects.
Depending on the school, position, coaching staff, scheme and depth chart, each recruit enters fall camp in a different situation. Some are going to be immediately depended on to play significant roles, while others face the tough task of beating out talented incumbents just for reserve roles.
As fall camp commences, a talented defensive end looks like he is on track to start, a pair of quarterbacks are in heated battles for starting jobs and several running backs are hungry for early carries.
Player evaluations are based on review of tape at Scout.com, Rivals, 247Sports and ESPNU.

Begin Slideshow

»
A towering 6'5" and 230 pounds, Ricky Seals-Jones is one of the most physically intimidating receiver prospects in recent memory.
Texas A&M hopes it has a future No. 1 receiver in Seals-Jones, as he will see action this fall.
Seals-Jones, who could grow into a tight end in a season or two, has impressed thus far in fall camp, according to Sean Lester of the Dallas Morning News. He will not be on the sidelines. His size, solid speed and great hands will be immediately put to use in Kevin Sumlin's high-octane offense.
Keith Ford has great instincts and vision as a running back. He runs like he has an extra pair of eyes.
The 5'11" running back weighs more than 200 pounds. He has surprised Oklahoma head coach Bob Stoops with his bigger-than-expected frame, per SoonerSports.com.
The Sooners have good depth and experience at running back, so Ford will have an uphill battle to win a starting job. However, if he continues to impress the coaching staff, Ford will find a niche in the Sooners' offense.
Ford also has the highlight of Oklahoma's camp so far.
Alabama prying Robert Foster from Pennsylvania was a huge coup. The speedster was a highly coveted prospect during the 2013 recruiting cycle.
Eligibility questions have subsided regarding Foster. He had to re-take a high school course earlier this year. However, he has been cleared, says Andrew Bone in the Tuscaloosa News.
Foster stands 6'2" and weighs more than 185 pounds, and he has electric athleticism and quickness. He can launch off the line, blow by cornerbacks and make dazzling plays after the catch.
Although Alabama is talented and fairly deep at the receiver position, Foster will make his presence felt in 2013.
Kelvin Taylor enrolled at Florida in January and ran like a veteran during spring drills. The son of former Gator running back Fred Taylor, Kelvin is one of the premier running backs in the 2013 class.
At 5'10" and 216 pounds, Taylor is in the mix for the starting running back job at Florida. He has outstanding quickness, vision and solid strength. He is a future lead back who could be Florida's top rusher as a freshman.
Do not be shocked to see Taylor aligned behind quarterback Jeff Driskel on Florida's opening play of the 2013 season.
Auburn is not expected to redshirt Carl Lawson. He will battle incumbents Ken Carter and Nosa Eguae for a starting defensive end position.
Lawson, who is nearly 6'3" and weighs close to 250 pounds, is an explosive defensive end with great strength and quick hands. He can fire upfield to attack the passer. He also has the power to set the edge versus running plays.
Lawson will be one of Auburn's best defensive players by the middle of this season.
Perhaps the fastest prospect in the 2013 class, Thomas Tyner is a great fit for Oregon's speed-based spread offense.
He has great size, standing 6'0" and weighing more than 200 pounds. Tyner is an outstanding runner of the edges, as he can pull away from anyone.
Oregon has multi-purpose player De'Anthony Thomas at running back, and he will be joined by Byron Marshall, who also has excellent speed. Tyner will use fall camp to learn the Ducks' offense. He will join Thomas and Marshall to form a three-headed rushing attack in Eugene.
An athletic tight end can take an offense to the next level. Having a player who blocks like an offensive lineman, creates problems for defenses in the seams and also works on the perimeter is a great luxury.
O.J. Howard figures to be that kind of tight end. Alabama will infuse him into its offense. Howard, who is 6'5" and 237 pounds according to BamaLighthouse.com, is battling veterans such as Brian Vogler, Harrison Jones and Jalston Fowler for snaps at both tight end and H-back.
Howard may not be the starter when fall camp breaks, but 'Bama should be able to find a way to get his feet wet as a true freshman.
Chris Jones was listed at 6'5" and 250 pounds as a 2013 recruit, via 247Sports. However, according to Michael Bonner of ClarionLedger.com, the defensive lineman now weighs between 305 and 310 pounds.
Jones' size, athleticism and power have impressed Mississippi State's coaches in the early stages of fall camp. He is still a bit raw in his development, as Jones needs to refine his technique, but look for him to be in the defensive line rotation for the Bulldogs.
Kendall Fuller is expected to make an instant impact at Virginia Tech. He is already the starting whip-linebacker in the Hokies' nickel package, per Mike Gianotto of the Washington Post.
Fuller is a 6'0", 175-pound cornerback who is blessed with fantastic athleticism. He has the potential to develop into an elite man-to-man cover corner due to his good short-area quickness, length and agility.
Fuller likely won't start at a traditional cornerback position, but his role as the team's primary nickel defender will have him playing extensive snaps this season.
Alabama's defense is at its best when it can apply great pressure on the quarterback off the edges. So look for 6'3", 260-pound freshman outside linebacker/defensive end Jonathan Allen to get a chance to display his talent this season.
The Crimson Tide defense was outstanding in 2012, and if they want another national championship, the defense will have to be exceptional again in 2013. Allen, due to his quickness, power and burst, will help menace SEC quarterbacks this season.
Although he was once committed to USC, Jalen Ramsey signed with Florida State. Ramsey, who is nearly 6'1" and weighs more than 190 pounds, is a great athlete who has the potential to be an All-ACC cornerback.
However, do not expect him to earn such high accolades this season. The Seminoles boast incumbent cornerbacks Ronald Darby, Nick Waisome, Lamarcus Joyner and Tyler Hunter.
While he has the talent to make an impact this season, Ramsey will be brought along slowly in fall camp due to the Seminoles not desperately needing him to play this season.
Laquon Treadwell has the ability to be a special receiver, so it's no surprise that he is already receiving first-team reps in fall camp, per Hugh Kellenberger of the Clarion Ledger.
Treadwell was 195 pounds as a recruit, but his 6'3" frame already weighs 215 pounds. He has great speed, strength and solid elusiveness to make plays after the catch. He could become Ole Miss' No. 1 receiver by the end of this season.
Christian Hackenberg is in the middle of a quarterback battle to be the starter at Penn State. The only person standing in his way from taking the opening snap this season is JUCO transfer Tyler Ferguson.
If the battle is even when fall camp breaks, look for head coach Bill O'Brien to give the job to Hackenberg. The 6'4" passer has great arm strength, can throw an accurate pass to all levels of the field and has a fantastic work ethic. He's also a deceptive athlete who flashes good mobility.
Hackenberg is the future of Penn State football, and the future will likely begin this fall.
Derrick Henry enrolled at Alabama in time to participate in spring practices, but he broke his leg and missed Alabama's A-Day spring game.
However, he has recovered from his leg injury and has been impressive so far in fall camp, according to Don Kausler Jr. of AL.com. Yet do not expect to see Henry play a significant role this year, as the Tide will heavily lean on freakish running back T.J. Yeldon, along with reserve speedster Kenyan Drake.
Shifty athlete Dee Hart is also on the roster, so Henry likely won't get many carries this season. Alabama also has three other great incoming freshman running backs.
Matt Barkley is now with the Philadelphia Eagles, so USC is looking for a new quarterback. Sophomores Max Wittek and Cody Kessler are vying for the job, but Max Browne enrolled at USC early so he could make sure he could compete with the veterans to replace Barkley.
The 6'5" Browne has solid delivery quickness, good arm strength and accuracy. He is a smart quarterback who has quickly learned Lane Kiffin's offense. Browne has a solid shot to beat out Wittek and Kessler, but one of the veterans will probably get the nod.
If Browne doesn't win the job, look for the Trojans to redshirt him.
The Tigers will not only depend on incoming freshman defensive end Carl Lawson to make an impact on their defense, but defensive tackle Montravius Adams also.
Adams, who is 6'4" and 310 pounds, is not a recruit a program should redshirt. He is explosive off the ball, flashes violent hands and has great strength.
It would be a surprise if he didn't start this season, but even if he fails to land a No. 1 defensive tackle slot on the depth chart, Adams still is on track to play a ton of snaps.
The Trojans are moving to a 3-4/5-2 defense this season. Clancy Pendergast is their new defensive coordinator.
USC has the potential to dominate offenses at the line of scrimmage. Front-seven defenders such as Morgan Breslin, Leonard Williams, Devon Kennard and George Uko are solid players.
Kenny Bigelow is a talented defensive tackle, but the 6'3", 297-pounder likely will not beat out Williams or Uko for a starting job. However, Bigelow's quickness could be counted on as an interior sub-package rusher in 2013.
Matthew Thomas will be a Seminole after all, though he may not make a big impact as a freshman. Florida State has Telvin Smith at weak-side outside linebacker, while Terrance Smith has the strong-side position locked up.
Thomas' best chance to see the field will be to earn a reserve role while covering kicks and punts on special teams. The 6'3.5", 210-pounder is a fabulous athlete with outstanding speed, agility, balance and short-area explosiveness.
Thomas will be a star one day, but don't look for him to shine too bright in 2013.
Alabama does not have a big need at inside linebacker with Trey DePriest, Reggie Ragland and Tana Patrick on the roster.
But Reuben Foster may be too good to keep off the field.
Foster is one of the best linebacker prospects in recruiting history, as the 6'1" defender weighs more than 240 pounds and has excellent physical tools. Foster is explosive around the box, plays powerfully at the point of attack, has great instincts and can track running backs to the edges due to his great speed.
Alabama will definitely have him play special teams, but do not be shocked to see Foster take some snaps away from DePriest or Ragland.
Eddie Vanderdoes signed with Notre Dame but asked to be released from his national letter of intent.
After Irish head coach Brian Kelly refused his request, Vanderdoes brought his case to the NCAA appeals board and cited family issues as his reason for his request, according to Chip Patterson of CBS Sports.
The NCAA granted Vanderdoes immediate eligibility to play at UCLA, and the 6'2", 310-pound defensive tackle is now in Westwood. With his exceptional power and strength, Vanderdoes could win a starting position with the Bruins in fall camp.
Su'a Cravens is such a great athlete that the safety could start as the nickelback for USC this fall. The Trojans have a need at cornerback, and Cravens warrants being on the field in any situation.
At 6'3" and 215 pounds, Cravens is not just a big and fast defensive back. He has the instincts and intelligence of an upperclassman on the back-end, and he has great range and field vision.
Whether it's at one of the safety spots or as a nickel cornerback, Cravens is going play a key role for USC as a true freshman.
Laremy Tunsil is a 6'6" offensive lineman who weighs more than 300 pounds. He has left tackle potential, and that is where he is receiving first-team reps, says Parrish Alford of InsideOleMissSports.com.
Tunsil is not a strong or powerful blocker, but he has quick feet and outstanding agility. He is one of the more athletic linemen one will see on the recruiting trail.
If he continues to perform well, Tunsil could be on track to win the starting left tackle position at the end of fall camp for Ole Miss.
Florida has a talented cornerback unit that features budding stars Marcus Roberson, Cody Riggs and Jaylen Watkins.
Vernon Hargreaves III will have a tough time beating out those players for a starting role.
However, Hargreaves is just too talented to redshirt, so look for him to work his way into a nickel or dime role in 2013. He is 5'11", 185 pounds and has rare instincts, awareness and intelligence.
Hargreaves also is a fantastic athlete with excellent speed, short-area quickness and loose hips. He may not trot out with the first-team defense in Week 1, but Hargreaves is too good to be left on the sidelines often—even at Florida.
Jaylon Smith is a 6'3" freshman outside linebacker who weighs more than 220 pounds for Notre Dame. He has great athleticism, can excel versus passing plays, displays great instincts and has excellent speed.
Smith can rush the passer off the edges and blitz inside the interior gaps. He has the toughness to challenge running backs at the line of scrimmage.
He is currently receiving reps with the second-string defense in South Bend, lining up at the "CAT" outside linebacker position, says Bleacher Report's own Connor Killoren.
Though he may not start, Smith will play extensive snaps this season.
Barring injury, Robert Nkemdiche will start immediately at Ole Miss. He is a beastly 6'4", 285-pound defensive end with an amazing motor, outstanding strength, quickness and agility.
Nkemdiche has been physically ready to play college football since his junior season in high school, and Hugh Freeze will turn him loose in 2013. He will spend fall camp improving his technique and adjusting to the Rebels' defensive terminology.
Once camp breaks, Nkemdiche will be a starting defensive end for Ole Miss.
Edwin Weathersby is the College Football Recruiting Analyst for Bleacher Report. He has worked in scouting/player personnel departments for three professional football teams, including the New York Giants and Cleveland Browns.