Tiger Woods has officially ended 2013 without a major title after another poor showing on Day 4 of the PGA Championship.
The superstar was able to finish with a par score of 70 on the final day, but his inconsistency off the tee and on the green prevented him from finishing in the 60s for the first time in the tournament. In all, he finished four strokes over par for the event.
He came into Sunday at Oak Hill far from contention at four strokes over par, tied for 48th place. It was extremely unlikely he would make a run, but his bogey and double bogey on the eighth and ninth holes, respectively, ensured his spot way down the leaderboard.
Still, he was able to finish strong with a handful of birdies on the back nine. Here is a complete look at the scorecard for his final round:
Tiger Woods Scorecard - Round 4

| | | | | | | | | | | |
| --- | --- | --- | --- | --- | --- | --- | --- | --- | --- | --- |
| | 1 | 2 | 3 | 4 | 5 | 6 | 7 | 8 | 9 | Total |
| Par | 4 | 4 | 3 | 5 | 4 | 3 | 4 | 4 | 4 | 35 |
| Score | 4 | 4 | 3 | 5 | 4 | 3 | 4 | 5 | 6 | 38 |
| | 10 | 11 | 12 | 13 | 14 | 15 | 16 | 17 | 18 | Total |
| Par | 4 | 3 | 4 | 5 | 4 | 3 | 4 | 4 | 4 | 35 |
| Score | 4 | 3 | 3 | 5 | 3 | 2 | 4 | 4 | 4 | 32 |
PGA.com
This is obviously not close to the leaders of the tournament, as seen here:
Solid Start to the Day
Through the first seven holes, Woods was about as good as he had been all week. He avoided bad mistakes and was able to earn par on each hole. Considering the problems he had on the front nine in the first three rounds, this is quite impressive.
Unfortunately, he was unable to take advantage of strong approach shots due to more poor play on the greens.
Woods had a few birdie opportunities but wasted them with poor putts like this one on hole No. 4:
This was a theme throughout the weekend, as birdies were tough to come by for the 14-time major champion. Considering he has been one of the best on tour on the greens this season, the poor performance is quite surprising.
Things Take a Bad Turn on No. 8
After starting the day with seven pars, he had a terrible finish to the front nine before the turn. A bogey on the eighth hole and then a double bogey on the ninth put him at seven over for the tournament.
In both cases, the issue seemed to be a lack of concentration on his putting. Here is a terrible miss for bogey on No. 9:
Shane Bacon of Yahoo! Sports recaps Woods' less-than-stellar play in the first half of the round:
Tiger had 19 putts on the front nine, including that three-putt on the 9th for a double-bogey.

— Shane Bacon (@shanebacon) August 11, 2013
Phil Mickelson finished at plus-12 for the tournament, and analyst Jason Kint was one of many pointing out how weird it was to see the two top players in the world struggle this much:
Tiger and Phil are a collective 28 behind the leader, Furyk, and climbing… Have they ever been this bad together?

— Jason Kint (@jason_kint) August 11, 2013
Andrew Redington/Getty Images
Great Run on the Back Nine
It took until the 12th hole for Woods to finally notch a birdie on the day, ending a string of 18 straight holes without a score under par.
This brought some excitement from Golf Channel's Tiger Tracker:
Birdie putt finds the hole. Finally. Moves Tiger to +2 today, +6 overall...just his second birdie of the weekend.

— GC Tiger Tracker (@GCTigerTracker) August 11, 2013
However, this seemed to open up the floodgates to some great play, as he was able to birdie holes No. 14 and No. 15 as well:
Tricky putt down over the ridge but hey, what do you know, it went in the hole. 2nd birdie in 3 holes, back to +1 today, +5 overall.

— GC Tiger Tracker (@GCTigerTracker) August 11, 2013
Where was this the first 60 holes or so? Tiger drains another long one at 15, 3 birdies last 4 holes. Back to Even on the day, +4 total.

— GC Tiger Tracker (@GCTigerTracker) August 11, 2013
The last of these was probably the most impressive shot of the weekend. He nailed this long putt on No. 15 to get back to even on the day.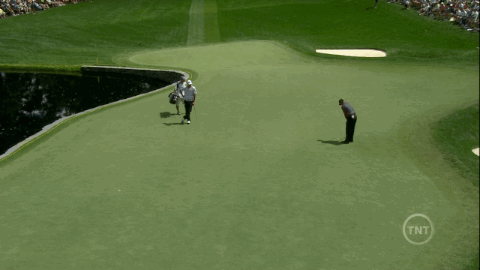 Of course, while his putting improved, he started to struggle more off the tee with his driver. Woods missed wide on both sides of the fairway, requiring him to work even harder to save par.
Still, he did not record another bogey the rest of the way to end with a back-nine score of 32.
Possible Injury?
Woods has dealt with a number of injuries over the past five years, so it is never surprising to hear of another possible setback.
On the 13th hole, it appeared there was something wrong with his lower back.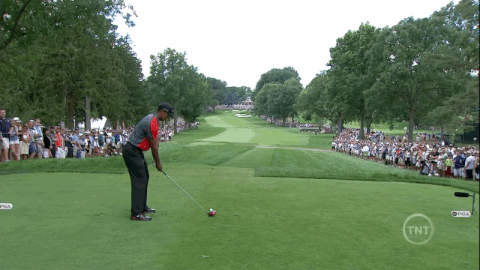 Bob Harig of ESPN was one of many who noticed the grimace from the golfer after the shot:
At first ,Tiger looked like he was flexing his hand, right wrist, behind his back. But it could have also been lower back bothering him.

— Bob Harig (@BobHarig) August 11, 2013
Of course, Dave Shedloski of Golf World was a bit skeptical based on the result of the drive:
Tiger massaging his lower back after another grossly wayward drive at the 13th hole. Gonna find out that he's hurt again? Hmmmm. #pga

— Dave Shedloski (@DaveShedloski) August 11, 2013
It certainly seems like more people complain about injuries in sports when they are losing compared to winning. However, it remains to be seen whether this potential ailment turns out to be serious.
Regardless of what could be bothering Woods, it certainly did not negatively affect him last week while he was winning the WGC-Bridgestone Invitational.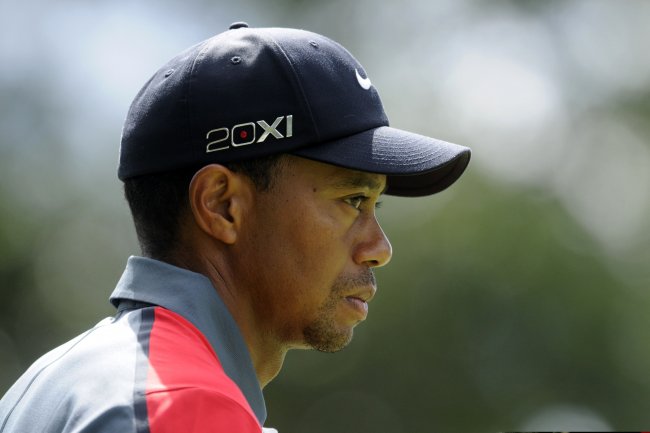 Mark Konezny-USA TODAY Sports
Looking Forward
There will be many who question Woods' performance after he failed to win a single major this season. However, he already has five titles on the season and is well on his way to winning another Player of the Year award.
It is also not as though the two wins at the World Golf Championship as well as The Players Championship should be overlooked either.
As far as the potential to still catch Jack Nicklaus' record of 18 majors, ESPN's Jeremy Schaap has some positive stats:
At the earliest, Tiger will win major #15 at 38, after winning #14 at 32. Good news? After turning 38, Nicklaus won four (each one once).

— Jeremy Schaap (@JeremySchaap) August 10, 2013
Rick Reilly of ESPN also believes there will be plenty of memorable moments ahead for Woods:
And yet, somehow, people think Tiger's done. MT @shanebacon If Jim Furyk wins, four of the last 10 major winners will be in their 40s.

— Rick Reilly (@ReillyRick) August 10, 2013
In the short term, however, Woods will have to regroup before FedExCup play begins. Golf Channel believes he will participate in his next tournament at The Barclays:
Not confirmed, but likely. Expect him in NJ in 2 weeks. RT @RobbieVogler looking ahead, what will be Tigers next tournament? Barclays?

— GC Tiger Tracker (@GCTigerTracker) August 11, 2013
Hopefully, he can go into the next event healthy and with more confidence than he showed at the PGA Championship.
Follow Rob Goldberg on Twitter for the latest breaking news and analysis.