The quest for the 95th Wanamaker Trophy of the PGA Championship on Sunday is shaping up to be one of the best finishes of the season, as Day 4 promises to be full of big moments.
American Jim Furyk at the age of 43 entered Round 4 leading the pack, but Jason Dufner was hot on his heels, just a stroke down. Four other contenders entered the day just four strokes out of the lead.

2013 PGA Championship Live Leaderboard

Tiger Woods and Phil Mickelson may be nowhere to be found after miserable days leading up to the final round, but the showdown between Furyk and Dufner, paired with the unpredictability of the talents a few strokes back, makes for some great golf at Oak Hill Country Club.
Directly behind Furyk and Dufner sit the Swedish pair of Henrik Stenson and Jonas Blixt, both of whom are within striking distance of the lead as well. As always, the unpredictable Rory McIlory entered the day hanging around as well at just six strokes down.
With a smooth forecast for the duration of Round 4 on the slate, expect fast conditions on the green and plenty of advancement opportunities for those attempting to make a comeback on the difficult course in Rochester. As Todd Lewis confirms, the greens are much, much quicker Sunday:
Greens have been cut and rolled to be much faster at @PGAChampionship compared to Sat. Hold on to you hats, it's show time!

— Todd Lewis (@ToddLewisGC) August 11, 2013
Round 4 Storylines to Watch
Jim Furyk's Propensity for Collapses
We have been down this path with Furyk before.
The 43-year-old golfer has gone 10 years without a major championship victory since he took the No. 1 spot at the 2003 U.S. Open by three strokes.
Still, Furyk holding on and winning would make for a pretty historic event, as ESPN points out:
If Jim Furyk (age 43) wins tomorrow, this will be the 1st time players age 43+ won back-to-back majors since 1986 (Nicklaus-Floyd)

— ESPN Stats & Info (@ESPNStatsInfo) August 10, 2013
More recently we have seen Furyk collapse when within striking distance of a championship like in last year's U.S. Open. He just so happens to enter Round 4 with a one-stroke lead, but will we see him falter once more?
The track record for Furyk as of late is not pretty. A decade has passed since his last major victory, and the weight of that has to take its toll at some point. We may have witnessed this in the past year with his U.S. Open and Bridgestone Invitational collapses.
Furyk entered Round 4 narrowly leading the way. How he exits the tournament altogether will have a lasting impact on his legacy.
Jason Dufner's Shot at Greatness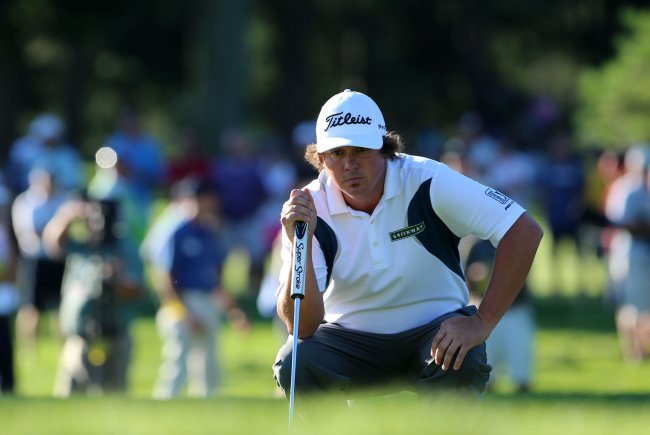 Allan Henry-USA TODAY Sports
Who hoists the 95th Wanamaker Trophy at the end of Sunday?
Jason Dufner enters the final round just one stoke out of the lead, and based on his previous rounds, he has more than enough talent to take things in a runaway fashion.
Want proof Dufner can bounce back and distance himself from the rest of the field?
Dufner broke the course record Friday by shooting just the 12th 63 at a PGA Championship and the 24th in a major championship overall. He did not bogey a hole and was one birdie shy of breaking even more records and entering Sunday tied with the aforementioned Furyk.
Of course, things had to go wrong along the way Saturday or Dufner would have a lead entering Sunday's action. A double bogey tends to knock professionals out of the lead rather quickly.
Still, Dufner is not going to drop off the face of the Earth Sunday. If anything, he'll find a happy balance between his first two performances and stay in contention the entire way.
The Swedish Connection
Both the No. 3 and No. 4 spots on the leaderboard entering Sunday were held by men of Swedish descent, as Henrik Stenson (minus-seven) and Jonas Blixt (minus-six) pair together to chase an individual prize.
Stenson is the name to watch out of the pair, as he holds extensive experience in these types of situations at 37 years of age compared to the 29-year-old Blixt.
Add in the fact Stenson was in the hunt at both Bridgestone and the British Open up to the final moments, and it would not be a shock to see him do the same on Sunday in New York.
As John Buccigross points out, no Swedish male has ever won a major championship:
Henrik Stenson (-7), Jonas Blixt (-6): are solo 3rd & 4th respectively. Both Swedes (no Swedish male has ever won a major) #lidstrom #ABBA

— John Buccigross (@Buccigross) August 11, 2013
If it's going to happen for the first time on Sunday, expect it to be the savvy veteran Stenson as he continues to ride his hot streak.
Follow B/R's Chris Roling on Twitter for more news and analysis @Chris_Roling