South Carolina Football: The 5 Biggest Upset Risks in 2013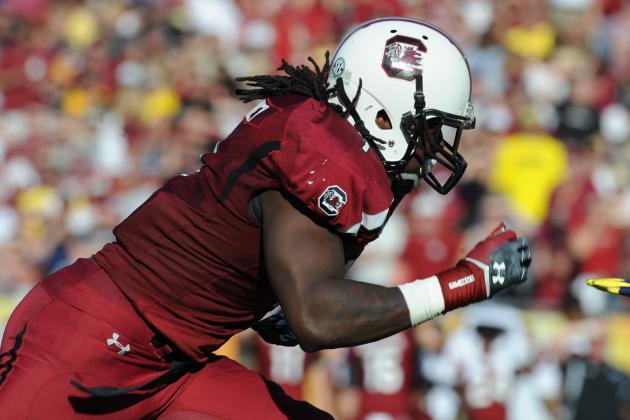 Al Messerschmidt/Getty Images

Heading into the 2013 season, the South Carolina Gamecocks are heralded as serious contenders for the SEC East crown.
Now that they've managed to shake that pesky SEC West monkey off their backs (South Carolina artfully dodges Alabama, Louisiana State, and the anybody's-guess Auburn Tigers this year), the deck is loaded for a run at the Promised Land: the elusive 12-0 regular season, an invitation to Atlanta and a shot at the National Championship.
Getting there won't be easy. Sure, everyone's talking about the key matchups of the season: at Georgia, the homestand against Florida, the always-difficult Arkansas Razorbacks in Hogtown.
But what about the pitfalls? The ankle-biters? The upsets?
For those of you who would rather lip lock Lou Holtz than watch another NFL exhibition game, wet your whistles with this countdown of the five games in the Gamecocks' 2013 lineup that are most likely to make Admiral Ackbar scream, "It's a trap!"
Begin Slideshow

»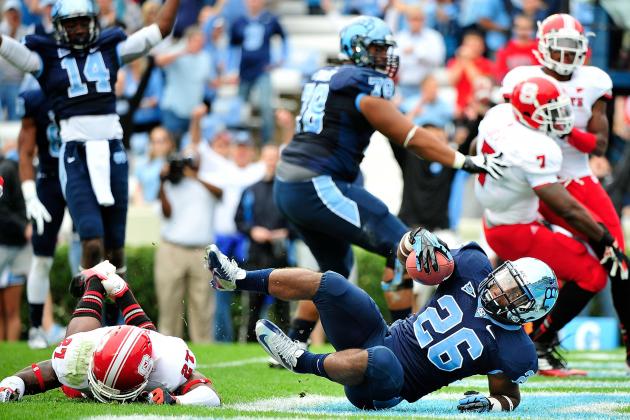 Grant Halverson/Getty Images

Let's face it: The Gamecocks are not exactly known for turning on the afterburners in their season openers.
True, South Carolina has not dropped a game in Week 1 since the dark days of 1999, when it was shut out by North Carolina State en route to what is widely regarded as the single worst season in South Carolina football history.
But the Gamecocks sure know how to make the fans sweat it out, as anyone who remembers their bizarrely lackluster opener against NC State in 2009 can attest.
Or how about their pants-wetting scare to kick off the 2012 season, when the Gamecocks edged a scrappy Vanderbilt squad 17 to 13?
This year, South Carolina opens against the North Carolina Tar Heels, a team it has not faced since midway through the 2007 season, when it scraped out a six-point win in Chapel Hill before dropping five in a row to finish the year.
This year's contest will be on the first Thursday night of the season, a time slot head coach Steve Spurrier has really taken to as a marketing and recruiting tool. (Hey, it's working.)
The downside to playing the only game in town worth watching is that you don't get to sneak in one last pads 'n' helmets practice against an FCS team, which is something the likes of Alabama and Florida get to do almost every year (though there are signs that this is changing).
This opener against North Carolina would be worrisome if it were to be played in Chapel Hill, or even on a neutral site like Bank of America Stadium in Charlotte. But Williams-Brice will be a bona fide war zone, and the Gamecocks' home-field advantage, their SEC-caliber defense and their diverse offensive threats will carry the day.
South Carolina 31, North Carolina 10.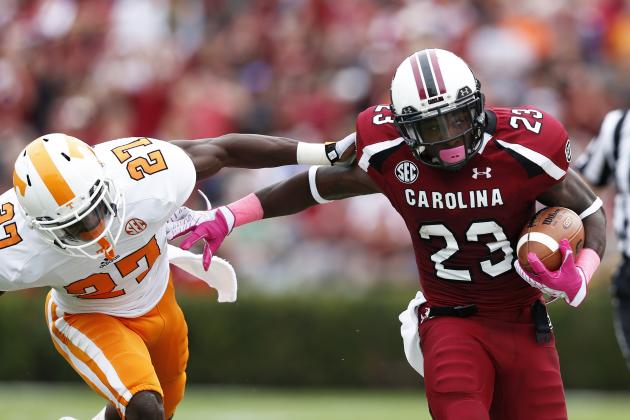 Joe Robbins/Getty Images

South Carolina will likely be favored to win in Knoxville at the season's midpoint, but don't think the Vols will be caught sleeping on the Gamecocks.
Tennessee has two emotional back-to-back away games against the Oregon Ducks and the Florida Gators in September. It will almost certainly lose one and will very likely lose both. Top off that brutal road stretch with a home game against the tough-as-nails Georgia Bulldogs the week before facing South Carolina, and the going doesn't get much easier.
Given the Vols' overall success against the Gamecocks when they get them at home (South Carolina has only snatched victory from the jaws of Rocky Top three times in a series that dates back to when Roosevelt was president—Teddy Roosevelt), Tennessee has legitimate reason to circle this game as a potential win in what will otherwise probably be a disappointing year for the Vols.
I think this one will be closer than some Carolina fans predict. Last year's game was overshadowed by then-RB Marcus Lattimore's hideous injury late in the second quarter, and while South Carolina went on to win 38 to 35, QB Tyler Bray very nearly had the Vols roaring back to life in the final quarter of the game.
Depending on who's still healthy in the middle of October, the Gamecocks should pull this one off, but it'll be close.
South Carolina 24, Tennessee, 21 (OT).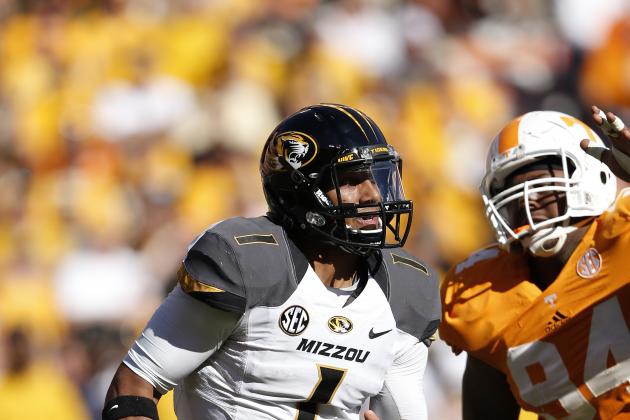 Joe Robbins/Getty Images

To complete their midseason road gauntlet and return home for good, the Gamecocks must play SEC newcomer Missouri in Columbia...Missouri.
What's intriguing about this matchup is that it doesn't have a lot of history. Before South Carolina's dominating win in 2012, the last time these teams met was in the 2005 Independence Bowl, when then-QB Blake Mitchell characteristically fell apart after building an impressive first-half lead over Mizzou.
This year, the Tigers return 12 starters, including senior QB James Franklin. But the transition to the SEC hasn't exactly been kind to Mizzou, a team that finished 5-7 in its debut season, down from 8-5 in 2011, its final year in the Big 12.
Franklin's production tells a similar tale: His total yards were nearly cut in half between 2011's 2,685 and 2012's 1,562.
As far as upsets go, this one is a risk only if the Gamecocks find a way to get back to their typical midseason funk (and a slew of untimely injuries won't help either). But in terms of sheer athleticism, I think they probably have this one safely in the bag.
South Carolina 35, Missouri 13.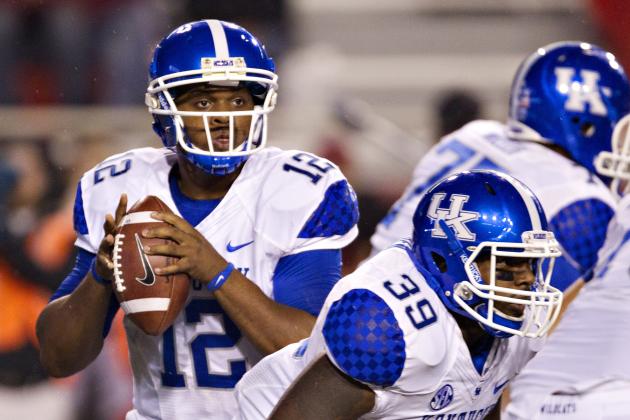 Wesley Hitt/Getty Images

Every season, usually by the end of Week 3 or so, Kentucky fans start dreaming of March Madness.
That doesn't always stop them from spoiling South Carolina's season once every blue (and white) moon. Remember 2010?
Luckily for Carolina, Kentucky returns 13 starters from 2012's dismal 2-10 team. So at least on paper, this one is a consensus no-brainer, right?
Probably. But with South Carolina's tendency to take a nap on Kentucky, this one could be interesting.
South Carolina 31, Kentucky 21.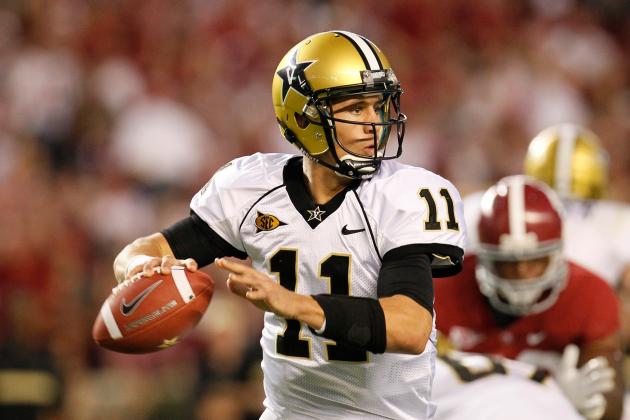 Kevin C. Cox/Getty Images

Oh, Vandy.
True, South Carolina hasn't lost to the Commodores since its infamous meltdown in 2007. But last year's season opener—played in Nashville, I might add—resulted in a 17 to 13 Carolina win that felt a little too close for most of Gamecock nation.
It probably doesn't help that Vandy's short road to SC includes a Thursday night opener against Ole Miss followed by a ritualistic romp on some guy named "Austin Peay." Another potential issue is that James Franklin (no relation to the Mizzou QB) is one heck of a coach, and the Commodores are coming off their first nine-win season in nearly 100 years. Yeah, that's two zeroes, not one.
RB Wesley Tate is getting a lot of hype. And if they're able to to balance the running threat with some semblance of a functional passing game, they might be able to catch the Gamecocks on a wobbly night at home.
South Carolina wins this one, but as they say, there will be blood.
South Carolina 21, Vanderbilt 17.