NASCAR Sprint Cup Series at Watkins Glen: Live Results, Updates and Reaction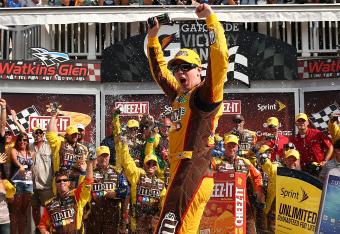 Tom Pennington/Getty Images
After an exciting road course race at Watkins Glen, Kyle Busch finally gets the win after being one of the better drivers to race at the Glen.
Marcos Ambrose was the heavy favorite after winning here two years in a row, and landing on the pole for this years race.
Ambrose did lead a majority of the Laps at Watkins Glen, but after a caution came out before he could pit, Marcos would end up restarting back in 12th, and would never manage to make it to the front again.
As the race started to come to an end, cautions would breed cautions, as drivers like Kasey Kahne and Dale Jr. were caught up in wrecks.
Macros Ambrose would also be involved in a wreck, and was sidelined before the race even ended.
Keselowski and Kyle would battle during the last two Laps, but Kyle would maintain the lead through the end of the race, and would win his third race of the season.
The race to the Chase saw changes as Jeff Gordon wrecked early and dropped out of the top 10, while Keselowski and his second place finish (for a third year in a row) managed to move up to eighth in the standings.
Watkins Glen turned out to be another exciting road course race, and will hopefully get NASCAR thinking about adding a road course race during the Chase.
Thanks for joining us here on the Bleacher Report for the live coverage of the Cheez-It 355 at Watkins Glen. Join us next week as we cover the Pure Michigan 400.
Winner: Kyle Busch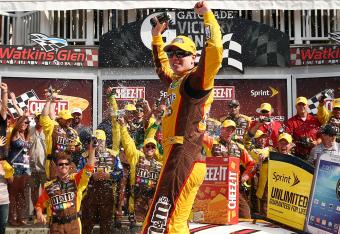 Watkins Glen turned out to be an exciting race yet again. Thanks for joining us here on the Bleacher Report, and make sure to come back next weekend as we cover the Pure Michigan 400.
Winner: Kyle Busch
The race to the Chase has been changed yet again as drivers continue to shift in the standings. Jeff Gordon will have work to do next week to make up the ground he lost today.
Keselowski and Busch has a solid battle on the last lap, but Brad finishes in second place yet again at Watkins Glen.
Kyle Busch wins it at Watkins Glen!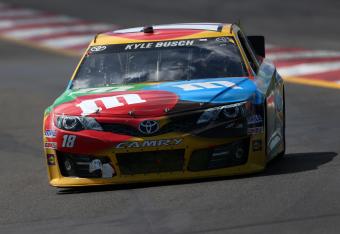 Kyle Busch gets out in front yet again.
Green flag racing with two Laps to go. Has Keselowski learned enough to win?
Three laps to go and caution is still out.
Ambrose was out of the groove when contact with Papis led to his crash; Ambrose collected Vickers as well. #NASCAR

— NASCAR on ESPN (@ESPNNASCAR) August 11, 2013
Update on the Ambrose wreck:
back to green flag racing with six Laps to go and caution comes out yet again. Ambrose gets caught up in a wreck, doesn't look too happy.
Seven Laps to go and the caution is still out.
#DaleJr says "Matt (freakin') Kenseth did all that (crap)" #NASCAR

— Lee Spencer (@CandiceSpencer) August 11, 2013
Matt Kenseth seems to be the one taking the blame for the wreck.
And caution comes out again as drivers wreck. Kahne spins and gets hit by Dale Jr.
10 laps to go and Kyle Busch takes off.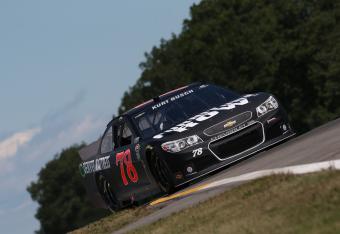 Kurt Busch has told his team that he got into the guardrail and damaged his car.
If he falls further down the standings after this race, Busch has no one to blame but himself.
Kvapil lost a tire to bring out the caution.
Caution is out because someone lost a tire.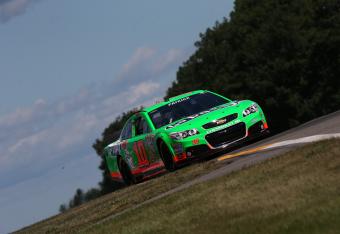 Lets talk Danica Patrick.
Indy car drivers usually run well at road courses, and Danica ran well at one of the Nationwide road courses last season before running over a shoe.
She finished poorly at Sonoma, and is running in 26th place at the moment at Watkins Glen.
Danica continues to disappoint at a style of track where she should probably run better.
Jeff Burton spins, no caution out.
Marco Ambrose is trapped back in 12th, and might not be able to get to the front again without help from a caution.
Brad Keselowski has been the runner-up two years in a row. Kyle Busch might be leading right now, but Keselowski is close behind.
With the two team needing to get a win to have a little more security heading forward, expect Brad to kick it up a notch when the race starts to come to a close.
Top 10: Kyle Busch, Keselowski, Truex Jr, Bowyer, Kurt Busch, Edwards, Logano, McMurray, Kenseth, Mears
Good battle between Truex and Kyle Busch, but Busch got the upper hand.
Ambrose gets beaten off of pit road by Juan Pablo Montoya. Not only will he be back in track, but he'll have another road course expert in front of him when the race starts back up.
Allemdinger was out of gas, but the Almirola caution helps him out. With so many drivers already hitting pit road though, Ambrose will now have to work his way through the field.
Looks like AJ Allmendinger is having issues, and Almirola runs right into the tires. Caution out.
This article is
What is the duplicate article?
Why is this article offensive?
Where is this article plagiarized from?
Why is this article poorly edited?