Updating Minnesota Vikings' Key Position Battles as Training Camp Ends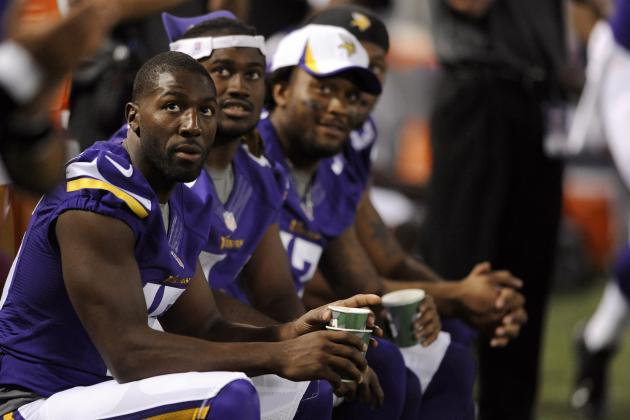 Hannah Foslien/Getty Images
Plenty of eyes are keeping watch on some of the key battles to win a spot on the Vikings' roster.
The Minnesota Vikings preseason is only one game down, but their training camp in Mankato winds down this coming Wednesday. As the team packs up and moves from the dorms of Minnesota State, Mankato to their training facility in Eden Prairie, the battles for a roster spot are just starting to heat up.
Several players made their case to either win a starting job or make the final roster with their performance against the Texans on Friday. One game, especially a preseason game, is just one piece of the process that the coaches use to determine who makes the team.
Here's a look at some of the battles raging as the Vikings' training camp comes to a close.
Begin Slideshow

»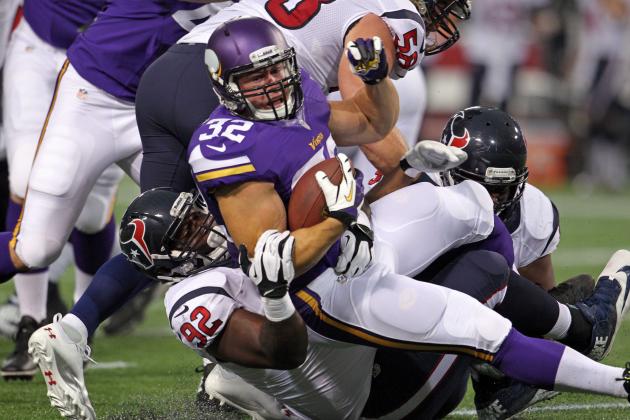 Brace Hemmelgarn-USA TODAY Sport

The battle at running back has two fronts this season. On one hand, there is a battle to see who will be the backup to the backup. On the other hand, there is a potential battle to see who is the backup.
Toby Gerhart enters the 2013 season in the last year of his rookie contract. After having the fewest rushing attempts in his three seasons with the Vikings in 2012, his future does not appear to be very secure in Minnesota.
So the question is who will take his place—either this season or next?
Right now the Vikings' depth chart at running back remains the same as last season with Gerhart and Matt Asiata backing up Adrian Peterson.
After proving he didn't require any carries during last season's exhibition games, Peterson is not expected to see much action before the regular season starts. The other five running backs all got a chance to carry the ball in the games against the Texans. That doesn't include fullback Zach Line, who scored the team's only touchdown on a 61-yard pass play.
Based on the results, it's a six-man dead heat.
Gerhart and Joe Banyard, who was on the Vikings' practice squad last season, each got four carries—they totaled 15 yards. That's only 1.87 yards per carry. To their defense, the Texans held Peterson to only 86 yards last season in Week 16—the only game in the last 10 of the season where he did not break at least 100 yards. Of course, they were not facing the same defense in the first preseason game.
The least likely player to almost rise above is Bradley Randle, who finished with 16 yards on three carries. Randle, an undrafted rookie, was a backup last season at UNLV as a junior.
Asiata finished with eight yards on two carries, and Jerodis Williams, an undrafted rookie return specialist from Furman, had one carry for four yards.
Yes, it's only the preseason, and most of these attempts were behind backup offensive linemen. Viking fans are hoping that Peterson has another season like last year, and the Vikings don't need anyone else to carry the ball.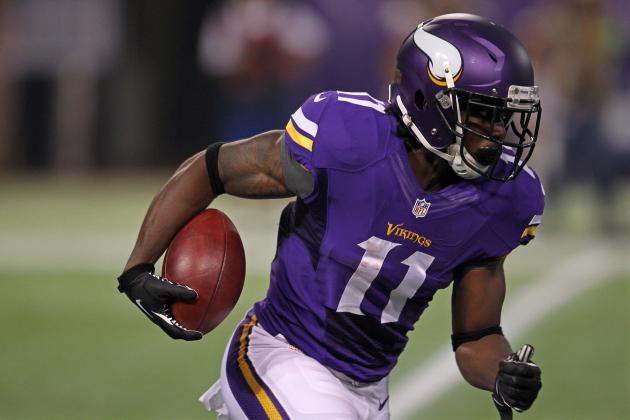 Brace Hemmelgarn-USA TODAY Sport

Stephen Burton has been making a statement during this year's training camp. He had a disappointing season last year when the Vikings desperately needed someone to step up. He finished with only five catches for 35 yards.
This year, the Vikings opened training camp with 12 receivers vying for five, possibly six spots on the final 53-man roster. With the top four spots pretty much guaranteed to Greg Jennings, Jerome Simpson, Cordarrelle Patterson and Jarius Wright, there are eight players battling for one or two spots.
The top two players right now appear to be Burton and Joe Webb. Right now both are listed as third-stringers, Webb at split end, and Burton at flanker.
In an article by Judd Zulgad from 1500ESPN, Burton is turning a lot of heads this training camp. Against the Texans on Friday he led all receivers with 67 receiving yards on three catches—56 of them coming on a nifty play where he reversed the field after catching the ball from Matt Cassel.
What Webb has working in his favor is the fact that he could also be the Vikings' emergency quarterback, freeing up a spot on the roster for another wide receiver, linebacker or cornerback.
In another article from 1500ESPN last Thursday, general manager Rick Spielman had this to say about Webb.
[Webb] is one of those guys that can do a lot of different things most people can't in the league. But the other thing we're going to take a hard look at is during these special teams drills, now we're not live yet, but just seeing him run down as an athlete on kickoff coverage, working him back some as a returner, putting him out as a gunner on the punt team, see if he can break down in space and make some tackles.
That seems to set the stage for a pretty good battle during the remainder of the exhibition season.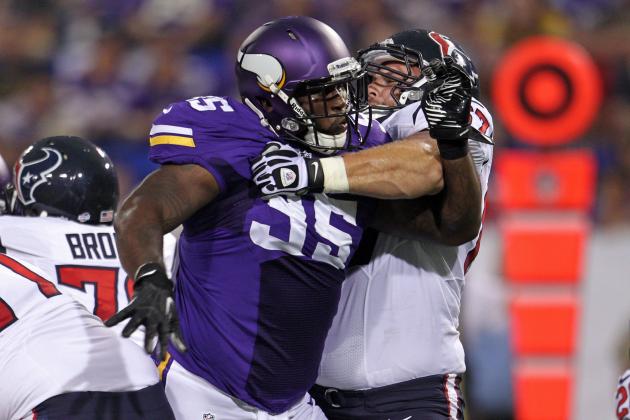 Brace Hemmelgarn-USA TODAY Sport

The battle between rookie Sharrif Floyd and veteran Kevin Williams is one without a loser. The plan is for Floyd to backup Williams and learn the 3-technique position from the six-time pro bowler.
The Vikings' top draft pick will get plenty of opportunities to contribute, not only on the defensive line. During training camp he has practiced with the special teams, lining up on the return teams as well as the coverage teams.
In Friday's first preseason game, Floyd played well before suffering a knee injury. While he only recorded one tackle he also batted down a pass by T.J. Yates.
In an interview posted on Vikings.com during the first week of training camp, defensive coordinator Alan Williams was asked about the possibility of playing both Floyd and Kevin Williams together on the line.
You know what, I don't think so. That's not a definite, but the one thing we do is we rotate guys so much that you do need two three-techniques, you do need two noses. We will see how that shakes out. The one thing about those two spots, they are different spots. Just because you're a great three-technique doesn't not necessarily mean that you're going to come in and play nose and be as effective. I don't think so but I'm not going to rule anything out.
In an article in the Star Tribune, head coach Leslie Frazier has indicated he plans to limit Williams' snaps this season to about 30 to 35 per game.
The real battle could be how quickly it takes Floyd to displace Williams as the starter.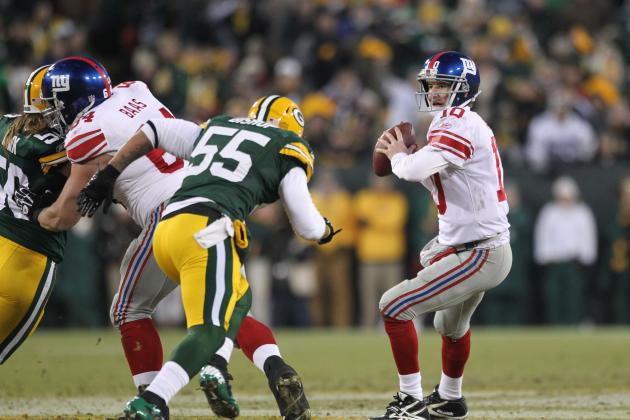 Matthew Emmons-USA TODAY Sports
Desmond Bishop has not played in a game since January of 2012.
The biggest battles at linebacker appear to be on the weak side as well as who will be the backup in the middle.
It would appear there is at least one good reason that the Vikings are keeping Erin Henderson at middle linebacker, even with the addition of Desmond Bishop, who played inside in the Packers' 3-4 defense.
When the Vikings signed the former Packer, it was generally thought that he would take over at middle linebacker and move Henderson back to the weak side. Instead, in the first depth chart of the season, Henderson is listed as the starting middle linebacker and Bishop as the second-string weak-side linebacker, behind Marvin Mitchell.
Bishop missed all of last season after suffering a hamstring injury in the Packers' first preseason game last season. His attempt to return to the field took a slight hit after suffering a slight groin injury last week. He did not play in the team's first preseason game against the Texans.
Up to that point he had been looking good, showing no ill effects from the injury, according to the Star Tribune following the first week of training camp. He will need to prove he is fully recovered and ready to step into the starting weak-side linebacker role.
Audie Cole has moved up the depth chart as Henderson's backup in the middle. The second-year player from North Carolina State is battling with rookie Michael Mauti from Penn State.
Mauti is attempting to make an incredible comeback—not unlike Adrian Peterson last season—recovering from his third knee injury over the past four seasons and the second to his left knee. Mauti's first hurdle was to get cleared to fully participate in training camp.
Right now Bishop and Mauti, both new players this year to the Vikings' roster, find themselves one spot lower on the depth chart than they might like. Their main barrier to moving up on the depth chart may be from the fact that coaches are familiar with Mitchell and Cole.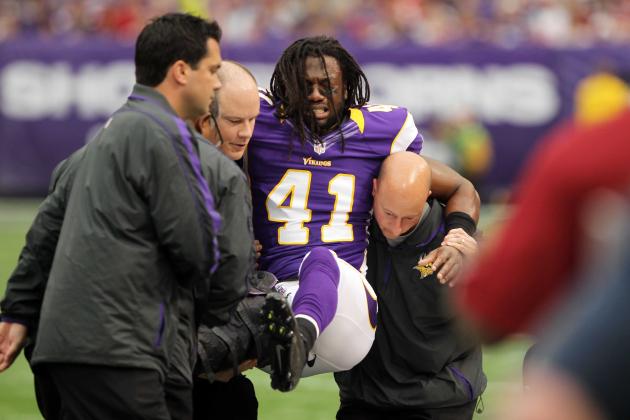 Brace Hemmelgarn-USA TODAY Sports
An injury suffered in Week 3 last year knocked Mistral Raymond from the starting role.
After starting 15 games at safety in 2011, Jamarca Sanford found himself demoted to backup, playing behind Mistral Raymond.
When Raymond went down with an injury in Week 3, Sanford did not look back and played much better alongside rookie Harrison Smith in the Vikings' defensive backfield.
With Smith entrenched as one of the starters, his presence is sure to push both Raymond and Sanford to raise their game to his level.
In an article published in February, the Star Tribune indicated that Raymond would be the likely candidate to take back his starting role and push Sanford back to special teams. However, with the first depth chart of the year, nothing has changed—yet.
In the Vikings' first preseason game Raymond finished with three tackles, while Sanford, like most of the starters, did not see much action in the game and did not register a tackle.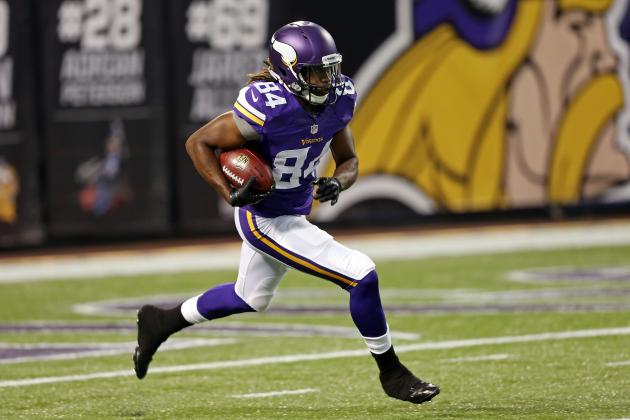 Jesse Johnson-USA TODAY Sports
Cordarrelle Patterson made a huge splash in his NFL debut.
In his NFL debut against the Houston Texans on Friday, Cordarrelle Patterson made a big splash. The first time he touched the ball was good for a 50-yard kickoff return.
By the time the Vikings' first preseason game was over, Patterson also led the team with four receptions for 54 yards in only a half of play.
Currently listed behind Jerome Simpson on the team's depth chart, he is pushing to become the team's starter at split end. In Friday's first preseason game, Simpson was limited to one catch for 15 yards. Of course he was only in for the first series which lasted a total of two plays.
After catching a pass on the first play from scrimmage, he tipped the second ball that led to an interception.
According to a story by Andrew Krammer from 1500ESPN, Jersome Simpson is healthy and looking very good in camp this season. Signed to a second consecutive one-year contract, Simpson may be the listed as the starter for now, but if Patterson continues to shine, it won't be long before the rookie rises to the top of the depth chart.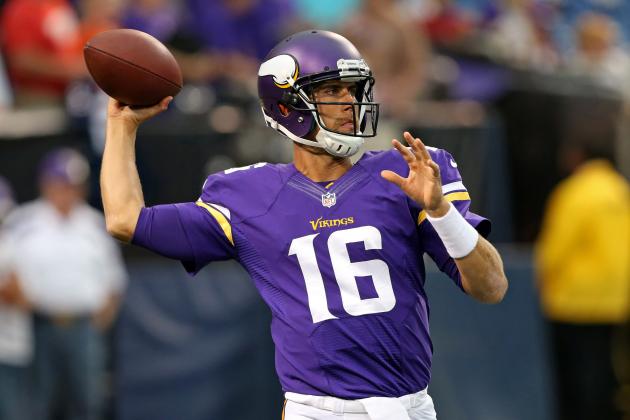 Jesse Johnson-USA TODAY Sports

Since the Minnesota Vikings signed Matt Cassel, head coach Leslie Frazier has stated repeatedly that Christian Ponder is his starting quarterback. Despite continued insistence, plenty of people are very interested in the battle between the two.
Almost every pass thrown by both quarterbacks has been scrutinized during training camp. Completion percentages are being reported almost daily. In the first true test of the season, it was no contest.
In the preseason game against the Texans, Ponder did little to prove he is capable of taking the Vikings to the next level. He finished 1-of-2 passing for 15 yards and an interception. His entire involvement lasted only two offensive plays.
Most people might have been tempted to give Ponder a few more opportunities, but perhaps Frazier limited him to the one offensive series in order to protect his third-year quarterback from throwing another pick, and delay the fans' call for Cassel as the quarterback.
Cassel, who also threw an interception, had a greater opportunity to play in the game. He finished 12-of-19 with 212 yards—a total Ponder only exceeded seven times last season.
A big chunk of that came on a 61-yard swing pass to undrafted fullback Zack Line, who scored the Vikings' only touchdown.
Of course it really doesn't matter how well Cassel plays in the preseason. Last year Sage Rosenfels dominated at quarterback with the second and third teams, but was still dumped in favor of McLeod Bethel-Thompson.