Georgia Football: 5 Games That Will Present Aaron Murray with a Heisman Moment
Dale Zanine-USA TODAY Sports

At the end of the college football season, we all try to predict who will win the Heisman Trophy.
Last year, Johnny Manziel was able to hold the trophy high over his shoulders. Despite Manziel only being a freshman, he was able to run and throw his way through a tough SEC schedule.
But the one game that caught everyone's attention was when he played against Alabama. Manziel threw for 253 yards and two touchdowns, and he also rushed for 92 yards in the victory against the Crimson Tide.
For the Georgia Bulldogs, Aaron Murray is a dark horse to win the Heisman this season because he is on the watch list for the Maxwell, O'Brien and the Walter Camp Awards. But in order for him to get out of the dark-horse discussion and be considered a favorite, he has to have a Heisman moment, or two or three this season.
And here are five games that could present Murray with those moments.
Begin Slideshow

»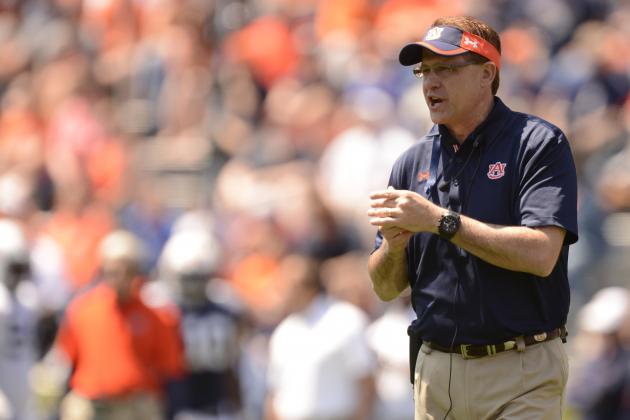 John David Mercer-USA TODAY Spor

If there is one game in which Murray can produce nearly flawless numbers, it would be when he plays against the Auburn Tigers.
In the three games Murray has played against Auburn, he has a 2-1 record but has thrown 10 touchdowns and zero interceptions.
The Tigers defense, which gave up 28 points per game last season, should be improved this season, especially with nine starters returning from last year. But Murray is as experienced as they come, and he will know how to pick apart the Tigers for the fourth time.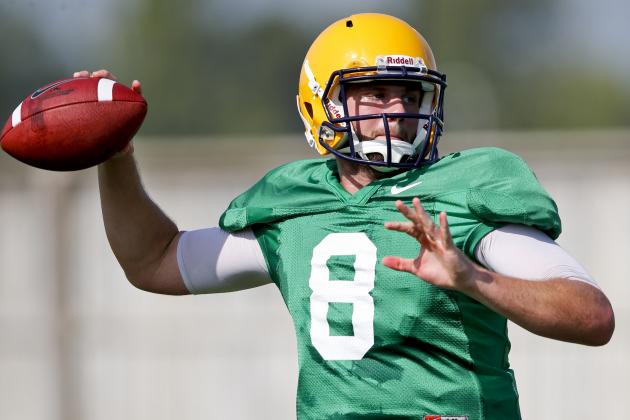 Derick E. Hingle-USA TODAY Sport

Unlike Auburn, LSU does not have nine returning starters on defense. In fact, only three starters will be back to help the Tigers get back on top of the SEC West.
This gives Murray an opportunity to have a big game against the top SEC opponent in Athens.
The last time Murray faced the Tigers was in the 2011 SEC Championship Game, and he only completed 40 percent of his passes to go along with his one touchdown and two interceptions.
This will be a different scenario for Murray because he is more experienced and he is facing a LSU defense that will still be in an adjusting period with the new personnel.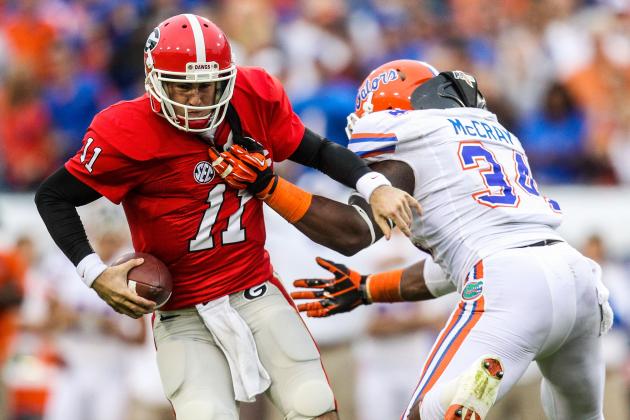 Daniel Shirey-USA TODAY Sports

It has been a mixed bag for Murray when it has come to his performance against the Florida Gators the last three years.
Murray has a 2-1 record but has a completion rating of under 50 percent and has thrown seven interceptions in the three games.
With eight starters gone from last year, this is another game in which Murray has a chance to do some big things.
Despite the inconsistent play against the Gators, Murray has come up with some big throws in the series. The best one would have to be last year when Murray threw a 45-yard touchdown pass to Malcolm Mitchell early in the fourth quarter to help the Bulldogs win.
There's a chance Murray could struggle this year against Florida. But if he has a couple of big throws just like he had in the past against Florida, Heisman voters will have that fresh in their minds when voting begins.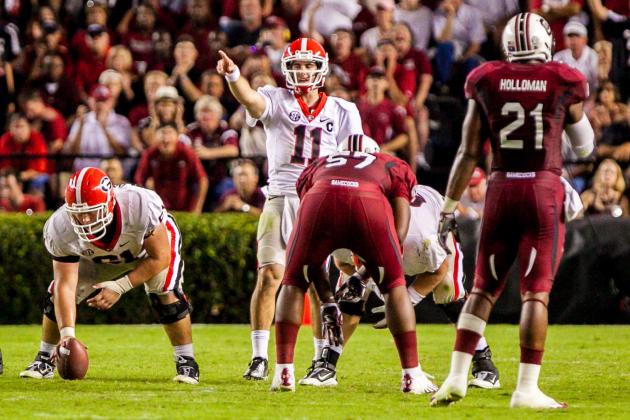 Jeff Blake-USA TODAY Sports

The one team that has given Murray fits is South Carolina.
Murray is 0-3 against the Gamecocks, so the game this year gives him extra motivation to play extremely well.
Murray will have to watch for Jadeveon Clowney because he can ruin an offense's game plan with no issues. Clowney had 13 sacks last season, and one of them came against the Bulldogs.
If the Bulldogs' offensive line can keep the Gamecocks' defensive line in-check, Murray should have a game like he had against South Carolina in 2011, when he threw for 248 yards and four touchdowns.
If not, then it could be the same situation like last year when Murray only had a 35-percent completion rating.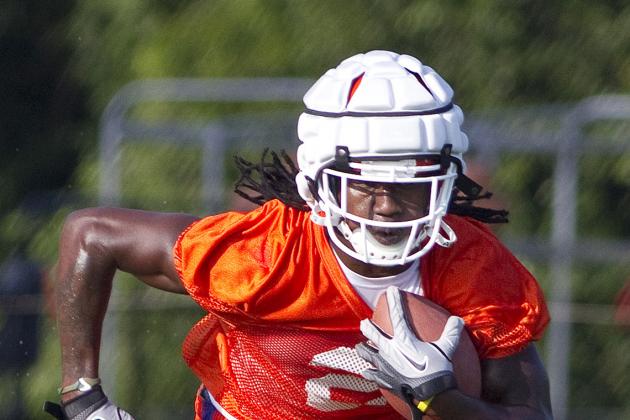 Joshua S. Kelly-USA TODAY Sports

Murray can get his Heisman campaign started on August 31 when the Bulldogs go up against Clemson to start the season.
The Tigers have proved that they are one of the better teams in the country. They have an explosive offense led by quarterback Tajh Boyd and wide receiver Sammy Watkins.
But the defense is a middle-of the-road unit that can be had if a team can jump on them early.
The one thing Murray has to do is start fast and keep the pressure on the Clemson defensive backs consistently. Like the Bulldogs, Clemson has three new starters in the secondary, so Murray should be able to make plays downfield.
With this game being against a top-10 opponent and nationally televised, Murray can be an early favorite to win the Heisman if he has an outstanding performance.