Nadal vs. Raonic: Score, Highlights for Rogers Cup 2013 Men's Final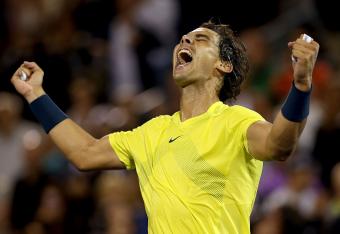 Matthew Stockman/Getty Images
No. 4 seed Rafael Nadal made short work of hometown favorite Milos Raonic, taking just 68 minutes to capture the 2013 Rogers Cup men's title in Montreal.
After an intense semifinal match against Novak Djokovic that ran well past midnight on Saturday, Nadal expressed concern that he might not be able to bring his best to the final. But there were no signs of fatigue in his game, as he took Raonic apart with surgical precision.
As the first Canadian to make the final of this tournament since 1958, the partisan-but-polite crowd was well behind Raonic. After a solid first service game, though, there wasn't much to cheer about. Nadal was in firm control of the match the rest of the way.
The win gives clay-court specialist Nadal an impressive 11-0 record on hard court surfaces this season, after winning the BNP Paribas Open at Indian Wells earlier in the year.
Though Nadal dominated the day, Milos Raonic leaves the tournament as Canada' first-ever men's player to be ranked in the world top ten—no small feat in itself.
Rafael Nadal wins the Rogers Cup championship over Milos Raonic 6-2, 6-2.
Nadal is gracious in his victory speech, wishing Raonic luck in the future and acknowledging the support of the fans in Montreal.
Rafa: 'This is an amazing season and without my team it's impossible.'

— TennisTV (@TennisTV) August 11, 2013
Raonic: 'Congratulations Rafa - you gave me a clinic today.'

— TennisTV (@TennisTV) August 11, 2013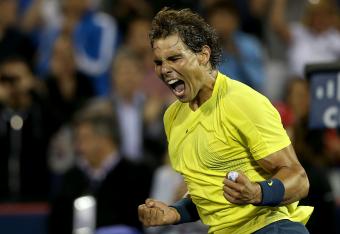 A nice speech from Raonic to wrap things up. In a mixture of French and English, Raonic acknowledges that this is the most important moment of his career so far.
The match should be a great learning experience that he can build on going forward.
R.Nadal beats M.Raonic in #RogersCup Final. ESPN2's Chris Fowler: "Rafa at his ruthless best never really gave the young Raonic a chance"

— Ben Raby (@BenRaby31) August 11, 2013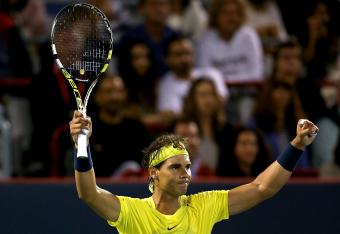 Just like that—two match points for Nadal.
Raonic hits it long, and we're finished in 1:07.
Rafael Nadal wins the Rogers Cup over Milos Raonic: 6-2, 6-2.
This one's pretty much over, nice week for Milos. First Canadian ever to be in a Masters 1000 final, and is now in the top 10. #RogersCup

— Shawn Murphy (@number1milosfan) August 11, 2013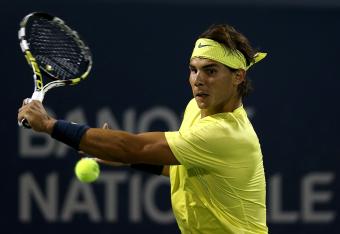 Probably small consolation, as Raonic is broken again.
Nadal has figured out his serve and is dissecting him clinically.
The match time sits at 64 minutes as Nadal prepares to serve for the win. It will run longer than the ladies' final, at least...
Here's another feather in Raonic's cap:
Regardless of the result Milos Raonic will be the first player born in the 1990s to enter the Top 10. #CoupeRogers

— TennisTV (@TennisTV) August 11, 2013
It could be argued that yesterday's semifinal matches held more significance to both these men.
Nadal played Djokovic for the first time since his dramatic tiebreak win at the French Open, and beat him this time on the hard court.
Meanwhile, Raonic faced off against fellow Canadian Vasek Pospisil, a player he's known almost his entire life. The match was hard-fought, and the win assured him of a successful week. Raonic became the first Canadian since 1958 to make the final of the Canadian Open, and assured himself of a top-ten spot in the world rankings.
Raonic holds easily, finishing off the game with a nice inside-out forehand.
Rafael Nadal leads the Rogers Cup men's final 6-2, 3-2. He's about to serve.
Raonic looked bouncy and alert for the first time since the early stages when he was up 40-0, but his whole body language deflated as he wasn't able to capitalize on the break opportunity.
Nadal wins five straight points to go up 3-1 in the second set.
Nadal hits an ace to the outside, then Milos wastes a good opportunity with a ball into the net.
Now we're at 30-40....and another long rally gives us our first deuce of the match.
Tingles!
Raonic was right in the scrambly rally, which ends with Nadal clipping the top of the net.
THREE break points for Raonic.
"You got this, Milos!" yells a fan before Nadal's serve.
And Nadal makes an error...and another!
Raonic is up 30-0 and has his best chance to break so far in the match.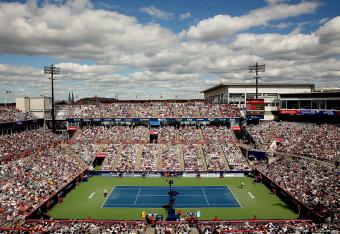 At last, something for the partisan Canadian crowd to cheer about.
After falling behind 0-30, Raonic bounces back to hold serve.
Nadal is still up a break. It's 2-1, with Nadal about to serve.
Gotta love Rafa's relentlessness. Feels pity for no man.

— Damien Cox (@DamoSpin) August 11, 2013
That's all, though. Nadal takes control the rest of the way to go up 2-0.
Hey!
Raonic wins a point on Nadal's serve. A good rally forces Nadal to hit wide, bringing the score to 15-15.
Now things are going from bad to worse.
On break point, Raonic double-faults to lose the game. He is clearly feeling the pressure and has no answer for Nadal.
Rafael Nadal is leading the men's final 6-2, 1-0 and is about to serve.
This tournament has seen big-name winners over the past ten years. The way things are going today, it looks like 2013 won't be much different.
All the winners of the Rogers Cup since 2004: Roger Federer, Rafael Nadal, Novak Djokovic, Andy Murray. Nobody sneaks in.

— Bruce Arthur (@bruce_arthur) August 11, 2013
This article is
What is the duplicate article?
Why is this article offensive?
Where is this article plagiarized from?
Why is this article poorly edited?