Stat Projections for Each Sacramento Kings Offseason Addition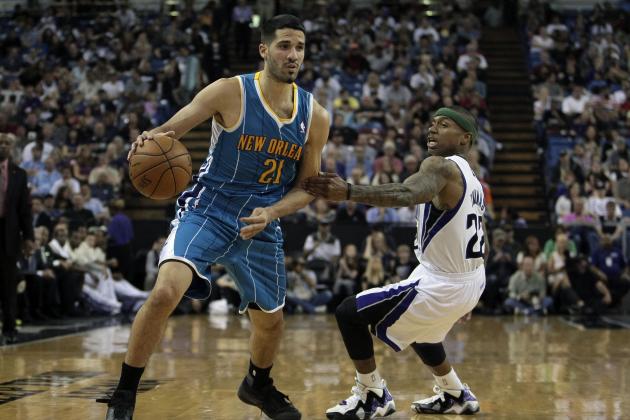 Kelley L Cox-USA TODAY Sports
In Greivis Vasquez, the Kings get a proven point guard.
If the Sacramento Kings want to take a step forward in 2013-14, they'll need solid production from their new additions. But given the players that were added, getting a consistent output should be expected.
Greivis Vasquez is a proven point guard and an immediate upgrade over the incumbents when it comes to facilitating an offense.
Carl Landry and Luc Mbah a Moute will fortify the frontcourt. Landry brings scoring and rebounding to the Kings' three-headed monster at the 4. Mbah a Moute is an upgrade on defense and in rebounding over John Salmons and Travis Outlaw.
Even the rookies, Ben McLemore and Ray McCallum, will have an impact from the get-go. McLemore's likely the starting shooting guard, and with his offensive skill set, he'll be able to contribute points immediately. McCallum provides added size as a 1-guard and an extra facilitator on offense.
Between the five of them, the Kings get help at virtually every position (other than center) and in nearly every statistical category. Now it will be up to the coaching staff to convert their contributions into wins.
Begin Slideshow

»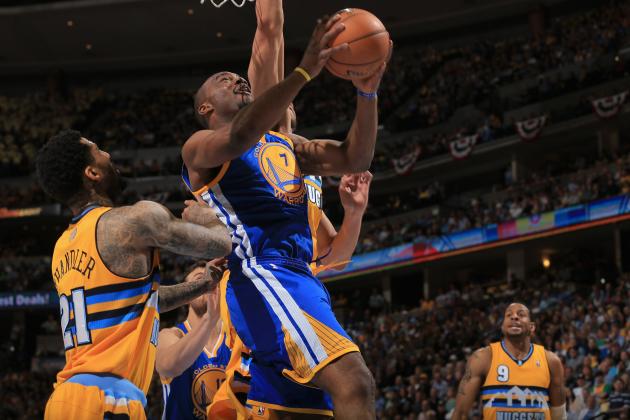 Doug Pensinger/Getty Images

Having Carl Landry on the Kings is nothing new. After all, the forward already had a year-plus stint with Sacramento, arriving midway through 2009-10 and playing part of the 2010-11 campaign before being jettisoned off to New Orleans.
Well, he's back for more, only this time he figures to stick around longer.
Landry seemingly rose to prominence last season with the Golden State Warriors. He was one of the premier backups and in the discussion for Sixth Man of the Year. But what Landry did in the Bay Area was nothing new; he's been a good player for a long time.
He's posted career averages of 11.9 points and 5.3 rebounds per game on 53.6 percent shooting from the field. Compared to his Golden State numbers of 10.8 points and 6.0 rebounds on 54.0 percent shooting, it's clear Landry's been nothing short of consistent.
Which is exactly what the Kings are looking for: consistency.
To expect Landry to morph into something he's not, like an All-Star-caliber player, is unrealistic. But what he's proven time and again is he's a solid contributor in every role. Off the bench, he's put up 11.0 points and 5.0 rebounds per game. As a starter, his tallies are 16.1 points and 6.5 rebounds.
That ability to adapt and produce in any situation will be critical for the Kings. With Jason Thompson and Patrick Patterson already on the roster, Landry's going to have to share minutes. Even if he starts most games, playing 36 minutes a night isn't happening.
What will happen is Landry will play 20-30 minutes, and he'll contribute offensively and defensively on a nightly basis. The Kings couldn't ask for much more.
Projection: 25.7 Minutes, 12.3 Points, 6.1 Rebounds, 0.7 Assists, .527 Field-Goal Percentage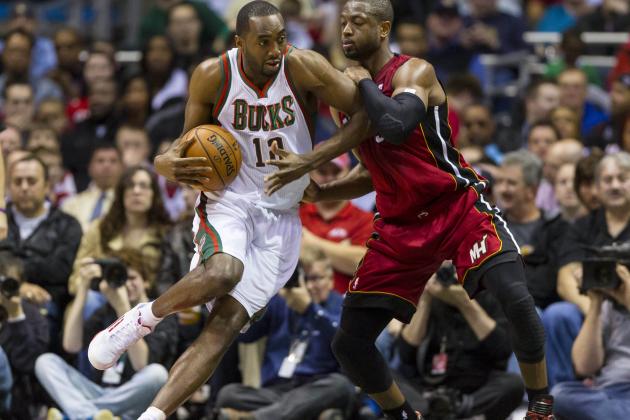 Jeff Hanisch-USA TODAY Sports

Luc Mbah a Moute was brought in mainly for his defensive prowess. That's where he'll really help the Kings. And Lord knows they could use it after being cellar dwellers in every meaningful defensive category over the last couple seasons.
By looking at his simple statistics, you won't get a fair idea of Mbah a Moute's contributions. He won't score a ton of points; in fact, he'll score hardly any (he's averaged 6.9 points per game over his career). He won't wow anybody with his rebounding or shot-blocking ability. But he'll be a pest to opposing forwards.
Last season with the Bucks, Mbah a Moute held opposing power forwards to a PER of 10.0 (82games.com). Compared to the league-average PER of 15.0, small forwards struggled to score against him.
When he was off the court, Milwaukee gave up an average of 102.8 points per 100 possessions. While on the court, that number dropped to 101.2 (NBA.com).
Milwaukee's defense was clearly better with him on the court, and opposing 3s struggled more against him than against an average defender. If he can do that for Sacramento, his addition will be well worth it. And anything he provides on offense will merely be a bonus.
Projection: 23.6 Minutes, 6.5 Points, 4.9 Rebounds, 1.0 Assists, 1.1 Steals, Opposing 3 PER 10.2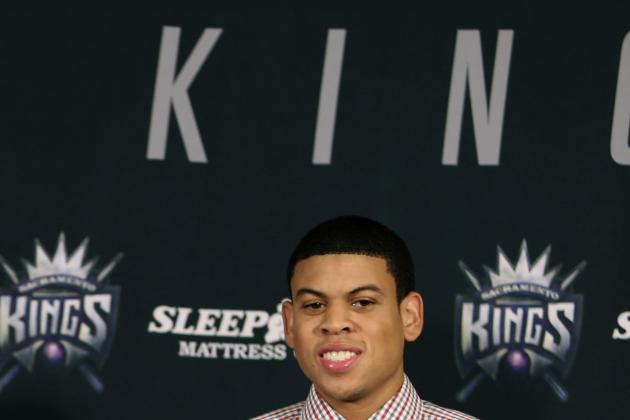 Kelley L Cox-USA TODAY Sports

Unlike Ben McLemore, Ray McCallum doesn't yet have a defined role with the Kings. Sure, we know he'll be one of the backup point guards, but pegging his playing time is a difficult task.
Of the point guards, Greivis Vasquez and Isaiah Thomas will be be ahead on the depth chart. Vasquez will get the lion's share of the minutes. Thomas will get backup duties, but he's capable of playing on the ball or off the ball on offense, meaning he could play with both McCallum or Vasquez.
Because of I.T.'s flexibility, and because of McCallum's ability as a facilitator, the rookie figures to get playing time, even if it's not as much as McLemore.
In those opportunities, we can expect a pass-first mentality from McCallum. Sure, he'll score some points, but his main objective is to find teammates. Beyond that, the 22-year-old will provide an upgrade in defense and rebounding over incumbent backups Thomas and Jimmer Fredette.
Projection: 15.2 Minutes, 6.5 Points, 3.6 Assists, 2.8 Rebounds, 0.7 Steals, .422 Field-Goal Percentage, .315 Three-Point Percentage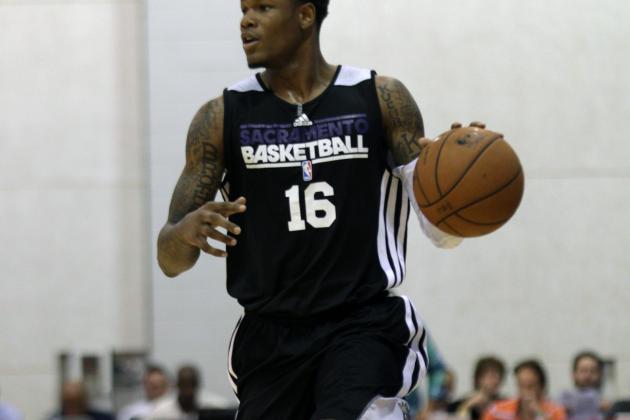 Stephen R. Sylvanie-USA TODAY Sp

As a rookie, this is obviously Ben McLemore's first go-round in the NBA. Because of that, it's probably fair to expect a learning curve.
At the same time, he's got a spot in the starting lineup, so he'll have plenty of opportunities to contribute.
If his showing in summer league is any indication, McLemore will have games where he struggles finding his stroke. But as we also saw from the summer circuit, he'll have periods where he's completely capable of taking over.
Regardless of whether he's red hot or ice cold, the rookie needs to keep shooting. His offensive skill set is what got him drafted so high in the first place. And learning from his failures, as well as his successes, will be the best way of ensuring improvement.
Given the lack of competition for playing time, it's fair to expect McLemore to get his points. But with his inexperience, it's only natural that he'll struggle with efficiency. However, if he plays his cards right, the shooting guard has a legitimate shot at taking home the Rookie of the Year Award.
Projection: 34.7 Minutes, 14.6 Points, 5.2 Rebounds, 2.2 Assists, .427 Field-Goal Percentage, .353 Three-Point Percentage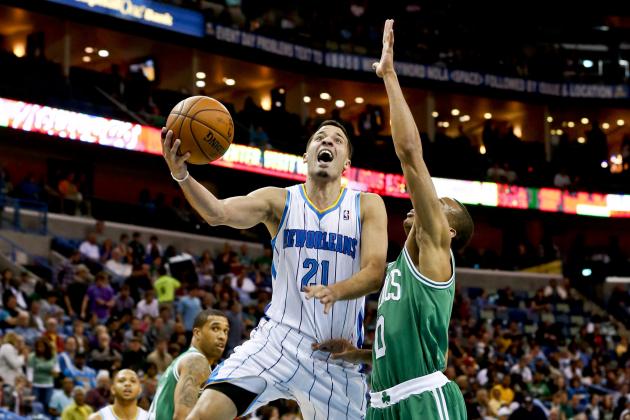 Derick Hingle-USA TODAY Sports

Greivis Vasquez really came into his own last season with the New Orleans Hornets. The point guard made dramatic leaps in nearly every statistical category. By the end of the campaign, he'd established himself as one of the elite pure point guards in the league.
Vasquez led the league in total assists with 704. He was also second in assist percentage, trailing only Chris Paul, and was third in assists per game, with only Paul and Rajon Rondo ahead of him.
Yet the point guard isn't a one-dimensional player. His average of 13.9 points shows that he'll score if given the opportunity. Vasquez is also a solid rebounder, pulling down 4.3 boards per game.
On the Kings, he should be the unquestioned starter at the point. Other players like Thomas and McCallum will get minutes, but Vasquez will still get more than enough playing time to come close to last season's production.
And paired with an elite offensive center like DeMarcus Cousins, Vasquez will have a legitimate scorer to feed. This should make DMC happy; it will also ensure the point guard racks up plenty of assists.
Projection: 34.1 Minutes, 13.4 points, 8.8 Assists, 4.0 Rebounds, .439 Field-Goal Percentage, .352 Three-Point Percentage
Follow me on Twitter: @SimRisso