Big Ten Basketball: The Greatest Season in Every B1G Program's History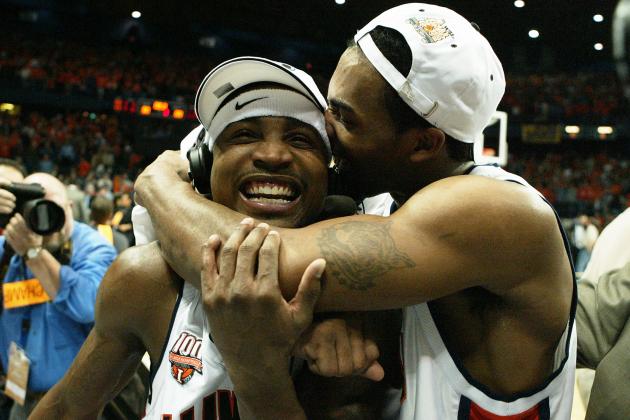 Doug Benc/Getty Images

The Big Ten Conference supports several of college basketball's most illustrious programs.
It also houses Northwestern and Nebraska, but more on them later.
Every program has had one of those seasons, one that stands as the pinnacle. Those seasons verify that there is hope for future success, post results beyond anyone's wildest dreams and even, in one case, demonstrate that perfection is indeed possible.
So, which season was the best for each of the Big Ten's current member schools? Which year had the headiest blend of talented players, skilled coaches and exciting results?
For some, we must go back further than others, but everybody's had a best year sometime.
Yes, even you, Northwestern and Nebraska fans. Even you.
Begin Slideshow

»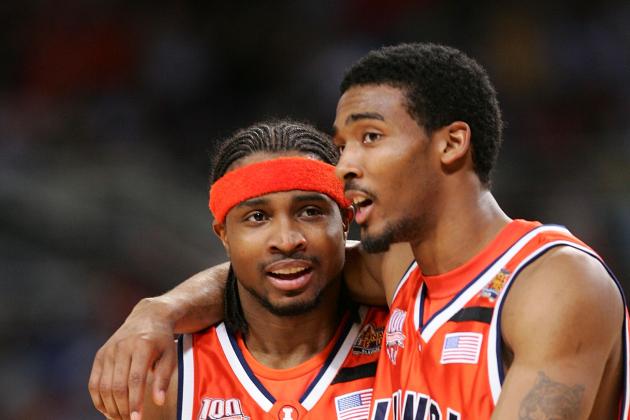 Elsa/Getty Images

Every centennial should look like this.
The 100th season of Illinois basketball was celebrated in style, seemingly destined to end with a national championship trophy. The Illini crushed their first 29 opponents by an average of 18.5 points per game, and only a last-second shot by Ohio State's Matt Sylvester stood between Illinois and a perfect regular season.
Taking the No. 1 ranking after demolishing a Chris Paul-led Wake Forest team in December, Illinois showed little mercy to any opponent, with only four of the 29 regular-season victories coming by a single-digit margin.
The potent guard trio of Dee Brown, Luther Head and Deron Williams all earned consensus All-American honors after combining for more than 41 points and 15 assists per game. In an even rarer feat, Bruce Weber became the first coach in Big Ten history to win outright conference titles in his first two seasons.
It all nearly went for naught, as Arizona held a 15-point lead with four minutes left in the midwest regional final at Chicago's United Center. From there, Williams hit two three-pointers, Luther Head hit two of his own, Dee Brown capitalized on a turnover and the game was forced to overtime, breaking the Wildcats' will.
The Illini would fall one game short of the promised land, losing the national title game by five to a North Carolina team that boasted five future NBA players. Illinois has not reached the tournament's second weekend again, and Weber would ultimately be let go after a similar guard-heavy roster seemingly quit on him in 2011-12.
Still, season No. 100 will always loom large in the Illinois record books.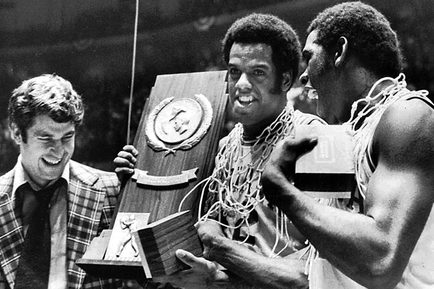 Photo from LostLettermen.com
What, you were expecting something featuring Jeremiah Rivers?
The 1975-76 Indiana Hoosiers are still the last perfect national champions. And it might be hard to believe but by many accounts, the previous season's team would have been even better had Scott May not broken his arm.
After losing the 1974-75 team's top scorer, Steve Green, to graduation along with top reserve John Laskowski, the Hoosiers tilted ever so slightly toward the defensive end of the court. Still, gifted forward May and center Kent Benson made the offense plenty difficult to stop as well.
Unlike the previous year's team, the 1975-76 team lived on the edge from time to time. St. John's took the game to the final minutes at Madison Square Garden before May willed the Hoosiers to a win.
Still, at least a loss to the 17th-ranked Redmen would have been respectable. An Ohio State team that would win only two conference games all season pushed IU to the limit and only fell by two points in both teams' Big Ten opener. Both meetings with Purdue and Michigan would be closer than expected, as well.
The Hoosiers were done no favors by the NCAA selection committee, but would storm to the school's third national title—and coach Bob Knight's first—by beating five teams that were all ranked 17th or better in the final Associated Press poll heading into the tournament. Alabama, Marquette and UCLA were all ranked in the top eight.
A third meeting with Michigan was the final hurdle, but IU weathered another untimely injury, this one a concussion to defensive stopper Bobby Wilkerson, and crushed the Wolverines 86-68. At the Final Four 37 years later, these Hoosiers would be voted the greatest single-season team of all time—and Bob Knight emphatically threw his support behind the 1976 champs.
And who are any of us to argue with The General?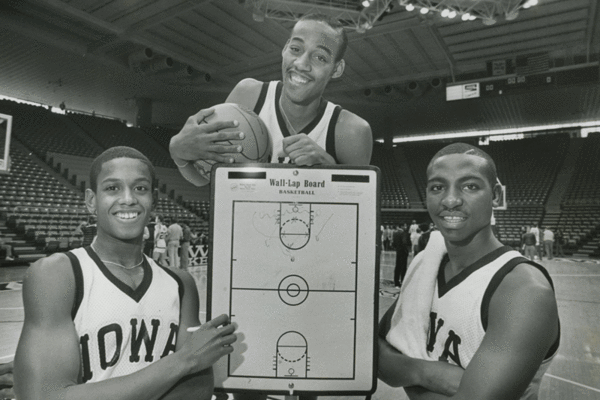 Photo from Des Moines Register
The 1986-87 Iowa Hawkeyes roster was dotted with seven future NBA players. No team in school history has boasted that much future professional talent. With that in mind, it's only appropriate that this group holds the university record with 30 wins in a season.
The team took some time to decide its roles under new coach Tom Davis, but the results don't suggest any growing pains. Iowa won its first 17 games, capping the run with victories over three Top 10 teams from Illinois, Purdue and Indiana. The 101-88 win over the Hoosiers was the first time a Bob Knight team had surrendered 100 points in Big Ten play.
Iowa ascended to No. 1 in the nation on January 20, still the only time a Hawkeye team has held the lofty perch. The team only stayed there one week, but remained a formidable presence heading into the NCAA tournament. Two-point wins in the second and third rounds appeared to have the team hardened for a trip to the Final Four, but UNLV put the Hawkeyes away 84-81 in the regional final.
Athletic players like Roy Marble, Kevin Gamble, B.J. Armstrong (pictured, left) and Gerry Wright were perfect fits for Davis' running, pressuring style—and "Dr. Tom" was never able to assemble another group like that one.
Years later, Davis shared a conversation with the Cedar Rapids (Iowa) Gazette between himself and CBS analyst/ex-coach Al McGuire. In it, Davis recollected McGuire saying, "Be careful you don't win too many games that first year." Davis would never again win more than 24 and never returned to the Elite Eight.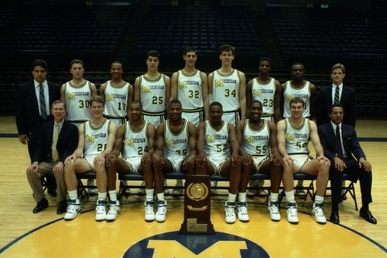 Photo from University of Michigan
When one Big Ten team celebrates an unprecedented achievement, it's often at the expense of another. Such was the case when Indiana topped Michigan to finish the perfect 1975-76 season. Michigan had to wait until 1988-89 to hoist a trophy, and it also dispatched a conference rival on the final weekend.
Bill Frieder's team went 24-7, finishing ninth in the country in scoring at nearly 91 points per game. All-American forward Glen Rice set school single-season and career-scoring records that still stand, although his Big Ten career-scoring record was later eclipsed.
Six Wolverines would go on to NBA careers—that is, if you count Demetrius Calip's seven pro games as a "career."
Unfortunately for Frieder, the squad that crushed Virginia by 37 points to reach the Final Four and survived a pair of nail-biting finishes in Seattle was no longer his team. Frieder was relieved of his post after agreeing to leave for Arizona State in the offseason, and the elevation of assistant coach Steve Fisher became the prevailing storyline of the tournament.
The semifinal game between Michigan and Illinois has become one of the most famous battles in Big Ten history. Rice's hot hand was almost insufficient to hold off the famous "Flyin' Illini," one of Lou Henson's greatest teams led by Kenny Battle, Nick Anderson, Lowell Hamilton and Kendall Gill.
Battle actually outscored Rice 29-28, with the last two coming on a runner with 33 seconds left. It was a putback from Sean Higgins that sealed Michigan's two-point win.
Another top scorer outdid Rice in the final when Seton Hall's John Morton hung 35 on the Wolverines, compared to Rice's 31. Although Rice's 184 points in the tournament still stand as a single-season record, this was another finish in which another Wolverine was the star.
Rumeal Robinson, a 65 percent foul shooter, drilled 9-of-10 in the final including a one-and-one with three seconds left to seal the title.
While the 1988-89 team didn't win a Big Ten title like the more heralded Fab Five in the early '90s, Rice and Co. finished the job when it counted. As a bonus, the 1989 title is still recognized by the NCAA and the school.
That's always a good thing.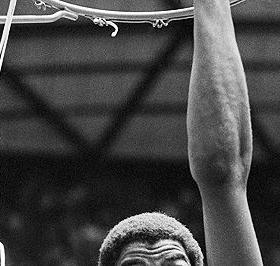 Photo from Big10Tens.com
There will likely never be another Magic Johnson, and Michigan State fans still take great pride in the fact that they got to cheer for the original.
The 6'9" monster of a point guard with a klieg-light smile left opponents frowning throughout both of his East Lansing seasons, but his sophomore year etched him firmly in the NCAA history books. Johnson put up 16 points, seven rebounds and eight assists per game for the season—but he somehow managed to up the ante in March.
Although the NCAA did not officially track assists nationwide until 1987, Magic was credited with triple-doubles in the first round against Lamar (13 points, 17 rebounds, 10 assists) and the national semifinal against Penn (29-10-10). Only Kansas' B.H. Born and Cincinnati's Oscar Robertson were credited with unofficial triple-doubles before Magic's sensational night against Penn.
No slouch himself, forward Greg Kelser averaged better than 25 points per game in the Spartans' tournament run.
At some points, Michigan State's inconsistency seemed destined to be its undoing. Sparty's 13-5 Big Ten record was weighed down by four losses to bottom-half teams, including an 18-point waxing at the hands of last-place Northwestern.
In the NCAA tournament, however, the Spartans played above and beyond their competition, winning all five games by at least 11 points, including the historic championship win over Larry Bird's undefeated Indiana State Sycamores. Each of MSU's opponents suffered their worst loss of the season at the Spartans' hands.
Hence all the frowning.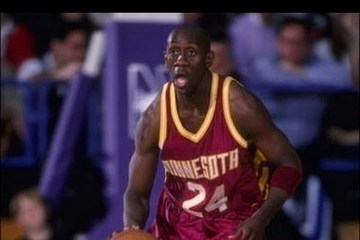 Photo from YouTube.com
The NCAA doesn't want us to mention Minnesota's 1997 Final Four trip. Some Gopher fans get frustrated just talking about it. That season still lingers, however, as the one time Minnesota basketball stood head and shoulders above the rest of the Big Ten.
Only the third time the Gophers captured the Big Ten title, the 1996-97 season was one in which the race ended early. Minnesota won the conference by four games, with its only losses coming at fellow NCAA tournament teams Illinois and Wisconsin. Star guard Bobby Jackson (pictured) took home Big Ten MVP and Defensive Player of the Year honors, while coach Clem Haskins was named National Coach of the Year.
After two easy tournament wins, UM survived a tense double-overtime game against Clemson, carried to victory by a combined 65 points from Jackson and forward Sam Jacobson. Five Gophers scored in double figures in the regional final against UCLA, putting Minnesota in its first—and to date, only—Final Four.
A Kentucky team destined for a national title derailed the Gophers in the national semifinal, but the future looked bright in Minneapolis. At least, it did until an academic fraud scandal came to light in 1999 involving as many as 20 players over a five-year span.
After being found complicit in the cheating, Haskins was fired and all postseason victories from 1994 through 1998 were vacated, including the Final Four and an NIT championship the following season. And all of those awards for Jackson and Haskins? They were revoked, too.
Since that season, Minnesota has only dabbled in relevance, making five of 16 NCAA tournaments. The Gophers didn't win another tournament game until this past March—coincidentally led by Tubby Smith, the coach of that 1996-1997 Kentucky team.
The banner may be gone, but fans still remember a few brief months when Minnesota rubbed shoulders with the other titans of college basketball.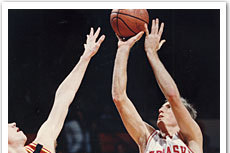 Photo from ThisIsNebraska.com
Only once since 1978 has a Nebraska basketball team finished a season with fewer than 10 losses. Only once in their history have the Cornhuskers ranked in the AP Top 20 at the end of a season.
The 1990-91 team accomplished both of those feats, thanks to three future pros. Bear in mind, Nebraska has produced only 11 NBA players all-time, but Eric Piatkowski (pictured), Rich King and Tony Farmer would all see time in the Association.
Piatkowski, known as "The Polish Rifle," would be the most decorated college and pro player of the bunch, but he was a freshman reserve on the 1990-91 squad. King led the team with 15 points and nearly eight rebounds a game, merely the most consistent weapon on a team featuring several.
The balanced Huskers sported five double-figure scorers, and eight players dished at least 50 assists on the season. Nebraska thrived in games where the opponent sought to run with them, none more so than the three meetings with Billy Tubbs' go-go Oklahoma Sooners. The Huskers hung 100 on OU each time, sweeping all three games.
King scored 25 points and ripped down 12 rebounds, leading four double-figure scorers in the Huskers' NCAA tournament opener against Xavier, but the Nebraska defense allowed X four of its own. The Musketeers shot 54 percent to deny Nebraska its still-elusive first NCAA tournament win.
The 26-8 Huskers still stand as the only team in school history to win more than 22 games in a season. Seniors King, Beau Reid and Clifford Scales had only been a part of 40 wins in their first three years, emphasizing the brilliance of that turnaround season.

Photo from NUSports.com
For Northwestern's peak, it's true we must go back quite a way. When a program goes 75 years without making the NCAA tournament and 80 years without a Big Ten title, the good old days almost have to be old to be good.
Only three of Northwestern's 23 coaches have left the school with a winning record, chief among them all-time wins leader Dutch Lonborg. Entering his fourth season in 1930, Lonborg (pictured) had already won 32 games, 13 more than predecessor Maurice Kent managed in five years.
With six experienced returnees, Lonborg had some talent on hand and a bit of luck on his side. The Big Ten's best at the time were Wisconsin, Purdue and Indiana—none of whom appeared on the 1930-31 schedule.
The Wildcats (or "the Purple," as the team was still popularly known) liked to push the tempo and try to outscore their opponents. In a matchup against Notre Dame, forward Joe Reiff took advantage to the tune of a then-Big Ten record 26 points. To put that into perspective, the entire NU team averaged just under 25 per game on the season, third-most in the Big Ten.
Finishing at 16-1 on the season, Northwestern took the conference title by three games and was later awarded a Helms Foundation National Championship.
Is that season the kind of accomplishment that Northwestern fans can throw out as defense against the obnoxious Indiana and Michigan State fans of the world? Not really, but it's the best the school has ever seen, so be proud of it.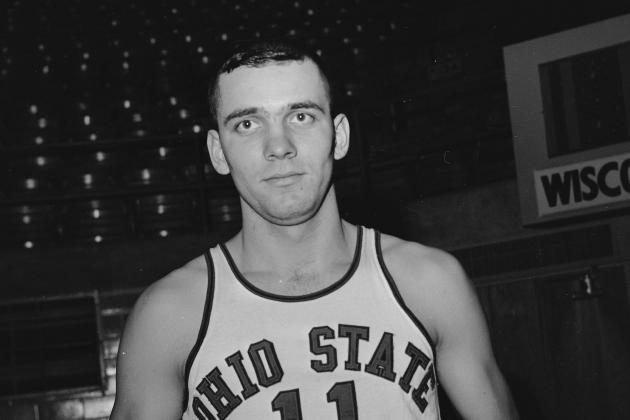 Photo from Willoughby (Ohio) News-Herald
Wait, the 1959-60 Ohio State team won the national championship, right? (Right.)
And the 1961-62 team was No. 1 wire-to-wire before losing in the national final, right? (Right.)
So, why is this team OSU's best?
Sure, the 1961 national championship went to the Cincinnati Bearcats, who beat the Buckeyes 70-65 behind five players who scored nine points or more. This Ohio State squad, however, had the ultimate bullseye on it entering the NCAA tournament.
An undefeated squad before the title-game loss, the Buckeyes featured four future pros hitting their peak as collegians. John Havlicek and Larry Siegfried joined Jerry Lucas (pictured) as All-Big Ten first-team selections, with Havlicek in particular blossoming into a more consistent scoring threat. All three averaged in double figures and shot at least 48 percent from the floor.
An opening-round scare against Louisville motivated the Buckeyes to dominate Kentucky and Saint Joseph's in the next two rounds. Lucas alone accounted for 62 points and 43 rebounds in the two games. Before the final could tip off, however, Ohio State and Cincinnati had to suffer through an interminable wait as the consolation game rolled through four overtimes.
The favored Buckeyes fell in overtime, perhaps overtaken by the pressure of their unblemished run through the season. Lucas produced his usual strong game of 27 points and 12 rebounds, but Havlicek was held to a mere five points.
There's no shame in falling short in the national title game, especially when it ends up as the only loss of a team's season. Lucas, Havlicek and forward Mel Nowell would lose only three times in their final two seasons, with two of those coming in national title games to Cincinnati.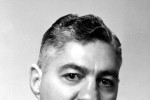 Photo from BigBlueHistory.net
Penn State basketball hit its stride in the early 1950s, reaching regional semifinals in the 1952 and '55 tournaments and its only Final Four appearance in 1954.
Coach Elmer Gross (pictured) was the captain of Penn State's first NCAA tournament team in 1942. His five-year coaching tenure in Happy Valley produced 80 wins and a pair of tournament berths. In fact, Gross became the first man to make the tournament as both coach and player. Many of his players would form the nucleus of successor John Egli's 1955 Sweet 16 team.
The 1953-54 squad would hit a slight skid in February, dropping all three games on a road trip to Pitt, Colgate and Syracuse. However, it relaunched a winning streak that would carry it into the tournament.
The opener against Toledo was a 12-point win despite All-American forward Jesse Arnelle struggling through a 4-of-19 shooting night. From there, though, Arnelle picked it up. He scored a combined 46 points in eight-point wins over LSU—led by Hall of Fame forward Bob Pettit—and Notre Dame. The Irish had won 18 straight games before falling to the Lions.
In the semifinal, PSU met its match in a La Salle team led by All-American forward Tom Gola. Gola scored 19 points to lead the Explorers to the final, where they defeated Bradley in the first nationally televised NCAA title game.
For the season, Arnelle averaged 21.1 points per game. He would play one more season and finish with 2,138 points, a Penn State record that stood until Talor Battle broke it in 2011.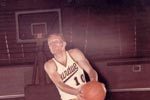 Photo from PurdueSports.com
Purdue had not won a Big Ten championship since 1939-40. Since that time, archrival Indiana had won or shared five conference crowns and also hung two national championship banners. It took a team spearheaded by three future pros to put the Boilermakers back on the national map.
The superb guard trio of Rick Mount (pictured), Herm Gilliam and Billy Keller led an explosive offense that led the nation in scoring at 93 points per game. Ohio State was the only Big Ten foe to get the better of Purdue, which won the conference title with a 13-1 record. The Boilers' final two regular season games were home thrashings of Michigan and Indiana, by a combined margin of 73 points.
When the Boilers got to the Final Four, a Charlie Scott-led North Carolina squad awaited them, but Purdue hammered the Tar Heels 92-65 to set up a rematch with UCLA for the national title. The Bruins had beaten Purdue by 12 to open the season, and history repeated itself in the final. Mount was held to 12-of-36 shooting, Lew Alcindor struck for 37 points and 20 rebounds and the Bruins walked off with a 92-72 win.
UCLA's title was its third in a row. Alcindor's Most Outstanding Player Award was his third in a row. Purdue had hung closer than North Carolina had the previous season, which passed for an accomplishment against the Bruin juggernaut.
Mount won the first of his two Big Ten Player of the Year awards in 1969, and also became Purdue's fourth All-American selection of the 1960s. The 1968-69 season was one of important firsts, restoring the Boilermaker program to national relevance for the first time since the Piggy Lambert era.

Photo from UW Archives
Bud Foster led the Wisconsin basketball program for a quarter of a century. While his tenure had ups and downs, the 1941 national championship was as good as it would ever get.
Nothing seemed all that extraordinary about the Badgers a few weeks into the season. They started the season 5-3 after losing their conference opener to Minnesota. From then on, though, Wisconsin was nearly untouchable.
UW won its next 12 games by an average of more than 10 points per game, which constituted a blowout in the 1940s. Results were much closer in the NCAA tournament, but the Badgers still rose to every occasion. Wins over Dartmouth, Pitt and Washington State came by a combined 12 points, but it was still enough to hoist the championship trophy.
Senior Gene Englund and sophomore John Kotz carried Wisconsin on their backs throughout the season. Englund was named an All-American after setting a Big Ten scoring record with 162 points, and Kotz won Most Outstanding Player honors in the NCAA tournament. The two combined for 79 of UW's 126 points in the three tournament wins.
The 20 victories stood as a school record for almost 60 years, and Foster would go on to reach only one more NCAA tournament. His accomplishments stand even taller compared to his successors, none of whom could get back to the tournament until Stu Jackson led the Badgers to the 1994 event.
For more from Scott on college basketball, check out The Back Iron. This week: ranking all 47 college basketball coaching changes.