Fresh off their win over Chelsea to win the 2013 International Champions Cup final, Real Madrid put on another impressive display against Inter Milan to conclude their tour of the United States.
First-half goals from Kaka and Cristiano Ronaldo set the tone, and Los Blancos got an own goal from Ricky Alvarez in the second half that led to a 3-0 victory in front of fans at the Edward Jones Dome in St. Louis on Saturday.
AS English had the tweet as the score became final:
Peep! Full time, very comfortable win for Real Madrid 3-0 over Inter.

— AS English (@English_AS) August 10, 2013
Real Madrid's official Twitter account also had a match report:
FT: Real Madrid 3-0 Inter Milan (10' @Kaka, 37' @Cristiano | 67' R. Álvarez O.G ). #RMTour2013

— Real Madrid C.F. (@realmadriden) August 10, 2013
Madrid cruised to the three-goal victory on Saturday, and now both sides will return to training for their upcoming league seasons. Madrid, who went 4-0 in the U.S. with their results from the ICC, dominated in nearly all aspects of the match against Inter.
Nerazzurri were the stronger side in the opening five minutes of the match, with Rodrigo Palacio and Fredy Guarin both challenging the skill of Diego Lopez early on. Those early Milan chances went for naught, though, and Madrid quickly capitalized.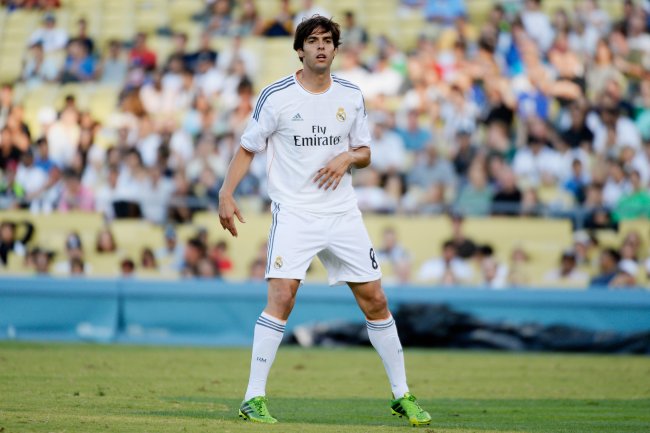 Kevork Djansezian/Getty Images
Kaka got the Spaniards on the board in the 11th minute, having had his first attempt at the net thwarted by Samir Handanovic. The first man to the rebound, Kaka netted a diving header to give Madrid a 1-0 lead.
101 Great Goals had a second look at the score on Twitter:
GOAL!!!!!!!! 0-1: Kaka (Real Madrid) v Inter Milan http://t.co/oDC66MGFvQ

— 101 Great Goals (@101greatgoals) August 10, 2013
After Kaka put Los Blancos ahead, Milan's defense started to come under fire. Sensing that they had the Italians on the ropes, Madrid continued to push the pace in the middle stages of the first half and had several chances on goal to show for it.
Who was the man of the match?
Morata and Ronaldo had great looks at the net in the first 45 minutes. Both of those chances fell short, but you could sense that Milan was reeling in their efforts to keep Madrid attackers at bay.
Casemiro, who was wonderful for Madrid on Saturday, opened up the next scoring chance for Los Blancos. With a beautiful through ball from the right side of the midfield, Casemiro found a streaking Ronaldo toward the Milan net.
What happened next was a thing of beauty.
Ronaldo received the pass, found the appropriate pace and fired a cross-body shot at the net that rang true, giving Madrid a 2-0 lead. Goal India on Twitter was in amazement as Ronaldo's sixth preseason goal went on the scoreboard:
GOOAAALLL!!! RONALDO MAKES IT TWO!!! You just cannot give this man that many chances! http://t.co/FXdruAQmUG #REAL #INTER

— Goal India (@Goal_India) August 10, 2013
Not much changed after halftime.
Inter created a few more chances to try and cut the deficit in half, but were turned away by a strong performance from Lopez. Alvarez' own goal off a Madrid corner shut the door on any sort of miraculous Inter comeback.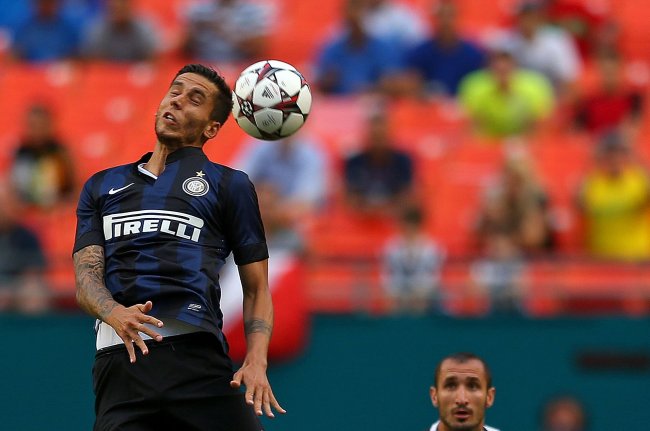 Mike Ehrmann/Getty Images
That being said, Alvarez did try to make up for his second-half gaffe. AS English noted as much on Twitter:
Ricky Álvarez nearly made up for his OG with a jinking run through the RM defence, but his right footed shot is stinking. Diego Lopez saves.

— AS English (@English_AS) August 10, 2013
Dominant from start to finish, Madrid took care of business and can now get back to preparing for the task at hand—starting the 2013-14 La Liga season off on the right foot.
Milan, though comfortable enough to use the "preseason friendly" monicker to their advantage, clearly have work to do before Serie A action begins.
Grades
Real Madrid/Inter Milan Grades

| | | | |
| --- | --- | --- | --- |
| Madrid Player | Grade | Milan Player | Grade |
| Diego Lopez | A | Samir Handanovic | C |
| Nacho | B | Jonathan | C |
| Arbeloa | B- | Juan Jesus | B- |
| Daniel Carvajal | B+ | Andrea Ranocchia | B+ |
| Sergio Ramos | C+ | Hugo Armando Campagnaro | C |
| Angel Di Maria | B+ | Alvaro Pereira | D+ |
| Morata | C+ | Parick Olsen | B |
| Luka Modric | B+ | Zdravko Kuzmanovic | C+ |
| Kaka | A | Esteban Matias Cambiasso | C |
| Casemiro | A+ | Fredy Guarin | B |
| Cristiano Ronaldo | B+ | Rodrigo Palacio | B |
| Subs | | Subs | |
| Jese | B | Ricardo Alvarez | C- |
| Sami Khedira | B- | Juan Pablo Carrizo | B- |
| David Mateos | C+ | Mauro Icardi | B+ |
| Jorge Casado | C | Yuto Nagatomo | C |
| | | Ishak Belfodil | C |
| | | Marco Andreolli | C- |
| | | Alfred Duncan | C+ |
| | | Ibrahima Mbaye | C |
Carlos Casemiro, Real Madrid: A+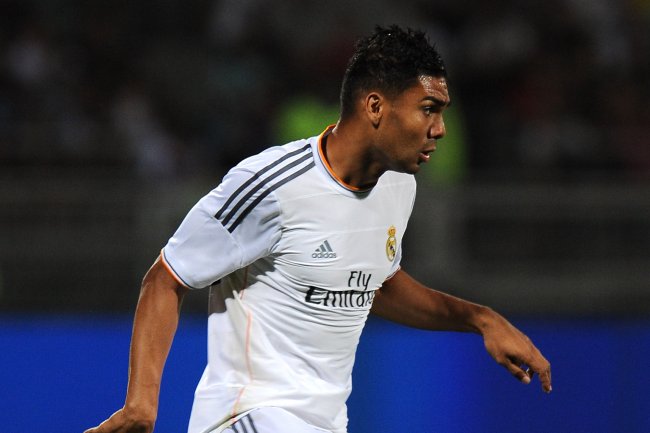 Valerio Pennicino/Getty Images
The Brazilian youngster wasn't on the radar for Los Blancos when the preseason began, but with La Liga just around the corner it's hard to imagine Carlo Ancelotti using a lineup that doesn't feature Casemiro heavily this season.
Selecao Brasileira on Twitter agrees:
Casemiro is just 21-year old. TWENTY ONE. That's one to look at in the near future!

— Seleção Brasileira (@BrazilStats) August 10, 2013
So does Real Madrid Info's Twitter account:
Casemiro match today say he is a season bargain, a 6 million bargain.

— Real Madrid Info (@RmadridInfo) August 10, 2013
His assist to Ronaldo was outstanding, his work with the ball was on par with that pass and his overall contribution to what Madrid did in the attacking half helped give Los Blancos the relatively easy victory on Saturday.
Alvaro Pereira, Inter Milan: D+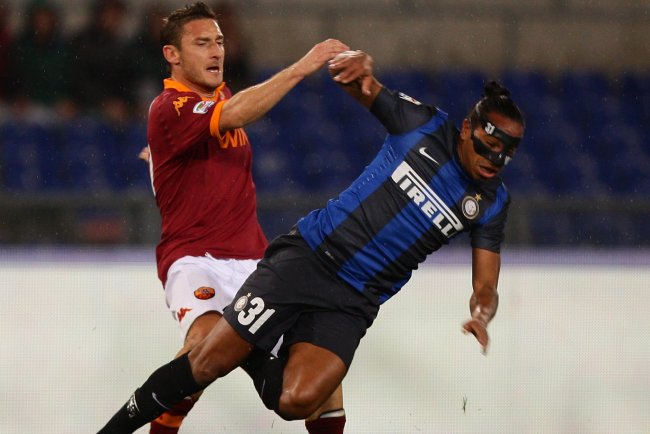 Paolo Bruno/Getty Images
This tweet from Interisti Indonesia should tell you all you need to know about Pereira's performance against Madrid:
Inter spent €11m for Pereira and I remember Mr Crabs sold Spongebob to Flying Dutchman for 60 pennies and still better deal.

— INTERISTI INDONESIA (@InterWhatsup) August 10, 2013
Expected to provide versatility and play strong defense against opposing attacker, Pereira didn't really accomplish either of those feats against Los Blancos. He made a myriad of mistakes that led to chances for the Spanish side and, overall, has to be disappointed with his performance.
What's Next?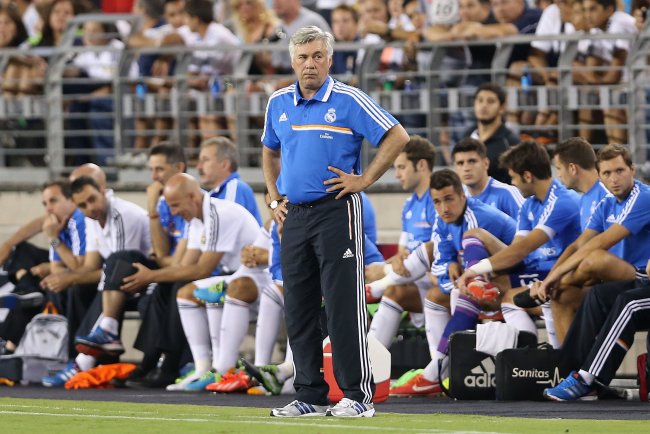 Christian Petersen/Getty Images
Now that their tour of the United States is behind them, Los Blancos will prepare for the start of La Liga play.
Which component of the match was more telling?
Real Betis will travel to the Bernabeu on Aug. 18 for the first match of the new season, and Madrid will take their first step toward supplanting Barcelona in the Spanish league standings by besting Beticos.
Inter Milan are also in their final preparations for the upcoming league season. Serie A action is scheduled to begin for Nerazzurri on Aug. 25, when Genoa will visit San Siro.
Follow B/R's Ethan Grant (@DowntownEG) on Twitter.