10 Best Finishes in UFC History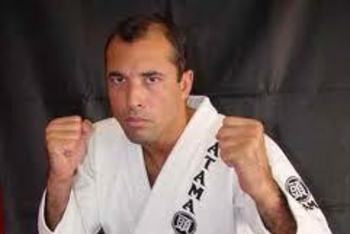 Royce Gracie is the inaugural UFC Champion and owner of one of the best finishes in the history of the organization.
Every fight fan loves to see a finish. And every fight fan has their favorite finish of all time.
In the 20 years since UFC 1, there have been a number of spectacular finishes in the Octagon by way of both submission and knockout. While choosing the best is very subjective, there isn't much debating the handful of greatest ever.
To be considered one of the best finishes of all time, the finish needs to either be brutal, unprecedented or just simply history-making. Having all three characteristics doesn't hurt.
Before saying too much about what great finishes are, let's look at the Top 10 finishes in UFC history.
Let the debate begin.
Honorable Mention
Lyoto Machida knocks out Rashad Evans at UFC 98
Rampage Jackson knocks out Wanderlei Silva at UFC 92
B.J. Penn knocks out Sean Sherk at UFC 84
Cheick Kongo knocks out Pat Barry at UFC on Versus 4 (See above)
Matt Hughes knocks out Carlos Newton at UFC 34
10. Chris Weidman Knocks out Anderson Silva (Punches)
An image that is still fresh in every fan's memory is that of Chris Weidman knocking Anderson Silva unconscious with punches. A more memorable knockout is difficult to recall.
For the first time in 17 UFC appearances, Anderson Silva was defeated and his middleweight championship was awarded to a fighter with only nine fights entering UFC 162. A man widely considered as the best fighter of all time, holding a 33-5 record with 26 finishes to his credit had finally tasted defeat in the Octagon.
What made the knockout so memorable wasn't the hype that Weidman received coming into the fight, as many fans and fellow fighters predicted he was the prototype to defeat Silva. It wasn't even the fact that Silva showed little to no respect for the punching power of Weidman, almost daring him to punch him.
What makes this so memorable is the win itself. The best of all-time was knocked out after doing exactly what he always does in the Octagon. Someone finally capitalized on a mistake.
The knockout might not be the most spectacular ever seen in the UFC, but any guy who knocks out The Spider has to be put somewhere in the history books.
9. Frank Mir Submits Antonio Rodrigo Nogueira (Kimura)
Frank Mir entered UFC 140 as perhaps the most underrated submission fighter in the entire organization. If anyone doubted his prowess on the ground, he laid waste to any of those doubts.
When Mir and Big Nog squared off on the night of December 10, 2011, the expected outcome was a submission win by Nogueira. Nogueira is considered one of the best submission fighters of all time, holding a record of 33-6 including 20 by submission when he fought Mir.
Big Nog has always been a solid boxer, and he entered the bout with an advantage in every area. Mir was 15-5 and riding a win over Roy Nelson.
Nogueira came out swinging from the opening bell and rocked Mir with a solid combination about a minute into the fight. Mir appeared to be out as he lay taking punches while trying to regain composure.
When Big Nog went for a guillotine choke, Mir saw his chance and took it. He secured top position and locked in a kimura that not only snapped Nogueira's shoulder but also handed him his first submission loss in his MMA career.
Another finish that was a first in UFC history earns Mir this spot on the list.
8. Rashad Evans Knocks out Chuck Liddell
I've never been a fan of Chuck Liddell so this is a bit of a personal selection. But if it's not on every fan's short list of best finishes, it's definitely close.
At UFC 88 the young, up-and-coming light heavyweight known as Suga Rashad Evans stepped up in competition to face UFC icon Chuck "The Iceman" Liddell.
Although the 38-year-old Liddell was starting to show some chinks in his armor, a win over Wanderlei Silva in his previous bout had him hopeful for a nice return to the Octagon. If only hoping made it so.
Evans had never been shy to engage in a stand-up battle, showing some of the fastest hands in the division after only 12 professional bouts to that point. He stood and traded with Liddell until an opening came three minutes into the second round.
Evans threw one of the fastest right hands I've ever seen that landed square on Liddell's jaw, knocking him out cold for the fourth time in his storied career.
Rashad Evans would take the light heavyweight belt in his next fight, while Chuck Liddell was knocked out in his next and last two fights in the Octagon.
It might not have ended up as the passing of the torch it was perceived to be, but Evans will forever be remembered for striking the Iceman with a punch nobody saw coming.
7. Gabriel Gonzaga Knocks out Mirko Cro Cop (Head Kick)
Ever since his days fighting in Pride, Mirko Cro Cop has been famous for devastating head kicks. That's why UFC 70 was a tough pill to swallow.
UFC 70 marked Cro Cop's second fight with the UFC after his 27-second knockout of Eddie Sanchez in his debut just two months earlier. Much to his chagrin, Gabriel Gonzaga needed just one round to end this bout.
Gonzaga was 8-1 heading into the title-eliminator with Cro Cop who sported a career record of 24-4. The hefty Brazilian had finished all of his victories up to this point, and his hunger to dispose of a legend was evident when the bell tolled.
"Napao" threw one punch before connecting with a devastating kick to the head that knocked Cro Cop into his next bout with Cheick Kongo, a fight that he lost by unanimous decision.
What was probably more disconcerting was the way Cro Cop's right leg bent after taking the kick. It looked awful, but he managed to escape with only minor injuries to his ankle and knee.
While Gabriel Gonzaga went on to lose his heavyweight title bout to Randy Couture, no one can forget how he supplied Cro Cop with a dose of his own medicine.
6. Lyoto Machida Knocks out Randy Couture (Crescent Kick)
Randy "The Natural" Couture is a UFC Hall of Famer and deservingly so. He represented the organization with pure class and put it on the map at a time when it needed it.
For all of his accomplishments, however, the last fight of his career will be remembered for reasons he'd like to forget.
On April 30, 2011 Couture took his 19-10 career record into UFC 129 against the next No. 1 contender for the light heavyweight strap, Lyoto Machida. Machida's 16-2 record and counter-punching ability made him a clear favorite against the wrestler Couture.
Luckily for Machida, he didn't just wait to counter-punch.
The fight seemed close early on with Machida picking his spots like usual and staying out of Couture's range. With just over a minute left in the second round, however, he reeled off a finish no fan has ever seen.
With one fell swoop of the leg, Machida landed a crescent kick to the middle of Couture's face, sending him down to the canvas one way and one of his teeth the other way.
The official finish came at 1:05 of the second round, securing Machida a title shot and ending the career of a legend. If Couture hadn't been knocked out or submitted eight times prior to this fight, it would definitely be higher on the list.
But there was nothing natural about this finish. That's why it's one of the best in UFC history.
5. Edson Barboza Knocks out Terry Etim (Spinning Wheel Kick)
One of the most memorable finishes in UFC history emerged from a bout between two relatively unknown fighters.
Edson Barbosa is an exceptional striker boasting 10 finishes in his 13 professional fights. With kicks rivaling those of featherweight champion Jose Aldo, Barbosa entered UFC 142 against Terry Etim as a potential contender in the lightweight division.
What he did to Etim, a fighter 15-3 entering that bout, was just nasty.
Heading into the third round, Barboza appeared to be ahead on the scorecards, out-striking Etim 41 to 20 despite being taken down twice. Not one to try and grind out a decision, Barboza struck like lightning at 2:02 of the final frame.
Barboza landed a spinning wheel kick to Etim's face, knocking him to the canvas unconscious.
The finish earned Barboza the 2012 Knockout of the Year and established him as one of the premier strikers in the UFC even with a lack of big-name opponents.
The fighters may have been unknown, but the knockout gave fans a move most have never seen before. Lights out for Etim turned on the light for the overwhelming striker known as "Junior."
4. Anderson Silva Submits Chael Sonnen (Triangle)
You may not like his brazen talk and cocky attitude, but for just over 22 minutes at UFC 117, Chael Sonnen was the best fighter in the world.
Sonnen is known for talking his way into big fights and never coming out on top, and everyone thought he had bit off more than he could chew when he got his shot at middleweight champion Anderson Silva in 2010.
At 25-10 Sonnen had proved to be an adequate fighter to that point, but every one of his losses being finishes also showed he knew how to choke in big moments. Silva however, well, everyone knows what he was bringing.
Sonnen got out of the gates early on in the bout, relentlessly pressuring Silva before taking him down at will. For four rounds Sonnen controlled Silva on the ground, delivered big shots and appeared poised to take Silva's crown, one that he'd defended six times before.
But just when the end looked near, Silva did what he usually does and found an opening to attack.
The Spider locked in a triangle armbar, forcing Sonnen to tap for the eighth time in his career at the 3:10 mark of the fifth round. While this was another representation of Silva's greatness, it will likely be the defining match in the career of Sonnen, who has always come close to no avail.
In what was one of the greatest, if not the greatest comebacks in UFC history, Anderson Silva qualified his label as the greatest of all time.
3. Royce Gracie Submits Gerard Gordeau at UFC 1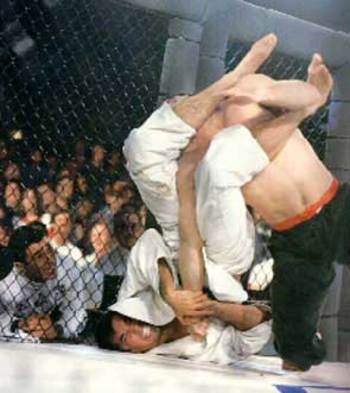 Everyone loves an underdog which is exactly what Royce Gracie appeared to be entering UFC 1 way back in 1993.
Gracie entered the debut of the free-weight combat tournament as a skinny Brazilian giving up a considerable amount of weight to every opponent he faced. That didn't matter.
Gracie implemented something known as jiu-jitsu: a submission style of fighting not many had ever seen before but is now perhaps the most popular style for hopeful martial artists to learn.
After defeating Art Jimmerson and Ken Shamrock in less than four minutes combined, Gracie battled the 6'5'' 216 pound Gerard Gordeau for the tournament title.
The Dutch striker found out quickly that it's not the size of dog in the fight as Gracie pulled guard, easily submitting him in just a minute and 44 seconds. Jiu-jitsu was put on the map, and the landscape of combat sports was truly changed forever.
Being able to control and submit significantly larger opponents is one thing, but this was the inaugural championship match of the Ultimate Fighting Championship.
For that reason alone, this finish has to be one of the best of all-time.
2. Anderson Silva Knocks out Vitor Belfort (Front Kick)
Another move that not many fans have ever seen before came from UFC 126.
Anderson Silva was fresh off of his heroic comeback against Chael Sonnen in his previous match while Vitor Belfort was looking to add to his legacy as one of the most brutal fighters to ever enter the Octagon.
The ending was brutal, but not for the champion.
Silva began the bout doing what he usually does, putting his hands down and attempting to lure Belfort into his trap. Belfort came out swinging as usual, throwing some good shots to move the fight to the center of the cage.
Then Silva struck with one of the craziest knockouts ever recorded. A front kick to the grill put Belfort on his back before a few parting shots were added to stop the fight at 3:25 of the first round.
Anderson Silva's hand was raised again and Belfort was knocked out for just the third time in his career.
While both men found much success following that fight, it will forever go down as a defining moment in the careers of both The Spider and The Phenom.
1. Dan Henderson Knocks out Michael Bisping (H-Bomb)
Dan Henderson has had some awesome knockouts in his career, but none of them were more deafening or personal than this one.
Leading into their bout at UFC 100, both Henderson and Michael Bisping were looking to work their way up the middleweight ladder. And the tension was at an all-time high.
Known for his blunt and brash trash talking, Bisping had gone to work in the months leading up to the fight, hurling insults of all kinds at Henderson. Hendo has never been an emotional fighter, but this one got under his skin.
Henderson was 24-7 and riding a two-fight win streak since losing a title bout with Anderson Silva. Bisping was 17-1 and looking to become a contender in the division.
At 3:20 of the second round a bomb dropped. More specifically, an H-Bomb.
After a close striking match that saw both men land a few good shots, Henderson put out a left hand before coming over the top with a right hook that landed as perfectly to Bisping's jaw as any punch I've ever seen.
Bisping went limp on impact but Henderson made sure to drop a huge flying right hand as he lay with his back on the canvas. Similar to Silva and Belfort, both of these men have been successful since this, but the image of this knockout is impossible to forget.
I'm not sure what's more surprising: the fact that some don't see this as the most impressive finish of all time, or the fact that Michael Bisping woke up so soon.
Keep Reading