Which NFL Players Are Turning in Most Impressive Camps So Far?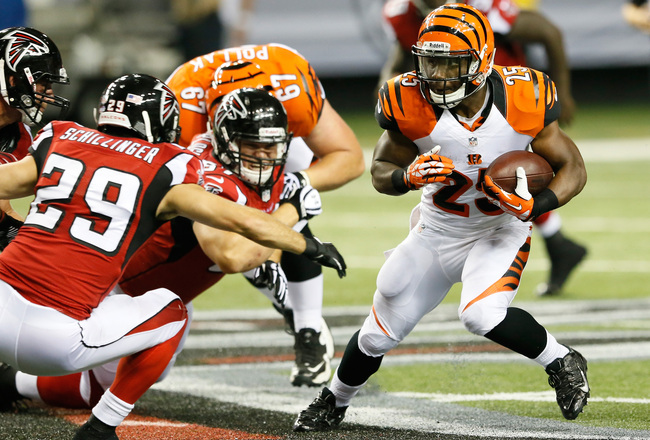 Cincinnati Bengals rookie Giovani Bernard was the first running back selected in the 2013 NFL draft.
Kevin C. Cox/Getty Images
Thursday night begins the start of the second full week of the 2013 NFL preseason.
Opinions are beginning to form. Decisions are starting to be made. Players are earning starting jobs. Hence, what training camp and the preseason is all about.
So here are nine players who have had some exceptional summers...and we don't mean a lot of beach time. Enclosed is a mix of rookies and veterans who have impressed this offseason. And hopefully for both them and their teams, that work and their play will carry over into the regular season.
Are we leaving anyone out? When you boil it down to nine players and each team has roughly 90 players in camp, feel free to do the math.
And feel free to throw out a suggestion or two.
FS Tyrann Mathieu, Arizona Cardinals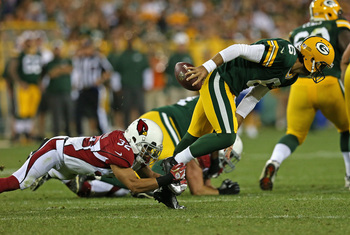 Jonathan Daniel/Getty Images
As we all know, there's more to succeeding in the National Football League than just pure talent alone.
Due to his numerous off-the-field issues, former LSU defensive back Tyrann Mathieu became a third-round pick in April rather than the first-round selection he was supposed to be.
But what he is doing on the field, be it at practice or during the Arizona Cardinals' preseason opener, has become the focal point for the young performer.
In last week's 17-0 win over the Green Bay Packers, Mathieu totaled a pair of tackles, including a sack, and a pass deflection. He also returned two punts, one of those covering 24 yards.
It's been a very good summer for the talented free safety, says USA Today's Kent Somers. Mathieu will get the start this week when the Cards host the Dallas Cowboys this Saturday afternoon.
ILB Daryl Smith, Baltimore Ravens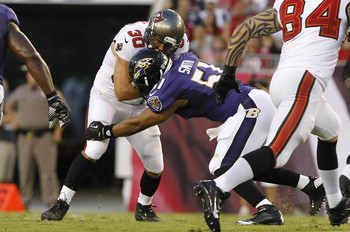 Kim Klement-USA TODAY Sports
Talk about an under-the-radar signing.
Following the overhaul known as the defending Super Bowl champion Baltimore Ravens, general manager Ozzie Newsome was busy to say the least. A defensive unit not up to par with recent predecessors needed some fresh faces.
Free agency saw free safety Ed Reed, linebackers Paul Kruger and Dannell Ellerbe, and cornerback Cary Williams head elsewhere. Linebacker Ray Lewis retired after 17 storied seasons. And strong safety Bernard Pollard was released.
Enter veterans such as Elvis Dumervil, Michael Huff, Chris Canty and Marcus Spears…and Daryl Smith.
The former Jacksonville Jaguars linebacker didn't sign with the Ravens until June, but it's safe to say that he's made a quick impression. The nine-year veteran had quite a preseason debut for Baltimore last week, totaling five tackles while knocking down a pass in the team's victory over the Tampa Bay Buccaneers.
So for those feeling sorry for the defending champs, you might want to rethink that position.
ILB Kiko Alonso, Buffalo Bills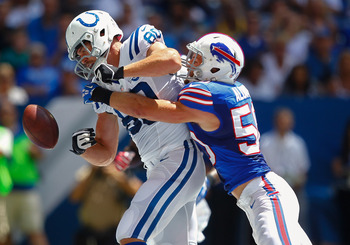 Michael Hickey/Getty Images
HELP!
The Buffalo Bills have not been to the postseason since 1999, a season that ended with a loss to the Tennessee Titans in what gave new meaning to a "wild" card game. No team owns a longer current playoff drought than the Bills, who have also finished dead last in the AFC East five straight seasons.
While it's always common to point the finger at the quarterback, both sides of the ball are certainly to blame. As of late, the defense has been a liability for a team looking to post its first winning season since 2004. In each of the last four seasons, the Bills have been ranked in the bottom five of the NFL against the run. In 2012, only the New Orleans Saints gave up more rushing yards per game.
Buffalo used a second-round pick on linebacker Kiko Alonso in April. The former Oregon Duck wasted little time making an impression on the coaching staff. Alonso totaled three tackles and broke up a sure touchdown pass in the team's 44-20 win over the Indianapolis Colts last Sunday. If he stays healthy in 2013, don't be shocked if he leads the Bills in tackles.
RB Giovani Bernard, Cincinnati Bengals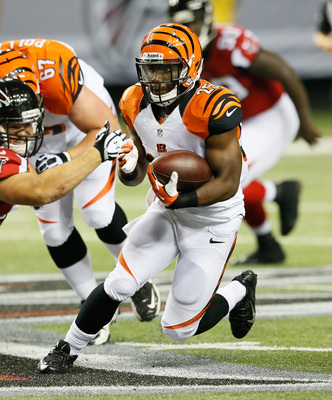 Kevin C. Cox/Getty Images
Do you think the Cincinnati Bengals wanted to get the ball in the hands of rookie running back Giovani Bernard a lot last week?
In the team's 34-10 win over the Atlanta Falcons, Bernard totaled 10 rushing attempts and a TD. Bernard was targeted five times by Bengals quarterbacks and caught three passes for 16 yards. He even returned a punt.
While Bernard lasted until the second round in April, he was the first running back taken in the draft. His big-play ability is hard to ignore and he gives Marvin Lewis' team a big-play presence out of the backfield that it has lacked in recent seasons.
And if all goes well, Bernard could help take this club where it hasn't been in more than 20 years: the divisional round of the playoffs following a postseason win.
WR DeAndre Hopkins, Houston Texans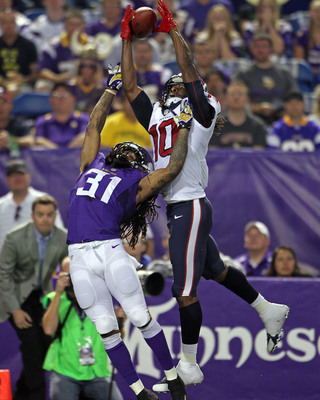 Brace Hemmelgarn-USA TODAY Sports
Apparently, the Houston Texans like to pace themselves when it comes to drafting wide receivers in the first round.
Following the franchise's debut campaign in 2002, the team used the third pick in the 2003 draft on Andre Johnson. The former Miami Hurricanes standout has been one of the game's best over the last 10 seasons. In 2012, Johnson totaled 112 receptions for 1,598 yards and four touchdowns.
Back in April, 10 years after selecting Johnson, the Texans once again opted for a wideout in the first round, tabbing Clemson's DeAndre Hopkins with the 27th overall pick.
So far so good for Hopkins, who caught a 34-yard touchdown pass from quarterback T.J. Yates last Friday versus the Minnesota Vikings. It was part of a four-catch, 52-yard performance for the rookie receiver.
It was also not much of a surprise considering what the rookie has shown this summer. And the Texans could finally find themselves reaching the AFC championship game for the first time in the team's brief history.
DE Olivier Vernon, Miami Dolphins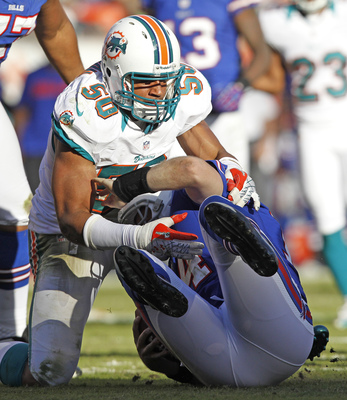 Joel Auerbach/Getty Images
Second-year defensive end Olivier Vernon has had a solid training camp for the Miami Dolphins.
Don't believe that? Well, teammate and left tackle Jonathan Martin would argue that the emerging defender has had an excellent summer.
Last season as a rookie, Vernon certainly opened some eyes. The third-round pick totaled 32 tackles and 3.5 sacks, forced a pair of fumbles and blocked two field goals. Though he did not start any games last season, the former third-round pick out of Miami (FL) has been seeing significant time with first-team defense at left defensive end.
With Pro Bowl defensive end Cameron Wake, rookie Dion Jordan and Vernon at their disposal, the Dolphins are giving opposing offensive lines plenty to worry about.
WR Cordarrelle Patterson, Minnesota Vikings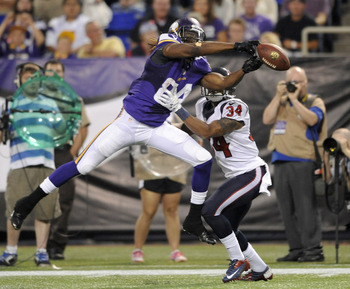 Hannah Foslien/Getty Images
One of the big stories during the 2013 offseason was the big trade that sent wide receiver Percy Harvin from the Minnesota Vikings to the Seattle Seahawks. Naturally, the speculation in the Twin Cities concerned who the replacement for the big-play performer would be.
Unfortunately for the Seahawks, they also have to deal with that very question as Harvin will be shelved indefinitely following hip surgery.
As for Minnesota, its answer will apparently come in the form of rookie wideout Cordarrelle Patterson, who enjoyed a solid preseason debut versus the Houston Texans last week. The former University of Tennessee product was targeted eight times and caught four passes for 54 yards. Patterson also returned the opening kickoff of the game for 50 yards.
That latter statistic is the most significant. But, during the preseason, a long return can be deceptive considering the uncertainty of what coverage teams will actually look like during the regular season.
Still, when you consider that Harvin returned at least one kickoff for a touchdown in each of his four seasons with the Vikings, Patterson's contributions on special teams may be his calling card in 2013.
DT Tommy Kelly, New England Patriots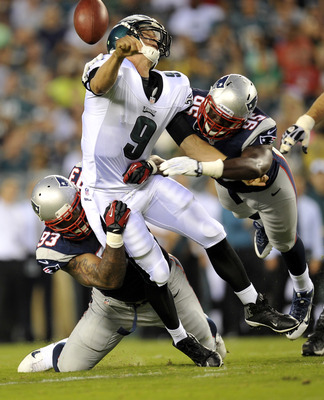 Joe Camporeale-USA TODAY Sports
Defense has been a four-letter word in Foxborough the last few seasons.
Consider that the New England Patriots have scored 500 or more points in four of the last six seasons dating back to 2007. When you do that actual math, it's added up to a 0-2 record in Super Bowls XLII and XLVI.
But defense could once again be a strength in 2013. When the franchise was winning three Super Bowls in four years roughly a decade ago, players such as Richard Seymour, Willie McGinest, Tedy Bruschi, Ted Johnson, Ty Law, Rodney Harrison and Mike Vrabel were just as significant as quarterback Tom Brady.
This offseason, New England added a pair of veterans to its defense in the form of strong safety Adrian Wilson and defensive tackle Tommy Kelly. And the Raiders' decision to part ways with the defender could prove to be very beneficial to New England.
Last week versus the Philadelphia Eagles, Kelly totaled a pair of tackles, including a sack, and forced a fumble. This week in practices against the Tampa Bay Buccaneers, Erik Frenz points out on Boston.com that Kelly has been having his way as well.
Could the 2013 New England defense be the catalyst for a Super Bowl title? It wouldn't be the first time.
TE Jared Cook, St. Louis Rams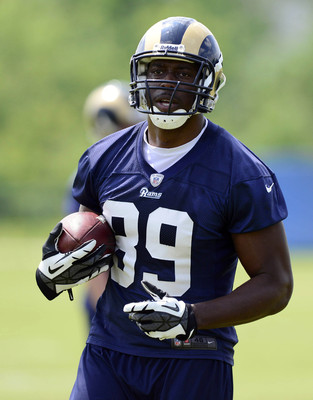 Jeff Curry-USA TODAY Sports
While most of the civilized world has already handed the NFC West to either the defending division champion San Francisco 49ers or the runner-up Seattle Seahawks, beware...there's a wolf lurking in Rams' clothing.
While the St. Louis Rams haven't been to the playoffs since 2004 and haven't enjoyed a winning season since 2003, they did finish 7-8-1 last season and were a division-best 4-1-1 versus the 49ers, Seahawks and Arizona Cardinals.
Fourth-year quarterback Sam Bradford threw a career-high 21 touchdown passes last season, and the former first overall pick not only has a slew of young wideouts but a new rangy target in Jared Cook. The Rams added the former Tennessee Titans tight end via free agency this offseason, a move that has been nothing but a positive one to date. Meanwhile, SI.com's Peter King also had some very high praise for Cook this week.
Could Jeff Fisher's Rams actually win the NFC West? It's certainly possible, and it's a certainty that this Cook won't spoil those plans.
Keep Reading