The Ashes 2013: Strange Decisions Have Damaged England vs. Australia Series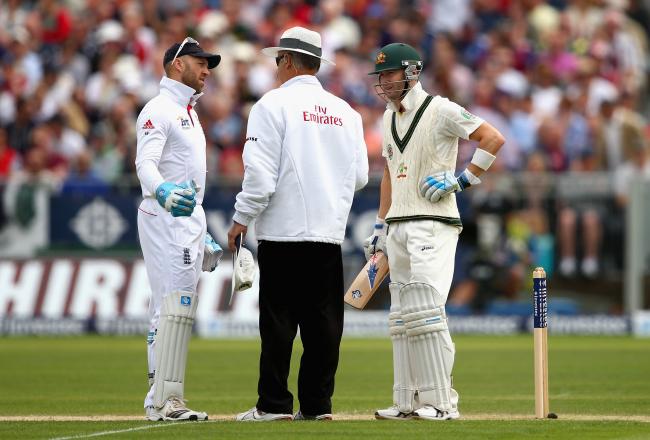 Ryan Pierse/Getty Images
DRS, dodgy umpiring and gamesmanship have shifted the focus away from the cricket during this year's Ashes.
Expectations were high after the first Test that this would be another great series, but as the poor decisions racked up it has evolved into a series of endless controversy.
Cricket must now decide how to go forward.
Does it remove hot spot, the cause of much controversy, when it is clearly not 100 percent accurate? The whole purpose of technology is to eliminate human error but all the system has done is leave everyone bewildered.
Maybe then, it's time for cricket to revert to simpler technology until a suitable alternative is launched.
The problems don't just stem from the umpires making wrong decisions or the software misfiring, but also from the captains' referral wastage.
Sides have to be limited to the number of times they can appeal but Michael Clarke demonstrated in the first Test at Trent Bridge that by throwing away appeals, it can make the whole sport look stupid.
8 - Australia have ended a run of eight consecutive unsuccessful DRS reviews. Belated. @ESPNcricinfo #Ashes

— OptaJim (@OptaJim) August 9, 2013
Whether or not Stuart Broad should have walked should not have mattered as the technology was available to determine he had nicked the ball to the slips. But a hitch in the rules allowed him to remain at the crease.
It led to a huge uproar against the Englishman but Broad made a decision, albeit an unwise one, in a split second to stay where he was. Perhaps if the rules allowed a group of behind-the-scene umpires to appeal, and not the captains, then the issue could have been avoided.
But as it stands the technology in cricket is confusing for players and fans alike.
It's not as simple as football where the question is simply "did the ball cross the line?", and can be answered by a straight yes or no.
This Ashes series is in danger of being tarnished by DRS. Is it too much to hope that things will be sorted out by the return in November?

— Mark Pougatch (@markpougatch) August 10, 2013
Since the technology predicts the trajectory of the cricket ball it is not going to be perfect, highlighted by the ICC tweaking the lbw DRS rules last year.
That now leaves the umpire in a horrible position. Anything that is uncertain means their on-field decision stands, something which is bound to be contentious every time it happens.
It is this pressure that has probably contributed to the officiating errors seen across this Ashes series, and it is why cricket must quickly find an answer to the growing concerns.
This article is
What is the duplicate article?
Why is this article offensive?
Where is this article plagiarized from?
Why is this article poorly edited?