For the second time in three years, Jason Dufner held a comfortable lead on the back nine in the final round of the PGA Championship. This time he didn't choke.
Dufner used magnificent ball-striking to fire a two-under 68 on Sunday at the Oak Hill Country Club and finished the tournament at 10 under par on the difficult par-70 course. This left him two shots clear of second-place finisher Jim Furyk, who was one shot better than third-place finisher Henrik Stenson.
Jason Dufner shoots two-under in the final round and is your 2013 PGA Championship winner! #PGAChamp pic.twitter.com/5tM6ajXMUt

— Bleacher Report (@BleacherReport) August 11, 2013
To earn his maiden major championship, Dufner had to rebound from his worst round of the tournament:
Dufner's third round meant he had to overcome a one-stroke deficit to 54-hole leader Furyk on Day 4.
While taking a lead into the final round of a tournament is a desirable place to be, it hasn't worked out so well this year:
History is not on Jim Furyk's side. Recent major trends: http://t.co/1LffF6vLfV >> pic.twitter.com/C1pHH9xdLp

— PGA TOUR (@PGATOUR) August 11, 2013
Making this Sunday at the PGA Championship great theater is the fact that Furyk did not lose his lead as much as Dufner took it.
Furyk: "I basically told him [@JasonDufner] he played a great round, and I have respect for him." #PGAChamp

— PGA Championship (@PGAChampionship) August 11, 2013
Furyk struggled with his driving accuracy early, but he kept himself in contention with his putter, and he moved to 10 under when he drilled this epic putt on No. 6: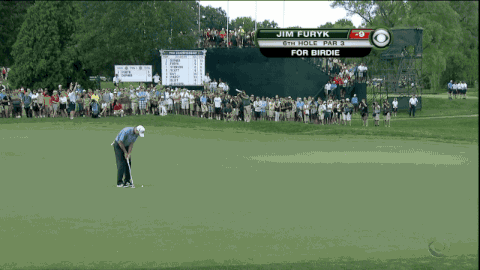 However, that only pushed him into a tie with Dufner, who birdied holes Nos. 4 and 5. He kept that hot hand rolling when the 36-year-old Cleveland native went pin-seeking on No. 8: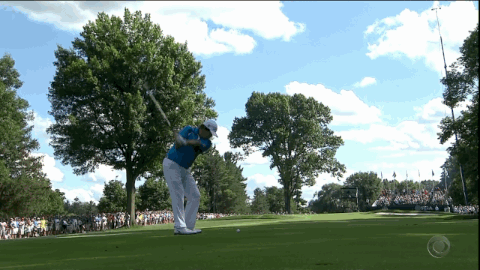 The spin control and line on that shot were obviously superb, but it wasn't that much better than most of Dufner's approach shots on the day. He was firing laser-guided darts at the pins on almost every approach.
Meanwhile, Furyk suffered a bogey on No. 9.
All of this helped Dufner take a lead to the turn, and it was his tournament to lose. However, this tweet was still getting a little ahead of itself:
Jason Dufner is now 9 holes away from his first Major Championship. #Dufnering could have a whole new meaning in a matter of hours.

— ESPN (@espn) August 11, 2013
For starters, I don't care how many majors Dufner wins, Dufnering will always have a special spot in the hearts of meme enthusiasts:
Kids showing respect for Dufner on 13 #pga #dufnering pic.twitter.com/1EOFapF04R

— Adam Himmelsbach (@AdamHimmelsbach) August 11, 2013
But, even more importantly, it was just two years ago when Dufner led this very tournament by five strokes while standing on the 15th tee on the final day.
In 2011, Dufner went on to bogey the 15th, 16th and 17th holes while Keegan Bradley chased him down and eventually won in a playoff. There would be no wavering from Dufner on this day, however.
On the exterior, Dufner looks completely unflappable. Yet that doesn't mean he isn't splintered nerves on the inside. We can see evidence of that in his 2011 collapse and in this quote passed along by the athletics director of Dufner's former college, Auburn:
Best @JasonDufner quote ever per Jim Nantz: "I don't like stress because stress stresses me out." #dufilosophy #wareagle #1holeleft

— Jay Jacobs (@jayjacobsauad) August 11, 2013
It also showed up while he looked a little shaky on some short putts, including a miss that led to a bogey on No. 17. His ball-striking was too dominant to allow that to derail him.
Dufner took a two-stroke lead into the final hole and played it safely, and Furyk had no heroics on the difficult closing hole to catch him.
While Dufner hit an ample amount of fantastic shots on Sunday, he still couldn't trump his beauty from Round 2 when he holed out on the second for an eagle:
That shot helped pave the way to Dufner firing a scintillating 63 in the second round, and it would have been nearly impossible to predict that the two strokes he gained on the course there would make up his winning margin and first major championship—which has become commonplace at this tournament:
Jason Dufner is the 4th player in the last 5 years to claim his first career major at the PGA.

— ESPN Stats & Info (@ESPNStatsInfo) August 11, 2013
Meanwhile, the folks on Twitter noticed Dufner's big win:
To all my followers, thanks for the support. It was a great week at Oak Hill CC

— Jason Dufner (@JasonDufner) August 12, 2013
Yea man!!!! pic.twitter.com/a1tjwlxyFq

— Jason Dufner (@JasonDufner) August 12, 2013
Jason Dufner wins the PGA Championship. #Dufnering is about to take on a life of its own.

— Kelly Tilghman (@KellyTilghmanGC) August 11, 2013
Jason Dufner celebrating like he just won a free Big Mac. Think I even saw a smile!

— Gabe Zaldivar (@gabezal) August 11, 2013
Congrats to @jasondufner!! Well done buddy

— Michael Phelps (@MichaelPhelps) August 11, 2013
Jason Dufner makes it 19 different winners in the last 21 Majors. Final round 68 and a two-shot win over Jim Furyk. #PGAChampionship

— Tom Lane (@TomLaneWDRB) August 11, 2013
Duff Daddy is the 2013 #PGAChamp. Congrats on winning your first major @JasonDufner! pic.twitter.com/yIUs3tmklW

— Tiger Woods PGA TOUR (@EASPORTSGOLF) August 11, 2013
Happy for @JasonDufner who played superb golf. Hope Oak Hill gets more run in years to come. Worthy championship track & even better fans.

— Scott Van Pelt (@notthefakeSVP) August 11, 2013
The man with the golden waggle controlled the 95th PGA Championship,Congratula tions Jason Dufner.You were due. http://t.co/YfIt6fL910

— Golf (@golfsmartly) August 11, 2013
.@CoachGusMalzahn watching @JasonDufner trophy presentation at @PGAChampionship #WarEagle pic.twitter.com/uVkY3I2Vk2

— Auburn Football (@FootballAU) August 11, 2013
Congratulations to Jason Christopher Dufner for a fabulous tournament and well-deserved major championship!