USC Football: 5 Best Ways to Get Marqise Lee the Ball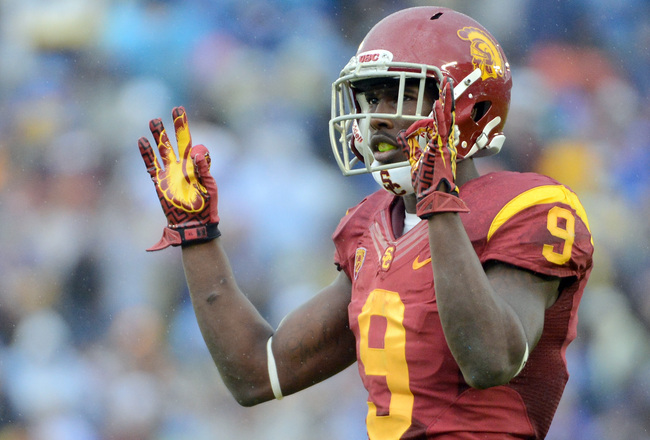 Harry How/Getty Images
Arguably the most exciting player in college football, USC wide receiver Marqise Lee enters the 2013 season as the Trojans' most potent offensive weapon and a very serious Heisman Trophy candidate.
Fast and incredibly elusive, Lee creates matchup problems for opposing defensive coordinators as he single-handedly wreaks havoc for any defensive secondary unlucky enough to draw the assignment to contain him.
All well and good, but how can head coach Lane Kiffin and his staff exploit his marvelous talent? How can they create enough opportunities to allow Lee to reach his offensive potential?
This slideshow will look at some ways USC can utilize Lee in its effort to feature his abilities as part of an overall effective Trojan offensive game plan.
While not all of these suggestions require him to tote the rock, they will focus on ways that will ensure Lee is put in a position to influence the game to the Trojans' benefit when they possess the ball.
Marqise Lee for the Heisman? Here are some ways to keep him in the conversation...
Remove the Defensive Focus from Lee by Running the Ball Effectively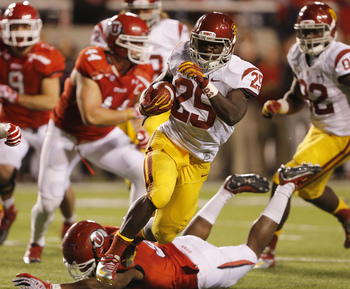 Silas Redd
George Frey/Getty Images
You want to open things up for Lee? OK, do that by giving the defense something else to think about.
And the best way to do this is to offer a potent running attack which requires run support by bringing the secondary up to help the defensive line.
This allows Lee to work his magic off the line of scrimmage and offers him opportunities to get behind the first and second levels of the defense, where he can then be put in a position to take it to the house.
The best thing about this scenario is that USC has a stable of running backs which can give its opponents fits.
Led by senior Silas Redd and bolstered by studs such as true freshman Justin Davis, big back Tre Madden, speedster D.J. Morgan and tough runner Buck Allen, this group is so good that megarecruit Ty Isaac will likely see a redshirt in 2013.
Of course, the success of the running backs is dependent on a stout offensive line, but if this portion of the offense comes together, it will free up Lee to do some incredible things when the defense has to focus on stopping the run.
Spread the Ball Around in the Passing Game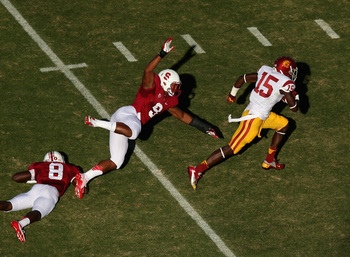 Nelson Agholor
Ezra Shaw/Getty Images
Piggy-backing off the "distraction" theory offered in the previous slide, the offensive game plan can do just that by exploiting pass receivers not named Marqise Lee.
And just like USC has talented runners to keep opposing defenses honest, it also has a cadre of pass-catchers who will be open when Lee is being keyed on with double teams.
Lining up opposite of Lee is Nelson Agholor, and this kid is nothing short of brilliant. Blessed with tremendous speed and elusiveness in spades, Agholor is primed to break out in a big way in 2013.
But that isn't all USC can offer to drive the defense crazy when it pays too much attention to Lee.
The Trojans also have talented receivers in the form of Victor Blackwell, who has power and speed, senior De'Von Flournoy and true freshman sensation Darreus Rogers.
Wait, there is more.
As if that wasn't enough, the Trojans can also boast perhaps the finest tight end combination in the nation, with Xavier Grimble and Randall Telfer providing big bodies capable of snagging anything thrown in their territory.
Make no mistake about it: USC has other options in the passing game, and when they are used, it can only create more opportunities for Mr. Lee.
Use Lee in Imaginative Ways in the Running Game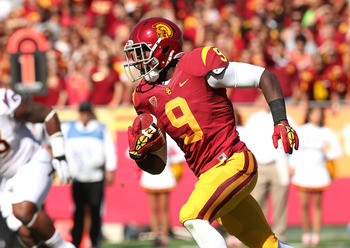 Stephen Dunn/Getty Images
While Lane Kiffin wouldn't want to make a steady diet of this, there is no reason why Lee shouldn't get the ball with an end around or something like that every now and then.
And while he is at it, maybe Kiffin can toss in a double reverse as well—anything to get the ball into Lee's hands in creative ways.
In doing so, Kiffin can create more angst for his defensive counterpart by allowing Lee to get the ball coming out of different sets and this will occur in "space," where Lee is at his most dangerous.
To best utilize Lee, he must be offered ways to strike in an unconventional manner to keep the defense on its toes.
Statue of Liberty, anyone?
Let Lee Return Both Punts and Kickoffs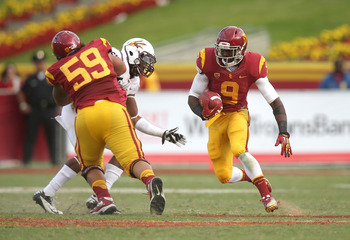 Stephen Dunn/Getty Images
Marqise Lee is at his most dangerous when he is in open space, and there is nothing like finding uninhabited territory when fielding punts and kickoffs.
Of course, running back those special-team opportunities also carries its own risk. Thus, managing Lee by exercising an abundance of caution will be coach John Baxter's responsibility. Calling for fair catches must be exercised by Lee when there is no room to run.
In 2012, Lee averaged 28.5 yards per kickoff return, and there is no reason why he can't repeat that this season.
And while we are at it, maybe he can return a punt or two on occasion?
Just asking.
Be Creative When Featuring Lee in the Passing Game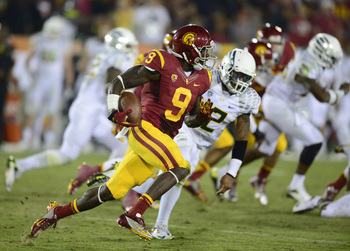 Robert Laberge/Getty Images
It will be a fine line Kiffin walks when he game-plans the passing offense for Marqise Lee.
In the past, Kiffin has been accused of being too predictable by some when it comes to certain plays, such as the bubble screens that the head coach appears so enamored with.
While that particular play certainly has its place, its effectiveness becomes diminished when it is run six or seven times a game.
Instead, mix it up with Lee using his great speed for deep passes, his tremendous elusiveness for medium routes and his explosive quickness for short situations.
Of course, Lane Kiffin has forgotten more about the passing game than I will ever know, but he needs to temper that tremendous knowledge with a desire not to fall into a rut, such as he has done on occasion in the past.
Mix it up, coach, and Lee will thrive.
Conclusion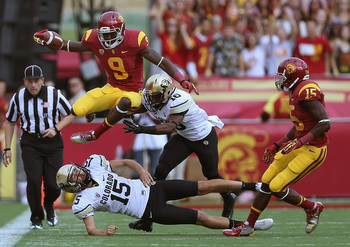 Jeff Gross/Getty Images
Of course, this slideshow featuring ways for Marqise Lee to be successful is rendered moot if he cannot remain healthy, and as of this writing, Lee is nursing a shoulder injury.
And with an anxious Trojan nation holding its collective breath, Lee will most certainly do everything in his power to get back on the field of play as soon as possible.
When he does, he will continue his assault on the Trojan record book and in doing so will lend an excitement to the Trojans not seen since the salad days of Reggie Bush.
Minus the impermissible benefits and ill-gotten house, of course.
Keep Reading

USC Football: Like this team?