New England Patriots' Best and Worst Signs from the First Preseason Game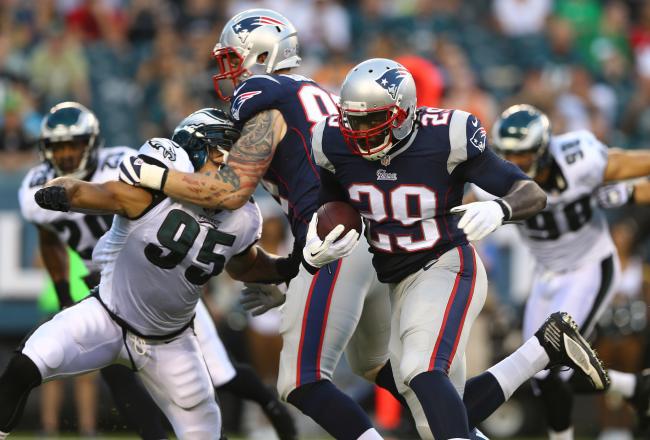 LeGarrette Blount and the Pats ran all over the Eagles.
Elsa/Getty Images
Preseason is a time to work out the kinks and experiment with players and schemes that may help win the games that actually count. So with that caveat, it is dangerous to read much into the New England Patriots' 31-22 victory over the Eagles on Friday.
Nevertheless, preseason also represents the first opportunity to see an offseason's worth of progress under live game conditions. So while lackluster play may not have any tangible consequences, it does signify areas to focus on for the rest of camp.
Though the Patriots' performance was a bit of a mixed bag, the expected trends from camp did not necessarily hold. The offense looked as flawless as ever, while the supposedly advancing defense struggled at times to contain the Eagles' up-tempo offense.
Again, it is folly to read too far into the developments of the first preseason game. But for now, here are the most noteworthy performances that either excited or concerned Pats fans.
The Good
Running Game: If indeed the Patriots are going trend closer towards a 50-50 run-pass split, Friday night was an illustration of how dangerous their offense can be on the ground.
New England rolled for 248 yards on a robust eight yards per carry, including 80 yards on a six-play opening drive that was perhaps the most dominating sequence of the night. For instance, on Stevan Ridley's opening 62-yard run, notice how quickly Nate Solder pancakes his man: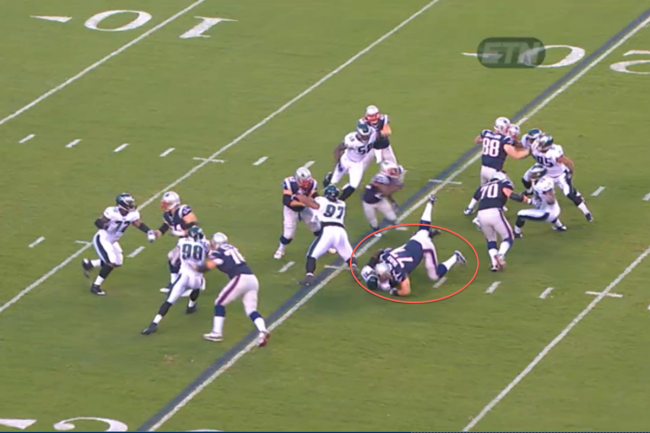 Apart from Ridley, LeGarrette Blount arguably aided his roster status more than any other player. Blount led the way with 11 rushes for 101 yards, and his 51-yard zigzagging touchdown may end up being the Pats' best run of the year. His improvisation on a seemingly busted outside-zone play showcased his surprising speed and field vision.
Even Tim Tebow made positive contributions on the ground. Tebow's passing was fairly ghastly throughout (more on that later), but he looked comfortable running the read-option. It seems highly doubtful he will master the Patriots' complex offense any time soon, but after averaging 7.8 yards per carry, it seems he could at least contribute in a specialty package.
Finally, even though Shane Vereen only ran the ball three times, his 13-yard touchdown reception over a linebacker looked eerily similar to a play in the divisional round last year. Vereen demonstrated how his receiving ability makes the Patriots' running back corps a multifaceted weapon.
Rookie Receivers: The numbers did not end up particularly gaudy for any individual, but Kenbrell Thompkins and Aaron Dobson in particular exhibited solid chemistry with Tom Brady, certainly the most important revelation of the night.
Of Brady's seven completions, six went to Thompkins and Dobson. Thompkins especially showed good awareness on his short timing routes, such as a six-yard curl route on 3rd-and-4. As Mike Reiss of ESPNBoston illustrates, his grasp of the offense was more important than the meager 23-yard total:
The numbers may look pedestrian in the box score (just 23 yards), but Thompkins looked comfortable in his understanding of the offense, won at the line of scrimmage, and made grabs in competitive situations. There was one snap during which Thompkins redirected Boyce to the proper alignment after Boyce broke the huddle and went to the wrong side of the formation. Seems like he's catching on fast.
Dobson brought a bit of a different element, usually lining up at the "X" receiver (split end) and getting deep or running sideline fade routes. Perhaps because of those routes, Dobson only came down with two receptions on eight targets, according to Erik Scalavino of Patriots.com. Nonetheless, it's clear the Patriots are trying to incorporate more of a vertical element with him.
In addition, Zach Sudfeld found himself in the starting two-tight end package to open the game. At the moment, it appears the rookie is clearly the second tight end behind Jake Ballard and perhaps the top receiving option at the position. That certainly bodes well for future playing time with the starters.
Run Defense: The Patriot defense wasn't particularly great at certain points, but the run defense held up all night. The Eagles rushed for 131 yards but on a pedestrian 3.7 yards per carry.
Which of these players most encouraged you?
Brandon Spikes in particular looked solid, making a tackle for a loss and consistently penetrating the backfield. The interior should be formidable, as the defensive tackle combination of Vince Wilfork and Tommy Kelly looks solid as well. Kelly brings a bit more of a pass-rushing element, seen in his teaming up with Chandler Jones on a forced fumble, but his 6'6" and 325-pound frame is a hulking presence too.
The Patriots' primary concern on defense is the passing game, and the run D looks ready to replicate its top-10 status from last season.
The Bad
Pass Coverage: Easily the most concerning play of the night was DeSean Jackson's 47-yard touchdown over Aqib Talib. The Patriots blitzed six and played Cover 1, leaving Talib in man coverage. Jackson then turned Talib around on a simple go route, gaining inside position. When a cornerback is in this position without safety help over the top, a good throw makes the play nearly impossible to stop: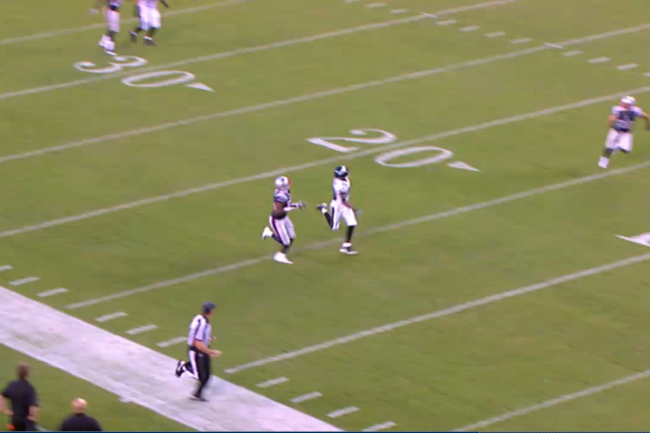 It's not as if the Patriots' woes were limited to one bad play, either. Philly's backs and receivers were regularly open in the flats, signifying how the New England linebackers were consistently outflanked. An example of this occurred on a Riley Cooper 19-yard reception, though Dont'a Hightower's man did not receive the pass: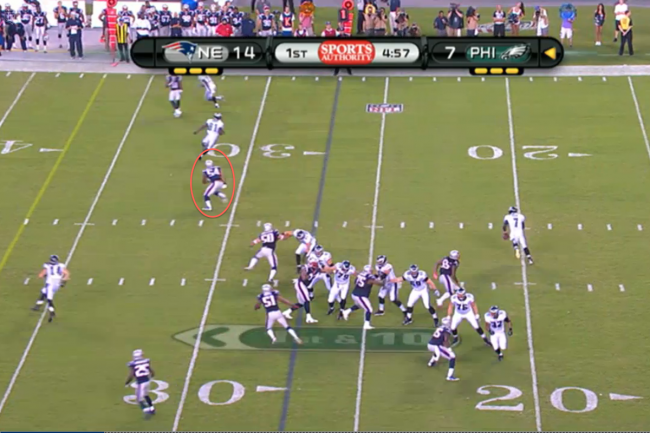 Overall, Eagles quarterbacks were a combined 29-of-48 with 348 yards through the air. The two co-starters, Michael Vick and Nick Foles, completed nine of 11 passes between them, leading two touchdown drives.
The Patriots did come up with some timely plays, registering three sacks and the aforementioned forced fumble. But the defense is trying to move away from the heavy reliance on turnovers, a style that rarely breeds success against highly efficient offenses in the playoffs. This will be an area targeted for improvement in the next preseason game against Tampa.
Special Teams: For a normally solid unit, the Patriots' special teams committed several gaffes. Stephen Gostkowski missed two field goals from 44 and 53 yards out. Those are hardly chip shots, and the Patriots have been rotating holders this preseason, perhaps affecting his timing. Still, Gostkowski showed some bouts of inconsistency last season, so this was not an encouraging start.
Which of these players most concerned you?
In addition, the punt team had a particularly rough night, giving up a 62-yard punt return in which the gunners completely overran the play. Containment is generally the hallmark of special teams aces like Matthew Slater, as the gunners need to at least slow down or redirect the returner.
Brandon Bolden also did not help his chances to get off the roster bubble. His running-into-the-kicker infraction netted the Eagles a first down, the Patriots' only accepted penalty of the night. On a night where Blount distinguished himself on offense, Bolden may have to demonstrate greater special teams value to stick. Costly plays like that certainly will not help.
Backup Quarterbacks: In fairness to Ryan Mallett, the third-year quarterback was under constant duress, suffering from the Patriots' lack of interior line depth. In that regard, Mallett did well to constantly bounce back, as the Pats were clearly trying to feature him by asking him to drop back 18 times.
Nonetheless, Mallett displayed the inconsistency that has stunted his trade value thus far. His most egregious miss was on a wide open post route by Josh Boyce, as the Eagles' secondary had a miscommunication that left the rookie receiver wide open.
When Mallett's head injury brought his night to an unceremonious end, Tebow generally seemed even more hopeless passing the ball. As impressive as he was on draws and option runs, he showed an inability to complete anything that was not a simple check-down.
Tebow's struggles with picking up NFL offenses are well-documented, so it is unfair to expect him to run the offense like Brady (or even Mallett) right away. Still, it was painfully clear how slow his mind was, constantly holding onto the ball and missing open receivers.
In particular, two plays to Zach Sudfeld stand out. On the first one, the tight end uses a head fake to gain position on a linebacker down the seam: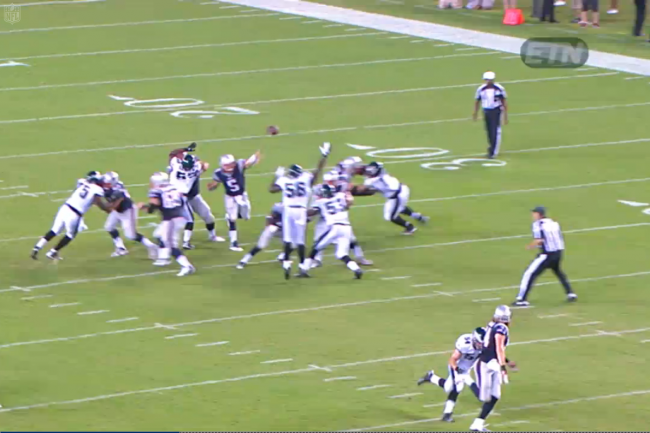 Unfortunately, Tebow does not fire over the top and allow Sudfeld to elevate for the catch, instead trying to keep the ball away from the linebacker and leaving the ball too far away from his target's catch radius: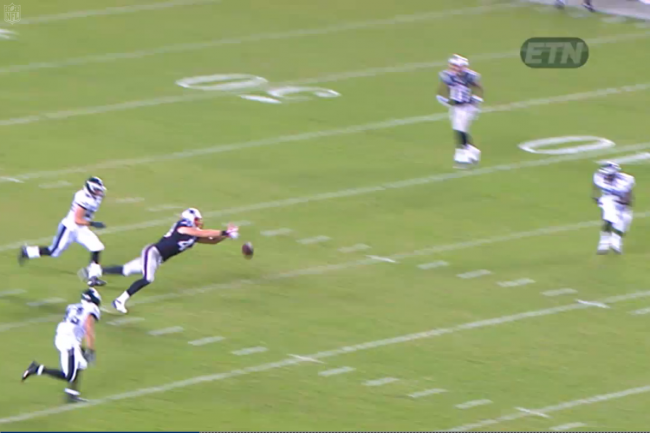 On the second play, the Patriots call a simple bootleg designed to get the ball to Sudfeld quickly. The play action works, and the weak-side linebacker is out of position to blow up the play. If Tebow dumps the ball off immediately, Sudfeld has plenty of room to turn upfield and run: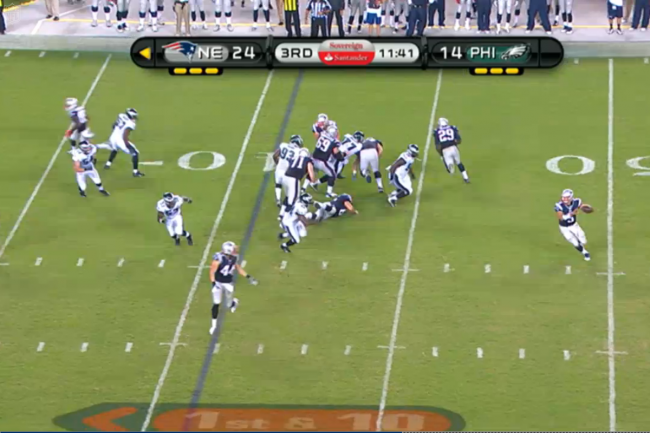 However, he hesitates not just a split second but for three seconds, running Sudfeld all the way into the cornerback on the sideline. At that point, the defensive linemen have converged, and the play is effectively over: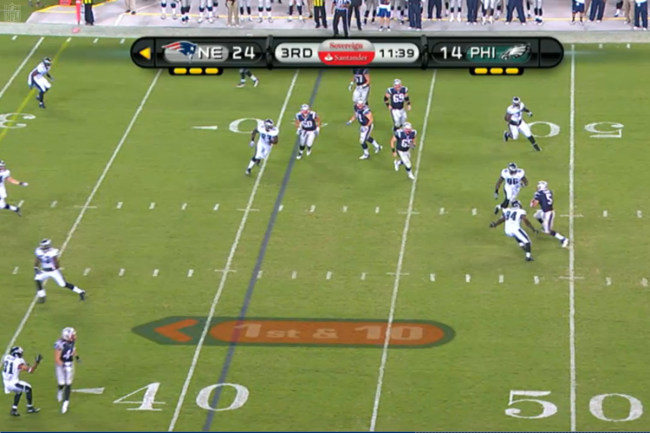 As stated previously, the night was not all bad for Tebow. He certainly brings a completely different dimension to the offense and shows the capability to run a package installed specifically for him.
But it seems highly unlikely he will be able to run the Patriots' normal offense at a competent level. Though many Pats fans want to see what the team could get for Mallett, his ability to at least keep the offense functioning in Brady's absence is more valuable for now.
Ultimately, it looks more likely that Tebow will simply be a scout-team quarterback, helping the Patriots prepare against option offenses. But for someone whose own camp thought his NFL career was over, that is probably the best news Tebow has heard in quite some time.
*All photo stills courtesy NFL.com
This article is
What is the duplicate article?
Why is this article offensive?
Where is this article plagiarized from?
Why is this article poorly edited?

New England Patriots: Like this team?