Rogers Cup 2013 Men's Semifinals: Nadal vs. Djokovic Preview and Prediction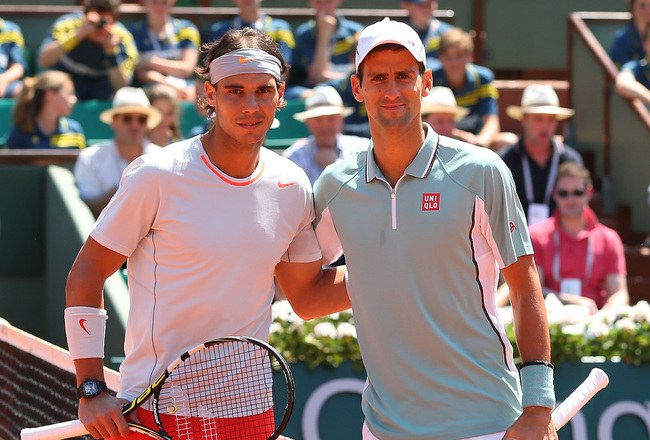 Julian Finney/Getty Images
Rafael Nadal vs. Novak Djokovic is still the biggest rivalry in men's tennis. It's big stakes as usual, this time in the semifinals of the Canada Open. The winner will be a strong favorite to capture the Rogers Cup.
This is also their first meeting since their war on clay at the French Open semifinals, a match many consider to be the most important, if not the best of 2013.
But the scene has now shifted from European red clay to North America's blue hard courts. It's the heart of summer and one beat closer to the U.S. Open.
Who will be in the driver's seat for the remaining spoils of 2013?
Who Has the Historical Edge on Hard Courts?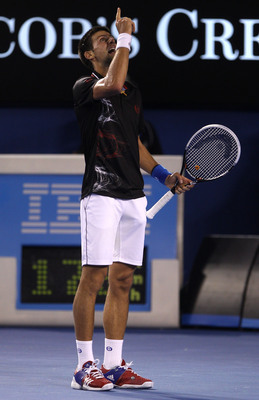 Quinn Rooney/Getty Images
This will be their 36th career meeting, and Rafael Nadal leads 20-15. The King of Clay holds a commanding 13-3 lead on his favorite surface, but in Canada, this is irrelevant.
Instead, it is Djokovic who is the master of their hard-court battles with an 11-5 advantage. The Serbian has reeled off four straight wins on this surface, including the championships at the 2011 U.S. Open and the 2012 Australian Open.
The last time Nadal defeated Djokovic on hard courts was at the 2010 WTF when Nadal was finishing off his three-Slam season. Since then, Djokovic has ruled tennis and shut out Nadal off of clay.
This will also be their first meeting on hard courts since their 2012 Australian Open final, an ironman slugfest that still has their fanbases jockeying for the lead in the battle of words.
A Djokovic fan can point out that the Serbian should have closed out that match in four sets. That might not sit well with a Nadal fan.
Nadal's fans can lament their hero's backhand miss that might have cost him the fifth set. They insist that this is the match in which Nadal solved the riddle of Djokovic's momentum. That kind of talk irritates the Djokovic fan.
A lot has changed since then. Now it's time to see how it bounces on hard courts in 2013.
Nadal at the Rogers Cup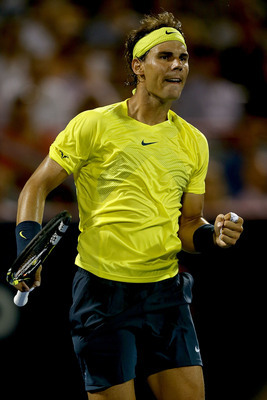 Matthew Stockman/Getty Images
Nadal has had a lot of questions to answer with his play at the Rogers Cup.
How would he do away from clay? His grass performance at Wimbledon was certainly a flop.
Could he come back on summer hard courts? It had been two years since Nadal had won a match at this time of the year. Slow Indian Wells hard courts in February was one thing, but more data was needed.
So far Nadal has quickly answered the bell.
He steamrolled Jesse Levine, 6-2, 6-0, but already showed promising form.
He was tough and relentless in putting away powerful Jerzy Janowicz, 7-6, 6-4.
He cruised past Marinko Matosevic, flashing some flamboyant shots for a 6-2, 6-4 win.
Even after match point, his cry of "Vamos" seemed to be directed at his next match. His clay-court form is locked in storage, and he has made the necessary adjustment to play closer to the baseline and use the pace of the faster surface. He is ready.
Djokovic at the Rogers Cup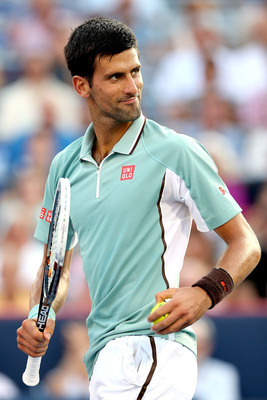 Matthew Stockman/Getty Images
Djokovic is looking for his third straight Rogers Cup and fourth of his career. He came into the tournament as a co-favorite with Andy Murray and has had some scores to settle.
He lost to Nadal in the French Open semifinals and to Murray in the Wimbledon finals. He is still ranked No. 1, but he needs to dominate at Canada, Cincinnati and New York to pull away from their pursuit. He can feel the heat.
So far, Djokovic has mostly dominated, and he overcame a hiccup along the way.
He crushed Florian Mayer, 6-2, 6-1.
He had to rally past Denis Istomin, 2-6, 6-4, 6-4.
He dismantled World No. 9 Richard Gasquet in less than an hour.
His last victory was as if he wanted to skip through preliminaries for his showdown with Nadal. He wasted little time or energy. He's the ultimate competitor and will be ready to treat his semifinal like a Grand Slam final. He gets up for Nadal.
The Biggest X-Factor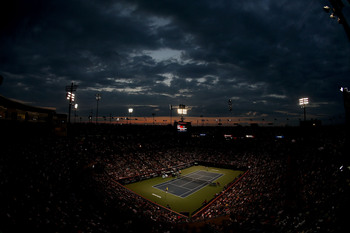 Matthew Stockman/Getty Images
When these two battle on clay, Nadal carries the greater weight of pressure. He is expected to win on red clay and defend his astonishing legacy. Djokovic has the luxury of opportunity to defeat Nadal there. When he won at Monte Carlo, it was an enormous boost for his chances at the French Open.
Things are reversed on hard courts. Now it's Nadal who comes in as the underdog. If he wins, he sends a big message to Djokovic and the ATP that the U.S. Open title is more of a reality than opportunity. If he loses, he can still take stock in his progress on hard courts this week.
Does Djokovic carry the greater pressure?
Is Nadal playing with house money?
It may be the X-factor Nadal needs to let loose a little more. He can try, experiment and look for more solutions to put in his New York carry-on bag.
On the other hand, Djokovic might be able to shut the door on Nadal. He is great at reacting to emotional challenges, and the pressure might make him greater.
Nadal Will Win the Semifinal If...
Matthew Stockman/Getty Images
Nadal know he cannot roll over weak backhands to Djokovic. Everything short will be punished mercilessly. He must be careful not to use too much slice and slow topspin. His Serbian opponent is too great at attacking mistakes.
Instead, Nadal will win if he is efficient at taking chances. He must use his backhand as a weapon both cross court and up the line. He doesn't need to hit many winners with it, but it can set up his footwork inside the court and allow him to tee off on his forehand.
If Nadal is not penned in his deuce corner, frantically looking to run around to his forehand, it is a good sign.
Furthermore, Nadal must continue to be crafty with his serving. He has usually shown good timing in mixing his ad serve up the tee when it's a big point. It's this element of timely surprise that frustrates opponents and renders more effective his habit of serving to the backhand side.
Nadal must show he is fleet enough to track down some of Djokovic's lasers and gun his up-the-line forehand.
If these things go well, he will be marching onto the court on Sunday.
Djokovic Will Win the Semifinal If...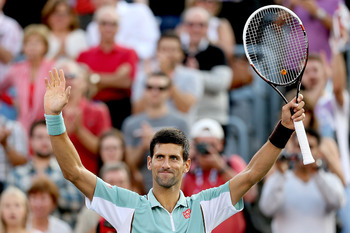 Matthew Stockman/Getty Images
Djokovic knows how to attack Nadal's high topspin. His backhand is all too eager to do the damage when he can create sharp angles. He has no problem going for his shots against Nadal and can live with himself if he misses a few sidelines.
This aggressive mentality is his key. Like his win at Monte Carlo, he must look to come out and attack his Spanish rival. He is the one player who can plant doubt in Nadal's mind. He must not look to feel things out or try to trade mistakes. Then he would find himself trailing a determined rival.
Djokovic would like to pen Nadal into his deuce corner but needs to also get him running as much as possible. The retriever will likely lose.
Mostly, it must be Novak being Novak. If his forehand is sharp and he is locked into the match with several chest-thumping shots, he will win.
Prediction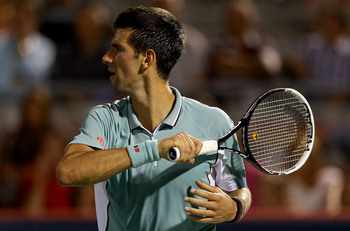 Matthew Stockman/Getty Images
Djokovic is the better player with their rivalry on hard courts. He is the ideal matchup difficulty for Nadal regardless of where they play but can control his destiny when he plays his best tennis on cement. Revenge factors also will not figure here. They have basically thrown the worst kinds of heartbreaks at each other, and this is not a Grand Slam final.
Nadal has been better than advertised this week. He is getting stronger, and it's hard to see him going without several great flashes of his own abilities. He has to like the fact that this will be only best of three. He is looking recharged and playing without the knee bandage.
The match is certainly capable of going the distance. Could a tiebreaker in one of the sets determine the match? In a short match, there's a good chance one of them will seize the early advantage and ride to a solid victory. Djokovic is more likely to do this.
We would like to see a close match, and I think we will get it for a great first set. Then the winner can relax a bit more and crank up the pressure. Give it to Djokovic in two tough sets.
Still, Nadal will like his progress and keep building to do greater things at the U.S. Open.
Keep Reading