Takeaways from Friday Night's NFL Preseason Week 1 Action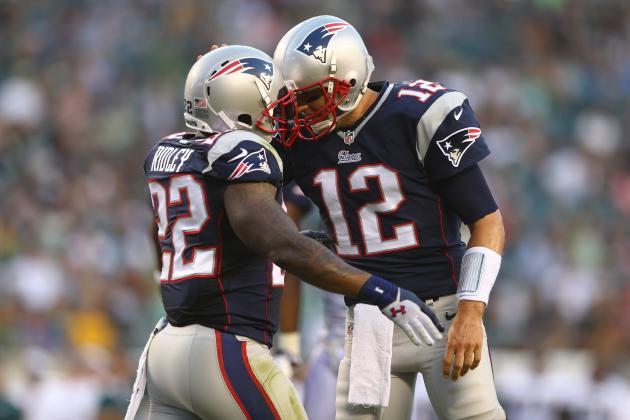 Elsa/Getty Images

Let there be football. Finally.
It might have only been Week 1 of the NFL preseason, but don't act like you weren't excited. Therefore, we have to dig deeper into the first competition in ages to mine some meaningful nuggets of information from a football-heavy Friday.
As we all know, there was a ridiculous number of players who saw playing time Friday night. This is not an article based on all of those players.
This slideshow is meant to highlight those interesting tidbits that might actually mean something going forward. Then again, this is the preseason, which probably has more in common with the NBA Summer League than it does with the NFL regular season.
But who cares? We have football!
That also means we have something to analyze. So click through to find out what lessons we learned.
Begin Slideshow

»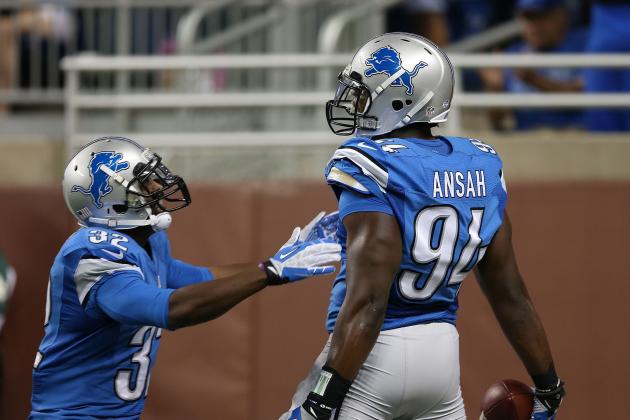 Leon Halip/Getty Images

The Detroit Lions need to work on their communication skills. It appears that their new guys didn't get the memo.
Reggie Bush was signed to give the Detroit Lions what they had been looking for since prematurely losing Jahvid Best. Apparently, he'd rather run the ball.
Against the New York Jets, he took handoffs and darted through holes between the tackles. He hurdled defenders like it was 2006.
To put it simply, Bush wants to run, and based on the play-calling, offensive coordinator Scott Linehan is on board with that. On the opposite side of the ball, Ezekiel Ansah was supposed to be exciting but raw.
On his first defensive series, Ansah recognized he wasn't going to get to Mark Sanchez. So he watched the quarterback's eyes, picked off his pass at the line of scrimmage and took it to the house.
But his best plays happened later when he fought off stalwart offensive tackle D'Brickashaw Ferguson's block and stuffed a running play. If he's going to start making both the exciting and seemingly routine plays already, Detroit's defensive line will finally live up to its billing.
The city may be bankrupt, but the Detroit Lions' recent additions are looking to pay immediate dividends.
Yes, I had to write that line.
Leon Halip/Getty Images

Mark Sanchez apologists would point to his final numbers as proof that it's too early to pull the plug. Why would you hand the New York Jets over to a rookie when Sanchez completed 10 of 13 passes and tossed a touchdown?
Because the biggest problem with Sanchez's game has been turnovers. Sanchez should have had two against the Lions.
Shortly after the first pick (see last slide), Sanchez attempted another dumpoff-type pass. And again, another Detroit Lion (safety Glover Quin) was ready to pounce.
Had there not been a solid hit from Sanchez's intended target, there would have been two interceptions and possibly no chance for the embattled incumbent to "redeem" himself.
Additionally, don't forget that Detroit's strength is not its backup secondary. The holes in the zone were huge, leaving his short-term memory as the only truly impressive part of his game Friday.
But is Geno Smith ready to lead this team? Maybe not.
Smith didn't look comfortable in his first NFL action (understandable) and left the game with an ankle injury. So the question really is whether or not the Jets have anyone who can handle the quarterbacking duties.
At least this magical ride of a season could end with winning the Jadeveon Clowney's sweepstakes. At least he knows what to do with quarterbacks.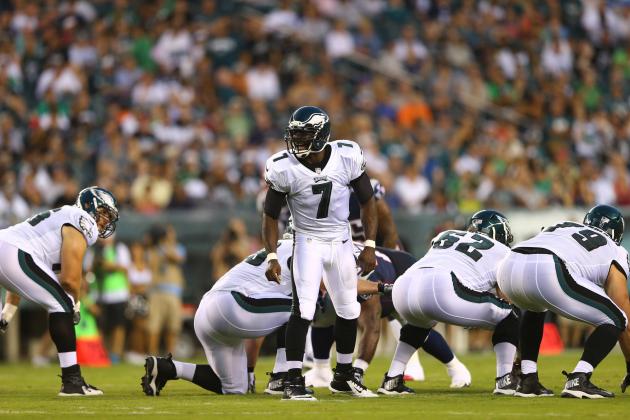 Elsa/Getty Images

Chip Kelly feels Rex Ryan's pain. He's no closer to naming a starting quarterback than his New York Jets counterpart, but for a much different reason.
Michael Vick looked comfortable, made solid decisions and delivered the ball effectively. In fact, his touchdown pass was one of the prettiest you'll see all season. It was a perfect throw that was placed only where his receiver could catch it in stride.
However, Vick's offense didn't resemble the hike-the-ball-ASAP offense that we expect from a Kelly team. It was a more deliberate approach that leads me to wonder if Kelly doesn't believe that Vick can handle his scheme.
Conversely, Nick Foles stepped in and the tempo increased to Oregonian levels. The plays were flying in while Foles nickel-and-dimed his way down to the field to a score.
It's still anybody's race at this point, but I'd lean toward Foles based solely on the style of offense he ran.
Unfortunately, it might not matter who wins out because the real story of the night was the Philadelphia Eagles defense. The unit looked overmatched in every aspect, whether against the running game or passing game.
I'm going to continue to shout that the acquisitions of defensive/nose tackle Isaac Sopoaga and outside linebacker Connor Barwin were whiffs. For whatever reason, both players are expected to be significant contributors when neither was particularly good when playing with better players in San Francisco and Houston, respectively.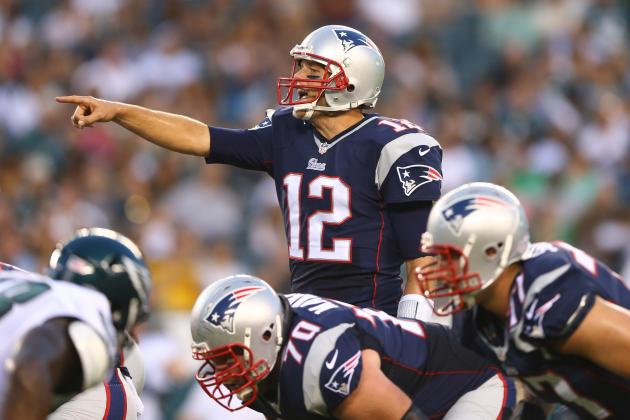 Elsa/Getty Images

Remember how we all lamented Tom Brady's lack of receiving options? Nobody remembers that?
Turns out, when you have Brady under center, it doesn't matter to whom he's throwing. He finds the square-foot window that will result in a completion every time and nails it.
But don't take all this gushing as an indictment of the Pats wide receivers.
Rookies Kenbrell Thompkins and Aaron Dobson displayed some pluck, holding onto balls in high-traffic areas. It will be interesting to see what happens when they get more on-field time with Brady.
Another interesting lesson is that the Patriots lost Danny Woodhead and still boast one of the deepest backfields in the league. LeGarrette Blount is an excellent third-string running back behind Shane Vereen and Stevan Ridley.
Why were we ever worried about the Pats offense again?
Harry How/Getty Images

You know who else is still a pretty good quarterback? That Aaron Rodgers fella.
We take him for granted now. The media (unfortunately, me too) has moved on to the hip, new signal-callers that burst onto the scene last year.
Don't blame us. Fresh is always more fun.
But watching him work against the Arizona Cardinals defense was a reminder that he isn't going to miss Greg Jennings that much. He can lead powder-puff teams on scoring drives against NFL defenses.
However, comparing Rodgers and Brady's situations wouldn't be accurate. Brady wishes he got to throw to the likes of Randall Cobb and James Jones (last seen hauling in a bomb Friday night).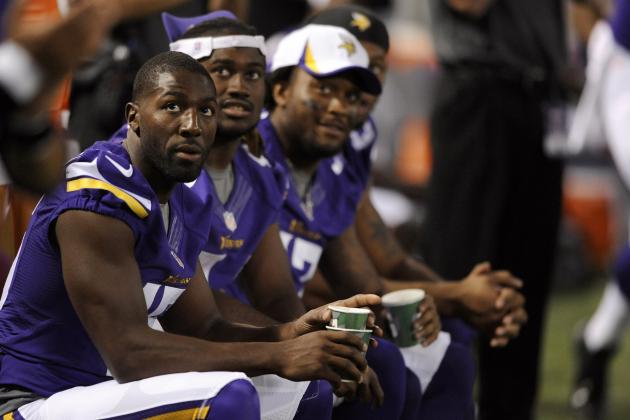 Hannah Foslien/Getty Images

Speaking of Greg Jennings—yikes. This whole "brainwashing" thing has me wondering if he wears tin-foil hats and leaves glasses of water all over the house.
Regardless of his relief about leaving Green Bay, he couldn't have been too excited about what he saw from his quarterbacks.
His starting signal-caller posted a 35.4 rating. Although, it should probably be noted that he only threw two passes. That seems important.
But at least the backup threw for 212 yards!
True, but 61 (61!) of those came from the fullback. That also seems important.
The quarterback scenario in Minnesota doesn't have the "competition" aspect of New York or Philadelphia, but it seems just as dire. Friday night didn't help.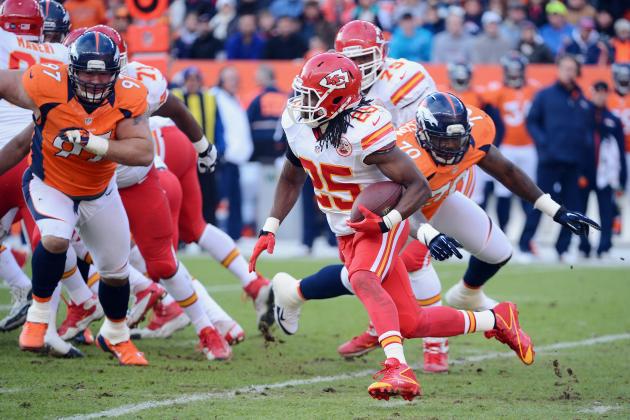 Garrett Ellwood/Getty Images

Every winning team usually boasts solid chemistry. But the Kansas City Chiefs might do better than that if quarterback Alex Smith and running back Jamaal Charles keep this up.
These guys could become best friends.
Smith is a short-to-intermediate passing technician. He almost does it without emotion and certainly without pizzazz.
But that's where Charles takes over. He'll take those dump-off passes and generate crazy gains out of nothing.
He'll be the ying to Smith's yang.
Better yet, they're the gridiron version of MTV's Rob and Big.
I might have to claim I had an original Chiefs starter jacket and sneak my way onto the bandwagon before anyone realizes I wasn't there last week. That's how good these guys could be.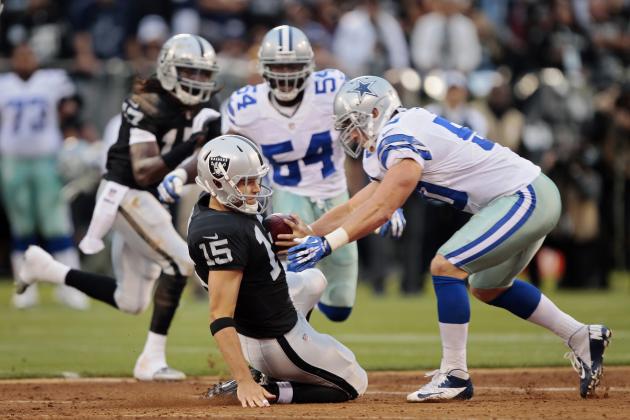 Brian Bahr/Getty Images

It seems that any conversation about the Dallas Cowboys always centers on Tony Romo and the offense.
While the offense has the name-brand recognition, it's going to be the Dallas defense the puts this team back in the NFC East hunt.
The Oakland Raiders (I know, it's the Raiders) found out quickly. On their first drive, the Cowboys simply overwhelmed the offensive line, leading to a Matt Flynn fumble.
The playmaking Cowboys are nothing new; they're just new to you. If defensive lynchpin linebacker Sean Lee hadn't gone down early last season, you might have already known this.
Now, with him back in the fold and defensive lineman Jason Hatcher ready to make himself a household name, the defense will be taking the game out of Romo's hands and putting it back where it belongs.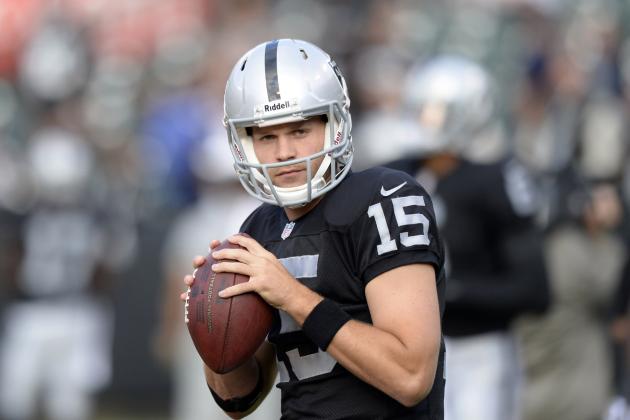 Bob Stanton-USA TODAY Sports

The news of rookie quarterback Tyler Wilson's demise has come quickly—almost more quickly than the assumptions that he was going to challenge Matt Flynn for the starting job.
Now, after watching Terrelle Pryor throw across his body in a tightly packed end zone for an interception, it seems that Flynn has absolutely nothing to worry about.
He wasn't spectacular, but he was competent. For the Oakland Raiders, that's enough.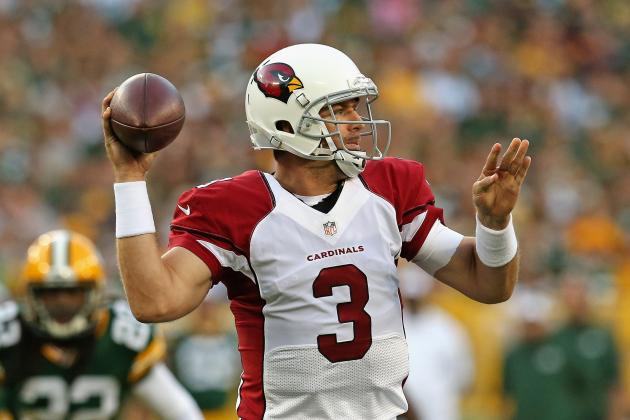 Jonathan Daniel/Getty Images

There aren't nearly as many holes in the Arizona Cardinals roster as you would think. In fact, there are more strengths.
The offense actually resembles a professional football offense with new quarterback Carson Palmer. It's all very reminiscent of another rejuvenated old man who found success in the desert during the twilight of his career.
Don't believe me? Watch the tape of his long touchdown toss to Andre Roberts. Then remember that Larry Fitzgerald lines up on the other side.
Additionally, there was defensive lineman John Abraham crashing around the end and ripping the ball loose. The defense will struggle in spots, but with Patrick Peterson in back, Daryl Washington in the middle and Abraham up front, the cupboard isn't bare.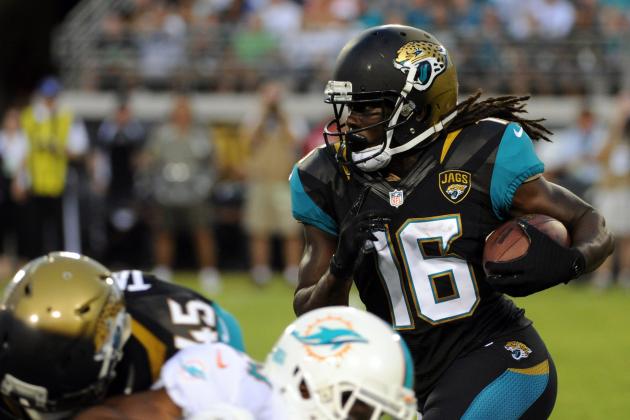 Melina Vastola-USA TODAY Sports

There was a time when the Jacksonville Jaguars were relevant. It's just getting more and more difficult to remember.
However, Jags fans can now rejoice. They finally have a reason to enjoy watching the team again.
Denard Robinson lived up to the hype on one play. He took the ball, started toward one sideline and then reversed course before anybody else could figure out what happened. He didn't finish in the end zone, but the play lit a spark of excitement.
Granted, it was only one play, but that should be more than enough for Jacksonvillians. Especially after the poor "quarterbacking" display put on by Blaine Gabbert and Chad Henne.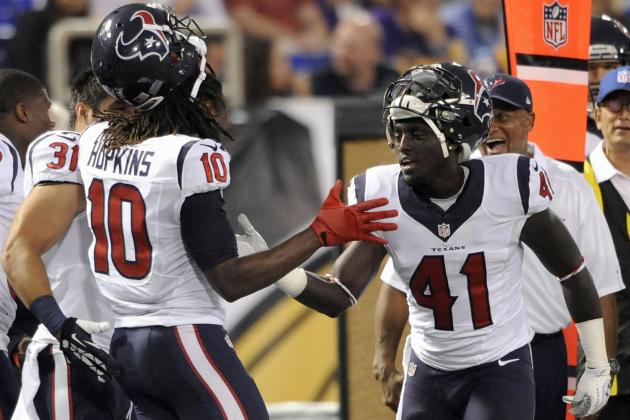 Hannah Foslien/Getty Images

The Houston Texans have had a playoff fever for the past few years. They haven't been able to shake it and advance to the Super Bowl.
Obviously, the only prescription was more cowbell—I mean a wide receiver to exploit all the coverage focused on Andre Johnson.
Now, after months of speculation, we have proof that they found that magical musical instrument.
DeAndre Hopkins has fit the bill, at least for one night. He brought in four passes for 52 yards, including a 34-yard score. More importantly, he presented a credible threat opposite the aging Johnson.
Somewhere, quarterback Matt Schaub and offensive coordinator Rick Dennison are practicing their Christopher Walken impressions—and grinning like Jimmy Fallon in the middle of a skit.