Players Who Minnesota Timberwolves Most Need to Step Up Next Season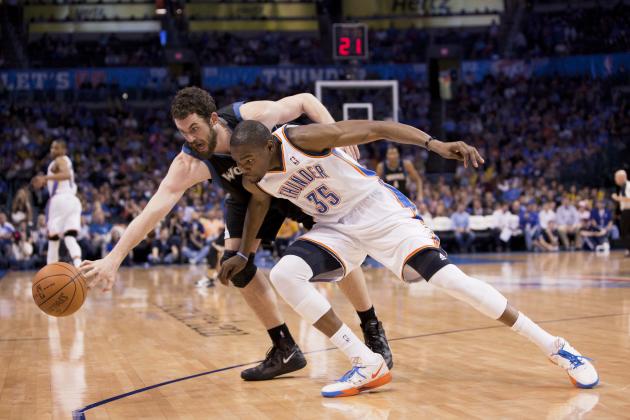 Richard Rowe-USA TODAY Sports
A healthy Kevin Love is a great starting point for the 2013-14 season for Minnesota
All the demons have been exorcised, all the hearts have been broken, and hopefully all the injuries have gotten out of the way.
A full healthy season and a playoff berth isn't too much to ask for, right?
Fresh off their first 30-win season in franchise history without Kevin Garnett on the roster, the Minnesota Timberwolves will need a handful of players to take a big step forward for the team to improve once again. Last season was doomed from the start with Love and Rubio both out on opening night. This year, there are no excuses.
This very healthy (knocks on wood), and talented squad is once again being overlooked. Minnesota had a very productive offseason, filling every need they had. The last thing to do is stay on the court and let the bunch jell together.
Without further adieu, these are the players the T-Wolves most need to step up in order to vault themselves back into the postseason.
Begin Slideshow

»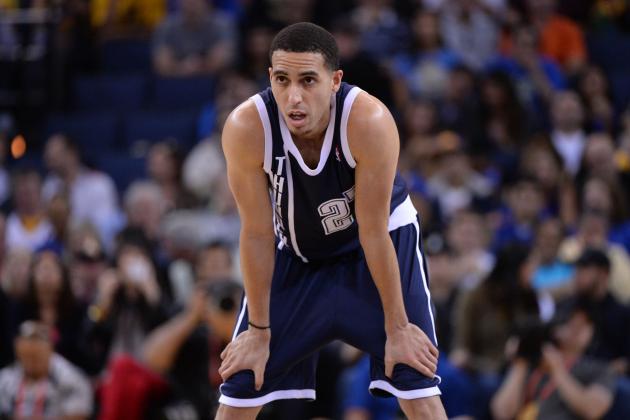 Kyle Terada-USA TODAY Sports

The abysmal 30 percent three-point shooting is now a thing of the past.
That is all Minnesota could muster from downtown last season. It was no secret heading into this offseason what the team's biggest need was.
Enter Kevin Martin.
Martin is very familiar with Rick Adelman's infamous corner offense, having already suited up for him while he was coaching with Sacramento and Houston. His 43 percent three-point shooting last year will be a nice breath of fresh air.
Minnesota gave him a lot of money to pry him from division rival Oklahoma City. At four years and $28 million, Adelman will be expecting more than the 14 points per game scorer from last season. Fans will expect more of the player who has averaged over 20 points in five of his nine seasons.
We will also need to see more of the player who led the league in free throws just two seasons ago. Martin averaged just over three free-throw attempts per game this past season, a far cry from the player who once averaged over ten per game in the 2008-09 season.
If Martin can consistently attack the rim off the dribble, it will give Minnesota an added dimension from the perimeter. They don't really have any player who can do that, so if Martin can fill that role it would be just as valuable as his outside shooting.
Having someone who can collapse the paint and handle the ball other than Ricky Rubio will help spread the floor for everyone. Martin is in a position to be a huge part of this team. He does have a history of injuries, but we can only hope he can continue to avoid that and stay on the court.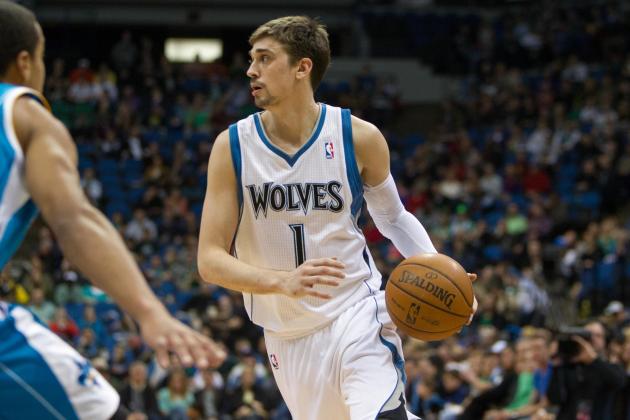 Brace Hemmelgarn-USA TODAY Sport

The logjam at point guard has been somewhat alleviated with Luke Ridnour's departure to Milwaukee in the Kevin Martin sign-and-trade.
Last season, we saw glimpses of excellence from the rookie out of Russia. With a little more confidence, who knows just how good Alexey Shved can become.
Before hitting the proverbial rookie wall, Shved was a crucial member in Adelman's rotation. He proved to be much more of a pick-and-roll threat and a legitimate ball-handler than originally thought.
The scouting report on Shved coming overseas was that he was a great outside shooter. He did nothing to disprove that until the calendar flipped to 2013. Shved shot well under 30 percent from outside over the last four months of the season.
With a full season under his belt and without fellow Russian Andrei Kirilenko by his side, Shved will need to step up and assume a larger role with the team this year. He must come into camp stronger and ready to compete for a full 82 games.
Minnesota needs Shved to improve in all aspects and become more comfortable handling the pressure of guarding the league's premier shooting guards. It is assumed that first-rounder Shabazz Muhammad will need to marinate a little before he is ready for prime-time, so Shved will need to be a primary option off the bench in the backcourt.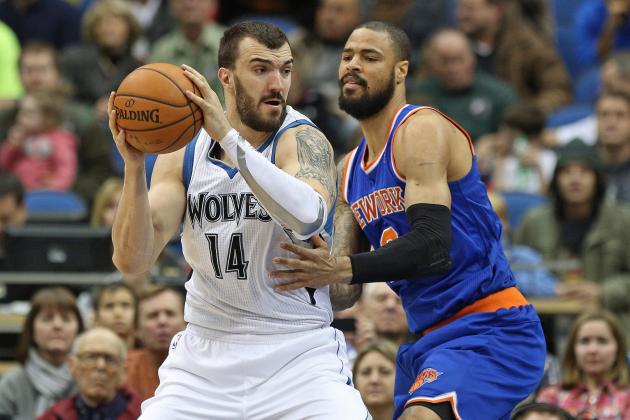 USA TODAY Sports

The mini offseason overhaul will be officially complete if and when Nikola Pekovic ever re-signs with Minnesota.
Pekovic is still holding out hope that Minnesota will bump their offer up to $15 million annually. For a hulking big man who gets dinged up as much as Pek, that is an astronomical number.
All signs point to Pekovic eventually re-upping in Minneapolis once he gets his expectations in line. Whether or not he gets the money he is asking for, he is due to become a very rich man.
With big money comes big expectations.
Pekovic will enter his age-27 season with more pressure than ever. After going back and forth with Flip Saunders this long, his previous season of 16 points and nine rebounds per game will have to be improved upon if he is to live up to his deal.
We all know what Pek can do on offense. He is an automatic finisher around the rim and he can set picks strong enough to wipe out the Target Center.
For $15 million a year, he had better step up his game on the defensive end. His limited leaping ability will mostly keep him from averaging more than one block, but he could stand to improve much more from an overall defensive standpoint.
Pek is no longer the underrated former second-round pick who carved out a niche on this team. He is now a cornerstone player being paid with the top tier of centers across the league. His numbers will be expected to swell up just like his bank account.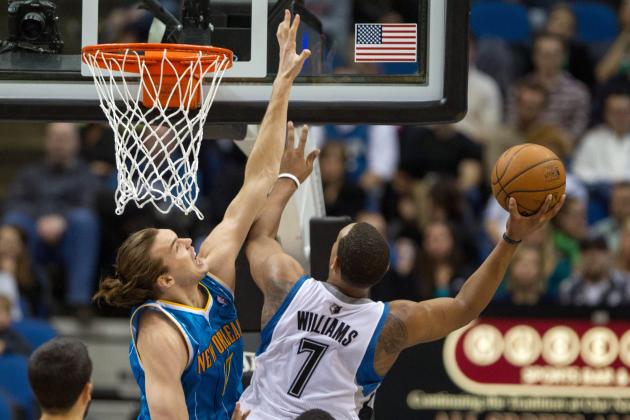 Brace Hemmelgarn-USA TODAY Sports

Former No. 2 overall pick Derrick Williams improved pretty significantly last season from his rookie campaign.
Williams upped his scoring and rebounding to 12 points and 5.5 rebounds per game even though his minutes were barely increased. He also got his three-point percentage to a respectable 33 percent. With Kevin Love out, D-Will started 56 games and got in a groove after the All-Star break, averaging 15 points and 6.3 boards.
The main issue with Williams has been that he has yet to shake the role of being a "tweener". He looks to be adept at playing small forward on offense, but on defense is better suited guarding fours. With Andrei Kirilenko in town last season, Adelman could mask any defensive deficiencies Williams had.
Corey Brewer is now back and will fill a similar role to Kirilenko's, but Williams needs to get better regardless. Adelman gained more confidence in him throughout the season, a far cry from his rookie year.
Lest not forget D-Will just turned 22. Forwards typically take longer to develop in the NBA as it is, and he is no exception. The more comfortable he becomes, the more we will see this D-Will.
If Adelman loosens the shackles a little bit more this year, he would be diving into an untapped resource. Williams is the most dynamic athlete on the team. If he can come into his own a bit more on defense, he will earn himself more playing time, especially in the fourth quarter.
This man was not drafted second overall to be a role player. He still has superstar potential. For now, developing into somewhat of a sixth man would be the best case scenario for this team.
It is likely that Brewer or Chase Budinger will seize the starting small forward spot, but this is the time for Derrick Williams to step up and become a big scoring threat off the bench for this group of young Timberwolves.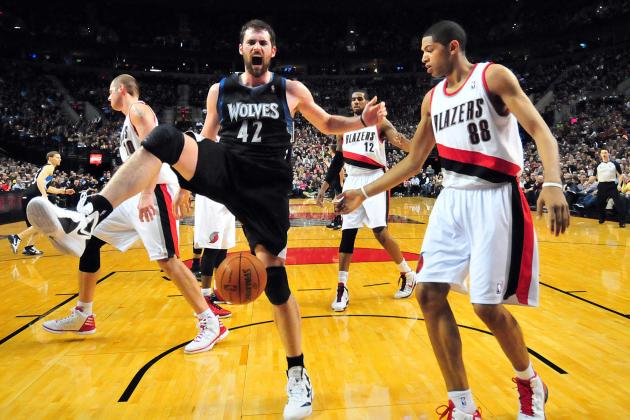 Steve Dykes-USA TODAY Sports

This season starts and ends with this man.
The fiery, relentless and budding superstar that we saw develop right before our eyes the previous two seasons had the rug pulled out from under him last year. It was an 82-game slate he hopes to quickly forget.
The pieces are all there. Al Jefferson was shipped out to let him shine. D-Will was drafted to complement hi,s game. Pekovic is about to become a very rich man to fortify the paint and play off of him. Kevin Martin was brought in to spread the floor for him, and Ricky Rubio was brought overseas to make his life easy.
It will all be for naught if the two-time All-Star does not play up to his otherworldly potential this year.
Kevin Love was a shell of his former self last season after a pair of broken hands. He has done a lot of talking about how badly he wants to take this team to places they have never been, but now is the time to show it.
Every piece is in place. Maybe the finals are a bit out of reach right now, but on paper it would be hard to find a reason why expectations can't be that high.
This group will go as far as Love takes them. He has to be a leader in every sense of the word. Rubio and the rest of his running mates will be right there with him, and it should be fun to what Minnesota's first superstar since KG can do with this team.
In order to improve, Love needs to understand that he has weapons at his disposal now. He does not have to jack up 25-30 shots a game and can instead focus on taking 18-22 good ones. Efficiency is the name of the game for him now.
We know he is a talented passer, but that aspect of his game has not been utilized much so far in his career. If he can develop that part of his game much like Kevin Durant did last year, it will push his superstardom to the next level.