Shane Vereen Leads 5 Most Exciting New England Patriots to Watch This Preseason
Jim Rogash/Getty Images

The New England Patriots kick off their preseason Thursday night against the Philadelphia Eagles. That's right, it's time for football tonight. Not practice. Not training camp. Football.
The preseason has finally arrived and players will get to compete against members of another team for the first time.
Officials will keep score, but nobody really cares about that. Fans want to see new faces for the first time. They want to see if breakout players can meet the hype. They want to see who stands out during the next four weeks and who will win roster battles.
The Patriots have some spellbinding competition happening right now. The receiving corps is wide open. The defense is in flux. Tight end has become a tight race.
With so many players vying for a role and so few roster spots to go around, this should be one of the most spirited preseason competitions the Patriots have had in quite some time. Regardless of who wins their respective positional battles, it will be a very exciting several weeks.
Here are a few players most worth watching this preseason. Some are new, others are veterans primed for a big year, but all of them should bring excitement and intensity to the field.
Begin Slideshow

»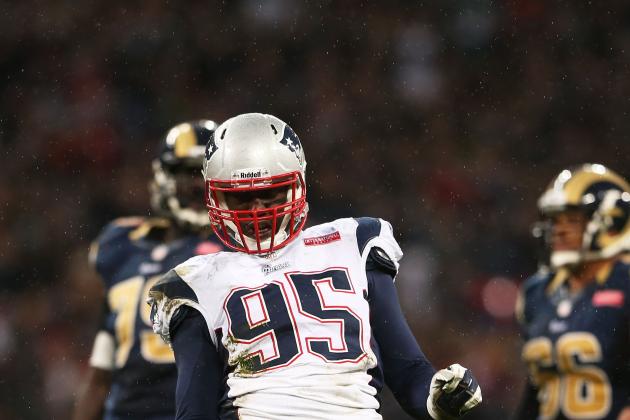 Scott Heavey/Getty Images

Jones raised eyebrows when he showed up to OTAs noticeably bigger. NESN's Luke Hughes reported Jones arrived 10 pounds heavier than last season.
Jones maintains he hasn't lost any of his burst or speed because the weight was all muscle. Thanks to his offseason regimen and increased familiarity with the playbook, Jones expects big things from himself in his second season.
History supports his belief. J.J. Watt, Cameron Wake, DeMarcus Ware and Mario Williams all made great strides in Year 2, crossing the double-digit sack threshold for the first time.
More pressure from Jones would go a long way toward re-establishing a heavy pass rush. Of all the players on New England's defense, he seems poised for the biggest leap this year. Look for him to begin his ascent against the Eagles tonight.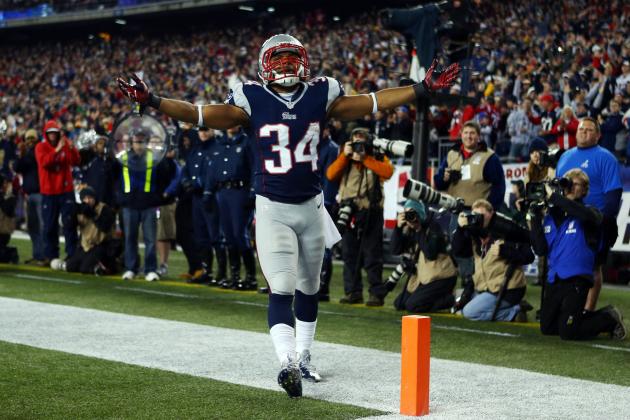 Elsa/Getty Images

Of all the veteran players on the Patriots roster, Vereen may be due for the greatest boost in production. With Danny Woodhead out of the picture, most fans assumed Vereen would slide into his role as the change-of-pace back and receiver in the flat.
If training camp is any indication, however, he'll be asked to do even more than that. In early July, NFL.com reported that Vereen spent a good chunk of OTAs lining up outside as a wide receiver. The Boston Herald's Karen Guregian notes he's continued doing so during training camp as well.
Vereen flashed impressive receiving skills during last year's playoffs, when he caught five passes for 83 yards and two touchdowns.
He should be fun to watch this preseason as the Patriots experiment with different ways to move him around the formation. His speed and quickness will create a bevy of coverage mismatches, and if New England's past usage of players like Woodhead and Aaron Hernandez is any indication, the Patriots will find as many ways as possible to exploit them.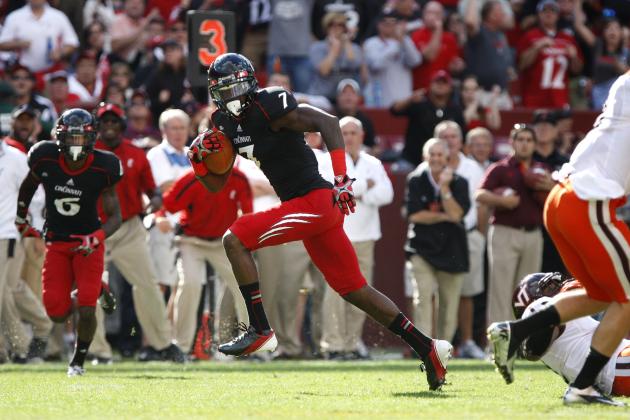 Jonathan Ernst/Getty Images

Possibly the biggest breakout star thus far in Patriots camp, the undrafted rookie out of Cincinnati will look to build on his performance during game action over the next four weeks. The Boston media has been raving about him throughout camp and it seems the Patriots share that enthusiasm.
NESN's Doug Kyed reports that Thompkins ran with the starters during training camp and donned a white jersey, teaming with Tom Brady and the first-team offense during a split-squad scrimmage last week.
At this point, the draft-day afterthought may very well have the inside track on the starting role opposite newcomer Danny Amendola. As Kyed notes in his report, Thompkins has lined up all over the field, standing out for his ability to do essentially everything.
He's earned praise for his precise route running, his dependable hands, downfield explosiveness and knack for making the tough catch. The ongoing competition between Thompkins and Aaron Dobson should be the most compelling roster battle to watch this preseason.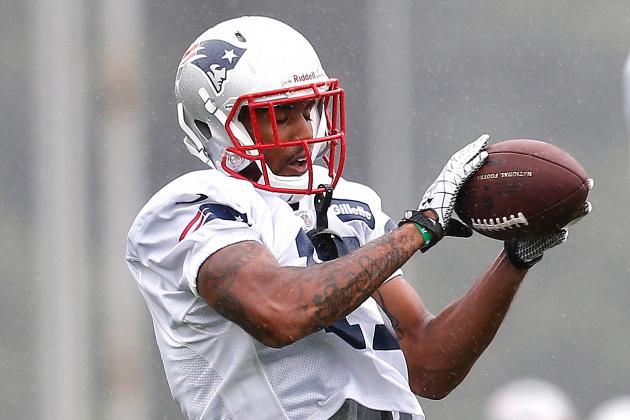 Jim Rogash/Getty Images

New England's second-round draft pick from Marshall, Dobson has an opportunity to claim a huge chunk of playing time during the preseason and ultimately the regular season as well.
He hasn't been as consistent as Thompkins and doesn't elicit the same praise among area reporters, but Dobson has been impressive in his own right. He's spent time with the first-team offense and has the ideal skill set for an outside "X" receiver.
He can run, jump and catch. He can make tough plays and bring down the ball in traffic. He can make highlight-reel plays and reignite the Patriots' downfield passing attack.
Those skills have all been on display early, causing NESN's Doug Kyed to call him one of the stars of training camp. Dobson took his act on the road this week when the team joined the Eagles in Philadelphia for a series of joint practices leading up to tonight's game. According to Dan Roche of CBS Boston, he wasted no time making his presence felt, producing a breathtaking catch along the sideline.
With the preseason upon us, Dobson will finally get a chance to put his talents to use in game action. He may be the most exciting player to watch over the next four weeks.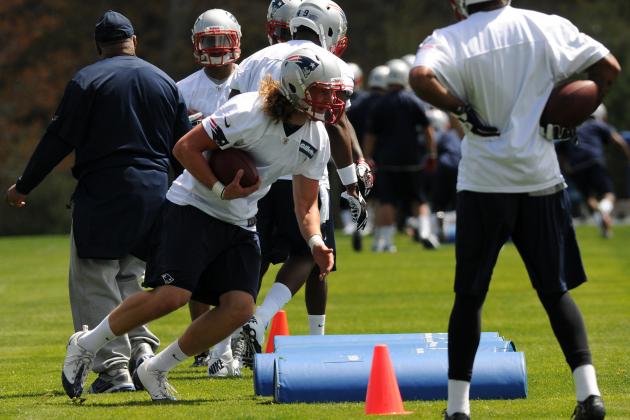 Bob DeChiara-USA TODAY Sports

Were it not for the flowing mane cascading out the back of his helmet, the 6'7", 260-pound Sudfeld might fool a few fans into thinking Rob Gronkowski was already back on the field. In fact, I opined back in June that the rookie would serve as a viable replacement for the All-Pro.
One of my offseason breakout players, Sudfeld has exceeded even my most optimistic timetable and appears on the verge of earning a starting job right out of the gate.
The Boston Globe reports Sudfeld has been running "exclusively with the starters" in camp, showing off his impressive speed and catching everything thrown his way. With Gronk on the mend, Sudfeld is poised to burst onto the national scene this preseason.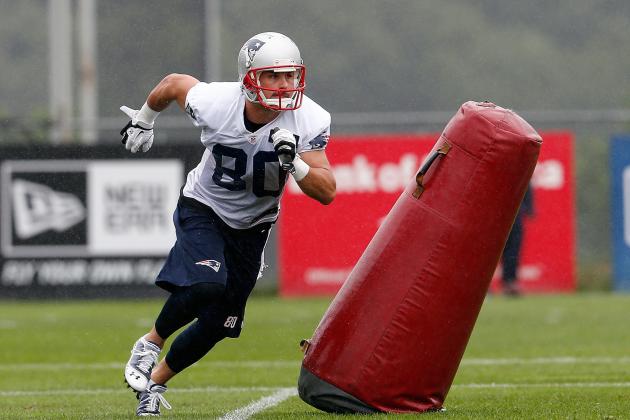 Jim Rogash/Getty Images

Jamie Collins: The rookie linebacker has flown slightly under the radar during camp. Fans are hoping to see some of the pass-rushing skills that made the Patriots draft him in the second round.
Danny Amendola: He already has a job locked up, but it will be interesting to see how well he and Brady adjust to each other.
Logan Ryan: The third-round cornerback from Rutgers wasn't expected to play a major role as a rookie, but with Alfonzo Dennard facing a possible suspension, Ryan may be forced into action sooner than expected.