UFC Fight Night 26: Fun Facts and Stats Heading into Shogun vs. Sonnen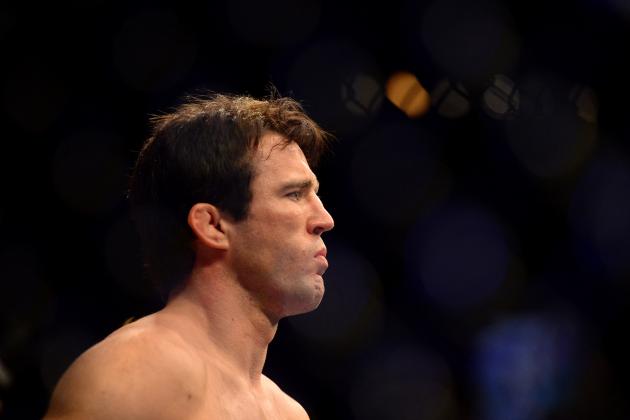 Mark J. Rebilas-USA TODAY Sports

The UFC is headed to Boston on August 17. The fight card, headlined by a light heavyweight bout between former UFC light heavyweight champion Mauricio "Shogun" Rua and Chael Sonnen will mark the promotion's first event on the Fox Sports 1 network.
The UFC has a stacked card in store for those who will tune in to the new sports network. So, why not invite some friends over to watch the night's bouts?
But first, read the following primer and impress your friends with your knowledge of some of the main card contestants.
*All stats via FightMetric.com
Begin Slideshow

»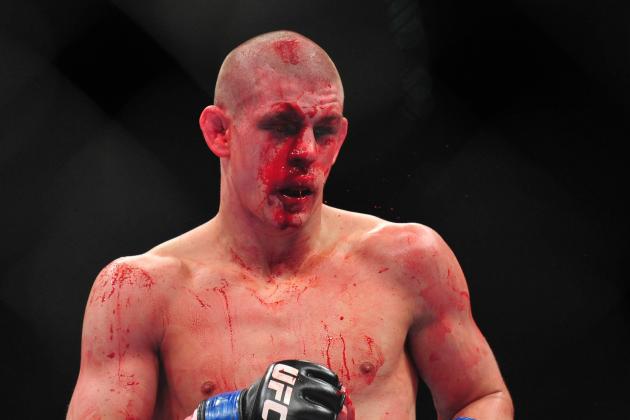 Gary A. Vasquez-USA TODAY Sports

Anderson Silva had a chance to break the tie he and Joe Lauzon were locked in, but Chris Weidman prevented that from happening when he knocked out Silva at UFC 162. That loss left Silva without a Fight Night bonus, keeping him at 12, the same number as Lauzon.
Lauzon will look to break away from Silva when he meets Michael Johnson at UFC Fight Night 26. Lauzon's bonus breakdown is as follows:
Submission of the Night: 6
Fight of the Night: 5
Knockout of the Night: 1
Lauzon has one multiple bonus night. His August 2012 submission win over Jamie Varner earned him Submission of the Night as well as Fight of the Night.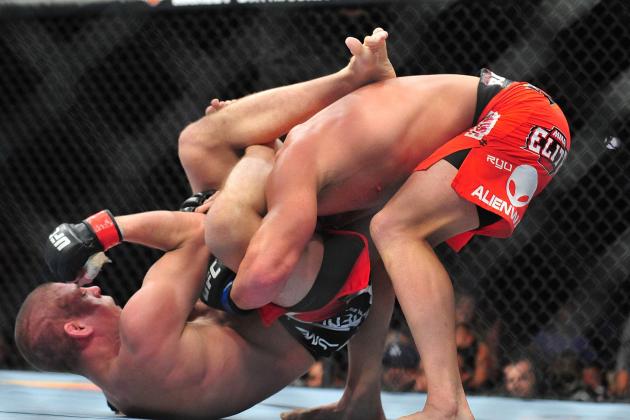 Gary A. Vasquez-USA TODAY Sports

Every opponent that Joe Lauzon has defeated since his professional MMA career began in 2004 has come short of going the distance. Lauzon has 22 wins in his career—four of those have been by knockout and 18 by submission.
In his eight losses, he has gone the distance just twice. His most recent loss was a unanimous-decision defeat at the hands of Jim Miller at UFC 155.
Lauzon's finish-or-be-finished style means he doesn't spend too much time inside the Octagon. His average fight time is 6:28, the lowest average fight time among active UFC lightweights.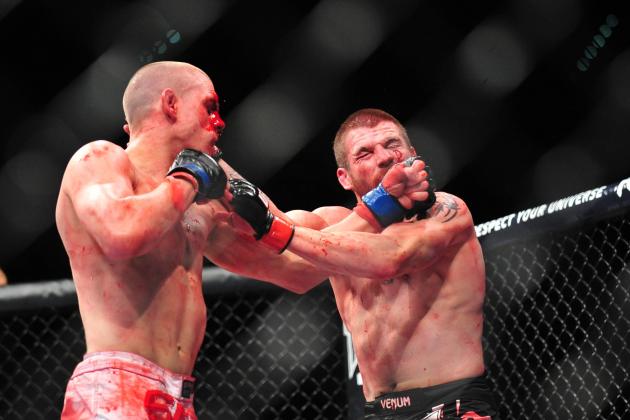 Gary A. Vasquez-USA TODAY Sports

Joe Lauzon has been on the winning end of nine stoppages in the UFC. Seven of those have come by way of submission and two via knockout. That number ties him at the top of the all-time stoppage list in the UFC's lightweight division with BJ Penn.
Depending on how his fight on August 17 ends, Lauzon could stand alone with 10 lightweight stoppage victories.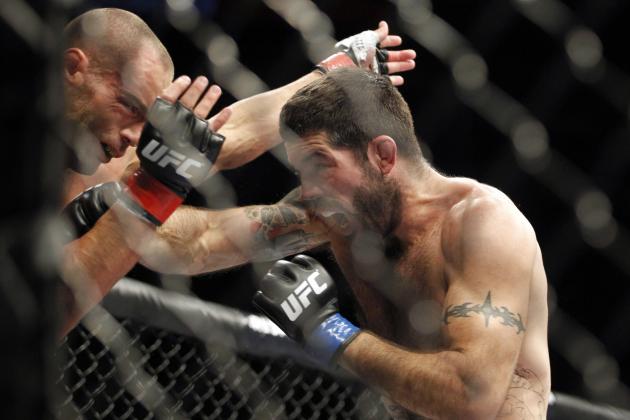 Joe Nicholson-USA TODAY Sports

Off the top of your head, can you name the man who has the most knockouts in the history of the UFC's welterweight division?
If you said Matt Brown, it's either because you are deep into the minutiae of UFC history, or the photo of Brown that accompanies this slide was a dead giveaway.
Either way, Brown is the correct answer.
He has knocked out seven opponents since joining the ranks of the UFC in June 2008. Four of those knockouts have come in his last five fights. His most recent KO came in his last bout, when he TKO'd Jordan Mein at the 1:00 mark of Round 2 of their April 20 fight. The win earned the fighters the Fight of the Night bonus award.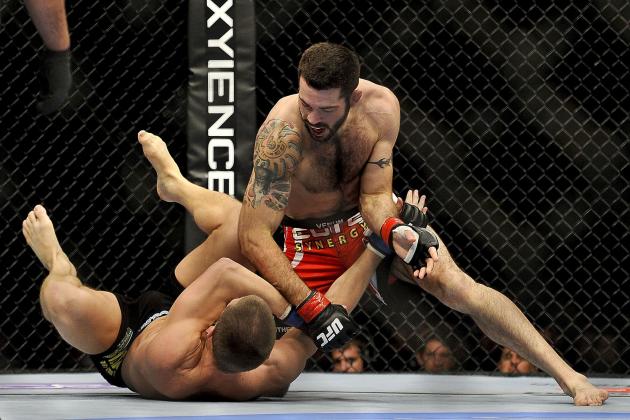 Paul Abell-USA TODAY Sports

I won't test you on this one, because once again the photo is an easy clue as to the answer.
In addition to being the knockout king of the 170-pound division, Matt Brown is the most accurate striker in the division when considering significant strikes. He lands at a rate of 56.7 percent. That number ranks him eighth all-time in UFC history.
The average striking accuracy in the UFC is 42 percent.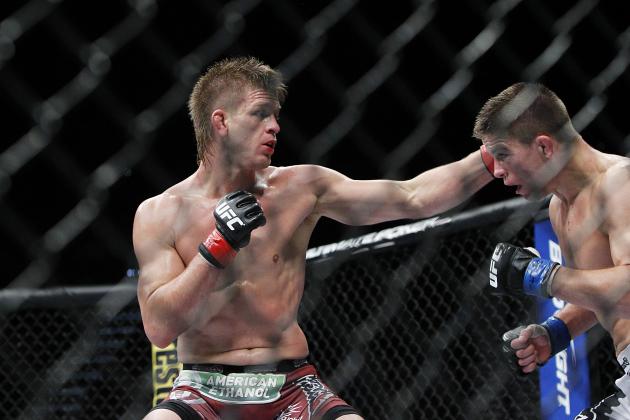 Gary A. Vasquez-USA TODAY Sports

Matt Brown's opponent at UFC Fight Night 26 will be Mike Pyle. Like Brown, Pyle is on a nice winning streak. He has won his last four fights. The last time he tasted defeat was at UFC 133, when he was TKO'd in the first round by Rory MacDonald.
Pyle rebounded well from that loss. His next three fights all ended in the first round. He knocked out Ricardo Funch, Josh Neer and James Head during that run, with two of the TKOs coming before the 2:00 mark of the first round.
Pyle went the distance in his last bout, earning a split decision over Rick Story.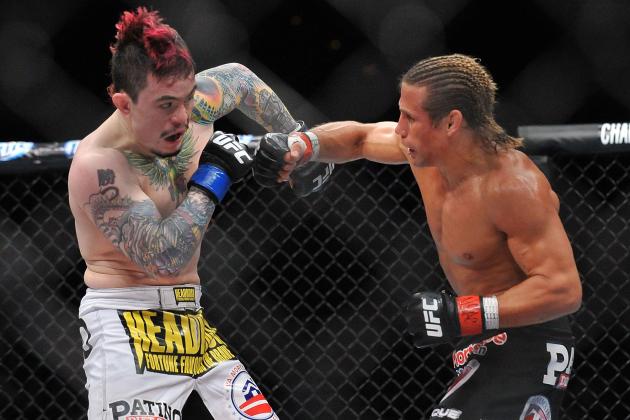 Gary A. Vasquez-USA TODAY Sports

Urijah Faber has a record of 28-6 in his professional career while going 13-5 in the WEC/UFC. The one thing that all 13 of those wins have in common?
Faber outstruck his opponents in each of those victories.
He landed 93 strikes in his most recent outing, a fourth-round submission win over Scott Jorgensen on the finale card of Season 17 of The Ultimate Fighter. That number was the second highest number of strikes landed in his career.
His high came at WEC 34, when he defended the WEC featherweight title against Jens Pulver. He landed 95 strikes in that five-round bout.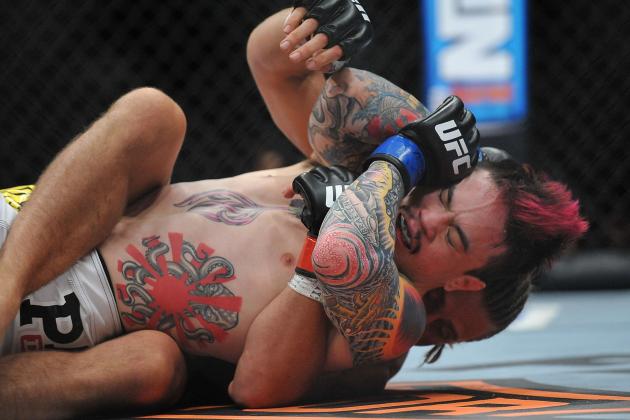 Gary A. Vasquez-USA TODAY Sports

UFC Hall of Famer Royce Gracie holds the all-time record for submission victories in the UFC. He ran up a total of 11 submission victories during his time with the promotion.
Two active UFC fighters are one tapout win away from tying that record. The first is Nate Diaz. The second is Urijah Faber.
Faber's last three victories have all come by way of submission. If he can force Yuri Alcantara to tap on August 17, he will be sitting atop the all-time submission list with Gracie.
The bad news for Faber? Alcantara, a black belt in Brazilian jiu-jitsu, has only one submission loss on his record—a 2009 kneebar submission to Mauricio Reis.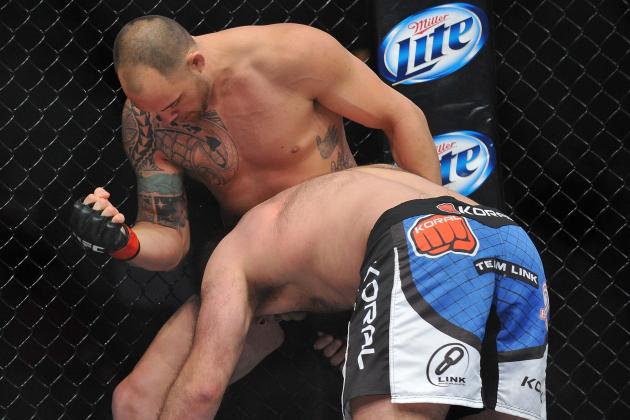 Gary A. Vasquez-USA TODAY Sports

Travis Browne has a career record of 14-1-1. Of those 14 wins, all but two have come before the end of the third round. Of those 12 stoppage wins, 10 have come before the end of the first round.
His quickest stoppage victory in the UFC was his 71-second knockout of Gabriel Gonzaga in April. That knockout was one of only nine knockouts in the history of the UFC to come by way of standing elbow strikes.
Browne's shortest bout was an eight-second TKO over Abe Wagner while fighting for Victory Fighting Championship in February 2010. The win earned him the VFC heavyweight title.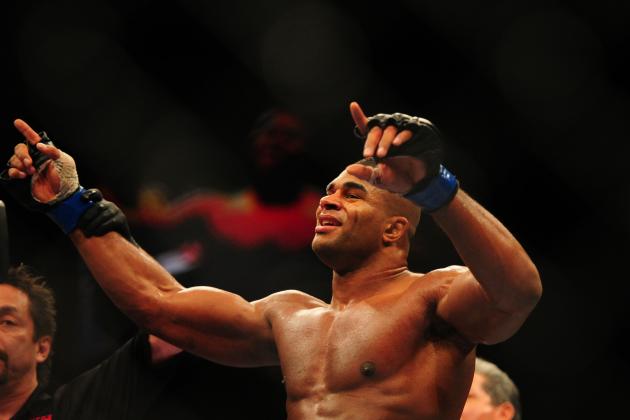 Mark J. Rebilas-USA TODAY Sports

Alistair Overeem has compiled a career mixed martial arts record of 36-12-0-1. Of those 36 victories, 34 have come by way of stoppage. Somewhat surprisingly, Overeem, a noted striker, has more submission wins than knockouts.
Of his 19 submission wins, eight have come via the guillotine choke.
Overeem's finishing rate is an impressive 94.4 percent. His most recent stoppage victory was his December 2011 first-round TKO win over former UFC heavyweight champion Brock Lesnar.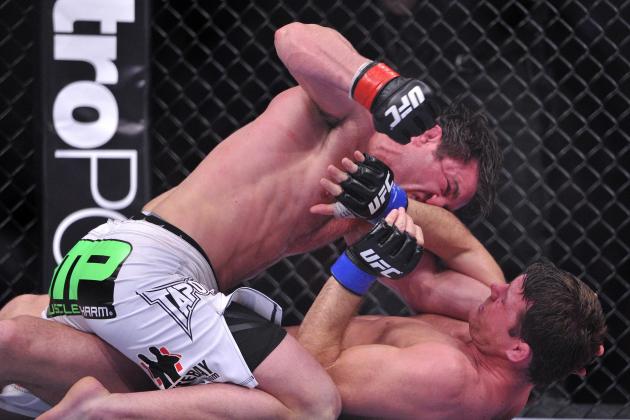 Mike Dinovo-USA TODAY Sports

Chael Sonnen has exactly zero knockouts to his name in the WEC/UFC, but he makes up for his deficiency in power punching with volume.
Sonnen is the second most-active striker in the UFC, averaging 10.4 strikes per minute. The only fighter with a higher average in promotional history is UFC heavyweight champion Cain Velasquez, who averages 14 strikes per minute.
Sonnen is first all time in most strikes landed during a single UFC fight, racking up 320 strikes during his UFC 117 contest with then UFC middleweight champion Anderson Silva.
During his tenure as a middleweight, Sonnen landed 1,300 total strikes, putting him second in UFC middleweight history to Chris Leben's 1,780 strikes.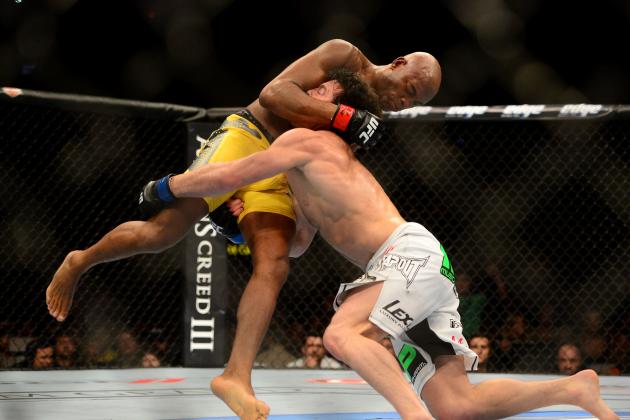 Mark J. Rebilas-USA TODAY Sports

Chael Sonnen's strikes tend to come in close and on the ground—something that Anderson Silva learned at UFC 117.
To get the fight to the mat, Sonnen, an accomplished amateur wrestler, brought his wrestling acumen to MMA. He has earned 35 takedowns as a middleweight, the most in the division's history.
Sonnen's average takedown rate of 4.27 per 15 minutes as a middleweight ranks him second only to Ricardo Almeida's 5.24 per minute.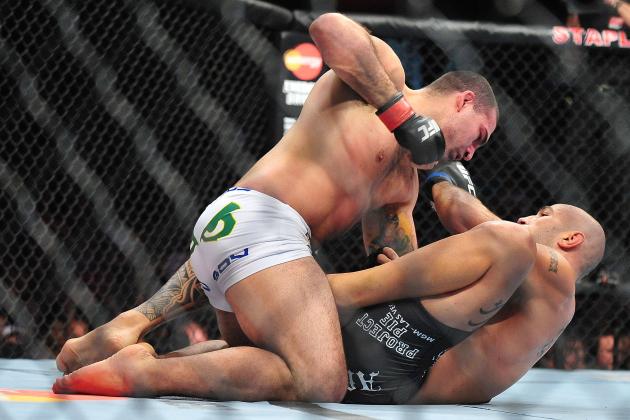 Gary A. Vasquez-USA TODAY Sports

Former UFC light heavyweight champion Mauricio Rua made his professional MMA debut in 2002, scoring a first-round knockout victory. Since then, he has added 17 more knockouts to his resume while running up a record of 21-7.
He has the second-most knockout wins in UFC light heavyweight history with five. UFC Hall of Famer Chuck Liddell is the only man with more at 205 pounds. Liddell accumulated nine KOs during his UFC run.
If you feel like expanding things a bit and include Pride in the equation, then Rua's KO number jumps to 14.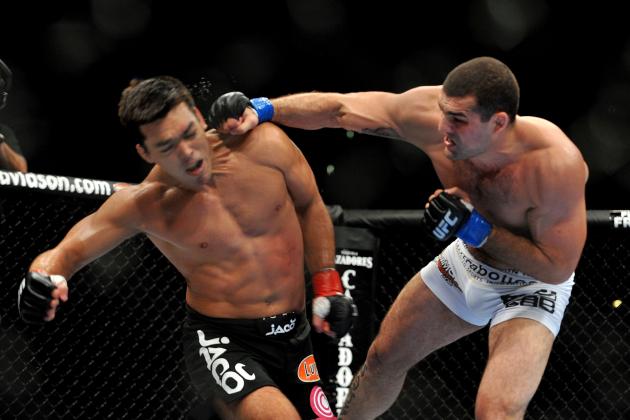 Jon Kopaloff/Getty Images

During his career, Mauricio Rua has earned stoppage wins over six former UFC champions:
Quinton "Rampage" Jackson: TKO at 4:47 of Round 1 at Pride Total Elimination 2005
Kevin Randleman: Submission at 2:35 of Round 1 at Pride 32
Mark Coleman: TKO at 4:36 of Round 3 at UFC 93
Chuck Liddell: TKO at 4:28 of Round 1 at UFC 97
Lyoto Machida: KO at 3:35 of Round 1 at UFC 113
Forrest Griffin: KO at 1:53 of Round 1 at UFC 134