Predicting Which New Jersey Devils Will Compete in 2014 Sochi Olympics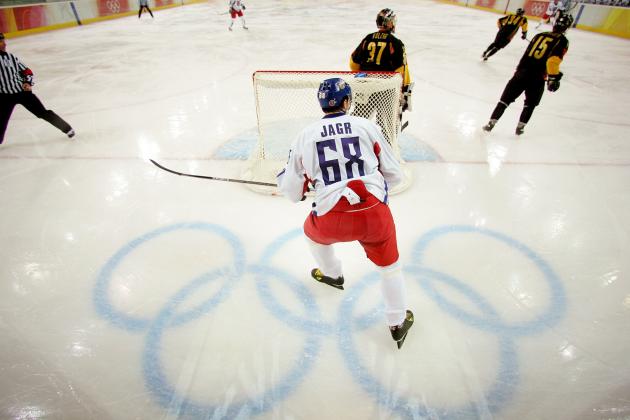 Al Bello/Getty Images

When NHL commissioner Gary Bettman announced a deal allowing the New Jersey Devils, along with the rest of the NHL's franchises, to send their players to participate in the 2014 Sochi Olympics, fans and players alike let out a sigh of relief.
Since the 1998 Winter games, hockey's greatest stars have traded their franchises for their flags, resulting in must-see international matchups.
This time around, the deal between the NHL and the IIHF was delayed as the two sides negotiated a few key issues. The negotiations held up the release of the upcoming season's schedule and at times seemed bleak.
When a deal was finally announced, it was a win for the fans, the players and the sport in general.
Bettman said in a statement, "...Our athletes take tremendous pride in representing their homelands on the global stage" (via CBSSports.com).
The NHL expects to send about 120 players to Sochi to play for the gold. Let's take a look at how many of them could be Devils.
Begin Slideshow

»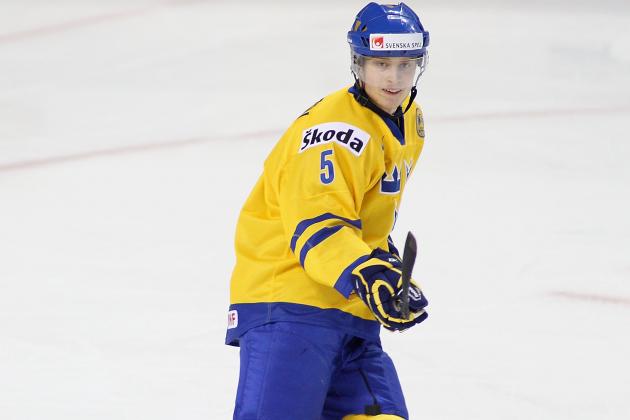 Rick Stewart/Getty Images

When Sweden released its preliminary Olympic roster at the end of July, Adam Larsson's name was not on it. Despite his impressive 2013 campaign, CBC Sports reported that the young defenseman has yet to "gain a secure NHL foothold."
New Jersey's fans know that Adam Larsson is one of the franchise's brightest growing stars. His absence on the 2014 list may not be a shocker to many outside of the state, but he should be a shoe in for 2018.
Olympic Status: Snubbed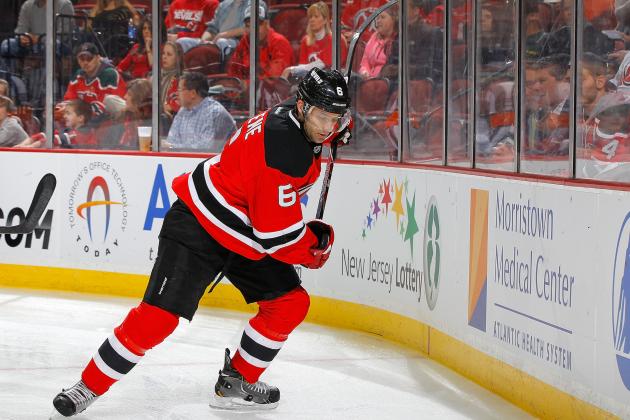 Jim McIsaac/Getty Images

For the second Olympics in a row, Andy Greene will not get the opportunity to represent the USA in the Olympics. Despite playing in six games for the USA in the 2010 IIHF World Championships, Greene has never had the chance to play for Olympic gold.
It seems like the Americans are putting together a corps of young and quick defensemen to play on the wider international rink. The consistently solid Greene is on the USA's radar, but the pool of exceptional young defenders is too deep for him to stand out.
Olympic Status: Snubbed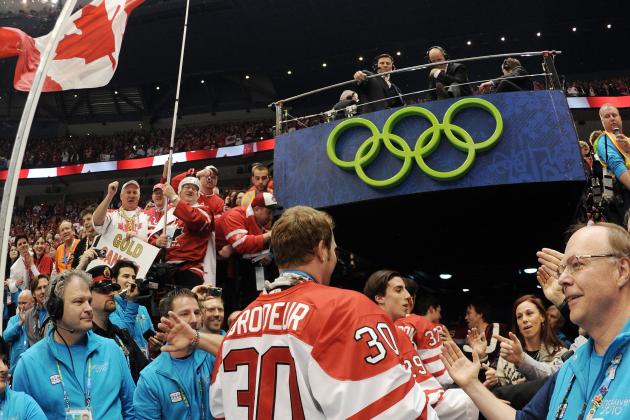 Harry How/Getty Images

Martin Brodeur was probably not very surprised when he did not receive an invitation to Canada's Olympic orientation camp. The star goalie for the Devils has attended every orientation camp since NHL players began participating in the Olympics in 1998, but it appears that at the age of 41, his international days are over.
Although he only played in two games in the 2010 games (1-1, 2.90 GAA), Brodeur received his second gold medal with Canada. It seems now that Canada will look for fresher faces in the crease, eg., Corey Crawford and Carey Price.
Olympic Status: Snubbed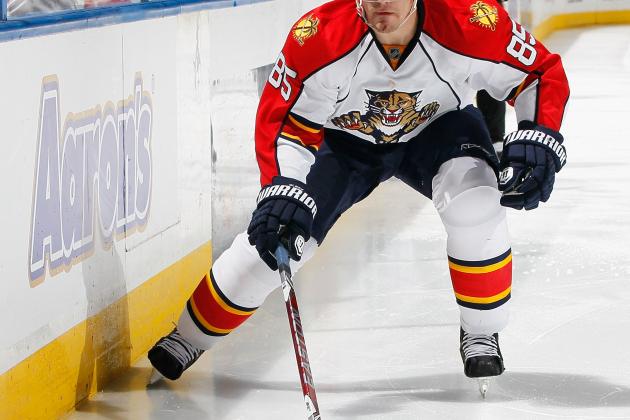 Kevin C. Cox/Getty Images

After a couple of fairly productive years with the Florida Panthers, Rostislav Olesz saw his numbers drop dramatically. He spent the past two years playing with the Chicago Blackhawks' AHL affiliate, the Rockford IceHogs.
Despite solid AHL numbers, Olesz probably wouldn't strike most as a potential Olympian, and yet, that is exactly what he is. Olesz would not warrant any consideration if he had been born in Canada or Russia, but the Czech Republic's need for offense compelled them to invite Olesz to their orientation camp.
That puts the Czechs in the same boat that the Devils were in when they signed Olesz to a one-year deal on the first day of free agency. Both clubs think they see something in young forward that others do not.
The Czechs are looking for scoring anywhere they can, and if Olesz can manage to turn a few heads in orientation camp, he just might wind up with his nation's crest on his chest.
Olympic Status: Longshot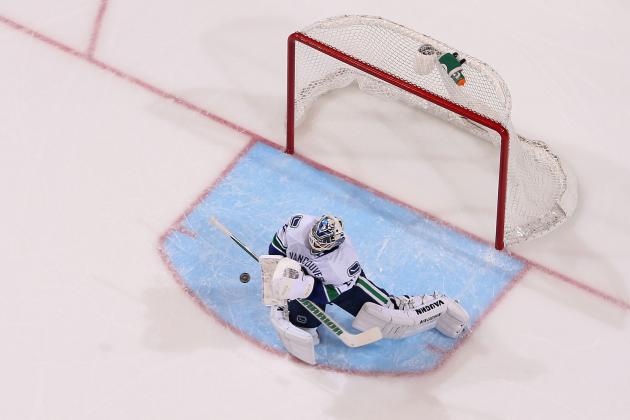 Christian Petersen/Getty Images

Cory Schneider became the talk of the 2013 NHL Draft when the Devils traded their first round pick for him. His rising star continued to shine when he was invited to USA's orientation camp last month.
Unlike Olesz, however, it may not be a lack of pure talent that keeps Schneider from playing for his country in Sochi; it may be his inexperience. Schneider will be competing against a pool of five other excellent goalies including Jonathan Quick, Jimmy Howard and Ryan Miller.
There is no denying Schneider's talent, but playing behind Roberto Luongo in Vancouver has not allowed the young American to hammer the point home.
Because most of his competitors are already franchise goalies with larger bodies of work, the onus will be on Schneider to make himself stand out among them at camp. That may be too tall of an order to fill.
Olympic Status: Longshot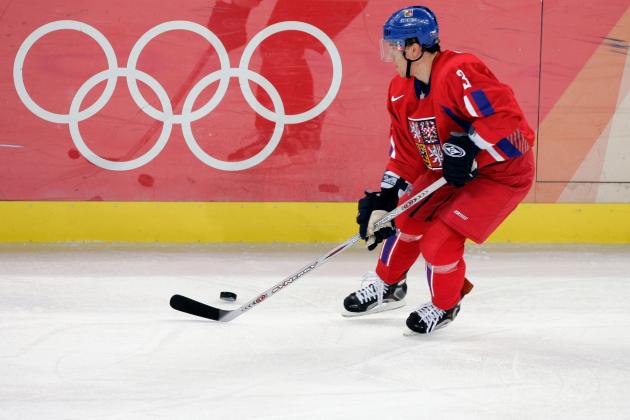 Brian Bahr/Getty Images

Marek Zidlicky, who joined the Devils via trade from the Minnesota Wild in 2012, will likely help round out the Czech Republic's defense. After re-signing with New Jersey this summer, he was extended an invitation to the Czech Olympic camp.
Despite the many Czech defensemen currently playing in the NHL, there are none who stand out as shutdown talents. Zid is no exception.
While Marek may lack a bit in his defensive capabilities, he has a powerful shot from the blue line, which Devils fans have learned can be particularly helpful on the power play.
Zidlicky won the bronze medal with the Czechs in 2006 and again in 2010 (did not medal). In all, he's played in 12 games in the Olympics and netted 10 points (four goals, six assists).
Although time has recently begun to catch up with the defenseman, his ability to put the puck on net and his prior Olympic experience should see Zidlicky to Sochi this winter.
Olympic Status: Safe Bet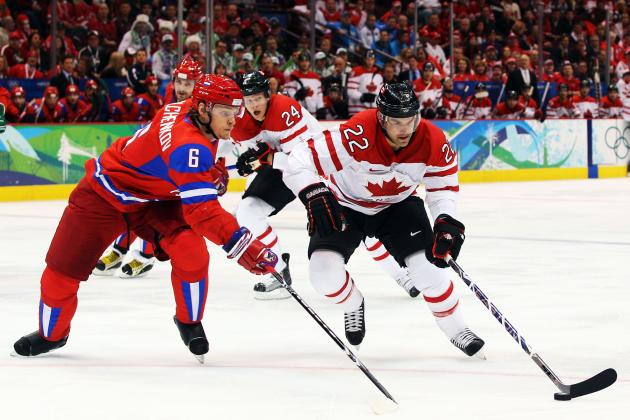 Cameron Spencer/Getty Images

The Devils' most punishing defender, Anton Volchenkov, was invited to Russia's pre-Olympic camp and was included on the team's initial Olympic roster.
Volchenkov had a sub-par 2013, posting only 51 hits and a plus/minus -1 in 37 games for the Devils.
Not known for his shot, Volchenkov is a feared checker. He is a big body capable of dealing out devastating hits on his opponents.
After a down year, he'll be looking to bounce back in 2014. Host nation Russia will also be looking to bounce back from an embarrassing 2010 Winter Olympics in Vancouver.
Volchenkov was on the 2010 Russian team that, although one of the favorites heading into the competition, finished sixth overall.
Anton Volchenkov will join departed Devil Ilya Kovalchuk along with other Russian stars on the road to redemption.
Olympic Status: Definitely Going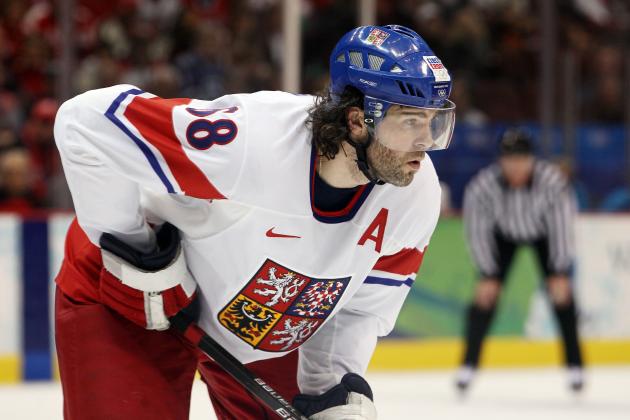 Bruce Bennett/Getty Images

Jaromir Jagr, the newest New Jersey Devil, has been a staple of the Czech Republic's Olympic teams since NHL players began playing in the games in 1998.
He won gold for his country in 1998 and bronze in 2006. In 23 games, Jagr has posted a stellar 20 points (seven goals, 13 assists). At the ripe age of 41, Jagr will likely find himself outside of the top two lines to make room for younger talents Jakub Vorachek and Martin Erat, but it would be foolish to write the old man off.
Jaromir has proven over the past few years that, despite his age, he can still be a productive player. The Devils and the Czechs hope that Jagr will have one last surge in 2014 before finally ending his illustrious career.
Since NHL players began playing in the tournament, the Czechs have started a trend of medaling every other Olympics. After finishing seventh in Vancouver in 2010, they hope to keep that trend going.
While on the surface, they may not appear to have the talent to match Canada and Russia. The Czechs hope that the experience and leadership of one of the NHL's greatest of all time can lead them back to the podium in 2014.
Olympic Status: Definitely Going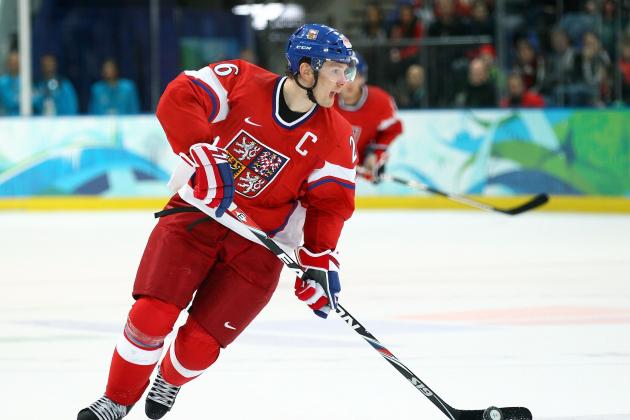 Alex Livesey/Getty Images

Finally, the longest tenured New Jersey forward, Patrik Elias will be heading to Sochi to play with the Czechs in February. Elias could potentially round out a total of four Devils who will represent the Czech Republic in 2014.
Although the greatest forward of New Jersey's storied history, Patrik Elias has actually struggled in his Olympic appearances.
He will be representing his country in the Olympics for the fourth time in 2014. In 2002 and 2006 combined, Elias only played in five games and produced only two points.
2010 was a much more successful year for the Czech winger. After being named the captain of the Olympic team, Elias suffered a concussion in the month leading up to Vancouver.
Leading by example, in his typical style, Elias would not let his injury deter him. He played in all five games for the Czechs, netting two goals and two assists.
Elias will look to have his most productive Olympics yet in 2014 as he is expected to be a major contributor on offense.
Olympic Status: Definitely Going
As always, make sure to let us know what you think in the Comments section, and follow me on Twitter to be the first to see future New Jersey Devils stories.