New Jersey Devils Sold to 76ers Owner Joshua Harris and David Blitzer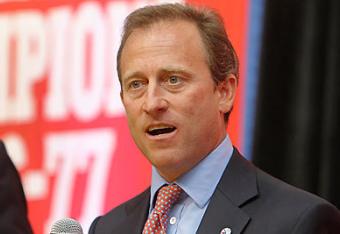 Via Philly.com

Fraught with debt and the specter of a possible NHL takeover, the New Jersey Devils have found their savior in business mogul and Philadelphia 76ers owner Joshua Harris.
UPDATE: Thursday, Aug. 15, at 11:25 a.m. ET
From NHL.com's Dan Rosen:
Gary Bettman officially announces the new owners of the New Jersey Devils are Joshua Harris and David Blitzer.

— Dan Rosen (@drosennhl) August 15, 2013
NHL.com's staff had the latest from Harris:
"It is with great pride that I stand here today at the Prudential Center … and share with you the sense of excitement we have as the new owners of the New Jersey Devils," Harris said. "… I can assure everyone here that David [Blitzer, co-owner] and I take the responsibility for being stewards of this great franchise seriously and we look forward to building excitement on and off the ice."
From The Record's Tom Gulitti:
O'Neil will run business side of Devils. Lou Lamoriello will continue to head hockey operations.

— Tom Gulitti (@TGfireandice) August 15, 2013
O'Neil" "to seaon ticket holders, we need you... bring some friends."

— Tom Gulitti (@TGfireandice) August 15, 2013
Bettman said there's been a lot of speculation about how much debt the team has and "most of its been wrong."

— Tom Gulitti (@TGfireandice) August 15, 2013
Blitzer said Lamoriello remains president, CEO and GM of Devils and will continue in job as he had under previous owners.

— Tom Gulitti (@TGfireandice) August 15, 2013
Harris said ownership of Devils is "not going to affect the 76ers" and said he wanted to "shut down" rumor 76ers might leave Philly.

— Tom Gulitti (@TGfireandice) August 15, 2013
Harris said "the Sixers are staying in Philly" and is excited about owning both Deviils and 76ers.

— Tom Gulitti (@TGfireandice) August 15, 2013
Harris doesn't think there's "a lot of conflict" between owning an NBA team in Philly and NHL team in New Jersey.

— Tom Gulitti (@TGfireandice) August 15, 2013
---End of update---
---Original Text---
Howard Eskin of FOX 29 first reported Harris had agreed to purchase the Devils from current owner Jeffrey Vanderbeek for an unknown price, along with paying off the sizable debt he owns on the team:
Sources confirm #sixers owner josh harris has agreed on the money to purchase #NJdevils. The purchase will cover all debt of jeff vanderbeek

— Howard Eskin (@howardeskin) August 9, 2013
Vanderbeek, a Wall Street magnate who acquired his wealth over 20 years at Lehman Brothers, purchased the Devils outright in 2004. He had previously been a minority shareholder.
Harris has been the principal owner of the NBA's Philadelphia 76ers since 2011. His purchase of the franchise for $280 million is largely seen as a major bargain, with prices across the NBA skyrocketing over the past few seasons. He will hope to do the same with New Jersey—a club whose financial situation reached dire straits in recent years.
The financial weight of owning an NHL team proved too much for Vanderbeek, with debt skyrocketing in his tenure, leaving the club floundering on the bottom line. Vanderbeek hatched a deal with lenders last year to keep control of the franchise for at least the next two years with the expectation of him starting a repayment program.
But Vanderbeek was unable to make his first payment to lenders on the restructured deal, putting him at risk of defaulting on the loan. Sources told Forbes' Mike Ozanian that the financial situation with the club and Vanderbeek was so dire that the Devils owner was $230 million in the hole, combining his share of the NHL franchise and Prudential Center, the team's arena in Newark. Vanderbeek had agreed to slowly pay off his debts at a $14 million-per-year rate.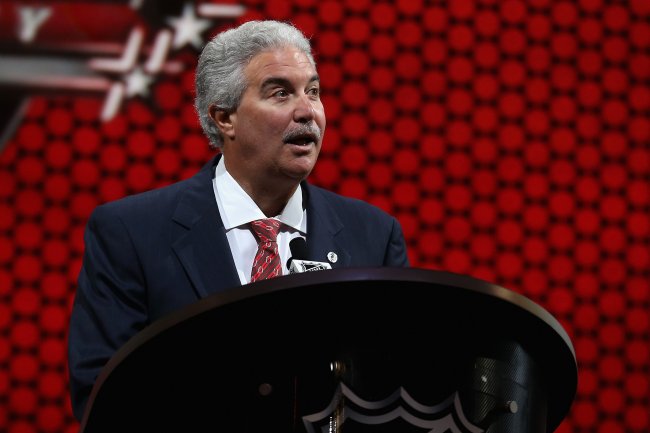 Bruce Bennett/Getty Images
When news of him missing the payment came to pass, rumors quickly circulated about a possible sale. Philadelphia attorney Andrew Barroway, who had already loaned the club $30 million, was on the precipice of taking over the Devils before backing away. The New York Post's Josh Kosman reported that Barroway looked at the club's financial statements and rescinded his offer, which would have covered much of Vanderbeek's debts.
Upon Barroway's withdrawal from the bargaining table, Ozanian noted that the NHL was planning a takeover of the franchise if it could not fix its financial woes. The NHL previously controlled the Phoenix Coyotes during a similar situation. However, commissioner Gary Bettman dismissed the notion at a news conference Thursday (h/t CBS Sports' Brian Stubits).
"I haven't seen the Forbes report, but if the suggestion is we're going to take over the Devils, which is what I've heard the report says, it's not accurate," Bettman said.
David Giambusso of The Star-Ledger was among the first to report Harris' interest in the club. Bill Gallacher, a Canadian business mogul, had also expressed cursory interest in taking over.
The Devils went 19-19-10 last season, finishing 11th in the Eastern Conference during the lockout-shortened campaign. It was the second time in three years New Jersey missed the postseason after 13 straight appearances.
Follow Tyler Conway on Twitter:
This article is
What is the duplicate article?
Why is this article offensive?
Where is this article plagiarized from?
Why is this article poorly edited?

New Jersey Devils: Like this team?