Those plugged into WWE social media this week saw a celebration of Daniel Bryan's biggest wins as well as CM Punk attacking fans' grammar.
Funny one-liners, koalas and the aftereffects of swishing around the Gulf of Mexico were among the other highlights of WWE-related tweets, Instagram photos and viral videos. Of all that buzz-inducing items we saw over the week, let's start with one that was born from bad news.
The Brogue Kick master will be out of action for much of the rest of the year.
Sheamus, per WWE.com, has reportedly "suffered a torn labrum in his left shoulder and will require surgery, scheduled for next week." The company expects to be minus the Celtic Warrior for four to six months.
Sheamus' reaction to the news didn't quite outweigh how disappointed his fans are to hear this, but it surely put a few smiles on faces.
Well. @WWE will be a lot less Cetlic for up to half-a-year, me #MITB shoulder is banjacked... No tears. It's not me drinking arm.

— Sheamus (@WWESheamus) August 7, 2013
While the Irishman is well known for his sense of humor, another funny line came from a surprising source. Brock Lesnar may have created a new catchphrase on Monday's WWE Raw when he told Paul Heyman to "say something stupid."
YouTube is abuzz with videos of Lesnar's now-famous line.
It also inspired several tweets like this one:
I think "Paul, Say Something Stupid," may be my favorite #RAW line of the year so far.

— The Tubby Emu (@TubbyEmu) August 6, 2013
WWE's Instagram provided a laugh with a close-up look at Damien Sandow's now ruined Money in the Bank briefcase. Cody Rhodes tossed it into the Gulf of Mexico on SmackDown two weeks ago and the result is a soggy, unsightly mess.
Previous MITB briefcases have been through rough times, getting dented and beat up, but nothing like this.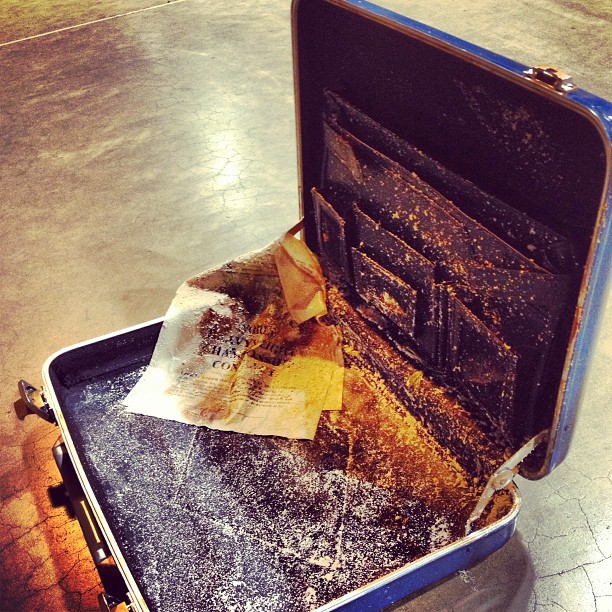 WWE also posted a photo of a custom WWE title featuring The Rock. The company wrote that "this custom title was created for The Rock during his feud with 'Stone Cold' Steve Austin, however, it never appeared on Raw or SmackDown."
While this is not quite as cool as Austin's smoking skull belt, it beats John Cena's spinner title by leaps and bounds.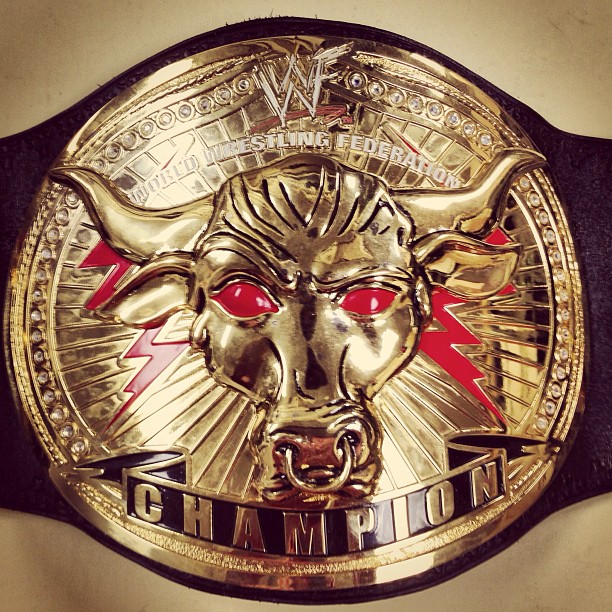 One of the most watched videos on WWE's YouTube channel celebrated a man who might just be the next Superstar to hold the WWE Championship. Perhaps we can then get him a goat-themed title.
Bryan's top victories are highlighted in this countdown video.
Can he add Cena to the list of victims that now includes Kane, Dolph Ziggler, Randy Orton and Big Show? Whether he does or not, he will still be one of the most popular Superstars on the roster in part because of his endearing sense of humor.
That trait was on full display in this video of Bryan visiting a koala sanctuary.
Daniel Bryan met some furry friends on @WWE's latest trip to Australia. See Bryan's "bear hug" and more in the h... http://t.co/SX4xmR3UeU

— WWE (@WWE) August 7, 2013
His claim to have learned how to dropkick from a kangaroo was funny but the best part was seeing him face to face with a goat and asking it to teach him its ways.
Bryan's amusing video gets topped by the man who beat him at Over the Limit 2012.
In celebration of Geek Week on YouTube, CM Punk took part in a number of videos calling fans out on their bad grammar. He took tweets and angry fan mail apart, trying to make a teachable moment out of them.
(NSFW warning: Some of the videos feature profanity.)
In addition to this one, Punk also lessons on using literally versus figuratively or through vs. threw.
Punk just has to hope he can be as successful when he faces Brock Lesnar at SummerSlam as he was at verbally beating down these fans.