Breaking Down the Best and Worst of the WWE for Week of Aug. 5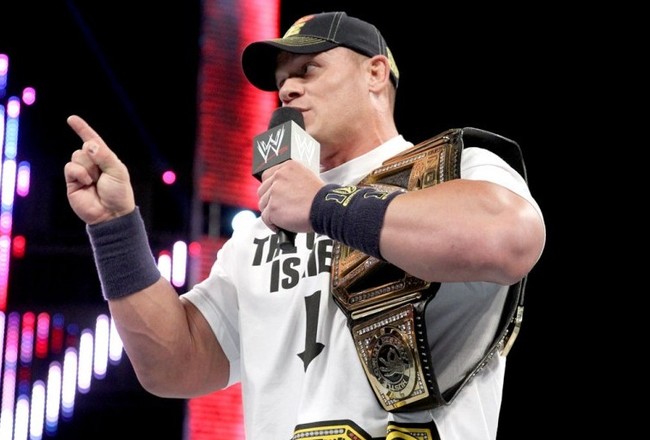 (Photo: WWE.com)

Creeping ever closer to SummerSlam, WWE offered fans buildup for the WWE Championship match and the promise of fire.
One champion turned our stomachs and a bulking powerhouse had us shaking our heads. It was a week of reality show reverberations, welcome announcements and an excellent midweek match.
John Cena, Daniel Bryan and Alberto Del Rio were among the highlights, all doing their best to shut out the week's worst. From a duo splitting to a slowly-shaping SummerSlam card, here are the highs and lows of the WWE week.
Best: The Del Rio Beatdown
Alberto Del Rio and Ricardo Rodriguez have long been an inseparable team. That alliance came to an end in dramatic, violent fashion after a match against Rob Van Dam on Monday's WWE Raw.
Rodriguez had tried to assist his employer in that clash by wedging a bucket in between the turnbuckles. It was that object that cost Del Rio the win as he clanged into it, a moment Van Dam took full advantage of.
Del Rio then took out his anger by thrashing his valet.
He whacked him with the bucket, kicked him in the face and crushed him between the ring and the ring steps. It was a stunning moment of villainy and one of Del Rio's most treacherous attacks in his entire career.
Del Rio has never looked as heartless as he did on Monday, mauling his supposed friend and likely setting up a story of revenge down the road.
Worst: Ryback's Forfeit
When Ryback walked out on his match with Mark Henry on Monday, it not only robbed fans of seeing a WrestleMania 29 rematch that had tons of potential but further confused Ryback's character and direction.
Many of wrestling's heels throughout history have been slippery cowards, but not men built like Ryback.
It feels as if WWE is forcing a fox suit onto a rhino. Ryback should be a monster so blinded by his desire to hurt that he gets disqualified for crushing a guy with a chair, not a man who runs away from his foes.
Perhaps the company has a grand plan in place, but it seems from this vantage point that it is simply confused about how to utilize Ryback and it's hard to watch right now.
Best: The Usos and Mark Henry vs. The Shield
The much-improved Usos continued their entertaining series of matches with The Shield on Wednesday's WWE Main Event.
The six-man pairing used classic tag team strategy combined with the mishmash of power, speed and athleticism. This matchup was something some expected to see at SummerSlam. Instead, fans saw the thrilling bout for free.
This match provided a great bridge between Raw and SmackDown, offering up hard-hitting action in the middle of the week.
Like with the fantastic Money in the Bank pre-show match, The Usos looked good despite losing and The Shield showed once again that they are going to a major part of WWE's future.
Worst: Total Divas Infiltration
It's one thing to try and entice viewers who watch Total Divas to start watching WWE programming, but the company's forceful promotion of that reality show on its regular programming is irritating.
Simply mentioning the show and showing a preview would be fine, but Monday's WWE Raw saw the women from that show sliding the drama from Total Divas to Raw. It was an annoying segment that featured Nikki and Brie Bella seemingly doing Kardashian impressions.
It wasn't so much the particular segment that was disappointing but the potential for WWE to try and overlap its reality show into its wrestling show more often. Is Eva Marie going to get pushed on Monday nights to hype Total Divas? Are storylines from the two shows going to bleed into each other?
Best: John Cena and Daniel Bryan's Promos
Both champion and challenger for the WWE title match at SummerSlam did well to build toward that match with their performances on the microphone Monday.
After undergoing a corporate makeover courtesy of Stephanie McMahon, Daniel Bryan addressed the WWE Raw crowd and promised to make John Cena tap out.
Bryan mocked Cena for being on cereal boxes and wearing cargo shorts. He talked proudly about his background in the indies and said that Cena was simply an entertainer while he was a wrestler.
Cena topped him later in the show.
The champ talked about how different he and his SummerSlam opponent are and dared Bryan to underestimate him. "You don't get lucky 11 times," he said referring to his number of WWE title wins. Cena was focused, passionate and at his best on Monday night.
Even when the crowd chanted "Boring!" he took control, turning those chants into cheers in an instant. As good as both Bryan and Cena's promos were, their match promises to be even better.
Worst: Wasting Curtis Axel
Since Curtis Axel took the Intercontinental title, WWE hasn't steered him toward success. Playing a part in the Paul Heyman, Brock Lesnar and CM Punk saga has been good for him, but why has the company pitted him against Sin Cara so often?
On Wednesday night, Axel clashed with Sin Cara once again.
The IC champ faced the luchador on May 24, May 31, June 17 and the most recent episode of WWE Main Event. That would be fine if Axel and Sin Cara had an exciting rivalry to work with or had sizzling chemistry together.
Sin Cara's muteness eliminates the chance for the former and the tepid chemistry between the two is not something that needs to be tapped into so often.
The WWE roster offers a plethora of choices for challengers. Many of those Superstars are likely to produce more sparks than Axel and Sin Cara have.
Best: SummerSlam Matches Announced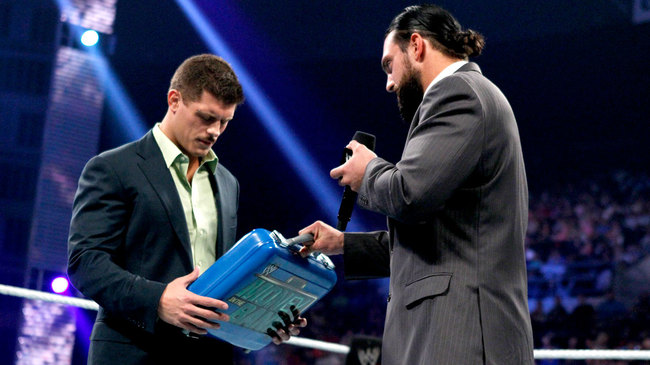 (Photo: WWE.com)

Bubbling rivalries officially transformed into SummerSlam matches this week.
Damien Sandow will go up against his former friend and tag team partner Cody Rhodes while Kane and Bray Wyatt will face off in a Ring of Fire match.
The Sandow and Rhodes feud has been one of the highlights of the summer and it's great news to see that this potential show-stealing match won't be shoved onto the pre-show. Having Bray Wyatt's pay-per-view debut be what sounds like an Inferno match is an exciting, out-of-the-box idea.
Both bouts promise to improve the card and showcase the talent involved.
As a bonus, PWMania.com reported that Rob Van Dam vs. Antonio Cesaro is rumored to be added to the event as well. SummerSlam is looking like the blockbuster event it has so often been in the past.
Keep Reading