Updating All of the Orioles Latest Waiver Rumors
Greg Fiume/Getty Images
After being extremely active at the July 31 trade deadline, the Baltimore Orioles seem to be happy with the roster they've put together.
Still, there's always room for improvement.
The O's expect to make the playoffs, and they still have until the end of August to make moves that can affect their postseason roster.
Many rumors have died down since the end of July, but there continue to be a few out there that involve the Birds. Here's an update on the latest Orioles waiver rumors.
Signing Mark Reynolds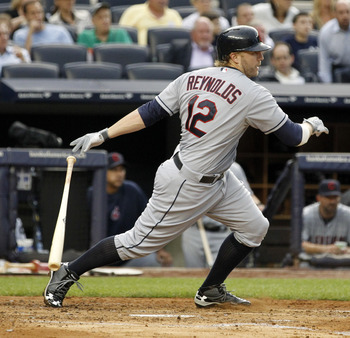 Jason Szenes/Getty Images
The Cleveland Indians put Mark Reynolds on release waivers on Monday for the purpose of giving him his unconditional release, according to Indians beat writer Paul Hoynes of the Plain Dealer. So, it would cost the Orioles only a roster spot and the league minimum salary if they wanted to sign Reynolds.
While they have and will continue to discuss that idea, the Orioles don't seem overly interested, according to Roch Kobatko of MASN.
After a hot start, the inconsistent Reynolds reverted back to his normal enigmatic self as the season continued. With Cleveland, he hit 15 home runs, but only averaged .215 and struck out 123 times in 335 at-bats.
July was particularly rough for the 30-year-old, as he failed to hit a homer and averaged a mere .098.
Still, Reynolds is a solid clubhouse guy, and his power can come in spurts. He also performed extremely well against a couple of the Orioles' biggest division rivals in the Yankees and Red Sox last year, as he hit 13 of his 23 homers and hit well over .300 against the two.
But as Orioles' GM Dan Duquette mentioned in a report from Eduardo A. Encina of the Baltimore Sun, the Orioles already have some decent right-handed hitters, including Danny Valencia and the returning Wilson Betemit.
However, Duquette said that on the day that Reynolds was designated for assignment. Now that Reynolds won't be as expensive, the chance of him becoming an Oriole again, while not a certainty, is on the rise.
Trading for Justin Morneau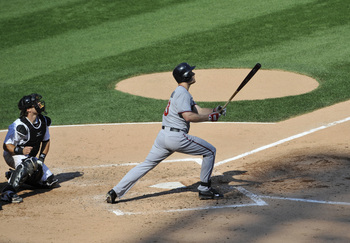 David Banks/Getty Images
The rumors surrounding Justin Morneau have quieted down since the July 31 trade deadline. But according to Nick Cafardo of the Boston Globe, the Orioles may still have some interest in the powerful lefty.
The biggest issue with the Orioles acquiring Morneau may be the price tag that the Twins set for him. The 32-year-old's stock has risen in August, as he's already hit six homers and driven in 14 runs this month.
Currently the Orioles have the unproven Henry Urrutia as the left-handed DH. Urrutia hasn't been overly impressive, especially since the beginning of August. However, in the 26-year-old's defense, the Orioles have been playing in NL ballparks recently, nullifying the DH position and leaving him to pinch-hit duties.
Overall, it's still unclear whether Morneau will be moved at all. Even Morneau himself isn't sure what his trade status is. According to Mike Berardino of the St. Paul Pioneer Press, when asked about his waiver status, Morneau said, "I have no idea if I've been put through waivers or claimed on waivers or whatever it is. That's still a possibility."
Acquiring More Starting Pitching, Namely Joe Saunders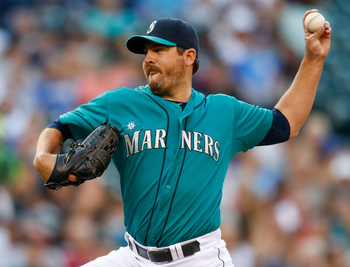 Otto Greule Jr/Getty Images
Back on July 31, Jon Heyman of CBS Sports reported that the Orioles were interested in bringing back left-handed starter Joe Saunders. However, Dan Connolly of the Baltimore Sun immediately disregarded that suspicion, claiming the Orioles were not showing any interest at the moment.
The O's were in the middle of acquiring Bud Norris on that day, which is likely the reason they became disinterested so quickly.
Fast-forwarding to the present-day, the Orioles still aren't necessarily focused on acquiring another starting pitcher like Joe Saunders.
The front four of the Orioles' rotation is set, barring injury, as Chris Tillman, Miguel Gonzalez, Wei-Yin Chen and Bud Norris have all pitched well. And while Scott Feldman hasn't been wonderful since his arrival from Chicago, he improved in his start in Arizona on Monday, as he only allowed one earned run. He'll likely get at least a few more starts before his job is in any real danger.
The O's also have a few arms in the minors just in case of an emergency.
Top prospect Kevin Gausman has been solid in his last couple starts in Triple-A and has great stuff, including a mid-to-high-90s fastball.
And Tsuyoshi Wada is finally becoming the pitcher the Orioles expected he'd be when they signed him from the Japanese Leagues prior to the 2012 season. Wada has only allowed one run in his last three Triple-A starts combined. The lone run came in a fine seven-inning performance on Monday.
A team can never have too much pitching. So if the Orioles decided to add another starter, it wouldn't be surprising. That being said, it's not a top priority.
Keep Reading

Baltimore Orioles: Like this team?