WWE Mid-Year Review and Awards for Top Superstars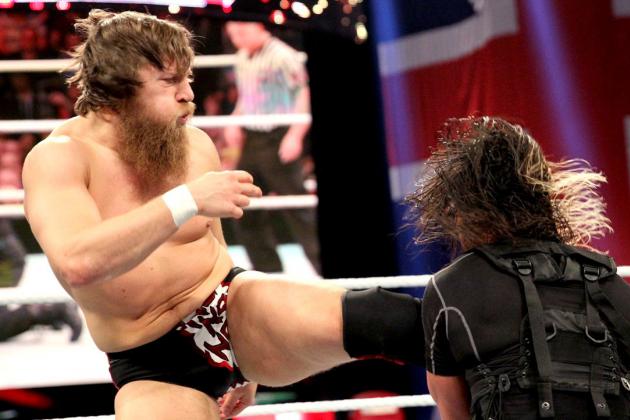 (Photo: WWE)
The Iron Man match that is 2013 is halfway done, and several WWE Superstars have already staked their claim as winners.
Those fans pining for the past or wishing for a trip via a time machine to the Attitude Era would be best off soaking in what's been a tremendous WWE year so far. Mesmerizing action and moving stories have been the highlights of TV and pay-per-view events.
Who has been the most valuable wrestlers during these highpoints?
Celebrating great performances in the ring, after the bell and with a microphone, here are the WWE mid-year awards.
Begin Slideshow

»
Winner: Mark Henry
CM Punk, The Rock, John Cena and Daniel Bryan have all had their share of shining on the mic in 2013, but Mark Henry's fake retirement speech stands out as the most memorable and powerful performance.
Dressed in a salmon suit, The World's Strongest Man proved we were all his puppets as he delivered a speech fans were sure was his final goodbye. He cried, he emoted and told one fan, "Not Mae Young, dummy."
Henry had us all roped in, throats full of lumps, heads swirling with memories.
We soon saw that it was all an attempt to lure Cena in to attack him. He shouted to Cena, "I got a lot left in the tank!"
The strangeness and unique nature of the performance earns it points aplenty, but Henry's convincing acting has it rank among the best segments in recent memory.
Winner: Dolph Ziggler cashing in Money in the Bank contract
No disrespect to Chris Jericho's surprise return at the Royal Rumble, but Dolph Ziggler pouncing on an injured Alberto Del Rio the night after WrestleMania 29 is the moment most worth rewatching and reliving again and again.
Ziggler had tried several times to make use of his Money in the Bank contract, but faltered each time.
His Sisyphus-like struggle beforehand made this moment even more powerful. Ziggler's first world title reign lasted less time than it takes to get your oil changed. The athletic workhorse electrified the crowd by emphatically snatching that championship for the second time.
For a moment, Del Rio looked to have thwarted Ziggler once again when he clamped on his cross armbreaker.
Ziggler yanked on Del Rio's bad ankle, hit the champ with the Zig Zag and completed this mini-drama. It was a moment that managed to cram exhilaration, uncertainty, suffering and triumph into just a few minutes.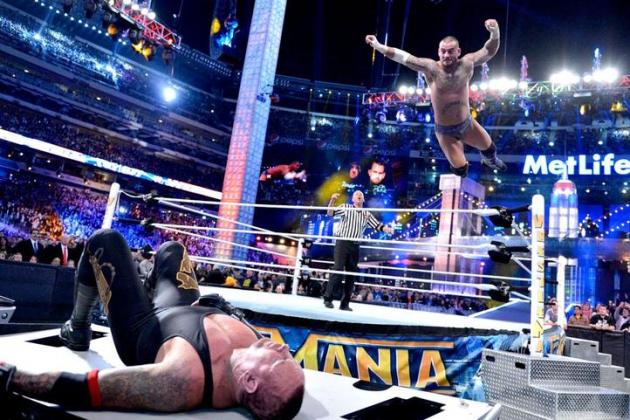 (Photo: WWE)
Winner: CM Punk
WWE unlike sports is not about winning and losing; it's about showmanship and storytelling.
Undertaker earned the win at WrestleMania 29, stretching his undefeated streak at that event to 21 wins. Despite the result, it was just as much CM Punk's moment as it was the Deadman's.
Their battle was the climax of a feud that grew intense, personal and uncomfortable when Paul Bearer become a central part of the narrative despite the man who played him (Bill Moody) passing away in March.
As predictable as it may seem that Undertaker would win at WrestleMania once again, Punk helped make the outcome uncertain throughout their battle. He used his speed, cunning, kicks and Paul Heyman's interference to combat the icon, the two men creating a masterpiece together.
Antonio Cesaro is the runner-up for this award for his part in making Daniel Bryan's gauntlet match the buzz-inducing clash that it was.
(Photo: WWE)
Winner: The Shield
This award goes to the Superstar, or in this case trio, who delivered the most top-notch performances on WWE pay-per-views in the first half of 2013.
Aside from the Royal Rumble, when the group didn't compete, The Shield has produced one of the best matches of each pay-per-view on the schedule. Consistency and excellence have been their trademarks in the early parts of Dean Ambrose, Roman Reigns and Seth Rollins' careers.
At Elimination Chamber, The Shield battled John Cena, Ryback and Sheamus in a thrilling bout.
The Hounds of Justice followed that performance with a great showing at WrestleMania 29. Reigns and Rollins then won the tag titles from Team Hell No in exciting fashion at Extreme Rules. Next up was one of the best matches on the inaugural Payback pay-per-view.
Even when relegated to the pre-show for Money in the Bank, The Shield rocked it.
Their match against The Usos was an impressive showcase of speed, drama and violence. CM Punk, Ryback, John Cena and Randy Orton have done well in their pay-per-view bouts thus far this year, but The Shield wins out.
Winner: Daniel Bryan
A part of why WWE fans have taken to Daniel Bryan and why the "Yes!" chants have gotten louder is that Bryan is a hard-hitting dynamo every time he fights on TV.
His resume on WWE Raw and SmackDown this year so far is phenomenal.
Regardless of whom he is paired against, regardless of the story or the stakes surrounding the match, Bryan has stolen the show again and again. He defeated Randy Orton in an excellent Street Fight on Raw, had several world-class performances opposite The Shield and impressed with a gauntlet match that included a classic against Antonio Cesaro.
WWE has been able to toss him in with Ryback, Dolph Ziggler, Kane, Jack Swagger and Christian and the results are the same each time. Bryan's passion and wrestling skills sizzle on screen.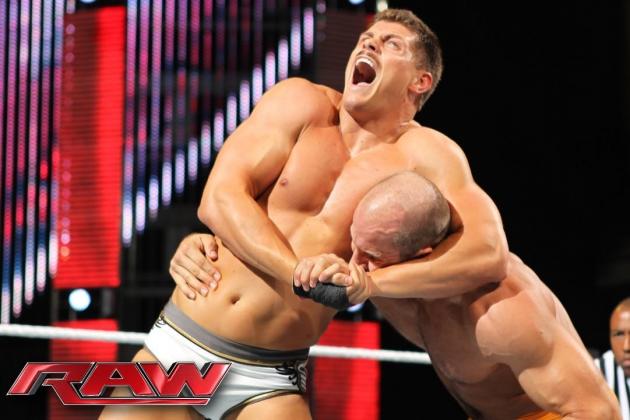 (Photo: WWE)
Winner: Cody Rhodes
The Usos have stepped up their in-ring game and become one of the better teams in WWE. Curtis Axel looks rejuvenated with his new ring name and manager.
However, they place second to Cody Rhodes in this category.
Rhodes has long been a very good performer, but this year has seen him elevate his performances to a main event level. His match against Chris Jericho on Main Event in June, his clash with Alberto Del Rio on WWE Raw in February, his show-stealing performance at Money in the Bank and his current feud with Damien Sandow is all proof that Rhodes has evolved past a midcarder and tag team specialist.
He's a world champion in waiting.
There's an added fluidity and passion to his ring work. Rhodes has recently become more consistent in terms of producing greatness between the ropes and shall prove that further come SummerSlam.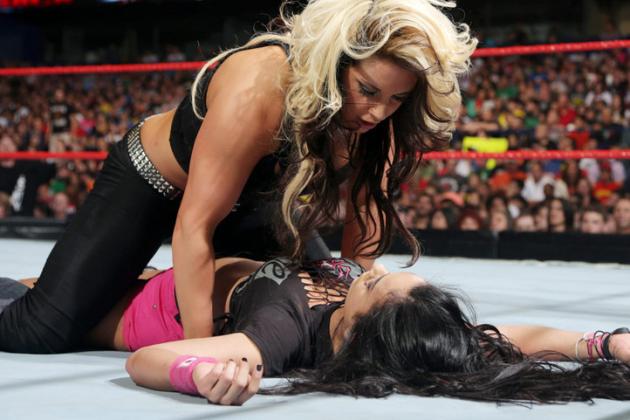 (Photo: WWE)
Winner: AJ Lee vs. Kaitlyn
So often, WWE has its female wrestlers participate in three-minute matches with little story to work with. Fans see a handful of moves and a win that means little.
When given a feud to work with and allowed to spend a good amount of time telling their story in the ring, AJ Lee and Kaitlyn delivered an impressive performance at Payback.
Rage and deviousness powered this battle that saw AJ torture Kaitlyn with her Black Widow hold and Kaitlyn hit a rib-rattling spear. It was after that move that Kaitlyn seemed to have the match won, but instead of pinning her challenger, she lifted AJ's head and blew a mocking kiss to her.
That proved to be the champ's undoing in a match that exceeded expectations and proved what the Divas can do when offered a real opportunity.
Winner: CM Punk vs. John Cena
Fans will likely look back on CM Punk and John Cena's rivalry in a similar light as we do now to Ric Flair and Sting's long feud.
Like with Flair and Sting, Cena and Punk bring out the best in each other. In terms of style, look and personality, they are such opposites that it creates a fire between them, one that produces classics like their battle in February.
Cena defended his right to face The Rock for the WWE Championship against his longtime rival and the results were near-perfect.
The banned piledriver, desperation, frustration and each man pouring themselves out on that mat made for a match that surpassed WrestleMania's main event and every match we've seen so far this year.