Geno Smith Should Be Considered Front-Runner for New York Jets' Starting QB Job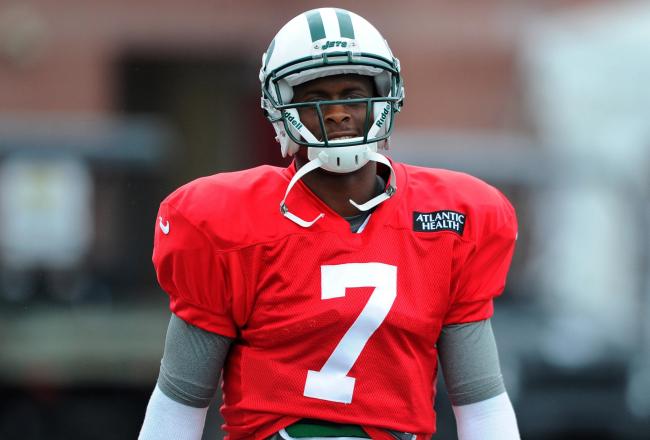 Rich Barnes-USA TODAY Sports
The Mark Sanchez era started in promising fashion for the New York Jets, as he helped lead them to consecutive AFC Championship Game appearances, but things have gone downhill in recent years. Due to Sanchez's continued regression, rookie signal-caller Geno Smith should be in the driver's seat for the starting job right now.
Smith was expected by most to be selected in the first round of the 2013 NFL draft, but the West Virginia product slipped all the way to the second amid concerns about his character and his ability to translate his skill set to the NFL.
Despite those issues, the Jets figured he was simply too good to pass up.
The Jets front office knew full well that when Smith was taken in the second round, it would cause a quarterback controversy almost immediately. That is precisely what has happened, as Smith and Sanchez are locked in a tight battle that could potentially go either way.
Should Geno Smith be considered the front-runner for the Jets' starting QB job over Mark Sanchez?
While the 26-year-old Sanchez has the experience edge with four NFL seasons under his belt as well as some playoff success, he has failed to grow as a quarterback. Last season was an absolute nightmare for Sanchez, as he failed to reach the 3,000-yard plateau and somehow managed to turn the ball over an incredible 26 times.
Smith is bound to make some mistakes if he starts this season, since that is what rookies tend to do, but Sanchez often looks like a rookie out on the field anyway. At least Smith has some untapped potential, whereas Sanchez has steadily declined and hasn't shown any signs of rebounding and becoming a competent quarterback.
Despite Sanchez's struggles last season along with mounting fan resistance, Jets head coach Rex Ryan announced that he will start the Jets' preseason opener against the Detroit Lions on Friday, according to the Jets' official Twitter account:
Rex at news conf: Mark Sanchez will start @ DET on Friday in preseason opener. Geno Smith will follow. Rex isn't sure of the playtime split.

— New York Jets (@nyjets) August 6, 2013
That doesn't necessarily mean anything, as Sanchez could very easily relinquish the starting job if he plays terribly, but it does seem to indicate that Sanchez has a slight edge as of right now.
It probably has more to do with Ryan not wanting to ruffle any feathers than anything, as naming Sanchez the starter for the first preseason game is the easier move.
It is no secret that Ryan has been supportive of Sanchez throughout his tenure, and that was once again on display when Ryan was asked who would start the Jets' following preseason game against the Jacksonville Jaguars. Ryan said that Smith would get his chances, but he would not commit to starting the rookie quite yet.
Rex on if Geno Smith will start next wk vs JAX: "We'll let that play out. Geno will certainly get opportunities with the one offense."

— New York Jets (@nyjets) August 7, 2013
With that said, Ryan is in a position where another poor season could cost him his job, so he needs to go with the quarterback that gives him the best chance to win now. Perhaps that will prove to be Sanchez, but rookie quarterbacks have played so well in recent years that it isn't a stretch to think that Smith would be able to step in and perform immediately.
Ryan pretty much knows what he is going to get out of Sanchez, as he is a turnover machine and doesn't have the ability to put the team on his back. Smith is a wild card at the very least in that it is still unclear what he can do at the NFL level. He had some incredible games at West Virginia, though, so it's worth giving him a shot.
According to Clark Judge of CBSSports.com, Smith did throw two interceptions in the red zone a few days back, which is a huge no-no for NFL quarterbacks:
Geno Smith had two INTs in Red Zone today but not concerned. Said he "forced" throws but is "learning experience I can improve on." @nyjets

— Clark Judge (@ClarkJudgeCBS) August 5, 2013
At the same time, turning the ball over in big spots is nothing new for Sanchez, so it shouldn't hurt Smith's stock too much. At least Smith can still say that he's a rookie. Sanchez is out of excuses, and he should be out of a starting job soon enough as well.
Allowing a rookie quarterback to sit and learn used to be the preferred method of operation, but last year's crop of rookie passers proved that first-year quarterbacks can play and win from day one. Robert Griffin III, Andrew Luck and Russell Wilson were especially impressive, and while it may be asking a lot for Smith to do something similar as a rookie, the precedent has been set.
Neither Smith nor Sanchez will have much to work with in terms of weapons on the Jets offense, so the 2013 season will probably be a tough one regardless.
Follow @MikeChiari on Twitter
This article is
What is the duplicate article?
Why is this article offensive?
Where is this article plagiarized from?
Why is this article poorly edited?

New York Jets: Like this team?