Why Jose Mourinho's Persuasive Powers Will Tempt Wayne Rooney to Chelsea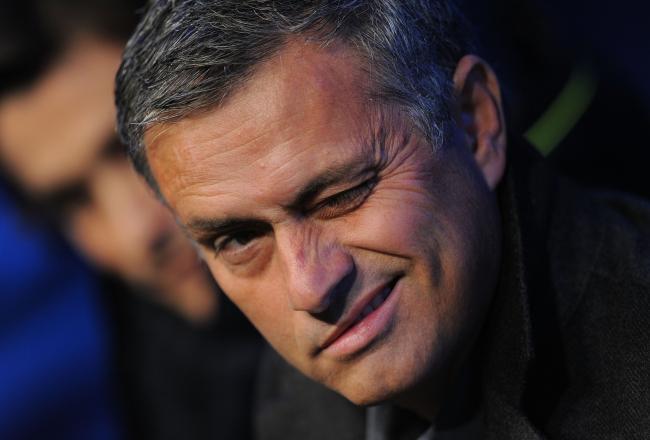 Jose Mourinho says he isn't going to stop until he has his man—Wayne Rooney.
Denis Doyle/Getty Images
Here's a prediction for you—Wayne Rooney will sign for Chelsea on Sept. 2, the day the summer transfer window closes.
As though palming a crystal ball, Jose Mourinho confirmed as much to the Daily Mail's Sami Mokbel and Ian Ladyman on Friday when he said:
We have identified the player as one we would like to have with us. We have done it in an ethical way and we are going to do that until the last day. We are doing things legally, making the official bid directly to the club.

There have been no direct relations with the player, no contact—absolutely nothing. So let's see if things change.
Chelsea's manager chooses his words wisely. Everything is calculated where the Portuguese man is concerned, so while he may not be in contact with Rooney just yet, he continues to use the media to speak directly to the England international.
"Until the last day... Let's see if things change."
As David Moyes comments, via Richard Jolly of ESPNFC.com, Rooney will be needed if "[United have] an injury to Robin van Persie." Mourinho is turning on the charm. Rooney isn't second best; oh no, he's the top priority at Stamford Bridge.
He knows the Englishman is stuck in Manchester, faced with the prospect of playing second fiddle to van Persie this season. And with that, Mourinho knows his words will be tormenting Rooney's subconscious. He will be playing them over and over, knowing the Portuguese wants him that bad, he's going to see this thing through to the bitter end.
If there's any doubt as to whether Mourinho's powers of persuasion actually work, we need just ask Didier Drogba.
The Ivorian became one of the finest strikers to have ever graced English football after Mourinho brought him to Chelsea from Marseille in 2004, and their friendship remains as strong as ever to this day.
Jose Mourinho discusses playing the transfer market.
In his book Didier Drogba: The Autobiography, he recalls their first encounter during Marseille's clash with Porto in the 2003-04 Champions League group stages:
Jose Mourinho shouted a few nice words at me and flashed a charming smile [in the tunnel]. 'So tell me, where can I get a player like you? Do you have a brother or a cousin in the Ivory Coast? Because I don't have the money to buy you for Porto.' [...] I was very impressed by his command of French and his charm.
It may have been Roman Abramovich's rubles and not Portuguese euros signing him, but less than a year later, Mourinho had his man. The rest is Chelsea history.
But he didn't stop there—he rarely does. Mourinho may have had Drogba within his ranks, but as the Ivorian later explained, his persuasive, charming nature would for ever ensure that he felt indebted to his manager:
"In his last full year [at Chelsea] he said, 'I have three irreplaceable players: Ricardo Carvalho, John Terry and Didier Drogba.' How can you not feel that you owe something to someone after that?"
Indeed, after a very public pursuit of Rooney this summer, how can the Englishman feel any different?
How will it all end—will Wayne Rooney sign for Chelsea this summer?
"It's Rooney or bust." "We don't want any other player." They're all quotes from Mourinho, via BBC Sport, and they're all targeted at Rooney with the aim of ensuring that he's wearing Chelsea blue come September.
Like Drogba before him, Rooney is in Mourinho's sights, and by hook or by crook, Mourinho knows he always eventually gets what he wants.
Drogba even says so himself: "[Mourinho has] a gift for predicting things."
United may as well give up now.
Garry Hayes is Bleacher Report's lead Chelsea correspondent and will be following the club from a London base throughout the 2013-14 season. Follow him on Twitter here: @garryhayes.
This article is
What is the duplicate article?
Why is this article offensive?
Where is this article plagiarized from?
Why is this article poorly edited?

Chelsea: Like this team?