Where Are Houston Rockets' Top Draft Picks from Past 5 Years Now?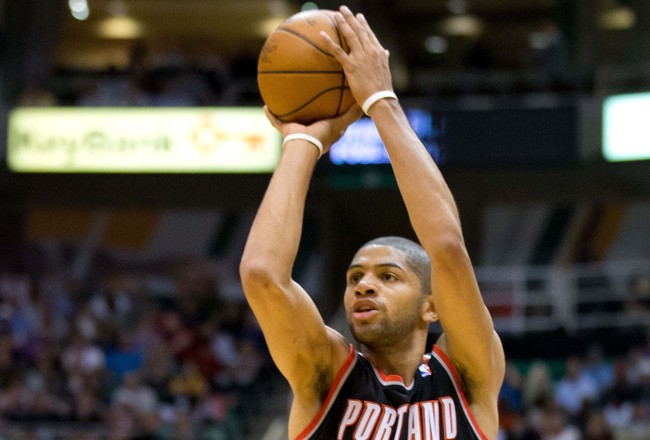 Nicolas Batum is among those the Rockets certainly wish they'd kept.
Russ Isabella-USA TODAY Sports
Think about how many big-name players the Houston Rockets have drafted in the past few years.
I know, it's tough, but if you look closely, you find that they had several solid pieces who are no longer on the roster, although a couple of them are still on the squad.
Let's be real here: None of these guys are stars, but none of them are scrubs either.
While some are earning paychecks elsewhere, a few stuck around, but regardless, all of them happen to be draft picks of the Houston Rockets within the past few years who deserve recognition.
Where are they now? Read on to find out.
Nicolas Batum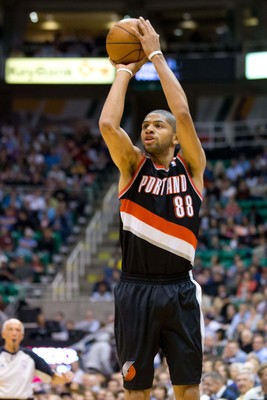 Russ Isabella-USA TODAY Sports
Nicolas Batum was drafted with the 25th pick in the first round of the 2008 draft.
Here's where the Rockets made things interesting. Rather than hanging onto him, Houston traded him for two guys who aren't even in the NBA anymore (Donte Greene and Joey Dorsey) and a "meh"-inducing forward by the name of Darrell Arthur who brought energy and hustle—two dime-a-dozen qualities in the league.
In essence, the Rockets handed away a fringe All-Star for scraps, and to this day they are probably kicking themselves over it.
Batum has emerged as one of the league's better perimeter defenders, and more importantly, he's a multi-tooled point forward. He's not a typical wing defender who does nothing but shoot. He can make plays for others, and he hustles and helps control the glass.
Last season was the best of his career—14 points per contest, five boards and five assists are solid numbers, even if he did post them on a bad Portland Trailblazers team. Batum's numbers confirm his versatility, and they're proof that even the later picks in the first round can produce at the next level.
Batum is a key piece in Portland's rebuilding process, but you can't help but wonder what kind of damage he would pose had he ended up on a better squad. He would be the perfect complementary piece on the contending Rockets, but for now, he has to play his part on a young Blazers team.
While he never had the chance to play in a Rockets jersey, he proved them wrong for passing on his talent five years later.
Chase Budinger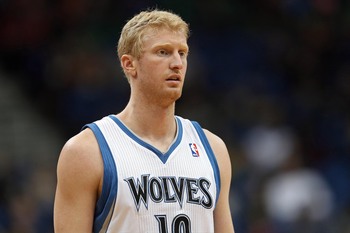 USA TODAY Sports
Chase Budinger is hardly a remarkable player by any means, but he's actually one of the better guys Houston picked up via the draft in recent years.
Here's a disclaimer, though: The Rockets technically didn't draft Chase. The Detroit Pistons did.
Either way, we're going to consider him an honorary draftee of Houston because the transaction occurred on draft night in 2009, so it was a pick by proxy.
Budinger played for the Rockets for about three seasons, and even though he was a second-rounder, he averaged around nine points per game his rookie season—a respectable number for someone fresh out of the college ranks.
He scored those nine points thanks to his trusty jump shot and deceptive athleticism. He fit in well with Houston's fast-paced offense and took advantage of opportunities in transition by shooting in rhythm or finishing easy baskets off the break.
That's what he brought to the table: scoring, three-pointers and not much else. He is on the Minnesota Timberwolves now, but he'll be remembered as a respectable piece that put in work for a couple of seasons as a Rocket—even if he is just an honorary draftee on this list.
Patrick Patterson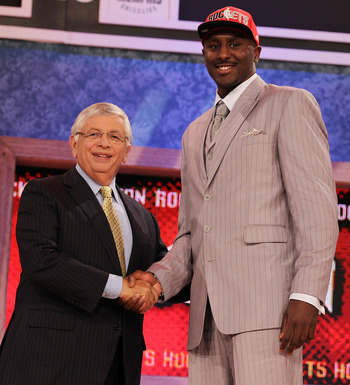 Al Bello/Getty Images
Don't worry, I know what you're thinking. Patrick Patterson isn't an honorary draftee; he's a real one. The Rockets drafted and kept him without any drama with the 14th overall pick in the 2010 NBA draft.
Patterson was a decent player for the Rockets during his tenure. He earned his points by being a pick-and-pop guy, a decent spot-up shooter and hustling for offensive putbacks.
He had all the physical tools, but he was a little limited offensively as far as creating for himself. However, plug him in a pick-and-roll or give him an open shot, and he could probably finish it confidently.
Still one of the glaring weak points in Houston's roster, the Rockets had hoped he could fill the void at the 4. Obviously, they decided someone else would do it since they traded Patterson last season to the Sacramento Kings.
He will have the luxury of growing and maturing on a rebuilding squad like Sacramento without the championship-or-bust pressure facing Houston. Playing alongside Dwight Howard would be cool, but Patterson will get a chance to be his own man in Sac-Town alongside DeMarcus Cousins, a similarly young yet infinitely more talented asset.
Still, he's one of the better raw talents that Houston had picked up in recent years—only to ship him off, of course.
Jeremy Lamb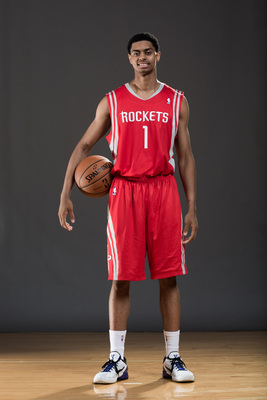 Nick Laham/Getty Images
Another rule-bending, edgy addition to the list, Jeremy Lamb ranking as one of the best picks among a bunch of proven vets might be a head-scratcher.
He was traded to Oklahoma City during the big acquisition of James Harden, an incident that has left OKC looking silly in retrospect.
Little do the Thunder know that they have a possible superstar stashed away on their bench courtesy of Daryl Morey and the Houston Rockets front office.
Lamb came into the league from UConn as a pure shooter. Much of his game is predicated off his ability to the shoot the ball, and considering he was playing behind Thabo Sefolosha and Kevin Martin, it's no wonder he wasn't getting much playing time.
He has the talent and skill level; he just needs to pack on more muscle and make the most of his opportunities should they come calling.
Let's not go crazy over D-League stats, but 21 points per game with around six boards is nice wherever you're playing. He also shot 45 percent, which is efficient considering a lot of his game is shooting tough shots off the dribble from mid-range.
He also has impeccable touch from the mid-range off floaters, a shot that takes years to develop.
Although the situations he's been a part of haven't been fair, when he gets more playing time, it's going to be evident that he belongs in the league.
It's rare you see someone play the game so fundamentally sound at such a young age.
Chandler Parsons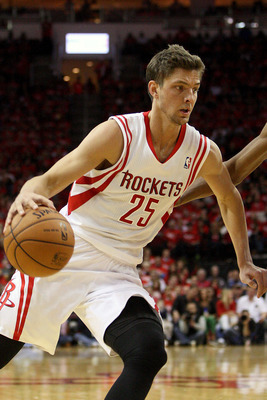 Troy Taormina-USA TODAY Sports
It was said already, but this time it's for real. No more edgy picks. As a show of good faith, consider Chandler Parsons, the 38th pick from the 2011 NBA draft.
He is another player in the vein of a Nicolas Batum as far as skill set and output. Parsons is somewhat of a point forward who contributed 15 points per game, five boards and three assists last season for Houston.
He's 6'9" but plays the game like a smaller player. He's agile, deceptively athletic and more likely to shoot the ball from the perimeter than bang on the block and chuck jump hooks over his head.
Despite shooting a reasonable 33 percent behind the arc his rookie season, he shot 55 percent from the free-throw line. What made it even stranger was that he doesn't have a fundamentally unsound jump shot or herky-jerky mechanics when he shoots from the charity stripe.
Then again, his weird free-throw stat is befitting of his identity as a player; it's just another interesting quirk that makes him who he is. He's a hilarious off-the-court personality, and he fits in well with Houston's tempo and offensive strategy.
Parsons is a bit like a Chase Budinger who brings a lot more to the table offensively and defensively and sports a cooler haircut.
He should also get credit for being a frustrating one-on-one defender. Being an asset on both ends of the floor is just the icing on the cake.
He's a flat-out solid pick, and he will remain a cornerstone of this franchise for years to come.
Keep Reading

Houston Rockets: Like this team?