Bold Predictions for Dwight Howard's 1st Season with Houston Rockets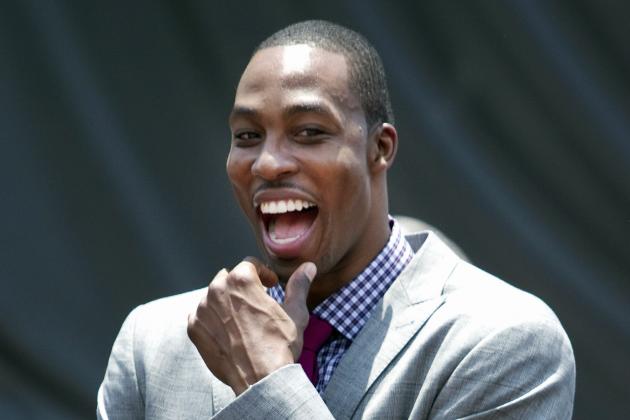 Bob Levey/Getty Images

With the addition of center Dwight Howard, expectations will be raised exponentially for the Houston Rockets this season. All eyes will be watching how the NBA's newest superteam will fare in its first year.
Howard will join James Harden and Chandler Parsons to form one of the league's scariest trios. The big man's presence alone puts the Rockets in the NBA championship discussion. He gives the team a reliable option in the post and improves a defense that finished 28th in points allowed last season.
The biggest question is: Can the three-time Defensive Player of the Year handle the pressure of carrying a franchise?
With the spotlight on him during his lone season in Los Angeles, Howard and the Lakers stumbled out of the gate and crawled into the playoffs as the seventh seed. They were eventually swept in the first round.
This past summer, Howard was able to handpick where he wanted to play for the first time as a pro. After forcing his way out of Orlando two years ago, the former No. 1 overall pick ended up in Hollywood only after his initial desire to go to Brooklyn fell through.
Now that he's in Houston, many will have an opinion on how they think his debut season will go. Following suit, here are a few bold predictions for D12's first year with his new team.
Begin Slideshow

»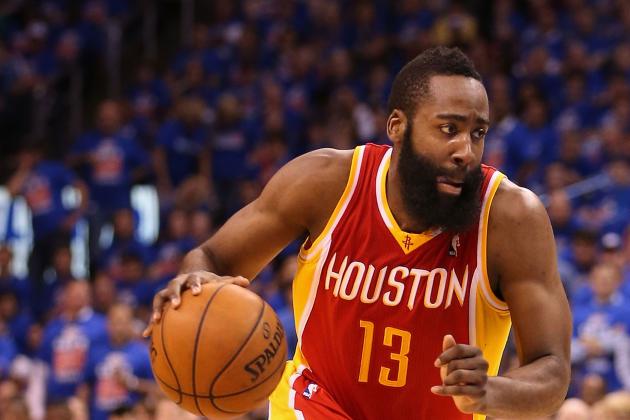 Christian Petersen/Getty Images

The Southwest division has now become a three-dog race. With the formation of Houston's new Big Three, the Memphis Grizzlies and San Antonio Spurs have some serious competition for the top spot.
Last season, Houston finished 13 games behind San Antonio for first place. This year, there are reasons to believe the standings will be a little different.
First, the Spurs and Grizzlies are a year older. While both teams have some rising stars, they don't have the kind of quality young core that Houston has. Dwight Howard is 27. Chandler Parsons is 24 (will be 25 by the start of next season). James Harden will be 24 at the end of the month.
Secondly, the Rockets added the top free agent on the market while not experiencing any crucial departures. The team's biggest losses were Carlos Delfino and Thomas Robinson. Both men should be adequately replaced by new additions Reggie Williams and Omri Casspi.
Finally, Howard doesn't just improve the team's biggest area of need (defense). He also gives them another bona fide superstar opponents have to plan for. They are going to have to pick their poison against this Rockets team.
Do the Grizzlies and Spurs have enough to stop Howard, Harden AND Parsons?
Fifty-eight wins won this division last year. The increase in competition probably means the magic number will be closer to 54 wins this season. Houston has arguably the most talent and depth of any team in the division. If they can put it all together, a Southwest title and the No. 3 seed seem like a realistic possibility.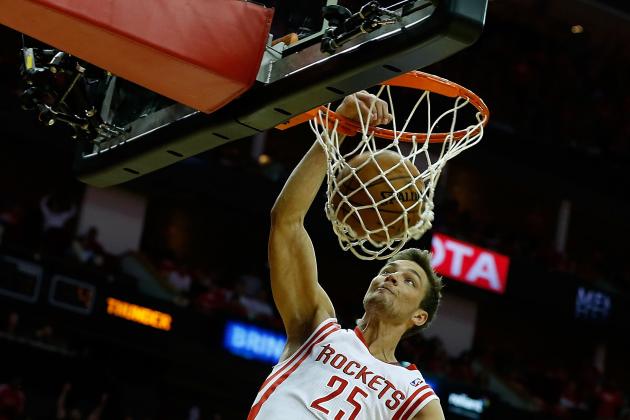 Scott Halleran/Getty Images

The Houston Rockets have the talent to be a championship contender. Whether they can make good on that promise this season is another story.
The Western Conference is maddeningly deep this season. Teams that were way out of playoff contention last year, such as New Orleans, Portland and Minnesota, will be fighting for a postseason run. At the top, there are proven commodities like Oklahoma City, San Antonio and the Los Angeles Clippers.
Assuming Houston makes good on my prediction to win the division and nab the No. 3 seed, there's a good chance it would move on against a first-round opponent like Golden State or Denver.
What about a second-round matchup with the Doc Rivers-coached Clippers?
For a young team that is still building chemistry, that could be a daunting task. Los Angeles would have clear advantages at point guard, power forward and in the coaching department. Lob City's bench rivals Houston's in terms of depth and talent as well.
A run to the NBA Finals isn't impossible, but the Rockets may need to use this year to establish themselves and get a feel for each other. They will be a tough out in the playoffs, no matter who they face. It just might be a stretch to think they will go from fringe playoff team to NBA champion in the first season.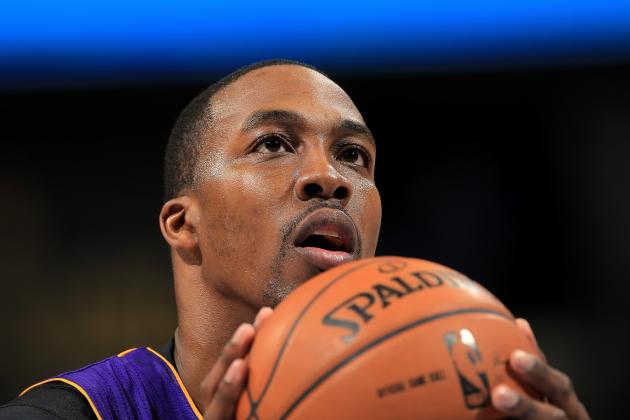 Doug Pensinger/Getty Images

Dwight Howard is a freakish athlete with the kind of body that you normally see in superhero movies. He's a menace on the boards and protects the rim like it's his first-born child.
If there's a glaring weakness in the big man's game, it is his inconsistency at the free-throw line. Howard has struggled to convert at least half of his attempts from the charity stripe the past two seasons, shooting just 49 percent.
However, the former No. 1 overall pick has made nearly 58 percent of his free throws during his nine-year career. With a little added motivation to succeed and impress his new team, Howard could set a personal best this season and shoot 60 percent from the line.
D12 has come close to that number in years past. He nailed 59 percent of his free throws every year from the 2007-08 season to 2010-11. The significant decline in the last two years could be attributed to off-court distractions.
With his long-term future no longer a question, Howard can make it a point to rededicate himself as a free-throw shooter. By improving at the line, teams will be a little more hesitant to foul the big man late in games, and it will make him a better all-around player.
The pressure to produce will be high during his first season in Houston. There is no better way for Howard to silence his critics than removing the biggest thorn in his side.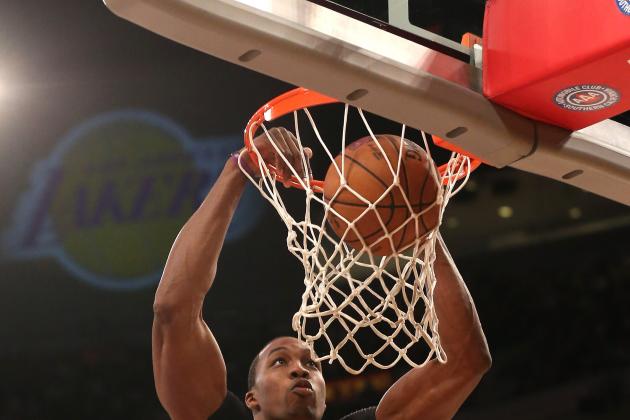 Stephen Dunn/Getty Images

Offense has always come easy for Dwight Howard. With his strength and athleticism, he has made a career out of bullying defenders in the paint. His prowess around the rim has allowed him to finish in the top five for field-goal percentage during the last seven years.
Still, despite his proficiency on the glass and his ability to attack the basket at will, Howard has never been among the league's top scorers. For his career, he has averaged 18.3 points per game and has eclipsed 20 points a night during only four of his nine seasons in the NBA.
His most productive season of putting points on the board came in 2010-11. He averaged 22.9 points a game with the Orlando Magic. Unsurprisingly, he finished second in MVP voting that season behind Chicago Bulls point guard Derrick Rose.
Last season with the Lakers, he finished with 17.1 points per contest, which was his lowest scoring output since his third season in the league.
Despite the presence of James Harden and Chandler Parsons, Howard will shatter his 2010-11 season. The big man will benefit from the tutelage of two of the greatest men to ever step foot in the post.
The Rockets hired former legend Hakeem Olajuwon to work with Howard and fellow center Omer Asik. The master of "The Dream Shake" was one of the most graceful and creative centers the NBA has ever seen. Any player is bound to improve from having the two-time champion as a tutor.
Howard will also learn from head coach Kevin McHale. During his glory days with the Boston Celtics, McHale was famous for his bevy of post moves. If D12 can adopt any tricks from either of these two Hall of Famers, it will make him an even bigger nightmare on the offensive end.
It will also make surpassing his personal best of 22 points a night much simpler.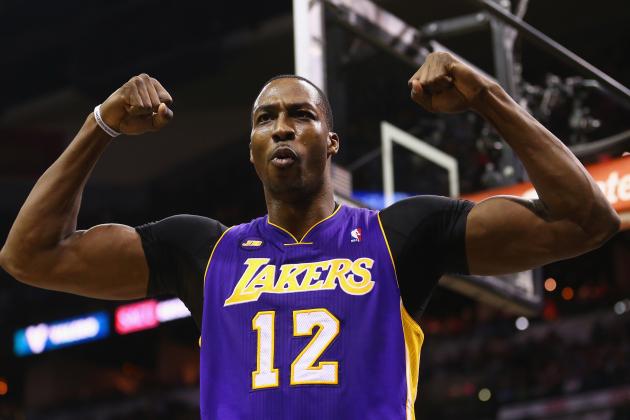 Ronald Martinez/Getty Images

When it comes to handicapping the NBA MVP race, the options are usually LeBron James and the rest of the field. After all, the Miami Heat forward has won the award four of the last five years. According to BestBetting.com, James is the favorite to take home the trophy again this season.
YouWin.com has Dwight Howard's odds at 25-1 (or +2500). The best D12 has finished in the MVP voting was second in 2010-11. He has finished in the top 10 four times, including three times inside the top five.
This year, he finally takes home the hardware.
From a statistical standpoint, Howard is a safe bet to be among the league leaders in total rebounds and blocks. He has led the league in total rebounds six times and finished on top in the blocks category twice.
With impressive offensive numbers and a greater commitment to hitting free throws, Howard will improve his scoring to go along with his other gaudy numbers. It will also help his cause if he can manage to lead the Rockets to the top of the Western Conference standings.
LeBron James is the league's best player, and he's an easy pick when predicting an MVP winner. Oklahoma City's Kevin Durant is due to hoist the Maurice Podoloff trophy as well. It will be tough for either to compete with a guy capable of producing in so many different statistical categories.
My prediction for Howard's stat line in his first season with the Rockets: 24.2 points, 12.8 rebounds and 2.5 blocks per game. He shoots 58 percent from the field and just narrowly surpasses the 60 percent mark from the free-throw line.
Voters, tired of picking King James, decide to make Howard the first big man to win the Most Valuable Player award since Dirk Nowitzki in 2006-07. The odds may not be in his favor, but it is certainly a possibility.