Most Overrated and Underrated College Football Players for 2013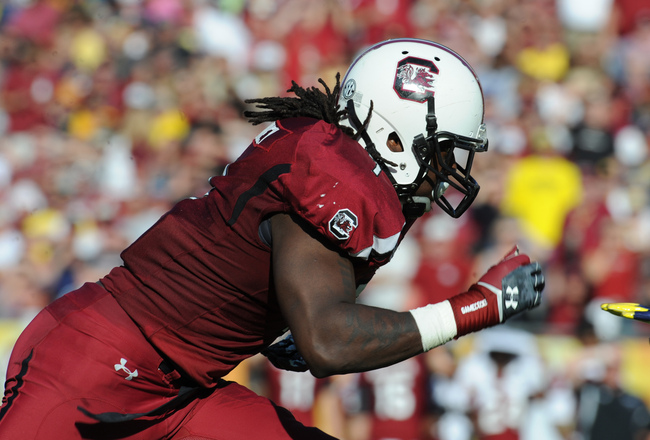 Al Messerschmidt/Getty Images
It seems as if the 2013 offseason will never end, but college football is set to kick off another amazing year filled with ups, downs, disappointments and surprises.
And as with every season before, the current run-up to Week 1 has been chock-full of predictions and prognostications about everything from national-championship contenders to Heisman races.
In the era of constant media coverage, players are under more stress than ever before. Those who the pundits believe will be successful are instantly transformed into supermen who will carry their squads to glory. Meanwhile, others who haven't seen their name in the preseason-award-list buzz are often forgotten.
Who are we talking about? Glad you asked...
Overrated: Johnny Manziel, QB, Texas A&M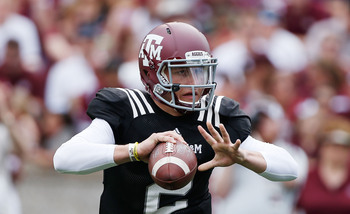 Scott Halleran/Getty Images
We'll get started with an overrated player who is categorized as such for absolutely nothing to do with his play on the field. In fact, if Johnny Manziel were to play for A&M this season, the returning Heisman Trophy winner and sophomore quarterback for the Aggies would again be a favorite to challenge for his second Heisman.
But that's all if he plays this season.
We're just weeks away from the season opener against Rice, and the most we've heard from anybody about Manziel's chances of starting that game has come from his lawyer. That's not a good thing.
Whether you believe Manziel took money for autographs and memorabilia or whether or you think that should or shouldn't be allowed isn't really the issue. The issue is that if he did, he violated NCAA rules—rules that are by no means a secret or hard to understand. If Manziel did break the rules, you can bet the NCAA will be forced into suspending him. If not, Ohio State is owed an apology.
Texas A&M, largely thanks to Manziel's now-doubtful return, was ranked No. 6 in the USA Today preseason coaches' poll. That ranking is now in jeopardy, even assuming A&M defeats Rice without Manziel.
Maybe it would have been best to list Texas A&M as a whole as our first "overrated" selection, but we'll stick with Manziel, as it's entirely possible he won't be much of a help to the Aggies early on in 2013.
Underrated: Andrew Buie, RB, West Virginia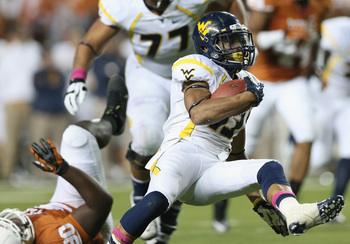 Ronald Martinez/Getty Images
If you thought that most of West Virginia's high-quality talent has departed from Morgantown for the NFL, you might want to check out the Mountaineers once they take the field in 2013; there are more offensive fireworks ready to light up the stat sheets in the Big 12.
Running back Andrew Buie is ready to take center stage in the WVU offense this season after NFL prospects like Tavon Austin, Stedman Bailey and Geno Smith outshined him a season ago. In the meantime, Buie has had another year to mature and another year to prepare for his introduction to the nation as one of the most electrifying backs anywhere.
Already returning as the Mountaineers' top rusher from last season (179 carries, 851 yards, 7 TD), Buie might see his chances for big plays increase with WVU breaking in a new quarterback and receiving corps in 2013. In fact, he may be the exclusive talent showcase for the Mountaineers this season, as he will be a featured part of their offensive attack.
When all is said and done, leading the Big 12 in rushing yards isn't out of the question for this junior.
Overrated: Blake Bell, QB, Oklahoma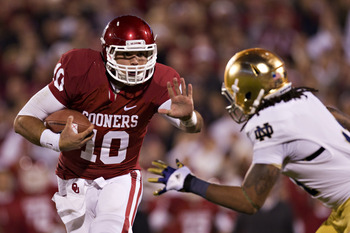 Wesley Hitt/Getty Images
Summer sessions are underway, but unlike many teams across the nation, the top spot on Oklahoma's quarterback depth chart is still open. Junior behemoth Blake Bell is locked in a battle with redshirt freshman Trevor Knight.
But wait a minute. Weren't we led to believe that Blake Bell was one of the Big 12's top quarterbacks coming into the season? Isn't he the guy that is unstoppable in short-yardage and goal-line situations? Wasn't he the heir apparent all last season?
Apparently, head coach Bob Stoops knows what many of us have suspected all along: While Bell is certainly a powerful running threat, his passing attack is a little on the weak side for a program like Oklahoma to put all of its eggs in his basket.
Bell has only thrown the football 20 times in his college career, and he's connected on just 10 of those tosses. He's yet to throw a touchdown pass and he's now known as essentially a power fullback taking snaps out of a glorified Wildcat formation.
And when it comes to running the ball, the "Belldozer" isn't exactly eating up huge chunks of yards.
In 60 rush attempts last season, he averaged just 3.4 yards per carry. Sure, his 24 touchdowns over the last two seasons are worth a mention, but the Sooners need a lot more than a quarterback who completes 60 percent of his passes and gains 3.4 yards per carry if there's any chance of returning to the BCS-bowl picture at the end of 2013.
Underrated: Ka'Deem Carey, RB, Arizona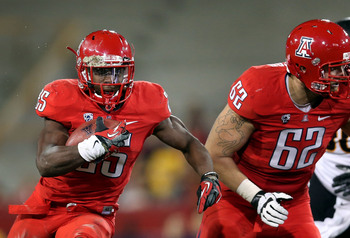 Christian Petersen/Getty Images
With everyone seemingly convinced Marcus Mariota, De'Anthony Thomas and the Oregon Ducks are going to be the next big thing out West, it's almost understandable why someone like Arizona's Ka'Deem Carey is entering his junior season relatively unnoticed.
In case you were wondering, Carey is the guy who led the FBS is rushing yards last season with 1,929 as a sophomore. He was also tied for fourth in the nation with 23 rushing touchdowns. So why isn't anyone paying attention?
Carey is absolutely flourishing under second-year head coach Rich Rodriguez's newly installed offensive scheme. What had been so successful at West Virginia (and not at all at Michigan) is beginning to click for the Wildcats. The Pac-12 is a fast, high-octane conference. Unlike the Big Ten, Rodriguez's system is a natural fit for the Pac-12, and players like Carey are exactly the type of athletes who can excel in it.
This season, Arizona has a pretty favorable schedule and avoids Stanford in conference play. The Wildcats also have a laughable nonconference slate consisting of FCS schools Northern Arizona and UTSA, and lowly UNLV.
There will be some questions on the offensive side of the ball for Arizona, especially with a new quarterback taking the snaps this fall. Of course, that could mean that Carey gets an even bigger opportunity to showcase his skills.
If only we could do something about all of those 10:30 p.m. ET kickoffs...
Overrated: Braxton Miller, QB, Ohio State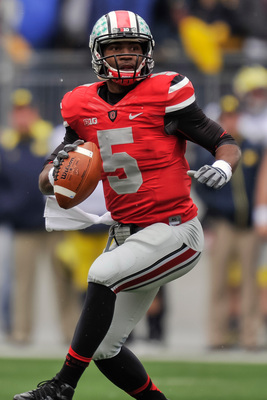 Jamie Sabau/Getty Images
Braxton Miller has been called "one of the best dual-threat quarterbacks ever" by some Big Ten observers, and it's easy to see why conference fans are so giddy about the possibilities this season.
Most importantly, the Big Ten is in desperate need of a nationally successful season. Along with the SEC's recent dominance, the Big Ten—the SEC's nemesis of the past—has consequently seen a decline in nonconference and postseason performance. After Ohio State's 12-0 campaign last season, the Buckeyes look to be the standard-bearer for the Big Ten's renaissance.
While Ohio State, led by Miller, probably is the conference's best hope at a national-title run this season, we still can't get past that whole "dual-threat" thing. Is Braxton Miller truly a dual-threat quarterback?
Last season, Miller was fourth overall and first among quarterbacks in rushing yards in the Big Ten (1,271 yards, 13 TD). With Denard Robinson leaving Michigan, Miller will likely be unchallenged by signal-callers this season, at least when it comes to the ground game.
Rushing threat? Check. Now, let's move on to the other half of that dual threat: the passing game.
Here's where the argument for Miller's quarterback dominance runs off the rails a bit. Last season, Miller was seventh among Big Ten quarterbacks in passing yards per game (169.9)—which was good enough for 88th place in the FBS. He was also seventh in the Big Ten in completion percentage (58.3), sixth in pass attempts (254) and eighth in total completions (148).
Sure, these numbers could be worse (Denard, we're looking in your direction), but they're nowhere near the kind of numbers we need to see to consider Miller anything close to a lethal gunslinger. His rushing ability certainly makes him a threat to eat up big chunks of yardage on the ground. But when it comes to the aerial attack, Miller just isn't that intimidating.
Is Braxton Miller a threat to opposing defenses? Certainly. A dual threat? No.
Underrated: James Franklin, QB, Missouri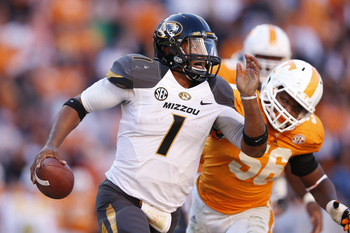 Joe Robbins/Getty Images
Looking back at 2012, Missouri quarterback James Franklin had more than his fair share of struggles in an injury-plagued season. Franklin narrowly missed out on the 3,000-passing-yard mark in 2011, but with appearances in just nine games (while even missing substantial portions of many of those games), Franklin didn't even reach 2,000 passing yards on the season.
With a conference full of top-tier quarterbacks and Heisman contenders, it's easy to ignore a quarterback with meager numbers coming off of an injury. Defenses that overlook a healthy James Franklin are in for a rough afternoon.
In his 2011 campaign, Franklin had 981 rushing yards to go along with his 2,865 passing yards. He also added 15 touchdowns with his feet and 21 passing scores.
At 6'2" and 230 pounds, Franklin is an athletically built quarterback with (previously) good mobility. If his knee injury from last season has completely healed, and he can rediscover his fearless nature, he'll reemerge as one of the nation's top dual-threat quarterbacks.
Overrated: Jadeveon Clowney, DE, South Carolina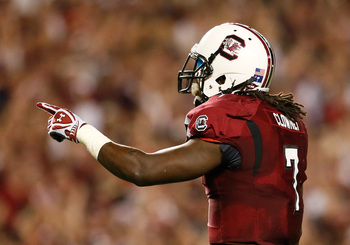 Kevin C. Cox/Getty Images
Before we get too far ahead of ourselves, let's answer a few simple questions.
Is Jadeveon Clowney the best defensive end in the nation coming into 2013? Yes.
Is Jadeveon Clowney the best hope for a defensive Heisman we've seen since Michigan's Charles Woodson? Absolutely.
Is Jadeveon Clowney one of, if not the most dynamic and game-changing players in all of college football? Clearly.
Can Jadeveon Clowney live up to the Everest-like expectations? Hmmm...
It's that last question that should give every college football fan pause. The simple truth is that Clowney's junior season has been so hyped, it's doubtful anyone other than Clark Kent himself would be able to do what Clowney is expected to do this season.
Anything short of a record-breaking, Heisman-winning season will be seen by many as a letdown, and that's a pretty high standard to set for a 20-year-old.
Clowney finished 2012 with 13 sacks, good for second in the SEC behind Georgia's Jarvis Jones and tied with five others for third most in the nation. He was also tied with Will Sutton of Arizona State for second-most tackles for loss in the FBS last season with 23.5. He was tied for 29th (with 15 others) nationally with three forced fumbles. But he wasn't even in the top 100 nationally in tackles.
Unless we start counting the number of times a player "puts the fear of the Almighty into a quarterback," Clowney didn't lead the nation in a single statistical category in 2012.
Simply put, that's going to have to change in 2013 if there's any hope of chasing down a Heisman and at least matching the astronomical expectations. If any player can do it, it's Clowney.
Then again, even the world's best mountain climbers can be defeated by the challenges of Mt. Everest.
Keep Reading