WWE SummerSlam 2013: Matches That Will Have Fans Begging for a Rematch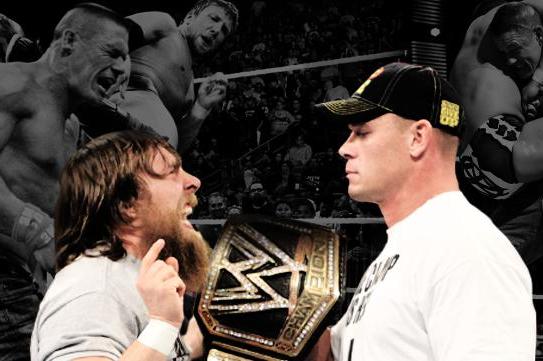 Photo by: WWE
SummerSlam is only nine days away and there are five confirmed matches, according to WWE's website.
Cody Rhodes vs. Damien Sandow
Kane vs. Bray Wyatt in a Ring of Fire Match
Alberto Del Rio vs. Christian for the World Heavyweight Championship
CM Punk vs. Brock Lesnar
John Cena vs. Daniel Bryan for the WWE Championship
There are sure to be some additions with two episodes of SmackDown and one episode of Raw left.
With the matches listed, this looks to be one of the better SummerSlam cards. Personally, I'm looking forward to seeing most of these matches more than once.
After last year's SummerSlam event, fans saw two rematches and two modified rematches within the past year.
Lesnar faced Triple H at WrestleMania XXIX and Extreme Rules. Sheamus defended the world title against Alberto Del Rio the following month. Punk and Cena, minus Big Show, faced at Night of Champions, which ended in a draw. The Miz's opponents tripled from just Rey Mysterio to include Rhodes and Sin Cara.
This year's event will provide fans with at least three matches they would love to see again. Let's rundown what those matches are.
Begin Slideshow

»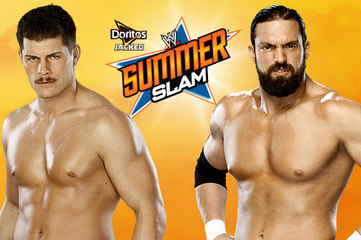 Which former member of Team Rhodes Scholars will come out on top? Photo by: WWE
When this feud first began at Money in the Bank, I was a little weary. There was very little dissension between the two best friends leading up to the pay-per-view. Although, the fact that it came out of nowhere was the best part.
Sandow knocked Rhodes off of the ladder and retrieved the briefcase, guaranteeing him a world title shot. Rhodes attacked his former friend the following night, but Sandow kept getting the better of Rhodes on the mic.
Rhodes took the feud to another level when he tossed the briefcase into the Gulf of Mexico. Not to mention, the mic work of both Superstars keeps improving.
This match has a great opportunity to be one of the best matches of the night. Both Superstars are great in the ring and can tell a good story with their action.
The only way this feud can continue, however, is if Sandow steals another victory from Rhodes. Rhodes will draw more sympathy from the crowd as Sandow seems to have outsmarted his former partner yet again.
If that does happen, expect to see a rematch at Night of Champions.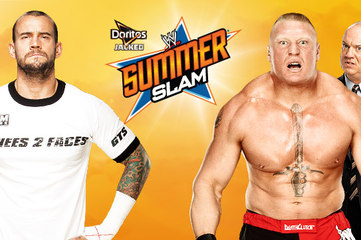 Will CM Punk get his hands on his former best friend? Photo by: WWE
The self-proclaimed Best in the World is giving up close to 50 pounds to the Beast Incarnate, but that won't stop them from making this match a pure fight.
The contrast between these two Superstars has been displayed over the last month. Lesnar has tossed Punk like a rag doll in and out of the ring, landing multiple F5s. Yet, Punk keeps getting up and fighting back, hitting him with everything he's got.
At SummerSlam, Punk will unleash every ounce of energy he has on Lesnar. He's done an excellent job as the hero who won't back down to anyone. However, it won't be enough as Punk will fall victim to another F5.
Because of Lesnar's limited schedule, we may have to wait a few months before getting the rematch. But if WWE can squeeze three matches out of Lesnar and Triple H, then there shouldn't be a problem getting a rematch between these two.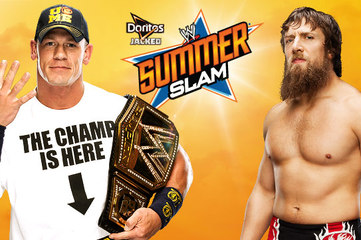 Can Daniel Bryan end John Cena's 11th WWE title reign? Photo by: WWE
There hasn't been a WWE championship match with so much revolving around it since Cena vs. Punk at Money in the Bank 2011.
Bryan is the most popular Superstar on the roster. Cena is the poster boy in the middle of his 11th WWE title reign. Vince McMahon has been a thorn in both of their sides by stating he doesn't want either man to walk out with the title. Triple H and Stephanie McMahon have also played a part in this feud.
Don't forget that Randy Orton holds the WWE title Money in the Bank briefcase and could cash it in at any time.
These two fought once before on an episode of Raw in August of 2012. Although it wasn't for the title, it is a sample of what we could see at SummerSlam and beyond. Bryan has chemistry with almost everyone on the roster and Cena will be no different.
If Cena retains next Sunday, then fans will be begging to see Bryan challenge for the WWE Championship one more time and possibly win the title. If Bryan wins, Mr. McMahon will look to end his reign at his earliest convenience.
Which matches would you like to see rematches for? Are you expecting any one-and-done feuds? Chime in down below.