6 Best Boston Red Sox Prospects No One Is Talking About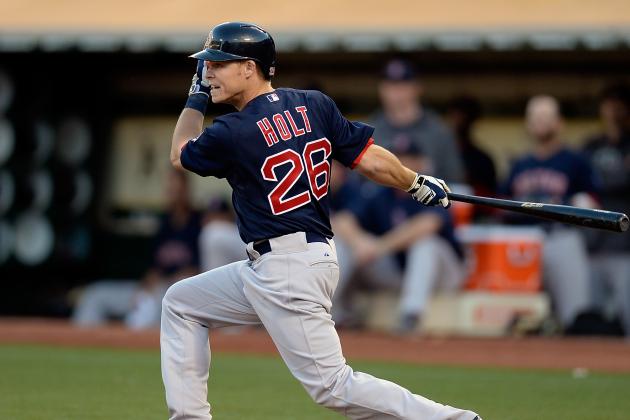 Thearon W. Henderson/Getty Images

The Red Sox farm system is currently stronger than it has been in a very long time. Boston owns some of the most valuable prospects in the game in guys like Xander Bogaerts, Jackie Bradley Jr., Henry Owens, Trey Ball and Garin Cecchini.
All of Boston's top prospects have a chance at being perennial All-Stars in the future.
However, there are several players in Boston's minor league system who are receiving virtually no attention compared to the big names at the top of the system. Despite their lack of exposure, these young players also have huge potential and are worthy of mention.
So here are Boston's top six prospects no one is talking about
Begin Slideshow

»
2013 Stats: 83.0 IP, 3.80 ERA, 1.446 WHIP, 86/68 K/BB (21 G/19 GS, Low-A)
One of the strengths of the Red Sox system is a wealth of high-ceiling pitchers. Cody Kukuk certainly falls under that category.
Kukuk is a tall, projectable lefty with a good feel for pitching given his lack of experience. He throws a fastball in the low 90s that should gain a few ticks as he fills out. His fastball command is below average, and he needs to work on maintaining a more consistent arm slot.
Kukuk also throws a slider in the low 80s. The pitch has impressive rotation and a deep break. The slider has plus potential as a big league offering, and is the best slider in the system. Kukuk also features a changeup but rarely throws it, though it could become a major league average pitch with development.
The 20-year-old lefty has the potential to feature a quality three-pitch mix. His height gives him a good downward plane. While his stats this year haven't been great, his strikeout rate is a suggestion of his potential.
Projection: High-leverage reliever
Ceiling: No. 3 starter
2013 Stats: N/A
Myles Smith hasn't even thrown a pitch of professional ball yet, but his potential is very real.
Smith was just drafted in the fourth round of the 2013 draft. The young right-hander recently signed with the Red Sox for a $400,000 signing bonus.
One should not be fooled by Smith's lack of size, as he can really put a charge into a baseball thanks in part to very smooth mechanics and lightening-quick arm action.
Smith features a good mid-90s fastball and a plus changeup that should elicit quite a lot of swings and misses at the upper levels. Smith also throws a slider that flashes good, tight rotation, but he struggles to throw the pitch with any consistency. His slider has average potential with refinements.
Smith has great strikeout stuff, but he has struggled mightily with command and control throughout his high school and college careers, walking nearly a batter every two innings in this year's college season.
Refining his command will be the deciding factor in Smith's career. If he can cut down on his walks and learn to locate his fastball better, he could become an excellent middle-of-the-rotation starter. If not, a late-inning bullpen role is in his future.
Projection: Eighth-inning setup man
Ceiling: No. 2 starter
2013 Stats:.282/.392/.453, 75 R, 39 XBH (10 HR), 27 SB, 53/67 K/BB (102 G, Low-A, High-A)
In this case, it is easy to determine why no one pays attention Mookie Betts. He plays second base. At last check, the Red Sox are pretty confident in the production from their second baseman.
However, Dustin Pedroia's star power will not hide Betts forever. The young middle infielder has real talent that gives him the potential to develop into an impressive big league performer.
Betts is an outstanding athlete who already features plus speed. He also flashes an average hit tool that should improve considerably given time. Betts has a very advanced approach for his age, walking much more often than he's striking out.
He possesses a minimal power projection. With the proper refinements to his swing, he should become a prototypical leadoff hitter with a high on-base percentage and loads of stolen bases.
On the other side of the ball, Betts is a former shortstop. The Red Sox moved him to second base when he joined professional ball because his average arm was better suited for second. However, his other defensive tools are better than average. Betts has plus range, solid throwing fundamentals, and good footwork. He should have no problem developing into a plus defender at second base.
While Dustin Pedroia may be holding down the fort at second, Betts will not be in the shadows of the low minors for long. Eventually, the Red Sox may have to make room for him. Betts does have experience at shortstop, so that may be his eventual home with Pedroia at second. That decision is still several years away, but it will not be an easy one.
Projection: Bench depth/pinch runner
Ceiling: Top of the order bat on first-division team/occasional All-Star
2013 Stats: 37.1 IP, 2.65 ERA, 1.205 WHIP, 17/13 K/BB (8 GS, Low-A)
As mentioned in an earlier slide, the Red Sox enjoy an impressive collection of raw, high-ceiling pitching prospects.
Ty Buttrey certainly falls under that category.
The 20-year-old right-hander was drafted in the fourth round out of high school last year due to his impressive physical build and effective raw stuff.
Buttrey's height allows him to employ an effective downward plane on his fastball, eliciting a fair amount of weak contact and ground-ball outs. His fastball usually clocks in around 90 miles per hour, but he can reach the mid-90s in short stretches. He should add a few more ticks to his velocity as he fills out his monstrous frame.
Buttrey's primary secondary offering is a mid-70s curveball that shows good depth and break, considering his lack of experience. It could develop into a plus offering in the future. Buttrey's changeup also has good potential to develop into an above-average offering at the big league level. He has a great feel for his changeup.
Buttrey is not a complete player by any stretch of the imagination, however. He has several development needs that must be addressed in the coming years.
The primary concern with Buttrey is his below-average fastball command. While he's been able to limit the walk totals, his struggles with locating his fastball have resulted in less-than-stellar strikeout numbers. His command struggles likely stem from inconsistencies repeating his arm slot.
Buttrey's fastball also lacks life at times. As a result, he is often hit hard when he leaves it up in the zone. He is most effective when working almost exclusively in the lower third of strike zone.
Buttrey has a high ceiling, but there are some holes in his game that must be filled for him to reach his full potential.
Projection: Late-inning reliever/spot starter
Ceiling: Reliable No. 3 starter.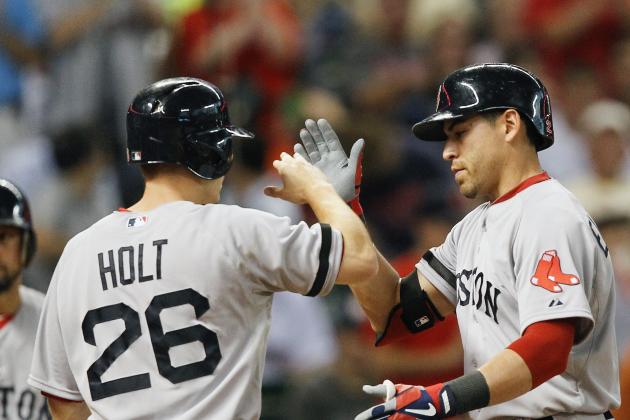 Bob Levey/Getty Images

2013 Stats:.264/.328/.293, 28 R, 5 XBH (1 HR), 8 SB, 41/24 K/BB (69 G, Triple-A)
Brock Holt received virtually no attention early in the season, but he is starting to gain some notice now that he's in the big leagues.
Holt isn't exactly a prospect at this point, as he has already proven himself at Triple-A and in the big leagues. However, he is still in a position to help out the Red Sox in years to come.
Holt was acquired along with Joel Hanrahan last offseason to compete for a roster spot in spring training. While he lost out to Pedro Ciriaco in that bid, he was recently called up to help fill the void left by the severely slumping Will Middlebrooks. He posted adequate numbers in Triple-A and managed a decent .231/.295/.269 line in 64 plate appearances in Boston.
Holt is a solid all-around player. He has a major league average hit tool with enough power to keep pitchers honest. He even has some speed and outstanding defense. His natural position is at second base, but he is more than capable of covering spot duty all around the infield.
Now that Ciriaco has been traded away, Holt looks primed to capture a permanent spot on the big league bench.
Projection: Minor league depth
Ceiling: Second-division starter/platoon player
2013 Stats:.254/.343/.307, 17 R, 5 XBH (0 HR), 13 SB, 24/16 K/BB (32 G, Low-A)
Probably Boston's most exciting prospect in the lower minors, Manuel Margot has a very high ceiling as an outfielder.
His most impressive tool is his speed, which grades out easily as plus to better. Combined with advanced baserunning instincts, Margot's speed should turn him into a top-notch base stealer.
He's not all legs, however. He already has a good, clean swing that is advanced given his youth. He has quick wrists and quality fundamentals that should translate into an at least average hit tool. While he won't have much power, he could develop into a plus hitter for average with the proper refinements.
On defense, Margot's legs give him plus range, making him a lock to stick in center field long term. He has surprisingly advanced instincts in center field given his youth and gets good reads on balls off the bat. His arm strength is below average at present, but he has the potential to develop into an above-average big league center fielder.
While Margot is very young and inexperienced at the moment, he has all the raw tools to become a staple in the outfield and at the top of Boston's batting order. It will take time for him to get there, but stay tuned.
Projection: Fourth outfielder/pinch runner
Ceiling: All-Star center fielder