Brawls, Bans and Beheadings: The 10 Most Controversial Football Mascot Moments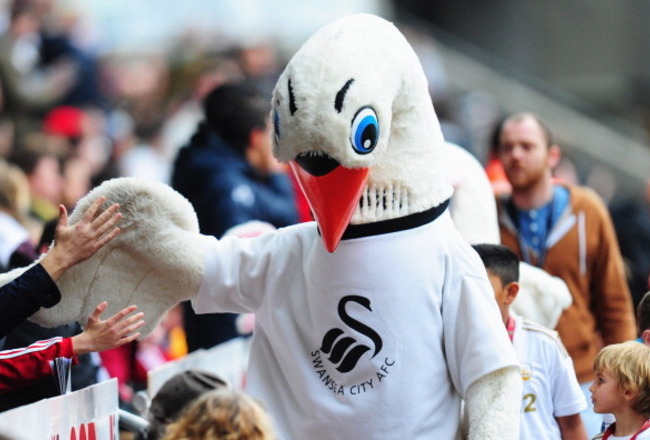 (Getty Images)

There was sad news at Valley Parade this week. Bradford City mascot Lenny Berry, who has played their "City Gent" for 20 years, was forced to stand down. He is no longer tubby enough to assume the role.
"I'm absolutely gutted. I am a grown man and this is something I have cried over," he told Bradford's Telegraph & Argus newspaper (via The Guardian).
In 2009, Berry was involved in a hubbub when he was told not to throw sweets out to kids in the stands in case someone got hurt.
Of course, Berry's actions concerning this overzealous health-and-safety issue is far from the most contentious act committed by a costumed cheerleader—here are B/R's 10 biggest mascot controversies.
Deepdale Duck's Early Bath
Preston North End's Deepdale Duck holds the dubious honour of being the first mascot to be sent off.
When Derby visited Deepdale in January 2011, the quacking fellow was demised after it was claimed he was putting off goalkeeper Stephen Bywater.
The following week, Sheffield United's Captain Blade held a half-time protest in honour of his fellow duck, holding a sign that read "Free The Preston One."
Wolfie Huffs and Puffs at the 3 Little Pigs
Wolves mascot Wolfie isn't particularly big or bad, but it was in his fairytale nature to be provoked by Bristol City's Three Little Pigs when they visited Molineux.
Hercules the Lion Paws a Beauty Queen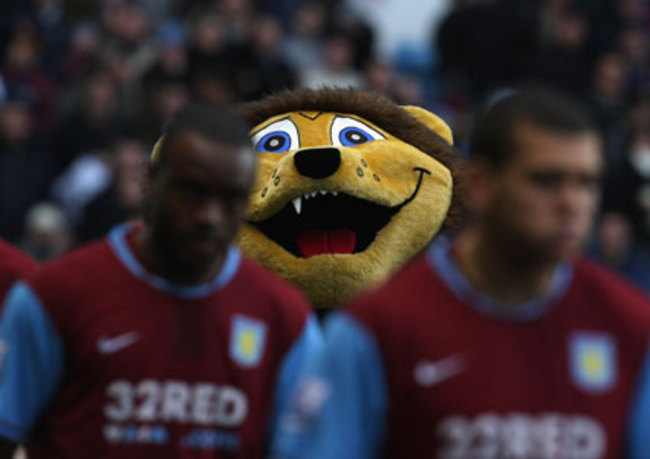 Aston Villa's Hercules the Lion wasn't feeling much pride in March 1999 when he was sacked for grabbing a local beauty queen before trying to kiss her in front of the masses at Villa Park.
"It was just a bit of fun," Hercules, aka Gavin Lucas, told the Daily Record (via Questia).
Clearly, it was not.
Cyril the Swan's Beheading
(Video contains NSFW language)
They say swans are pretty vicious if you get too close to them, and Cyril the Swan is no exception.
Swansea's mascot has a history that includes fines, pitch invasions and bans for violent conduct. His most shameful moment came during a visit from Millwall, when he removed Zampa the Lion's head and dropkicked it into the crowd.
H'Angus the Monkey's Political Coup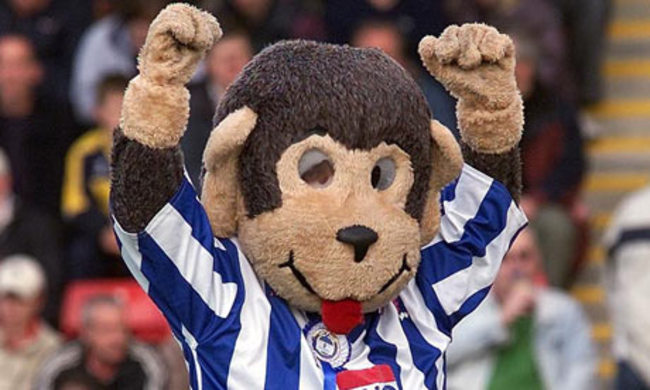 (theguardian.co.uk)

In 2002, the democratic political process took a slap to the face when H'Angus the Monkey was elected mayor of his native Hartlepool.
H'Angus also aroused controversy in 2001 when he simulated sex with a blowup doll at Blackpool—a trick he also pulled off in 2000 with a female steward at Scunthorpe.
It seems Anthony Weiner has a predecessor…
Ozzie Barney's Owler
They say owls are wise, but if Sheffield Wednesday's Barney and Ozzie are anything to go by, they're just plain mean.
During a 2012 FA Cup tie, they ganged up on the FA Cup itself for an unprovoked attack.
Clearly, they didn't give a hoot about hurting the poor old trophy.
Robbie the Bobby's Red Card Hobby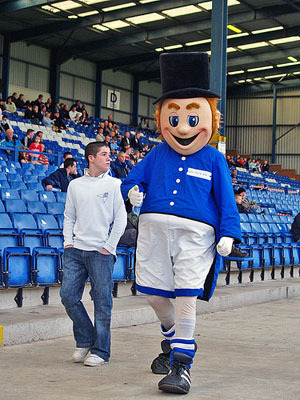 (offthebench.nbcsports.com)
There's no shortage of mascots who have misbehaved on the field, but Bury FC's Robbie the Bobby managed to get himself sent off three times in a single month in 2001.
His offences included mooning the crowd, fighting with Cardiff mascot Bartley the Bluebird, and belly-flopping in celebration of a penalty.
He nearly earned a fourth card for pulling the ears off Peterborough's rabbit mascot.

Robby the Bobby, it must be said, is supposed to be a policeman.
Sir Craven's 1-Knight Stand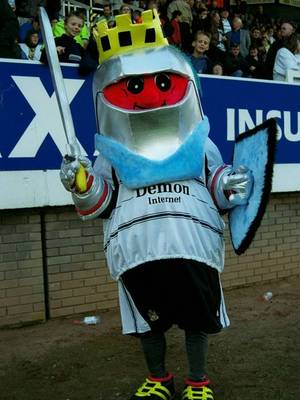 (independent.co.uk)
There have been plenty of suspect unveilings at Craven Cottage over the years—they still have a statue of Michael Jackson—but when Sir Craven was introduced prior to a game for the first time, the brave knight was laughed off the field because he's, well, a bit pathetic.
He was immediately replaced with a badger.
Kingsley's Royal Pardon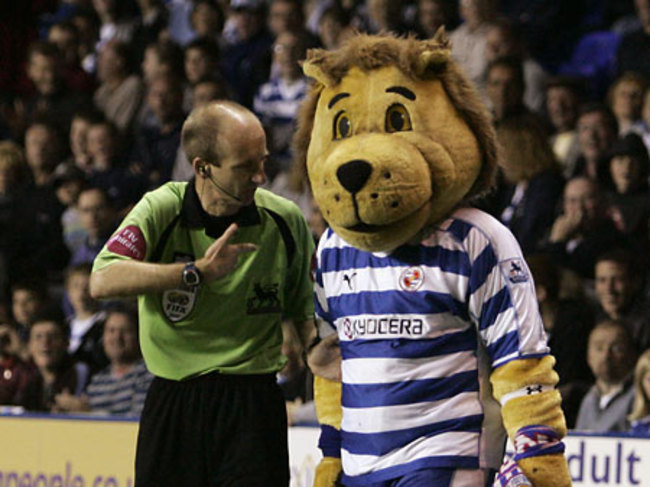 (metro.co.uk)

During a 2007 match with Newcastle, Reading's Kingsley Royal earned a red card from referee Mike Riley for standing too close to the pitch. One of Riley's linesmen reportedly confused the furry feline for a player and nearly flagged him for offside.
Kingsley was then embroiled in a row as Riley accused him of making "inflammatory gestures." After an investigation, no further action was taken.
Chaddy the Owl Commits a Foul
Chaddy the Owl is a two-time winner of the Mascot Grand National, an annual charity race. But his virtues have been overshadowed by controversy, such as the time he brawled with Blackpool's Broomfield Bear, throwing one of his boots into the stands. There was an amnesty, but the bear claw was never returned.



Keep Reading